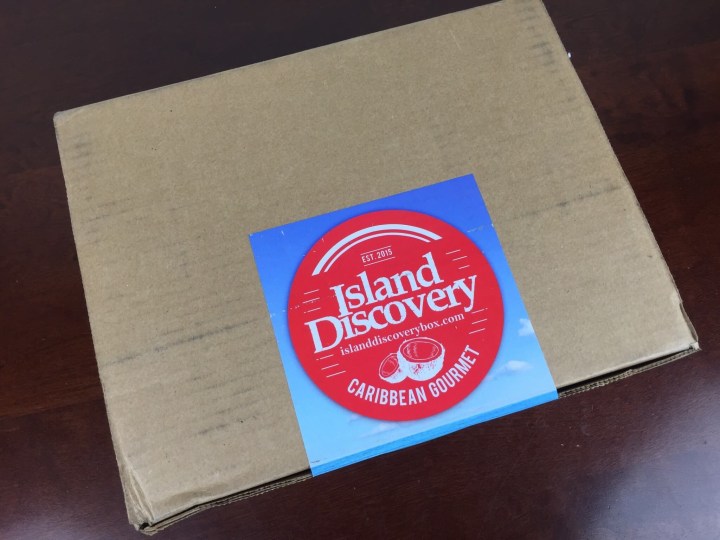 Island Discovery Box is a new quarterly box from the producers of Taste the Islands, a PBS cooking series.  Each box contains gourmet delights from the Caribbean.  This box is their holiday box! This box isn't set up as a subscription (yet!). Rather, You can order each box individually. This is their holiday box and is available to order for gifting (or in bulk for corporate orders).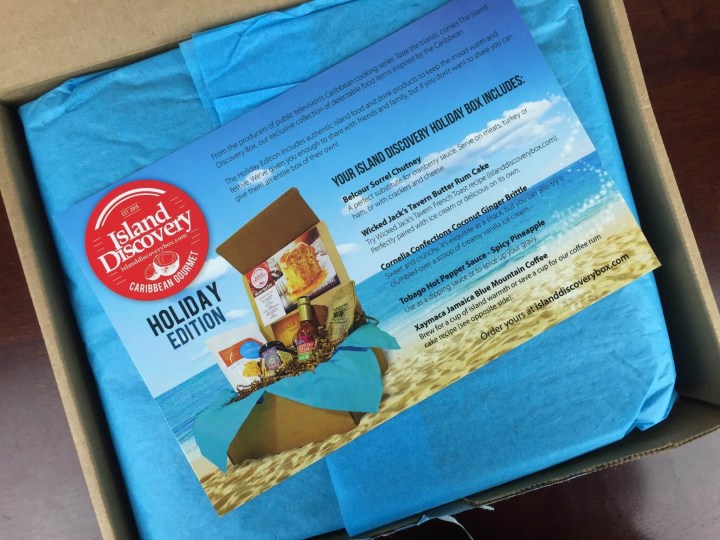 The info card includes a description of all the items in the box.
The back features a great recipe for Coffee Rum Cake, using the Xaymaca coffee included in the box.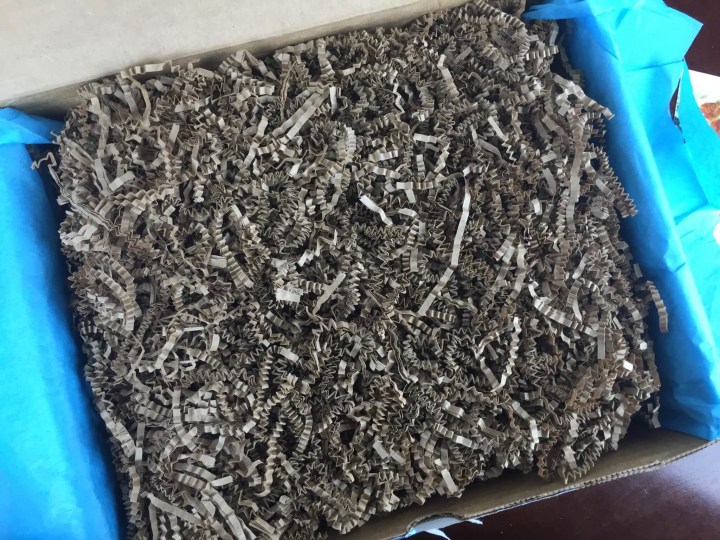 The contents came safely buried in squiggles.
Everything in the box.
Wicked Jack's Tavern True Jamaican Rum Cake ($29.94) Made in the USA using authentic Jamaican rum. Sweet and buttery — and you can certainly tell that there is a generous splash of rum in it!
The cake was commercially packaged — this was a good thing, as it meant it was hermetically sealed and the rum hadn't evaporated.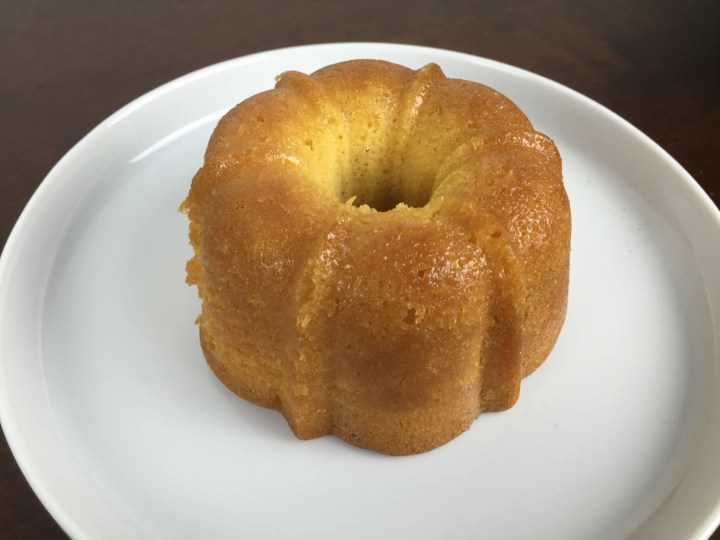 A very cute cake and totally delicious. We ate the entire thing!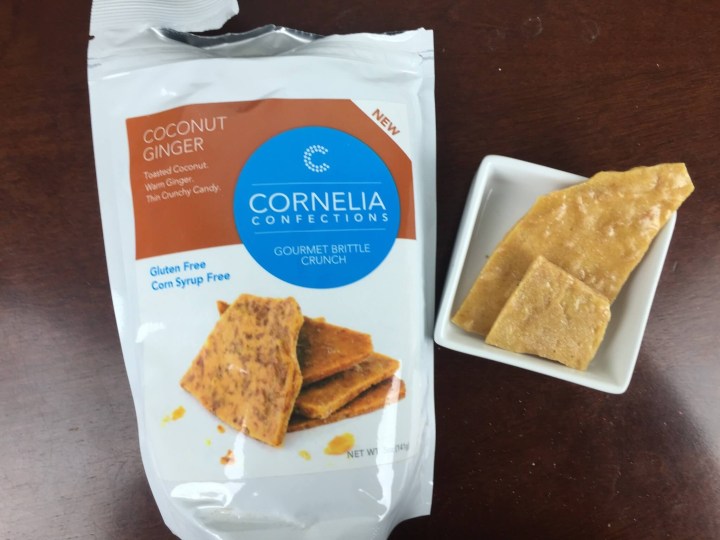 Cornelia Confections Gourmet Brittle Crunch:  Fiery ginger and toasted coconut are a great combo.  I was really impressed with the even, smooth texture of the brittle, and how well it retained its snap.  Super delicious.
Tobago Pepper Sauce – Spicy Pineapple:  Given that this was Spicy Pineapple, we expected a sweet and tangy such.  We were wrong.  This was incredibly spicy, leading me to believe the "peppers" in the ingredients must be scotch bonnets.  Wonderfully hot.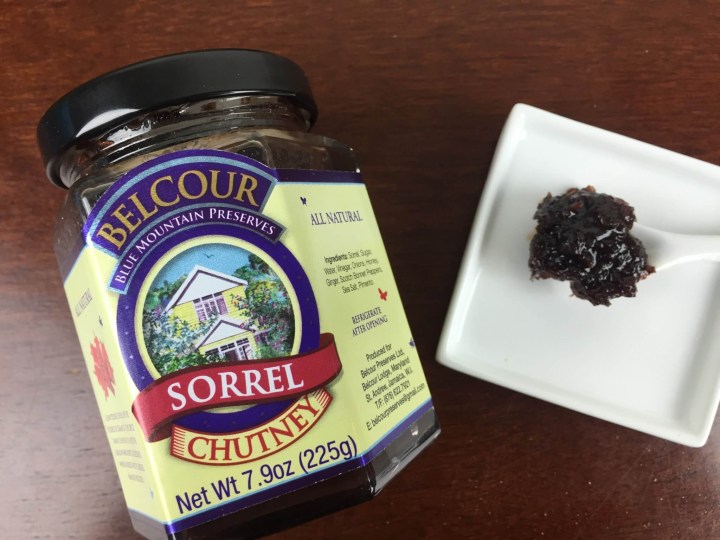 Belcour Blue Mountain Preserves Sorrel Chutney:  Hibiscus is known as sorrel in Jamaican, so I am unsure if this is a hibiscus chutney, or a "sorrel" chutney as we would use the name.  Very tangy and spicy. We've been eating this with toasts spread with tangy goat cheese. Excellent.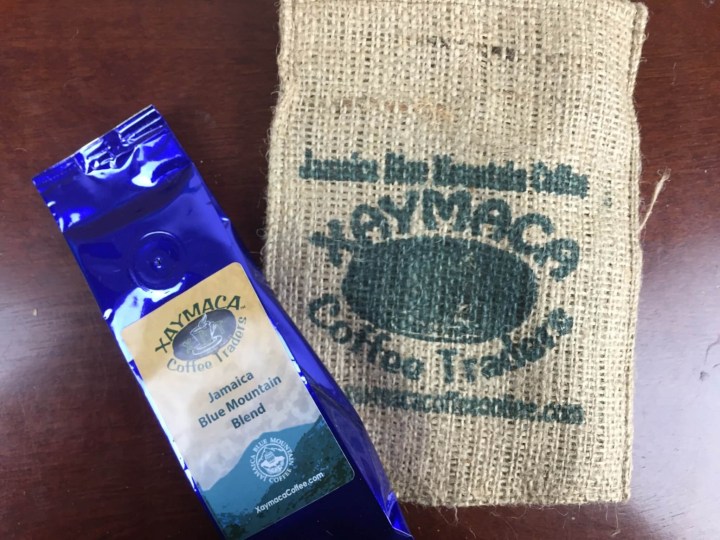 Xaymaca Coffee Traders Jamaica Blue Mountain Blend:  wonderfully aromatic ground coffee from the Blue Mountains.
This was a nice collection of products.  A couple of the items were made in the USA, so it is a Caribbean themed box, not a box containing strictly items made in the region, but absolutely brought wonderful Caribbean flavor into our home.  Everything was great quality and brimming with bright Caribbean tastes. We had a hard time locating some of the items online, so we're confident that this is a great way to collect some of these artisan food products because you simply cannot find them anywhere else. A really fantastic holiday box and that rum cake was amazing!
Visit Island Discovery Box to get this box or find out more!
The Subscription
:
Island Discovery Box
The Description
: A quarterly collection of delectable food items inspired by the Caribbean. Quarterly boxes are themed for the Holidays, Comfort (through the cold months), Spring, and Summer. Each box includes a combination of gourmet snacks, sauces, preserves, desserts, drink products, and more – reminiscent of signature island flavors.
The Price
: $50.00 per quarter