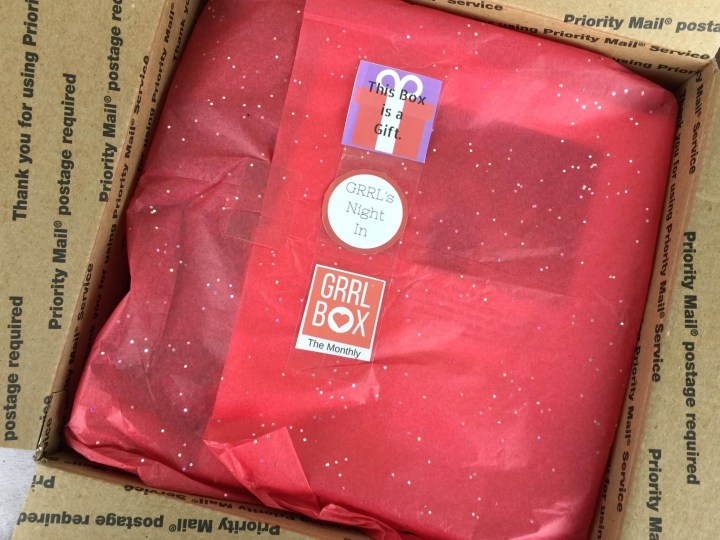 GrrlBox is a new monthly time of the month period subscription box! The "PMS Fairy Pack" contains 6-10 treats, comfort items, or fun things to keep the blahs away during your period or when you are experiencing PMS.
This box was themed GRRL's Night In.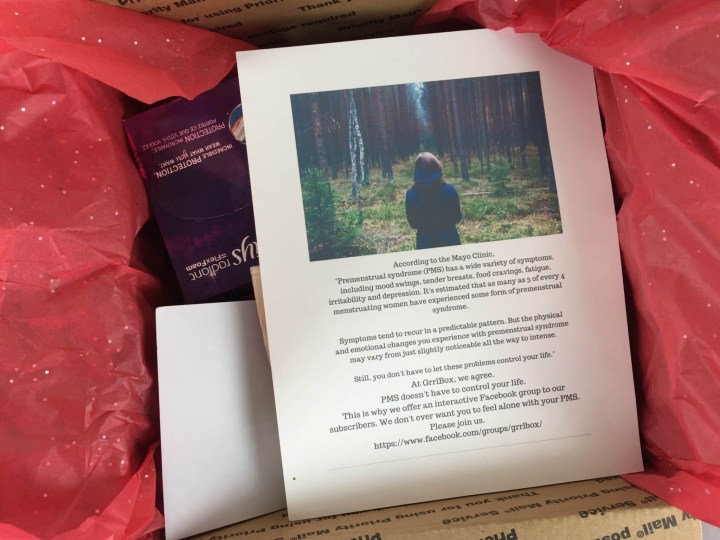 I loved the sparkly glitter tissue. The card says that they have an interactive Facebook group for PMS support.
Lots of things!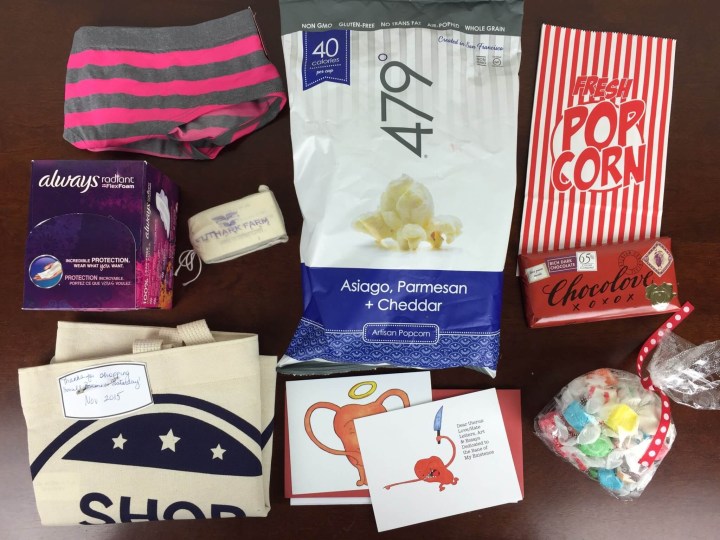 I was surprised to find a boatload of full-sized items.
Dear Uterus PostCards: These would be fun to send or give to a friend in need of a PMS pick me up!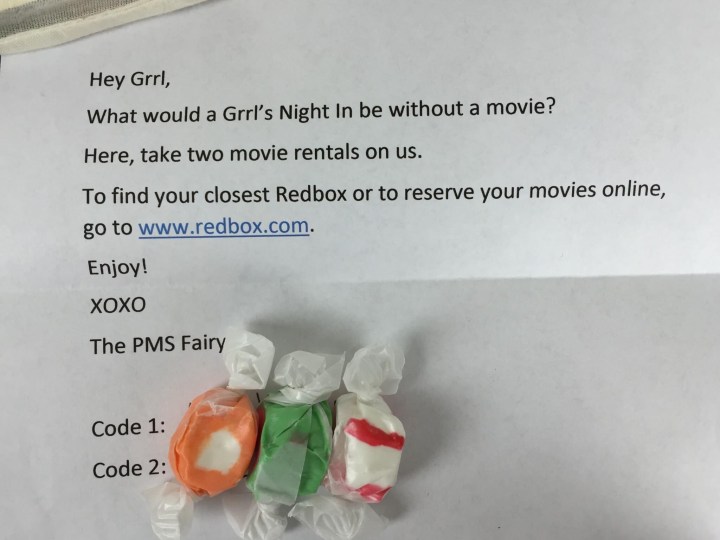 I love that this box had a theme – and it had two Redbox codes, too!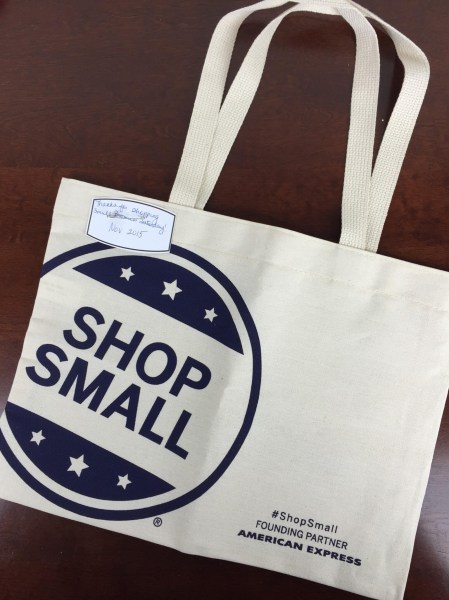 Shop Small Tote: This is a really nice tote bag and I love the Steven Alan design!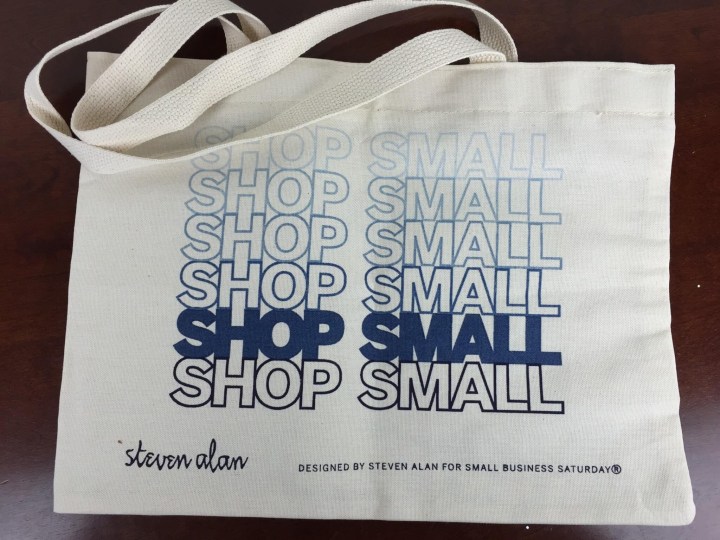 Pretty chic to carry around shopping your local market!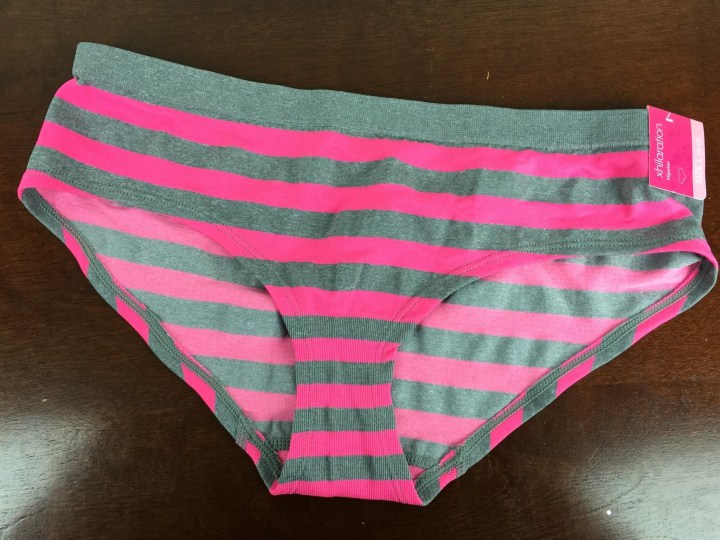 Xhilaration Undies: I'm a fan of rocking the period undies in style, so I appreciate this.
Always Radiant with Flex Foam Undernight Pads

When I went to check out the customization options for this box I discovered that they have a menopause (and a Tween/Teen option)! Some people may find it odd, but I get asked a surprising amount about period boxes that do not have period supplies (in fact, making that a new microcategory in the directory!). Neat! I think it's because period subscription boxes are really like a self-treat with all sorts of goodies and of course menopausal women or women with infrequent or irregular periods are interested in them as well!
Chocolate Riche Dark Chocolate – With Love Poem! This was SO good. I ate most of it already – there's nothing better than chocolate when you're stressed out (like say, preparing hundreds of black friday and cyber monday coupons!).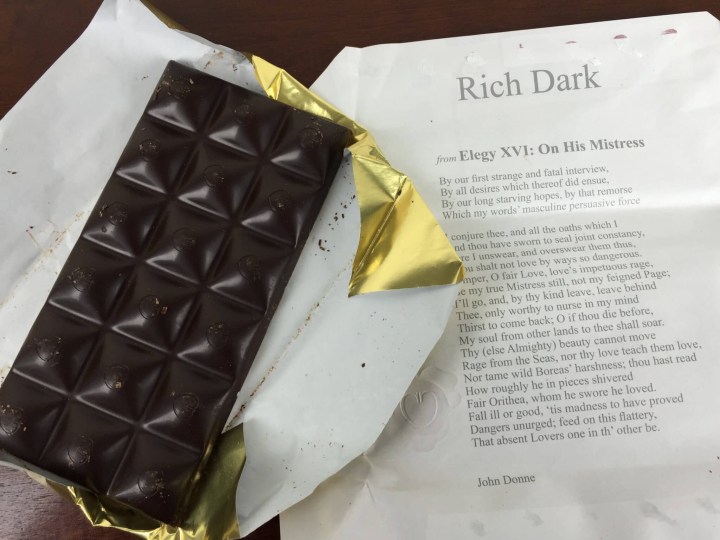 I was also delighted to see this poem by John Donne!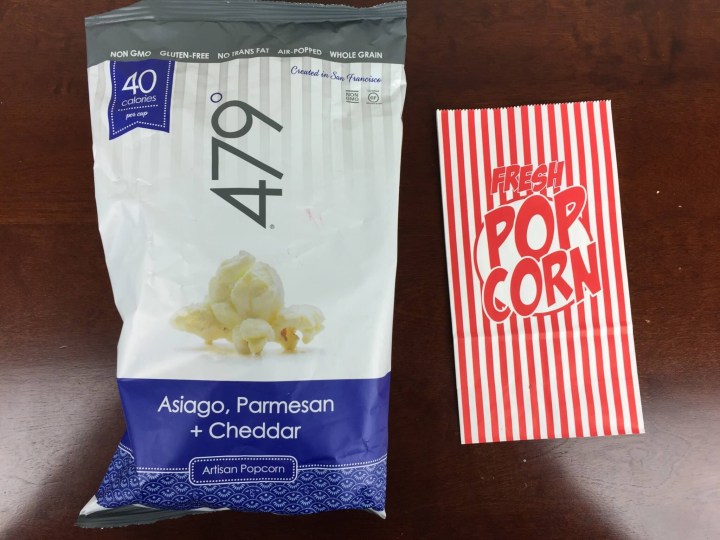 479 Degrees Asiago, Parmesan + Cheddar Artisan Popcorn + Popcorn Bag: This really made me smile when I opened the box! Not only is the popcorn instelf absolutely delicious (especially with the chocolate), including the popcorn bag is just SUPER fun!
Furthark Farm Soaps – Girl's Night In Soap – Made Exclusively for GrrlBox!  This has a great fragrance but I'm not sure what it is – it's also shimmery! This company has hilarious soap names, including "Hipster Bait."
A HUGE BAG of Taffy!: I'm not sure of the maker, but these are all delicious. I've sampled most every flavor and they're all good. I'm eating "white" right now (I'm guessing marshmallow!).

When you check out you can customize panty size, chocolate preference, and internal/external products (or surprise me). I thought this was a fun box and I loved the theming of it! A lot of thought went into it and it made it more fun – you could subscribe and wait until it's that TOM and open your package and be all happy! This box definitely made me happy during a very long weekend!
Visit GrrlBox to subscribe or find out more! Save $5 on your first month. Use coupon code  MSATAKE5. Regular or gift subscriptions. Expires 01-01-2016
The Subscription
:
GrrlBox
The Description
: When you sign up for GRRLBOX, every month you will receive a box of carefully selected products and presents designed around your monthly needs. No matter what phase of menstrual health you might be in, you have control over your box. Each box will have a salty snack, a sweet snack, chocolate, a stress relief item, a feminine care item, something to pamper yourself with, and a pretty pair of panties to help make Mother Nature's little gift a bit more bearable. GRRLBOX, it's like a PMS Fairy Godmother, but better.
The Price
: $35.00 per month
The Coupon
: Save $5 on your first month. Use coupon code  
MSATAKE5
. Regular or gift subscriptions. Expires 01-01-2016