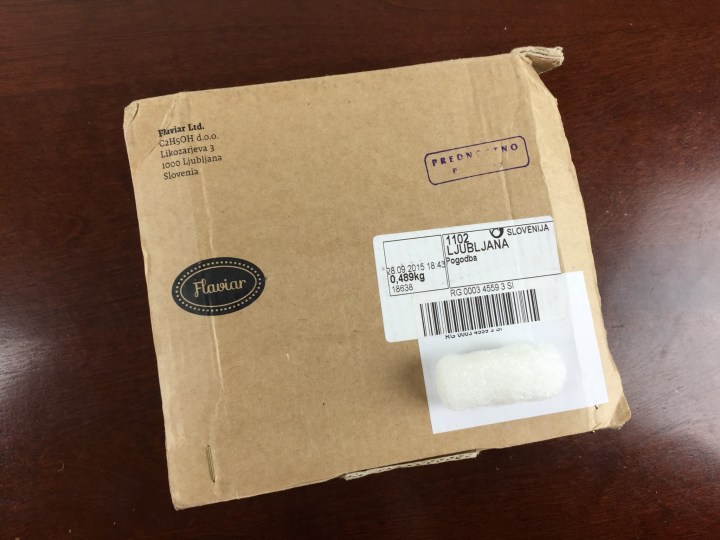 At first blush, I would be tempted to describe Flaviar as whisky sampling subscription, but this month's fabulous haul of aged rums proves that their good taste extends to other liquors as well.  Flaviar brings the selection-of-the-month concept to the world of fine spirits.  The concept is great for spirits, since the best out there can be quite expensive — a big investment for an item that cannot be truly understood without tasting for yourself.  The Flaviar sample gives you the chance to sample before shelling out for a full size, or if you and your buddies want to go in on a full-size subscription, you are assured your selections will be prescreened for noteworthiness and drinking pleasure.
Their Rum of the Caribbean sampler box features five selections from all ends of the Sea — Haiti, Barbados, Guatemala, Nicaragua, and Panama.   If you are looking for something a little different, no worries.  Every month you can skip or swap out the pack for a different selection.  The spirits are varied, so there is always something interesting available that may suit your tastes.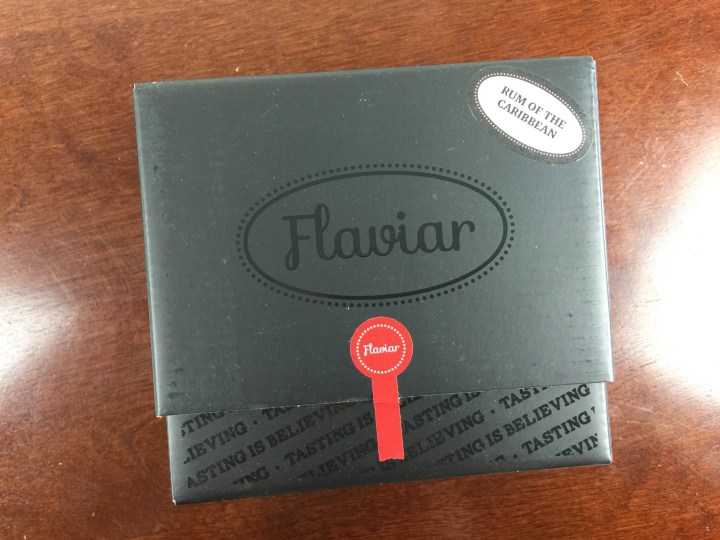 Within the shipping box is a handsome interior box, within which are nestled your five new guilty pleasures.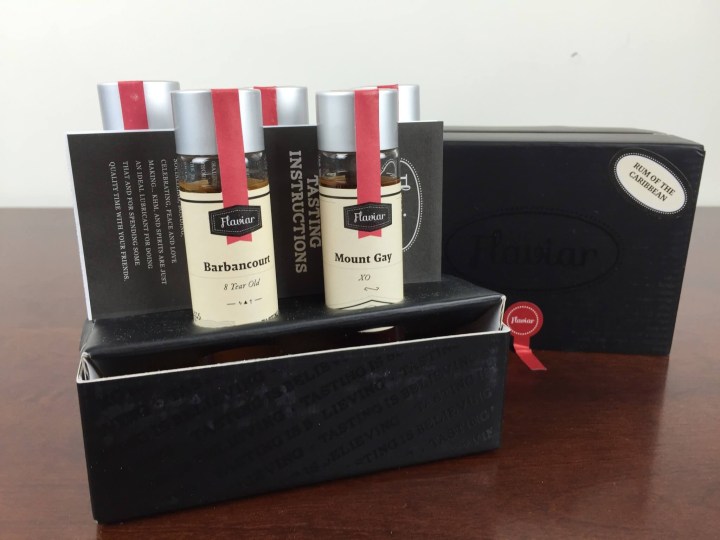 The kit is well-designed.  Not only is it like a hybrid of opening a watch box and playing with a test-tube stand, but it keeps your bottles from rolling all over and lets you admire them while contemplating the complexity of the featured liquors.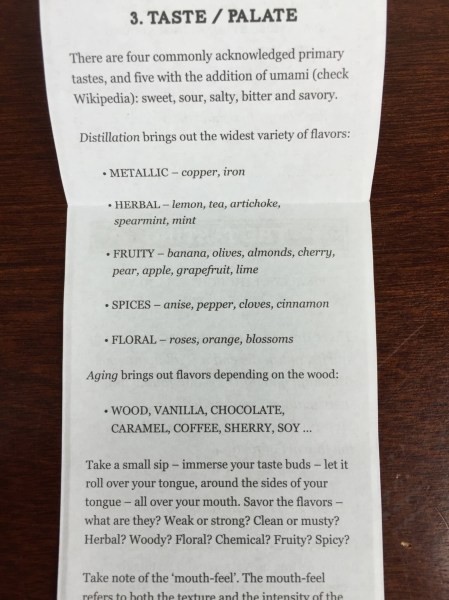 Included are some hints on conducting an effective tasting, as well as some key info on the samples, including flavors to watch for.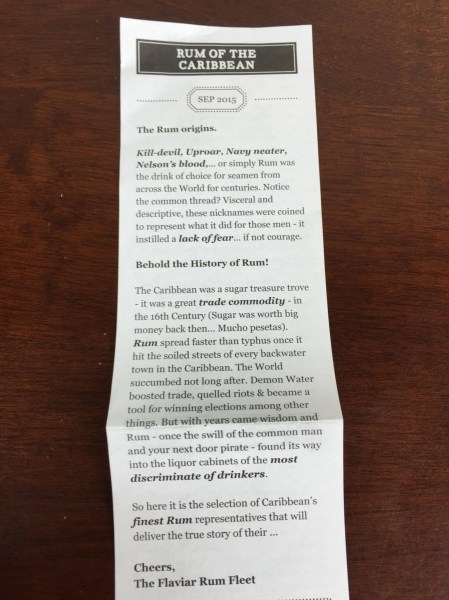 Although the foldout pamphlet is a little odd, it packs a lot of information in – here's a sampling of the note introducing the pack.
The Rum origins.

Kill-devil, Uproar, Navy neater, Nelson's blood,… or simply Rum was the drink of choice for seamen from across the World for centuries. Notice the common thread? Visceral and descriptive, these nicknames were coined to represent what it did for those men – it instilled a lack of fear… if not courage.

Behold the History of Rum!

The Caribbean was a sugar treasure trove – it was a great trade commodity – in the 16th Century (Sugar was worth big money back then… Mucho pesetas).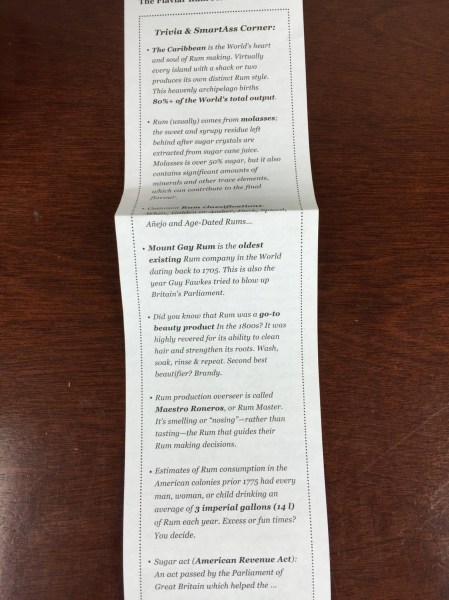 You can click through to read each of them if you'd like.  They are really difficult to get a decent photo of, due to the extreme height, but the info is spot-on.  Good tasting notes and enough background on the distillery to give you a sense of place.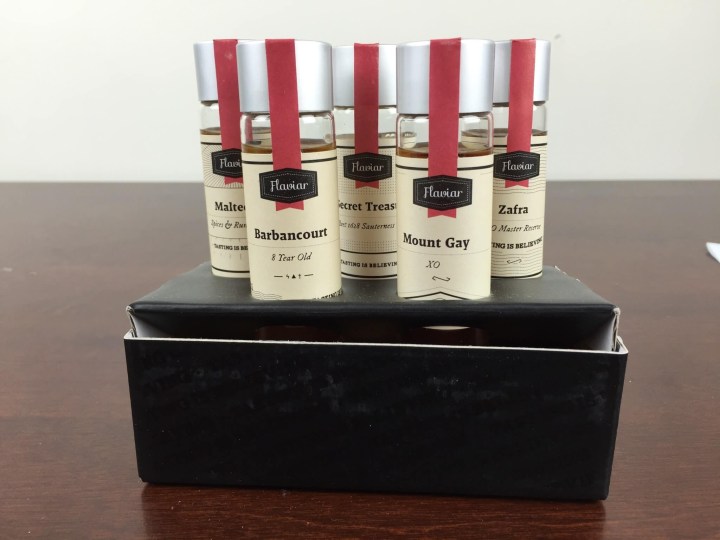 Our five samples hail from across the Caribbean, proving that Jamaica and Puerto Rico are not the only players in the game :
Malteco Spices and Rum 8 YO (Guatemala):  Vanilla and unrefined sugar lead the nose.  Nutmeg and allspice are noticeable accents, playing off the mellow bite of the oak.  The heat is neatly subdued, with a mixed citrus "5 Alive" finish.  This Guatemalan rum is the closest in character to a "spiced" rum and would pair well with a side of pumpkin pie.
Barbancourt 8 YO (Haiti):  Extremely light in mouth feel, this Haitian "rhum," double-distilled from sugar cane juice instead of molasses, has a pronounce sourness and a smoky undertone.  A sweet, oily nuttiness creeps in at the finish.
The Secret Treasures Silverfleet 1628 Sauterness Cask (Nicaragua):  The intense flavor caught me by surprise.  The scent is of strong vanilla, but the flavor is all fruit and syrupy sweetness, like a rum version of Drambuie.  The intensity level of sweet and the strength of the peach and apricot flavors are what you would expect if they made a  "Pleasant Peach Robitussin."  Very tasty, and much sweeter than I expect in a rum — almost a schnapps level of sweet.
Mount Gay XO (Barbados):  This blend had a noticeably dryer feel than the Secret Treasures, having a more classic rum balance of heat and sweet.  Their is a quick, sweet lead, but it subsides immediately, and the oak bourbon barrels cast a noticeable impression on the character, making it slightly woody and bitter — I taste unripe banana (banana mixed with the oaky bitter), and a brown sugar and menthol finish that lingers.
Zafra 21 Year Old Master Reserve (Panama):  A revelation.  Ultra-smooth and slightly sweet, this well-mannered rum has not the least bit of heat in the nose, drink, or finish.  Sweet, pulpy cherry gives way to gingered raisin and a hint of smokiness and oak.  A slightly caramelized sweetness lingers at the finish.  This rum is smooth enough to pour a glass.
The notes include some interesting background on the distilleries and the unique balance of ingredients chosen for each whisky.  The tasting notes go beyond my above big picture observations, tracing the whole "Flavour Spiral" of the liquor and the eight  to ten flavor notes and impressions to which you are treated with each potable.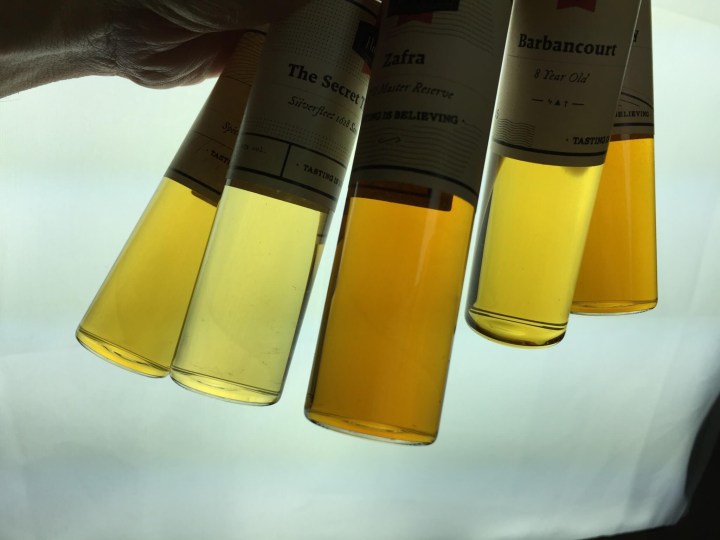 Held against the light, the color of the rums ranged in from Grade A super fancy to Grade B, in maple syrup parlance.  The Zafra is noticeably darker than the others, aging for 21 years in presumably charred bourbon barrels.  The Mount Gay (far right) is also quite dark.  Even the Secret Treasures, the highest, is nowhere near the clarity of a light rum.
To purchase everything on its own and do a home tasting would be around $238, so this is a pretty budget-friendly way to sample new items.  Admittedly, you'd have a lot more liquor if you sought these out on your own, but Flaviar is a lot easier and eliminates the need for a second mortgage. This particular sampler is a great illustration of the value in this subscription.  I would not be likely to try these rums, since we usually use rum as a mixer only and are reluctant to drop $50 on a bottle.  Neither would I dare to venture an try a Guatemalan or Panamanian rum without having tasted it, as I have no direct experience with these rums.  I have never thought of rum as a sipping liquor on par with whiskey or tequila, but this sampler has set me straight.  The Zafra, for example, is certainly worth the $55 a bottle retail — but I would never believe it had I not tasted it.  Flaviar is a really great way to get a sense of direction for half the price of a single fifth of liquor of the quality.
Visit Flaviar to subscribe or find out more! You will receive your first tasting pack for $24.99 when you use this link.
The Subscription
:
Flaviar
The Description
: Subscribe, get a tasting pack and enjoy the carefully curated top-shelf spirits delivered every month. Taste fine spirits, build your home bar. Choose between tasting packs or full-size bottles.
The Price
: $39.99 per month
The Coupon
: Save $15 on your first month and g
et your first tasting pack for $24.99
! No coupon code necessary.