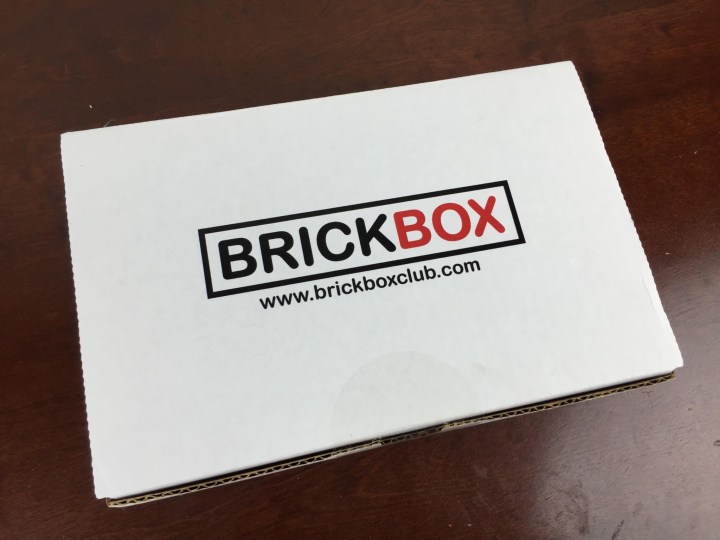 BrickBox is a monthly subscription box for LEGO fans.  BrickBox distinguishes itself from other brick-themed boxes by providing actual LEGO pieces and accessories to add to your set instead of LEGO-themed merchandise. BrickBox offers 3 sizes of box: Loot (minifig + accessories), Mini (brick set + goodies), or the full box. This is the full box.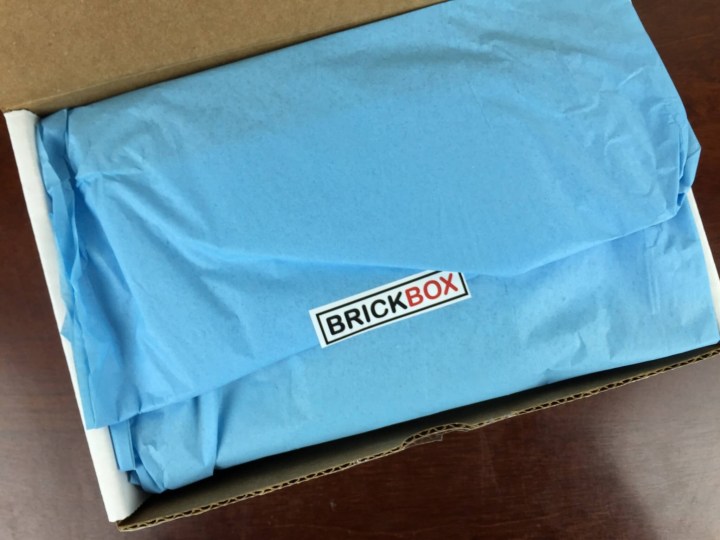 The inside of the box is neatly wrapped in tissue to preserve the suspense.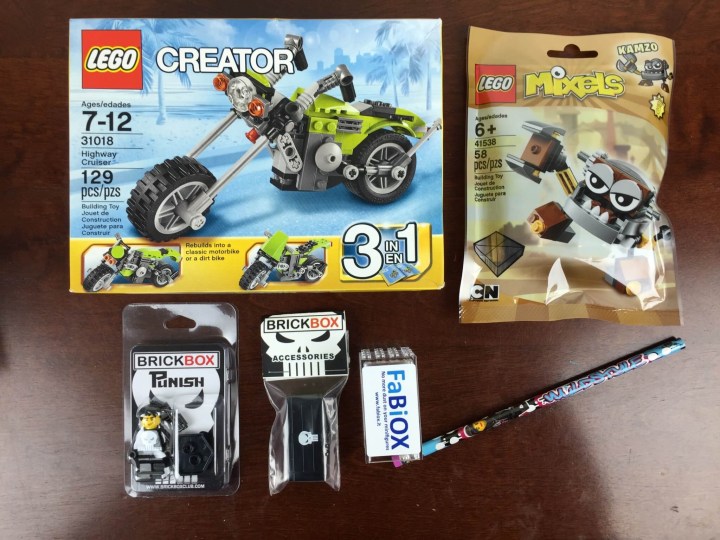 All the items in the box.  We received LEGO-licensed sets and merchandise and third-party LEGO-compatible accessories. This box was themed around the Lego Creator Highway Cruiser Set!!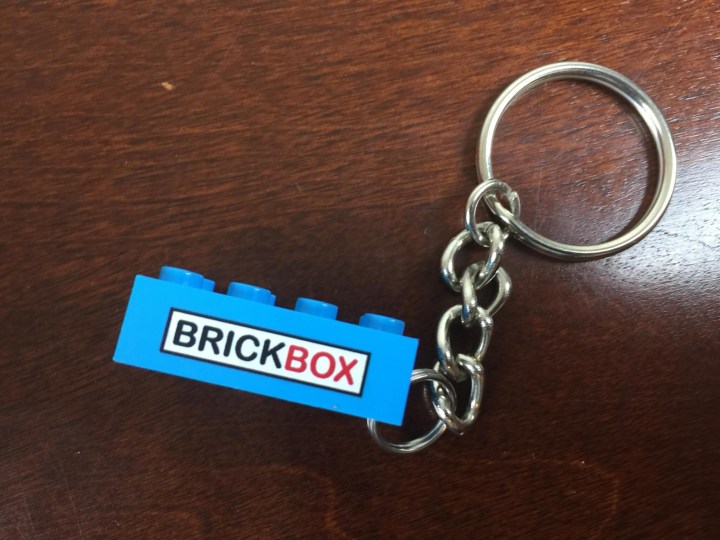 Your first box will come with a BrickBox keychain ($5?), which is really neat! And your name will be printed on the side, so be sure to use the right name you want when you order.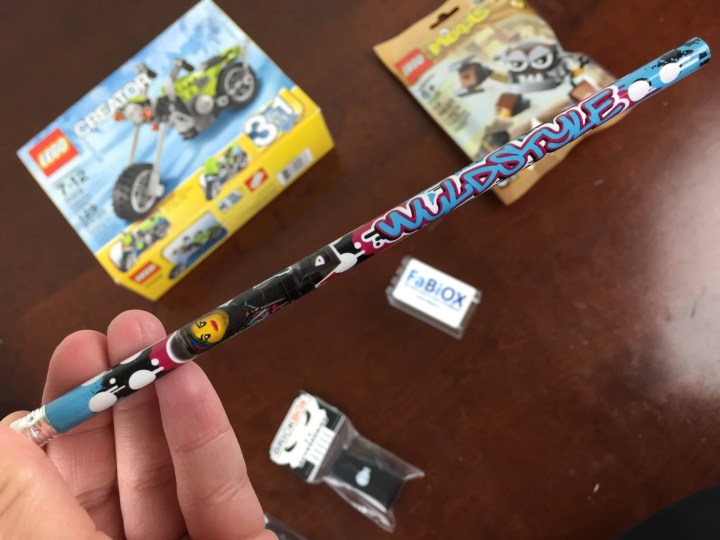 The only non-block item in the box is this great LEGO Movie themed pencil.  Ours was the inestimable SnazzyPants… err… WyldStyle.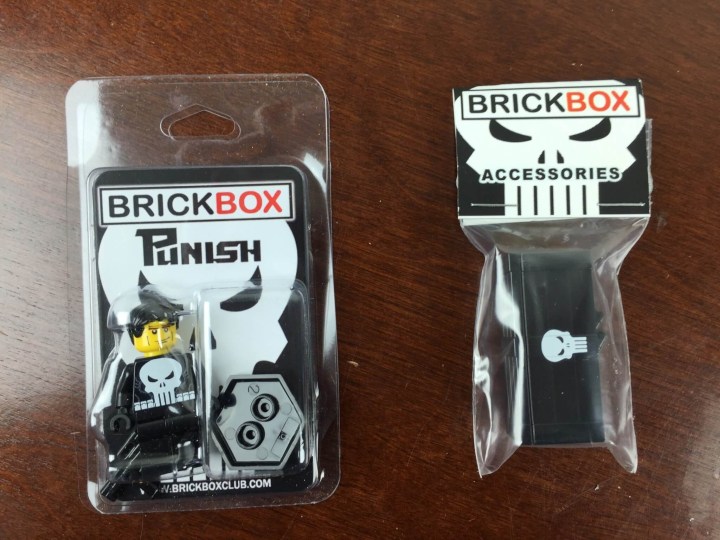 BrickBox "Punish" Minifig & Accessories ($13.99):  An obvious shout out to The Punisher, the vengeance-driven Marvel anti-hero that was one of the first to attempt the leap to the big screen, with mixed success (Frank Castle was in film way before Eric Bana and Toby Maguire did their thing).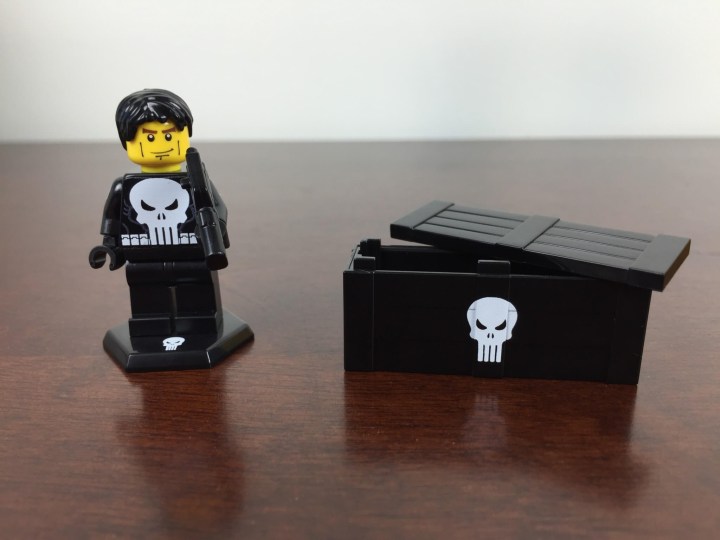 The hair is a tad moppish, but the costume is spot on, and he even comes with his crate of military-class weaponry.
Another shot of Frank showing off his ribcage and strong jawline.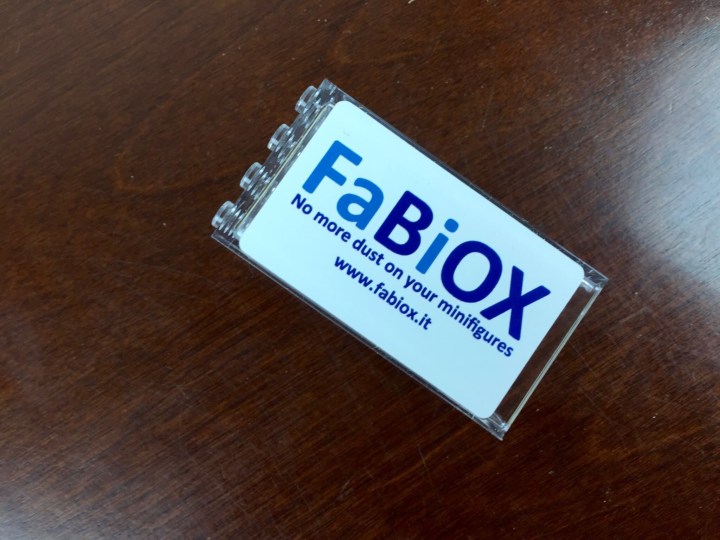 FaBiOX ($2):  These little boxes stack nicely and keep your mini-figs intact and upright.  I think building a wall of these would look really cool!
He has a handy Punisher logo emblazoned stand to help balance him when loaded down with heavy weaponry.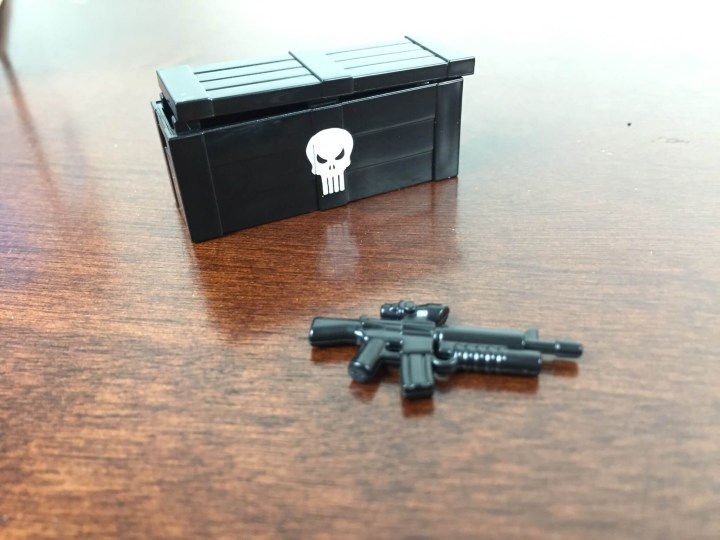 The crate is similarly stamped, making it a logical place to store his back-up AR-15 — there's a little glimpse of the Punisher's mentality — an AR-15 is his back-up weapon.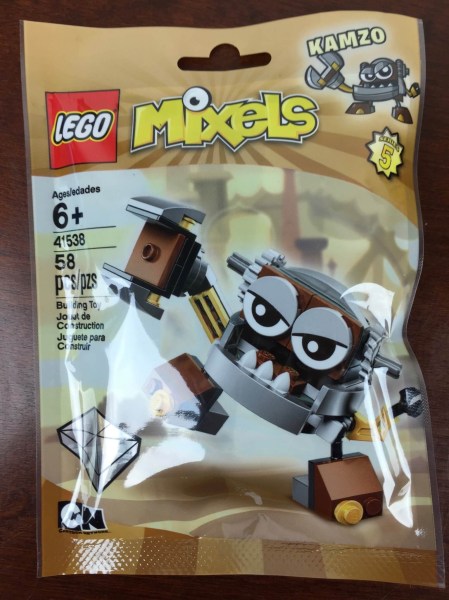 Lego Mixels Series 5 – Kamzo ($6.89):  This Mixel is one of the Klinkers — he can combine with two buddies to form a Klinkers Max robot.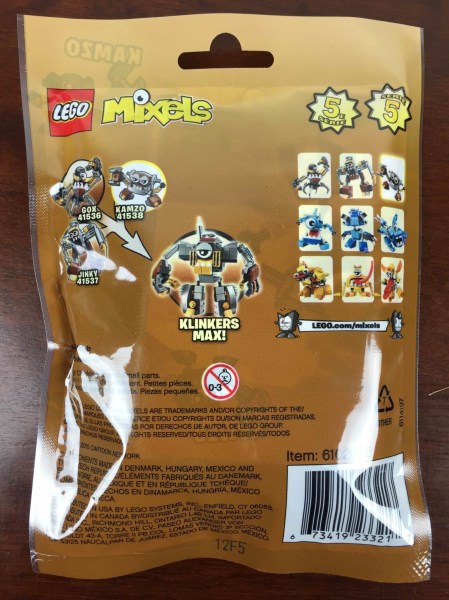 Last month we got one of the Lixer Mixels (bottom row).  It would be awesome if they keep appearing in the box without repeats — I'd love to get the whole set and make a giant Mixel!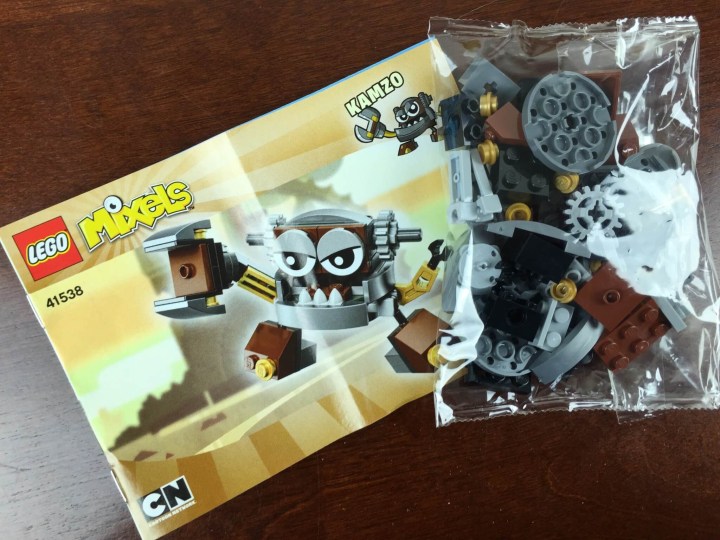 The contents of the Mixel pack — all the Kamzo pieces, plus full instructions.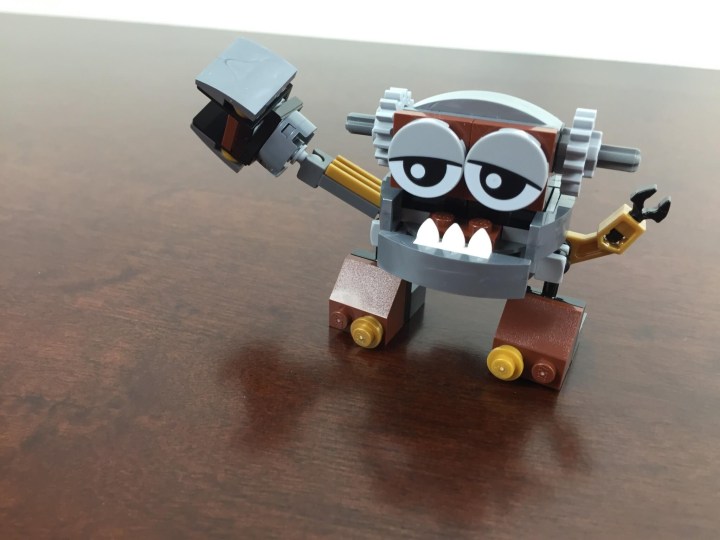 Kamzo!!!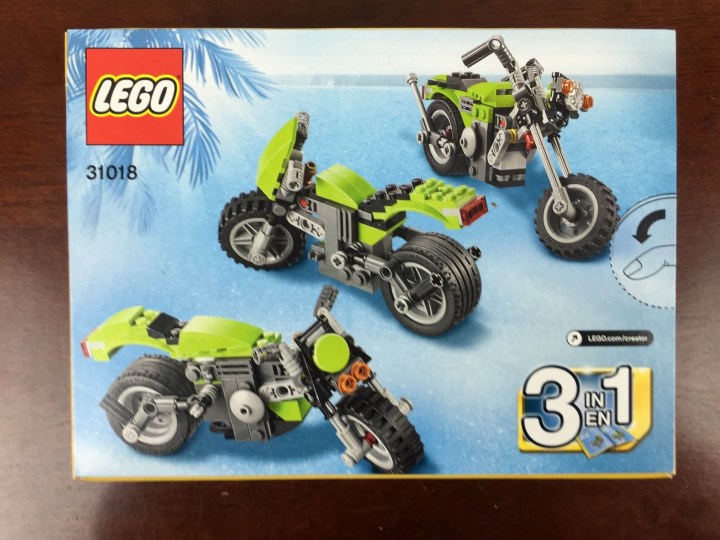 Lego Creator Highway Cruiser Set ($10.19):  I love that this set makes three different bikes!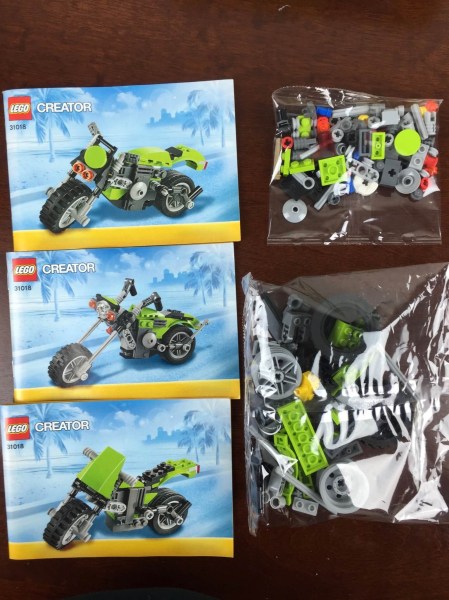 Instructions are included for each type of bike:  dirt bike, chopper, and crotch-rocket (sorry, I don't even know what they are really called — street bikes?).
The sweet chopper.  If you had one, wouldn't you choose that color, too?
I love the content of this box.  It has one of the coolest non-super, conflicted quasi-hero comic book figures from my youth, some continuity from the last box with the inclusion of a Mixel, and a fun and versatile build set.  This is the brick subscription for those that want bricks and builds.  There are a few main boxes in the brick space, and this has been the official LEGO and actual brick set centric one thus far.  The inclusion of the pencil (i.e. LEGO swag), however, signals a slight shift.  The others are similarly changing from their initial foci — the three boxes appear to be undergoing a bit of convergent evolution, each beginning to meld actual LEGOs, third-party products/accessories, and swag.
Visit BrickBox to subscribe or find out more!
The Subscription
:
BrickBox
The Description
: Join Brick Box and receive awesome LEGO products every month! They carefully select Authentic BRICK Sets, Minifigures, Accessories, Parts, T-Shirts, Gear and much more, put it all together and deliver it right to your door.
The Price
: $19.98 for the BrickBox Loot (MiniFig & Accessories), $29.98 for the BrickBox Mini (LEGO brick set + accessories), and $39.98 for the regular BrickBox