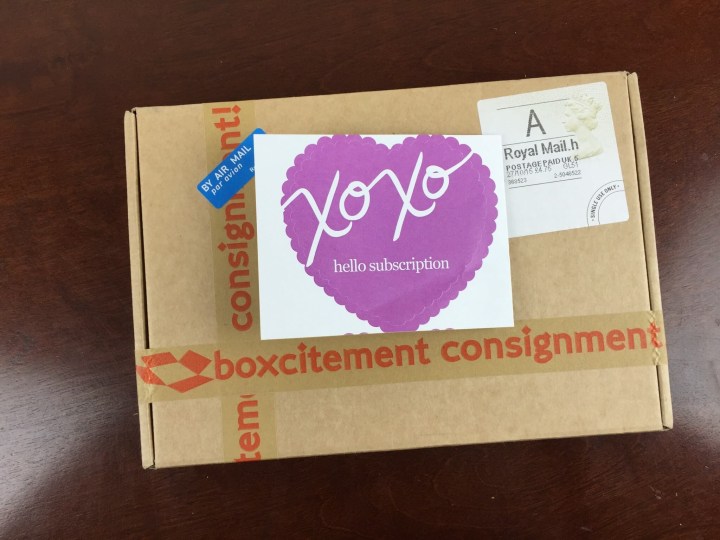 Boxcitement is a monthly subscription box from the UK packed full of stationery products, greeting cards, jewelry, and other accessories and gifts delivered to your door each month. It's a subscription box for people who love wrapping, giving, and receiving gifts. As with many other British subscription boxes, each box is sized to fit in your letterbox, so you never have to worry about receiving your package.
I love their tissue paper, which is much sturdier than the standard American tissue. It's very crinkly!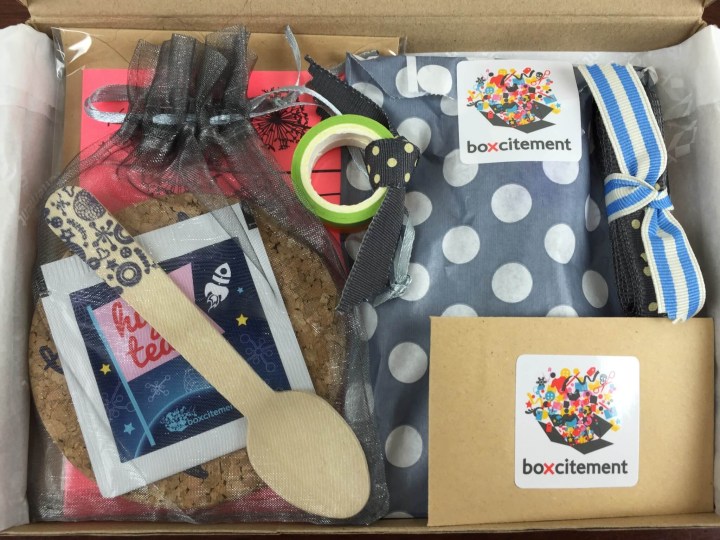 This is a tiny box but they really pack it in. It's about the size of a Graze box. This was fun to unbox because many of the items had their own wrapping!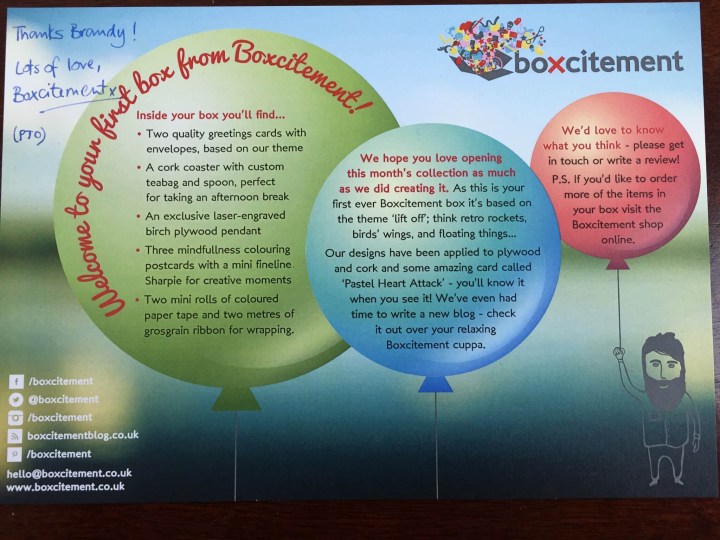 The information card describes what's in the box and the theme for October, which was Lift Off! This was their first box!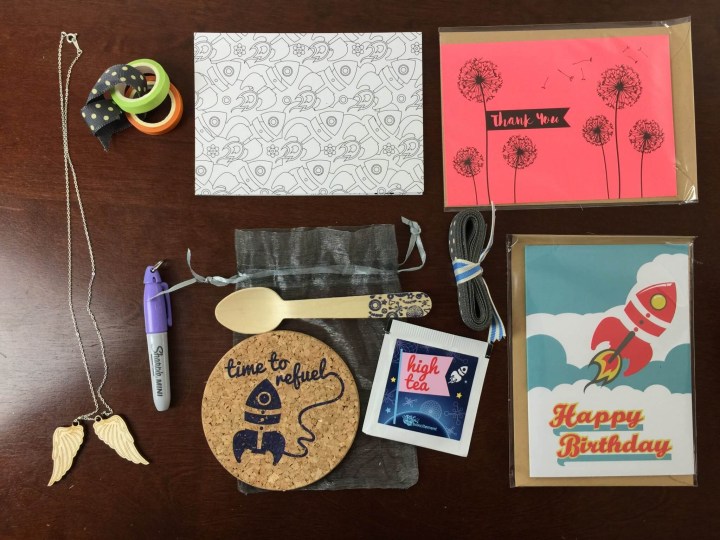 Everything in the October box! 
Cork Coaster with custom teabag and spoon: This is a great thick coaster and everything is just darling. It came in a little organza bag so if you didn't like tea or needed a cute little gift add on, you can just attach it. I don't know if I've ever seen a custom tea bag, but this whole set is cute because it totally matches!
Two mini rolls of washi + 2 metres of grosgrain ribbon: Excuse me, "coloured paper tape" (yes we love British spellings. Now say aluminium!)  The washi came tied together with some ribbon too. The ribbon matched the paper wrapping of another item, and it's perfect for tying up a gift or crafting.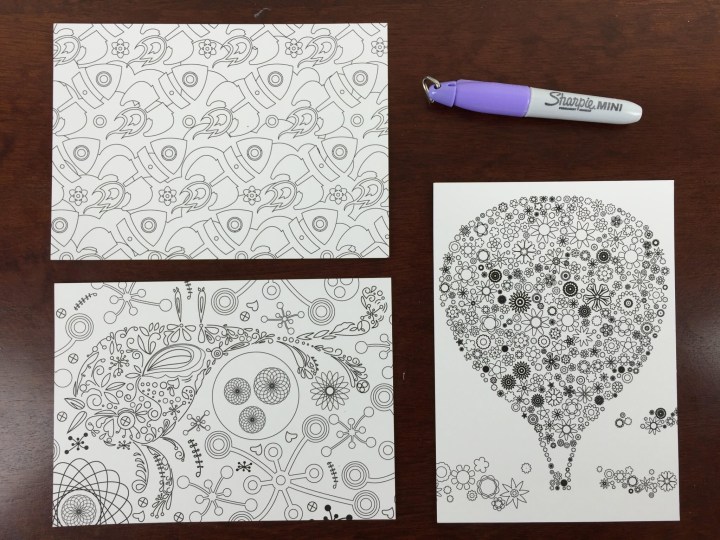 3 mindfullness colouring postcards + Sharpie Mini Fineline: These were created just for this box and are soothing rituals to color away your stress! The sharpie wasn't necessarily for the cards, just for any creative expressions!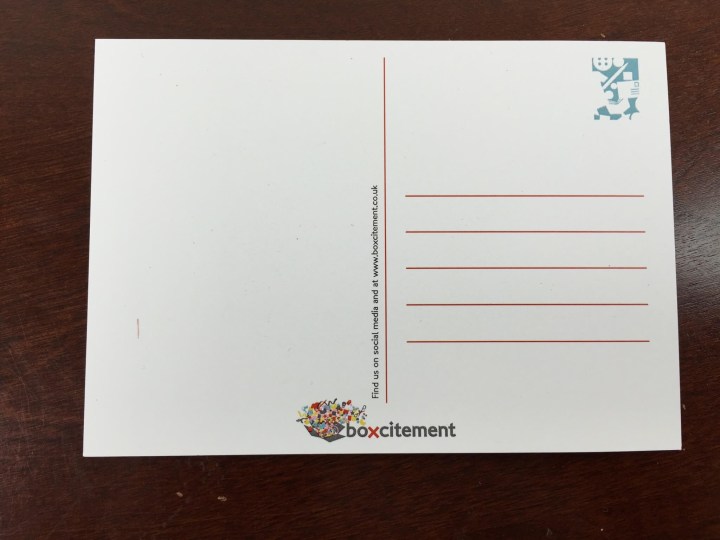 The back of the postcard. I was mildly surprised that British postal conventions appear to be the same as ours for postcards. I don't know why I expected anything different!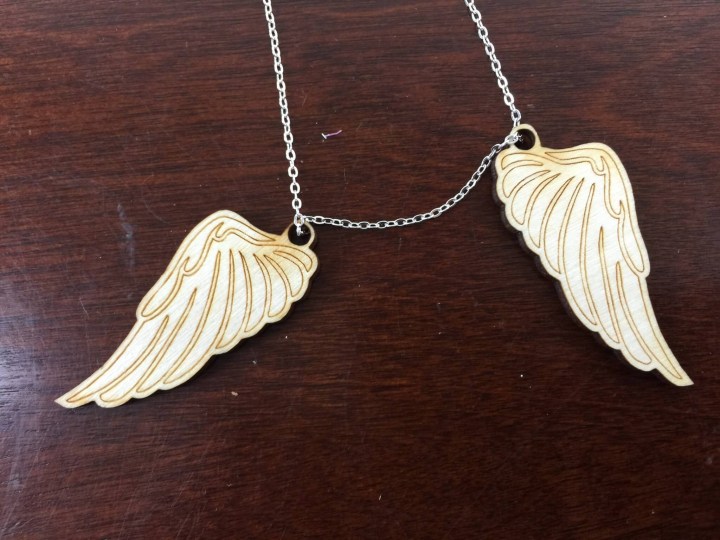 Angel Wings Necklace: This is an exclusive design with the wings laser engraved on birch plywood. I think it's absolutely gorgeous and I have NOTHING like it.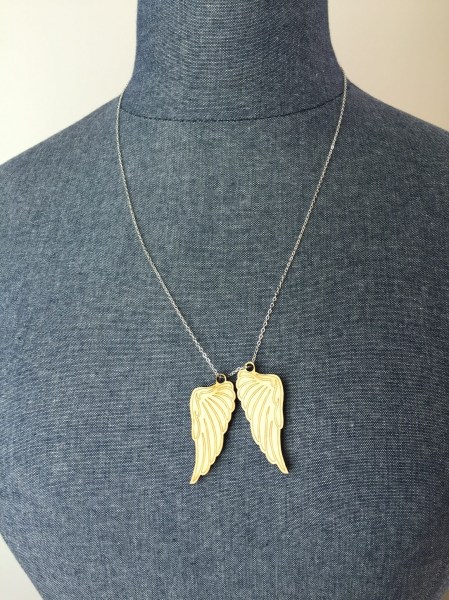 So pretty!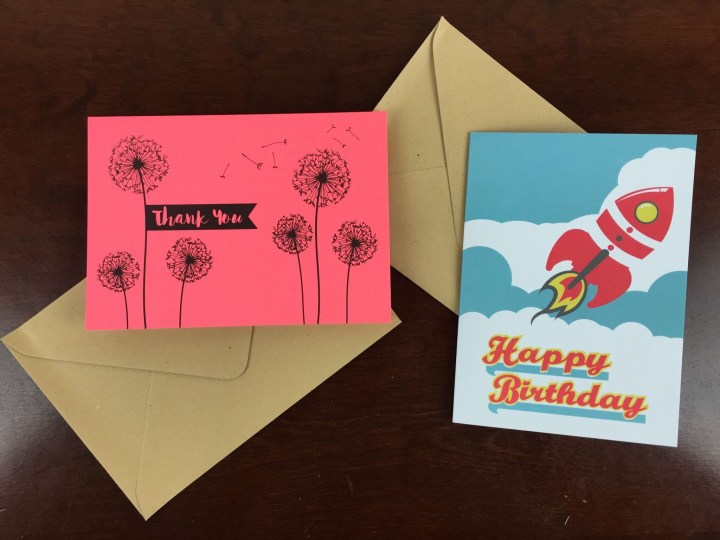 Finally, two Boxcitement greeting cards and envelopes. I loved how these are for specific events but I could use them for a variety of things (e.g., the happy birthday I could use for an adult or child). The thank you card is actually brighter than in the photo, and both are printed on extremely heavy stock and super professional (aka indistinguishable from cards from a stationery store).
I was impressed with this box. The British subscription box styles tend to be quite different and this is definitely within that style. Everything was cute, coordinating, and of exceptional quality. The coaster and the necklace were my favorites! They would make a great gift, but I think I'd prefer to keep them for myself!
Visit Boxcitement to subscribe or find out more!
The Subscription
:
Boxcitement
The Description
: Boxcitement design and produce exclusive stationery, gifts and homewares which are unavailable anywhere else. Every month we come up with a stylish theme and create a selection of quality stationery products and small gifts – anything from jewellery and accessories to homewares and crafts – then post them in beautifully packaged little letterbox-friendly boxes which are a joy to open. It's like having a birthday every month! It's excitement in a box!
The Price
: £18 per month. UK postage FREE, Europe £5, US and Australia £6