Bojerky is a monthly craft jerky subscription. Every month you'll receive 3+ounces in a half subscription, or 6+ ounces in a full subscription. Bojerky concentrates on finding the coolest indie jerky and sending them to you (some jerkies aren't even available online and of course you would pretty much have to pay shipping for all of them). This review is for the full Bojerky subscription.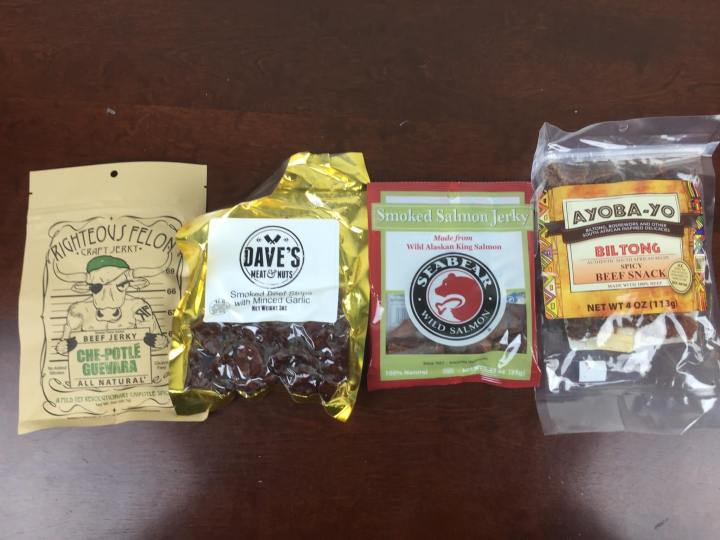 We received 4 flavors in this box! No information sheet this month!  I presume the extra bag of jerky is a included because the salmon jerky may be outside the comfort zone of some subscribers — bravo to Bo for making sure the fish-wary still get their three bags!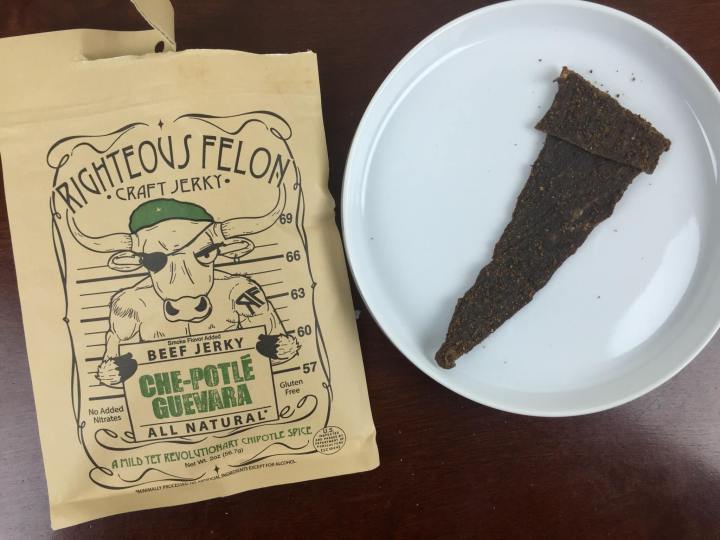 Righteous Felon Che-Potlé Guevara ($8) Assertively spicy, this recipe is slightly smoky.  The onion and garlic shine through the even heat.  I've seen this variety a few times in other boxes.  The spice is nice, but not off there charts hot.  This is a firmer and chewier style of jerky.

Dave's Meat & Nuts Smoked Beef Strips with Minced Garlic ($8):  I love Dave's Rootbeer Habanero variety, and this one has the same great texture and moisture.  The big hunks of meat are so moist and marinated, that they are almost candied.  The garlic flavor is nice on this variety — it is moderate, and the heat level on this is very low.  This is a great sweet, tender, and moist jerky — it is one of my all-time favorites because it is so enjoyable different than most jerkies.
Seabear Smoked Salmon Jerky ($7.99):  The scent of this bag was pretty strong at first, but upon tasting, I found the fish itself pretty mild.  It is no more intense in fishiness than fresh cooked salmon, and it is also not very salty.  Slightly smokey, it has an awesome texture — very tender, with a nice degree of al dente integrity to the pieces.
Ayoba-Yo Biltong Spicy Beef Snack ($8.99):  This South African cousin of jerky is becoming greatly popular as of late.  It remains moister than most jerky , and it is shaved into slices rather than served in chunks.  This brand lacked the slightly gamey, aged salami-like flavor that was very present in other brands I've tried, so it had a more readily approachable flavor profile.  Slightly spicy, this bag had a fairly mild South African-inspired seasoning.
The four selections this month has good, straightforward flavors, but they covered a great range of textures.  Dave's is my favorite right now, but they were all very good!  Not only are the jerkies tasty, but Bojerky is a nice way to explore and discover your preferred "jerky profile."
Visit Bojerky to subscribe or find out more! Save 30% on your subscription. Use coupon code FALL.
The Subscription
:
Bojerky
The Description
: Bojerky is a subscription to craft jerky. You're going to get 4+ flavors of jerky each month with a full order and 2+ ounces a month with a half order of the coolest indie jerky from around the US sent straight to you.
The Price
: $15 (small) or $30 (large) per month
The Coupon
: Save 30% on your subscription. Use coupon code
FALL
.