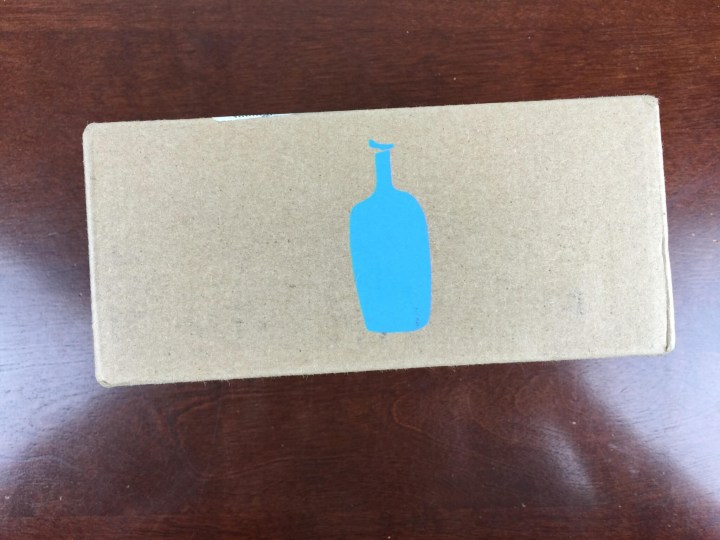 Blue Bottle Coffee is a coffee subscription with multiple options to suit your coffee needs. Generally you'll get 12 oz of beans every other week for $17, or double your bag for an extra $11. They also offer half bag and triple bag subscriptions. The prices vary by a buck or so on your coffee selections. You can try Blue Bottle Coffee free – just look for the "Try It Free" button after you hit subscribe.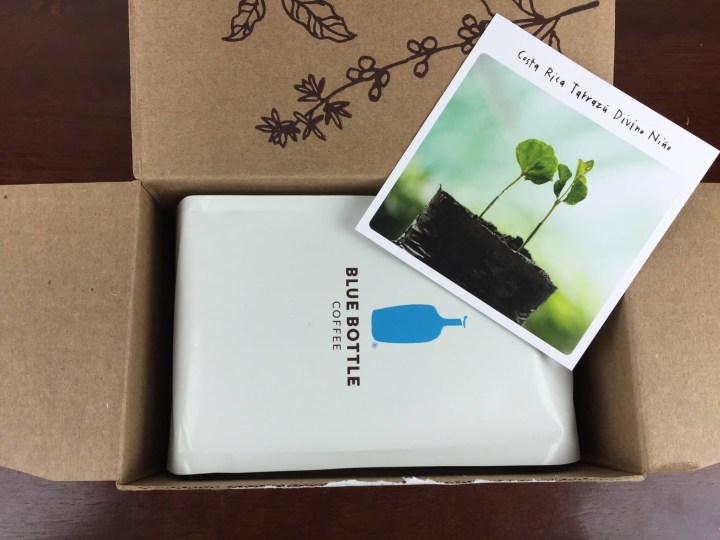 Nearly a year ago Blue Bottle announced they have acquired Perfect Coffee, a coffee subscription that has apparently stopped time and has developed a magic method of grinding beans that never get old, but we haven't heard anything more about that yet except it was supposed to debut this summer. Currently they offer only whole bean subscriptions but we'll let you know when ground is available!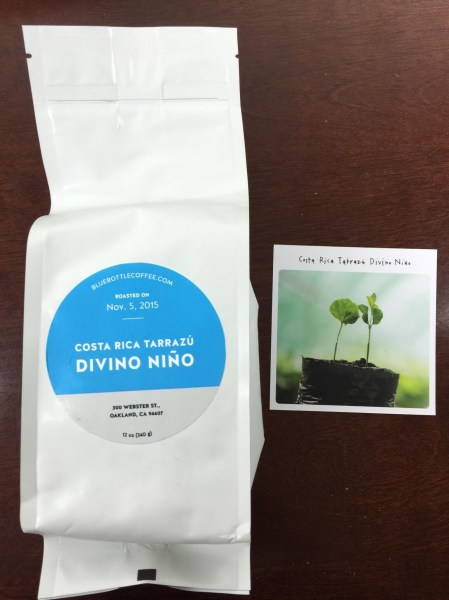 This month I received Costa Rica Tarrazú Divino Niño. I have the Origins subscription, but it's easy to switch between the 3 types (Origins, Blend, Espresso) or one of the 8 specialty subscriptions available, as well as change the frequency and amount of coffee you receive in each shipment. I like that I receive a different single-origin coffee every time with my Origins subscription.  I find you can discover some really fantastic flavor profiles that tend to get lost in a blend.  I've had Blue Bottle Coffee blends (and espresso, though I prepared it as normal coffee) before, and they are selected and prepared with the same degree of mindfulness, though you will miss out on some of the delightful "rough edges" of the single-origin brews.
Blue Bottle Coffee's Description:
With four generations of farming experience behind him, Mauricio Vindas is off to great start at Divino Niño. Since purchasing the 12-hectare farm in 2009 (he worked as a cook to save up the money), he's planted more than 5,000 Caturra and Catuai trees. This year, thanks to some meticulous picking and processing, Divino Niño nabbed its first Cup of Excellence award. The name "Divino Niño" is a tribute to Mauricio's son, whom he believes emerged from a childhood sickness with a bit of divine help. Now in his early teens, Mauricio Jr. is a certified barista by the Specialty Coffee Association of Costa Rica — and, we're willing to bet, a ball of energy.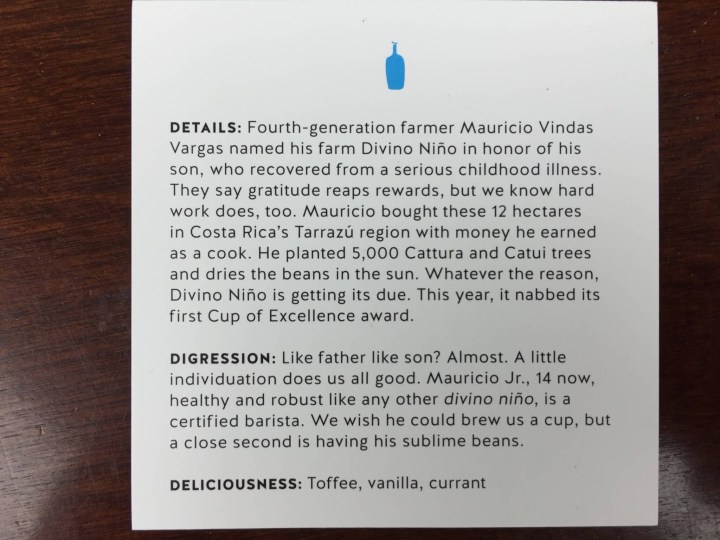 Blue Bottle Coffee's notes:  toffee, vanilla, currant
My Notes:  The tasting notes from Blue Bottle do a great job of summarizing the characteristics of this coffee.  It starts light and mellow, with golden (but not buttery) toffee and vanilla flavors.  The developing flavor and finish is strong with sweet, dark berry — either currant, or a cherry/concord grape hybrid.  The backstory for this grower is interesting, but these beans certainly speak for themselves; this is a very drinkable cup with an approachable, but interesting profile.
Visit Blue Bottle Coffee to find out more or to subscribe – a free trial offer is available. Visit the site, hit subscribe, and then the white "Try It For Free" button.
The Subscription
:
Blue Bottle Coffee
The Description
: Get 6-36 oz of coffee, single origin, blend, or espresso, delivered on the frequency of your choice
The Price
: $17-20 per delivery every other week. Multiple options available.
The Coupon
: Get a free trial 
when you join Blue Bottle Coffee
. Just look for the "Try It Free" button after you press Subscribe.