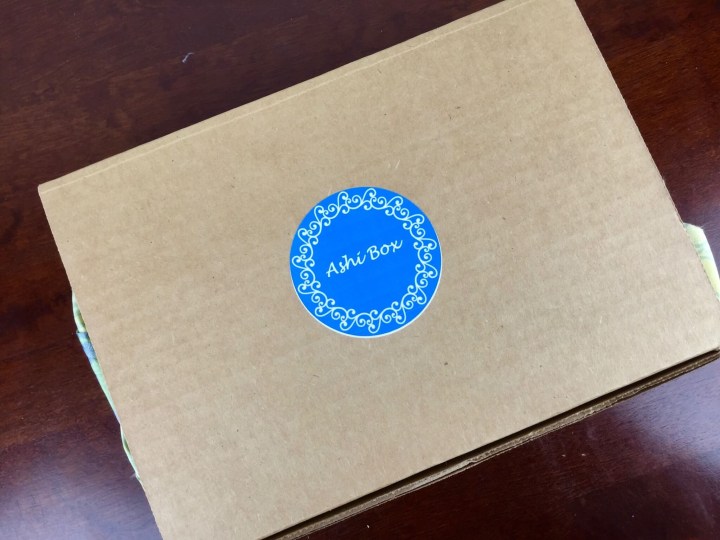 Ashi Box is a new monthly yoga subscription box. Ashi Box is curated by a yoga practitioner and India lover. Each Ashi box is designed to deepen your holistic yoga practice, and will include Yoga Love, India Love, and Life Love.
Yoga Love: Yoga love includes products and teachings that will support and deepen your yoga practice (perhaps a yoga book or strap)
India Love: India Love includes teachings from India, and unique findings procured in India (think Ganga-dipped mala or brass statue)
Life Love: Life Love includes life-enriching and joy-inducing products from smaller companies that are doing awesome things (possibly organic teas or essential oils)
When I opened the box I was surprised to find such unique packaging! The theme for November was the "Art of Giving." The box included two of everything so you could practice this art.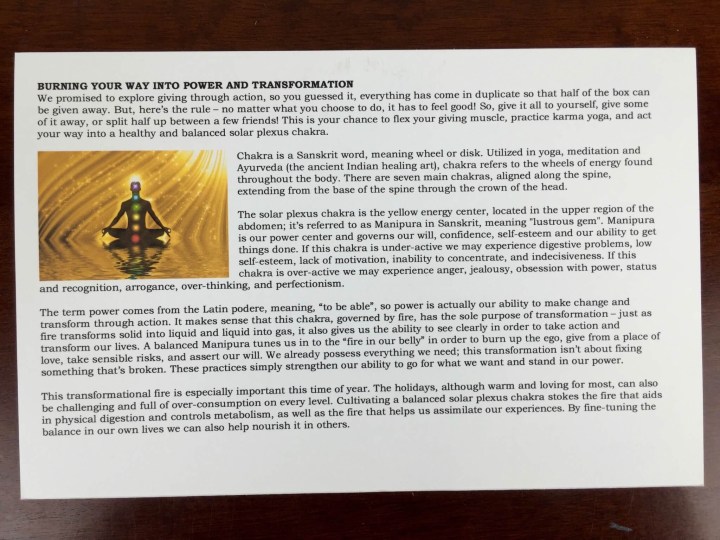 Along with the product information card were cards on yoga practice and chakra activation for yoga, meditation, and Ayurveda practice.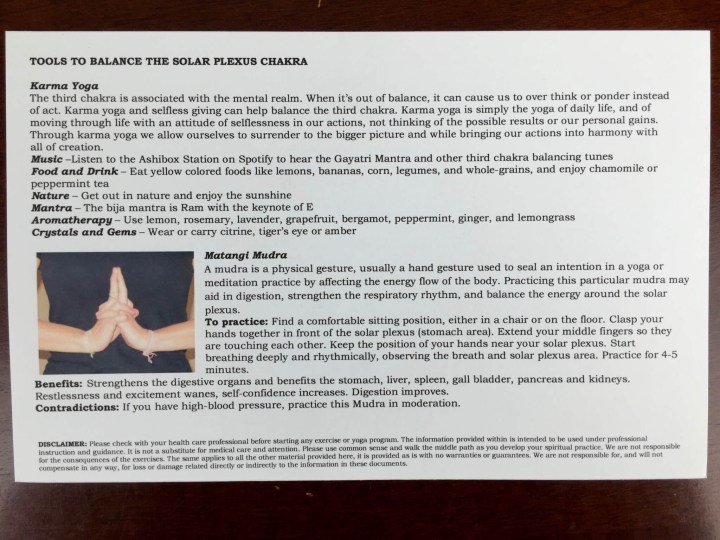 Tools to balance the solara plexus chakra.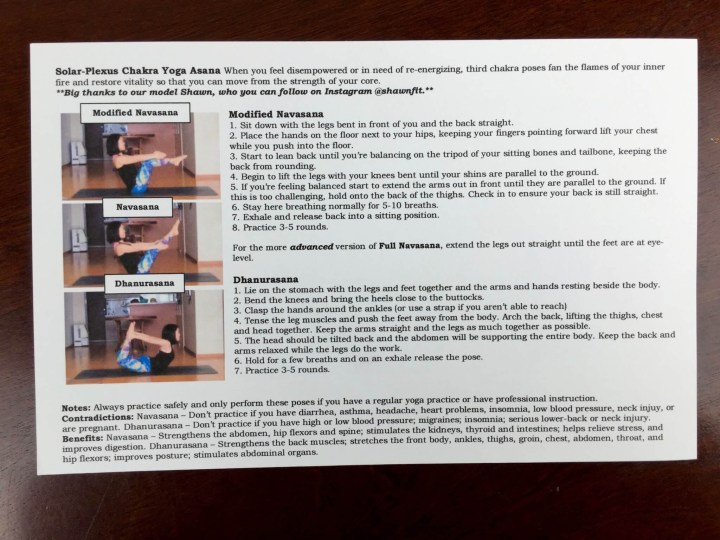 Along with a Yoga asana (dquence) for activating your solar plexus chakra through yoga.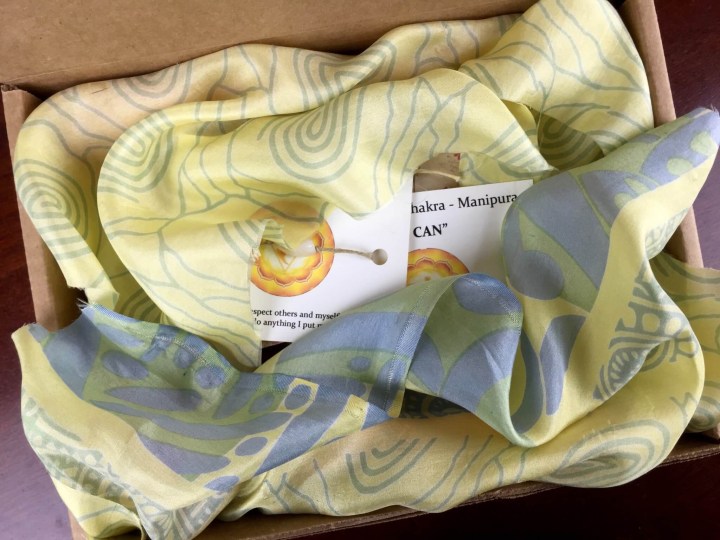 So pretty! This is a recycled Varanasi Silk Sari, and you can collect all of them from your boxes for a craft project or use it as a drape or covering in your sacred space.
Everything in the box!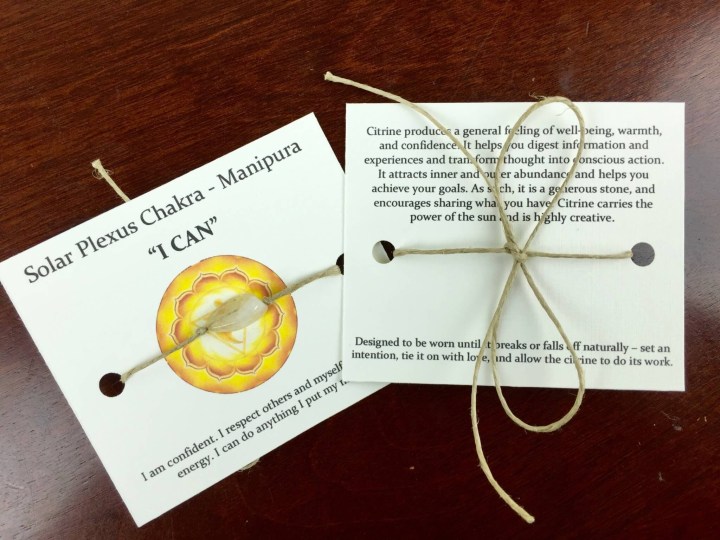 Solar Plexus Chakra – Manipura – "I Can": These citrine and hemp intention bracelets come with a little mantra to help set your intention. Tie it on and allow the citrine to do its work (it's said to induce a general feeling of well-being, warmth, and confidence) until it falls off naturally.
The next items were in a plastic bag (great protective packaging) and in another scarf bit!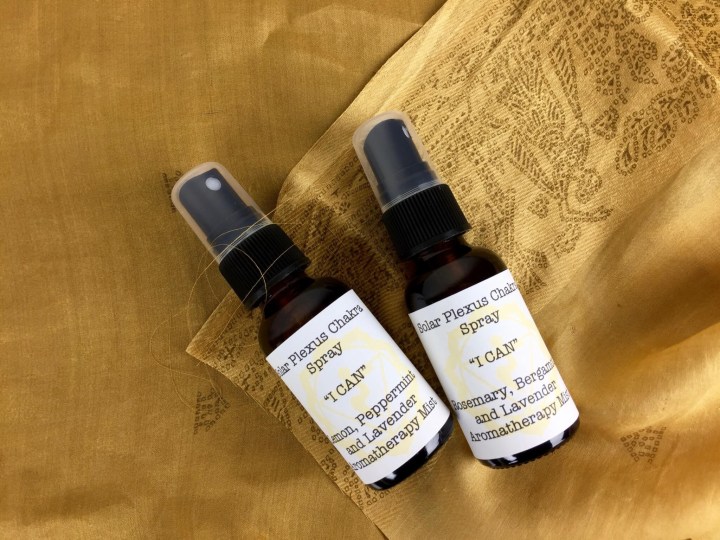 Solar Plexus Chakra Spray in Lemon, Peppermint and Lavender Blend + Rosemary, Bergamot, and Lavender Blend: These are used to balance the solar plexus chakra and this aromatherapy mist can be used in your home/in the air or on your body.  The first reduces anxiety and increases concentration. The second helps with digestion and increases self-confidence!
Old Town Spice Shop Mint and Hibiscus Tea: Peppermint tea helps sooth the solar plexus chakra and aids digestion (and the hibiscus will make it beautiful!). This is a nice relaxing tea and naturally pre sweetened with stevia leaf! I love that.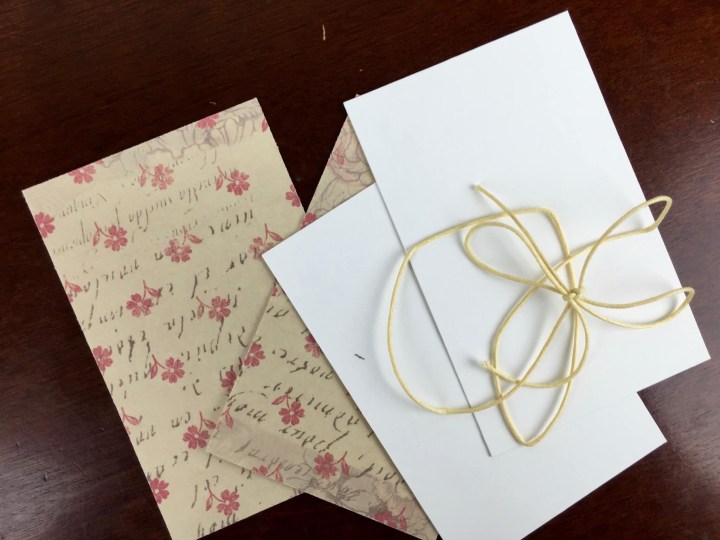 Giving Cards: To be used to gift items or whenever you might need to write a note!
Mantra Shawls: These are a light gauzey cotton, made in India and printed with deities and Sanskrit mantras. You can do just about anything with them – wear them as scarves, use as decorations, wear as a head wrap, whatever you'd like!
I am pretty sure that this is Shiva but I could be totally wrong. Shiva is the patron god of yoga and the arts.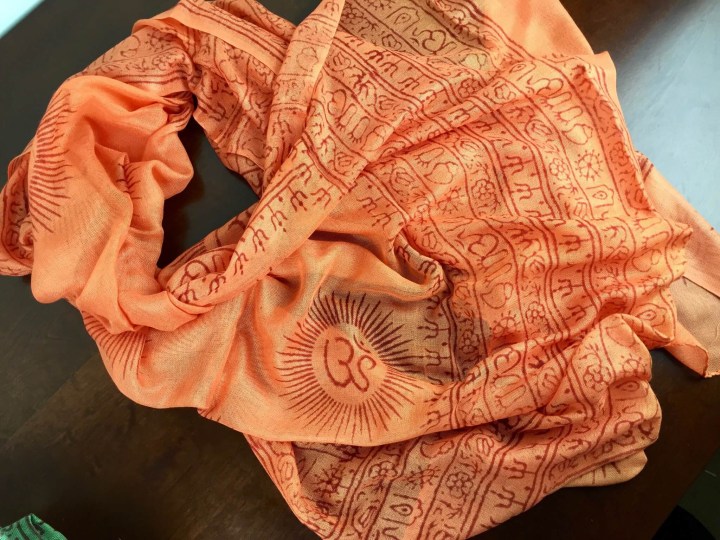 And this one says Om!
Mantras are found all around the edges of the scarves. I thought it was fitting to intertwine them!
This was a great box! I highly doubt that this box normally contains two of everything, but I thought the theme was perfect for November and Thanksgiving and the holidays. It was really well curated for traditional yogis and yoga practitioners and I was delighted by everything inside! It was all meaningful and beautiful and this box was in my list of top 5 of fantastic and unusual packaging. If you are reading this post and have something to add about the meaning of the mantras or anything else, I welcome your comments!
Visit Ashi Box to subscribe or find out more! Get 20% off your first box or in the shop! Use coupon code  IAMAMAZING. Expires 12-01-2015
The Subscription: Ashi Box
The Description: Ashi Box is yoga love (eg, yoga book or strap), India love (eg, Ganga-dipped mala or brass statue), and life love (eg, organic teas or soaps) – with a monthly theme and 5-7 items to support the theme, and a portion of the proceeds going to women's groups in India.
The Price: $40.00 per month