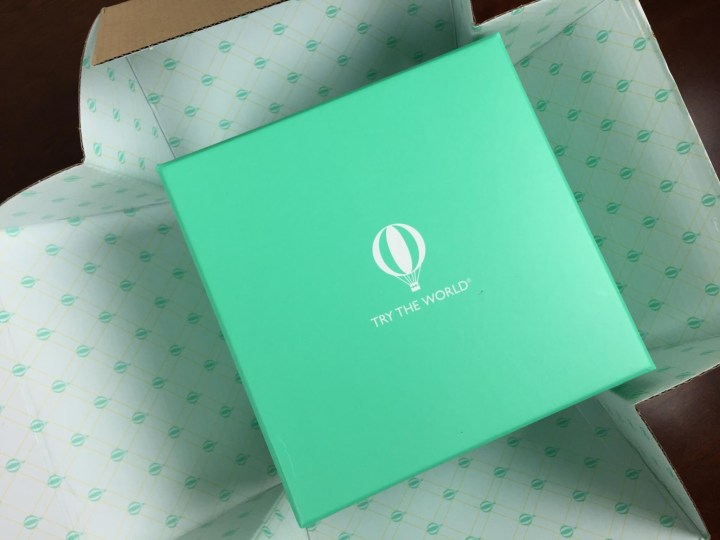 Try The World is a bimonthly international food subscription box – every month you'll get new treats and delicacies delivered from a new destination! Every Try The World box includes 7-10 artisanal food items, a card describing each product, and a culture guide & recipes! So far they have curated boxes from France, Japan, Brazil, Italy, Turkey, India and the UK with the most unique and authentic products you won't easily find where you live (they directly import many of the products featured in their boxes).. Every box includes $60+ of delicious food from a different country. Boxes are $39 – lower with longer subscriptions!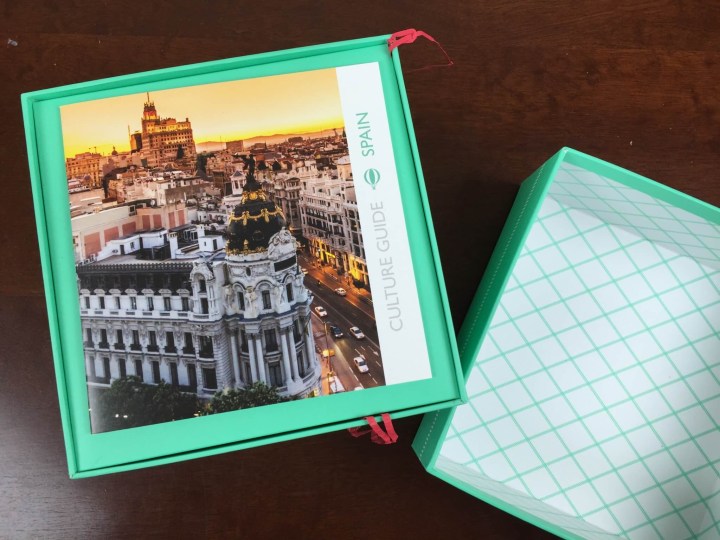 This is a gorgeous box (as in the box itself) – super reusable and I love the way the outer brown box unfolds (you can see it in the first photo). The included Culture Guide will give you tips and ideas on how to immerse yourself in the culture represented in the box with recipes, a playlist, and travel inspiration.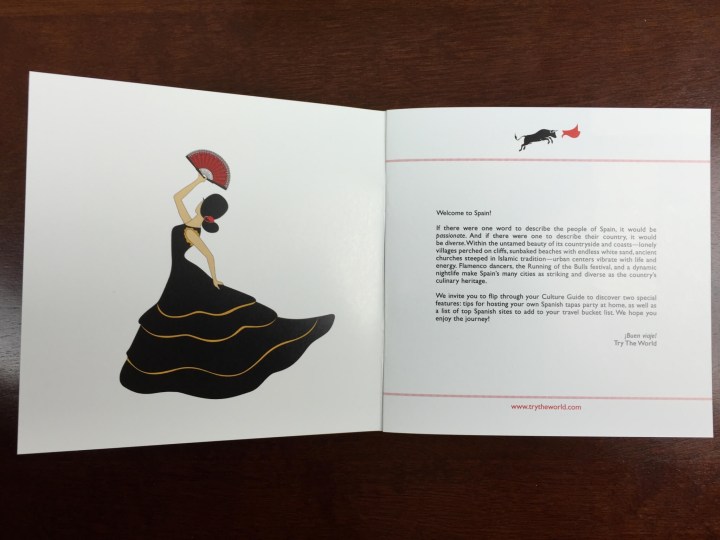 The included culture guide. Try The World discussed the diversity of Spain and the passion of Spanish culture.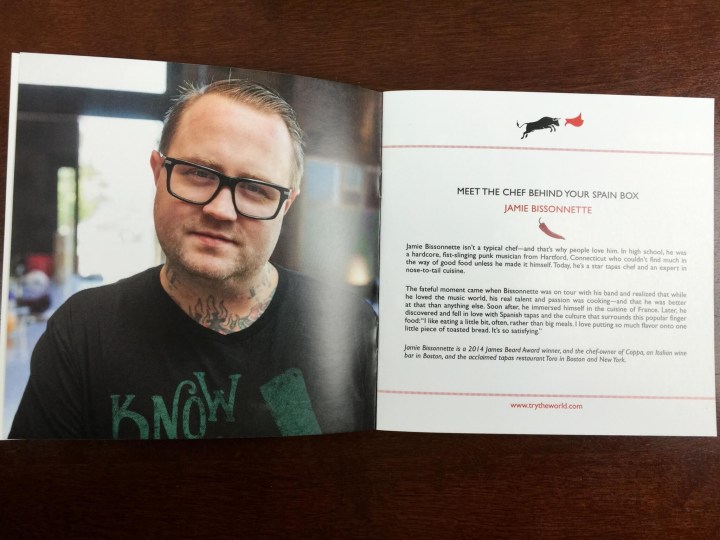 This box was a collaboration with Jamie Bissonnette, a James Beard award winner and the owner of Toro! I'm putting it on my list for my Boston trip next year. Can it beat Dali?! Who knows! I love tapas!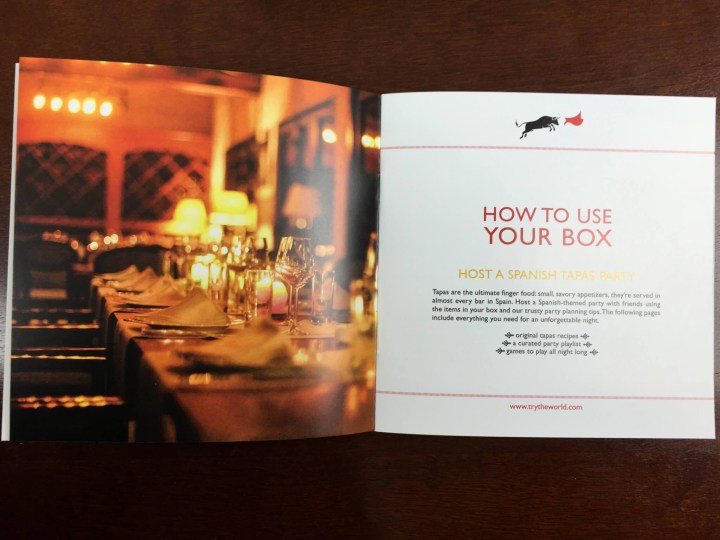 The box contained ideas on hosting a Spanish tapas party. Unfortunately the box didn't come with fresh white asparagus (haha ok no boxes will come with white asparagus).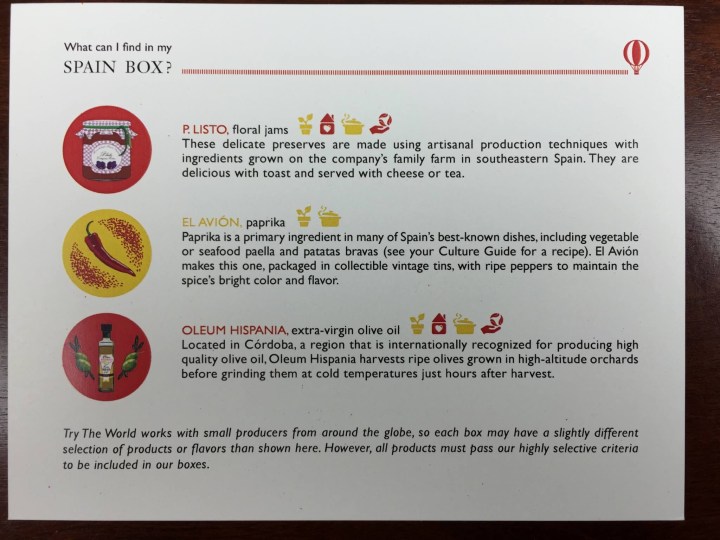 The two-sided information card gives the facts on every item in the box. There are small icons indicating whether the item is produced by a small family business, supports local community, is a traditional recipe, or is natural or organic or sustainably grown.
I love opening this box – so many layers!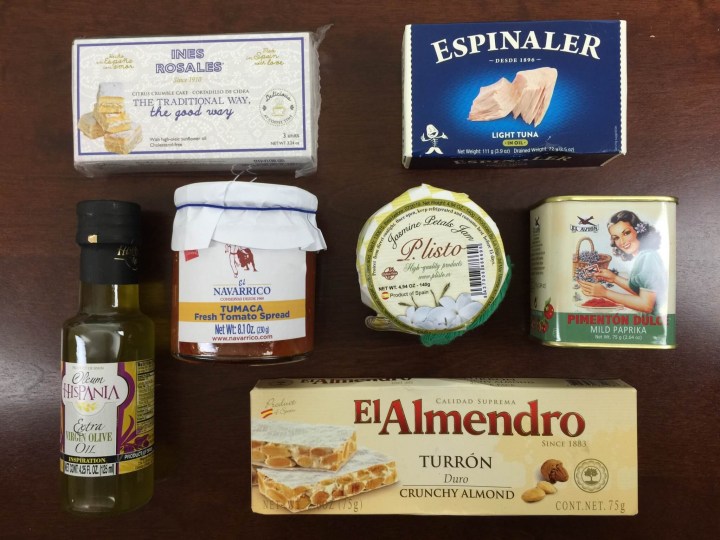 The Spain box in all its glory!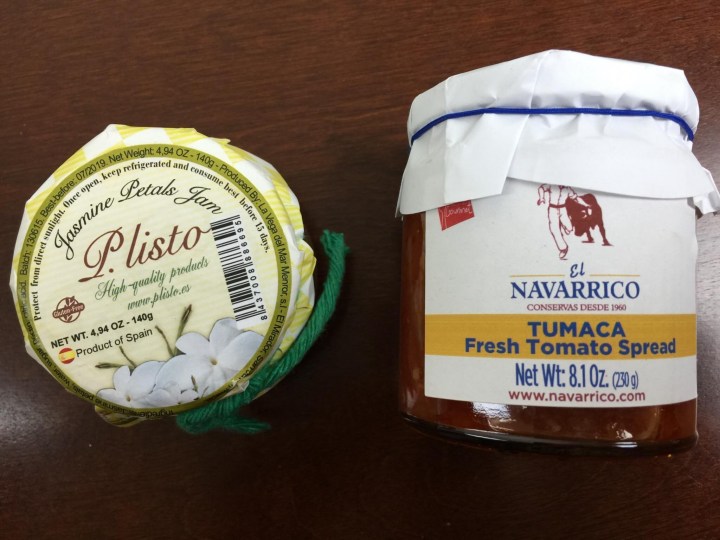 P. listo Jasmine Petals Jam:  The flowers for this lovely jam are grown on the owner's family farm.  It can be used as a normal jam on toast, or as a delightful accompaniment for cheese or in jam cookies. I typically eat anything like this with cream cheese and crackers, but I'm somewhat of a cream cheese addict.
El Navarrico Tumaca con Ajo –  Fresh Tomato Spread:  Of the many variations of tomato salsas and purees available, this is the freshest looking I've seen in a jar. Only fresh tomatoes, olive oil, salt, and garlic!
The jasmine jam (left) and the fresh tomato spread.  You can see the petals in the former, and it would look incredible dolloped on some nice slabs of cheese.  The fresh tomato spread is very bright and looks like tomato and olive oil pureed only seconds beforehand.
Oleum Hispania Inspiration Extra Virgin Olive Oil: We'll probably use this along with some appetizers cold instead of cooking with it (too nice to cook with!). I love the producer's text on this:
Oleum Hispania Inspiration EVOO is pure Olive Juice, obtained from healthy olives, collected of the tree in its exact point of maturation (veraison), strictly selected and milled exclusively by mechanical procedures in cold, only hours after the collection of the olive, to preserve all its color, taste and smell. It is the first juice of the virgin fruit that rests twenty days to decant, by gravity, and to become in a unique Oleum Inspiration.

Its tasting shows us the fruity and intense taste of the green olive, with an entrance in mouth sweet, bitter and slightly spice in progression.
El Avion Pimetón Dulce (mild paprika):  Good paprika is central to Spanish cuisine.  This bright red Paprika comes in a collectible tin. Subscribers received either the mild or the smoked – we love both, and cannot overstate enough the need for fresh paprika. It really adds a new dimension of flavor to so many dishes, including the traditional patatas bravas and paellas of Spain.
Espinaler Light Tuna in Oil:  Fish is a staple of the Mediterranean diet and a great source of protein.  Barcelona's own Espinaler catches this light fish in tropical/sub-tropical waters and packs it in oil to maintain the flavor and freshness.
El Almendro Turrón:  a traditional Spanish nougat, loaded with almonds.  This big bar will not last very long if Tom has his say! He's really somewhat obsessed with this traditional holiday candy (and with a company that's been around since 1883, it's pretty traditional).
Ines Rosales Cortadillo Citrus Crumble Cakes:   These classic cakes are also full of tradition and prepared with a 100 year old recipe. They are perfect for tea time or with coffee.  Two layers of pastry with cinnamon, lemon, and a cider filling. We really loved how the flavors melded in these.
This was a great sampling of Spanish flavors.  I like the variety in foods and usage — some candy and cakes to get into, some spreads to last a while, and pantry staples to use over and over again.  Everything was top of the line and came in a big pack.  The culture booklet was a nice touch, too, letting us know about the cultural significance of the contents and how to best use everything.
Visit Try The World to subscribe or find out more. Start with the Spain box and get the Paris box free! Use this link to get the deal!
The Subscription
:
Try The World
The Description
: Try The World delivers the best products coming from the greatest cities in the world, to your door! Go on an incredible journey across continents delivering some of the best products from the most exciting places on the planet. This box is delivered every 60 days!
The Price
: $39 every other month
The Coupon
:Save 15% off all subscriptions and gift orders with coupon code 
HELLOSUBSCRIPTION15