ToGoSpa Society is a monthly replenishment and surprise subscription by ToGoSpa.  With ToGoSpa Society you'll get either 6 ($25), 15 ($40), or 30 pairs ($64) of Eyes by ToGoSpa plus The Benefit, a monthly surprise from ToGoSpa or their selected brand. The Benefit is always valued at $20-$50 and is a high quality spa item.
You can upgrade your box to add on Face by ToGoSpa as well!  ToGoSpa EYES and FACE are innovative, collagen-infused under-eye and full face mask treatments – and the newest "must do" for anyone in need of a quick, portable, spa-like pick-me-up for their tired, puffy, overworked or over-stressed eyes and skin.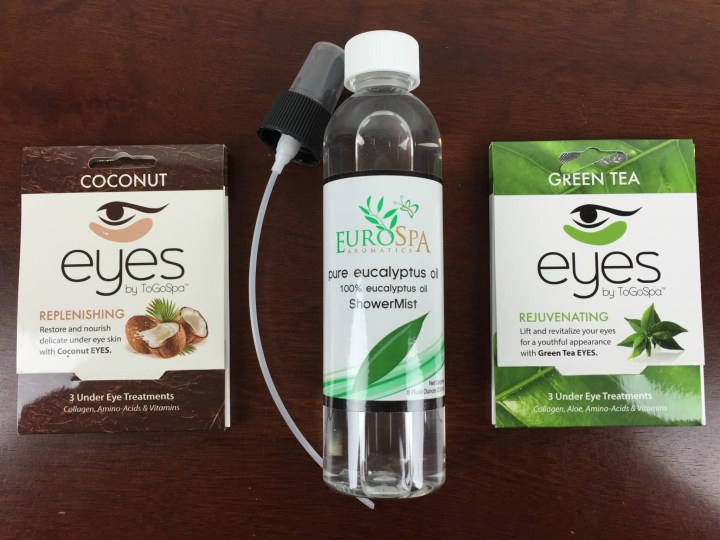 They have recently made available the new smaller size, which is great for those of you that don't have a chance to use your EYES every day.  This is everything in the October Mini Box! The Shower Mist was neatly wrapped up in plastic to protect it.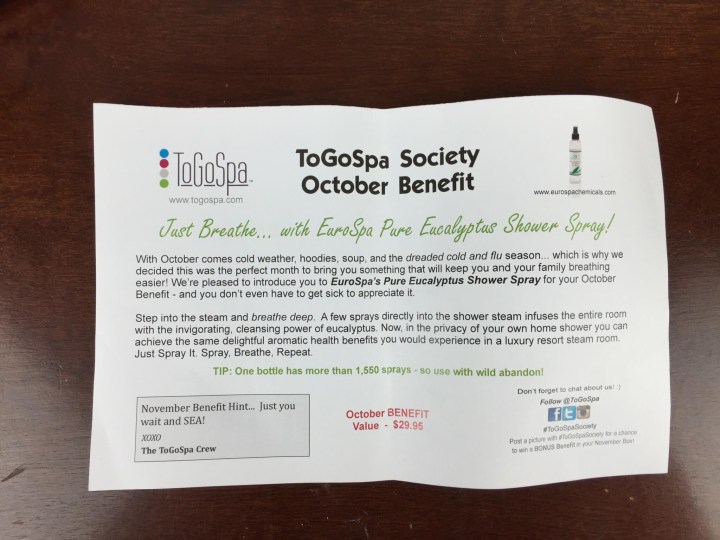 The information card details the Benefit item including its benefits and suggestions for use.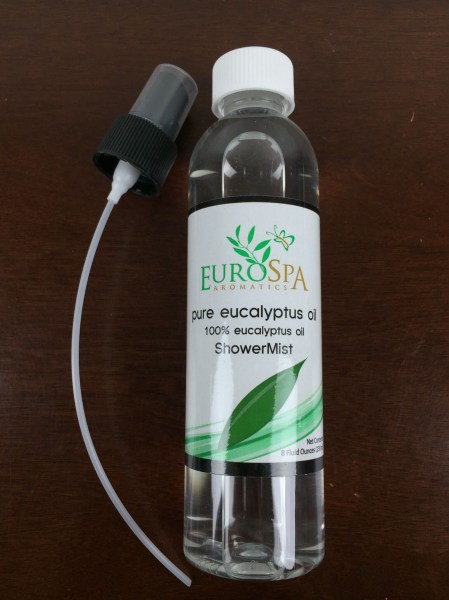 EuroSpa Pure Eucalyptus Shower Spray ($29.95) Use this 100% eucalyptus oil in the shower to simulate a spa-like steam room! There are 1500 sprays in just one bottle (which incidentally is valued at more than the entire cost of the mini box) so this will last you forever! Eucalyptus is absolutely wonderful for encouraging deep breathing – which we can all use during the worst of cold and flu season.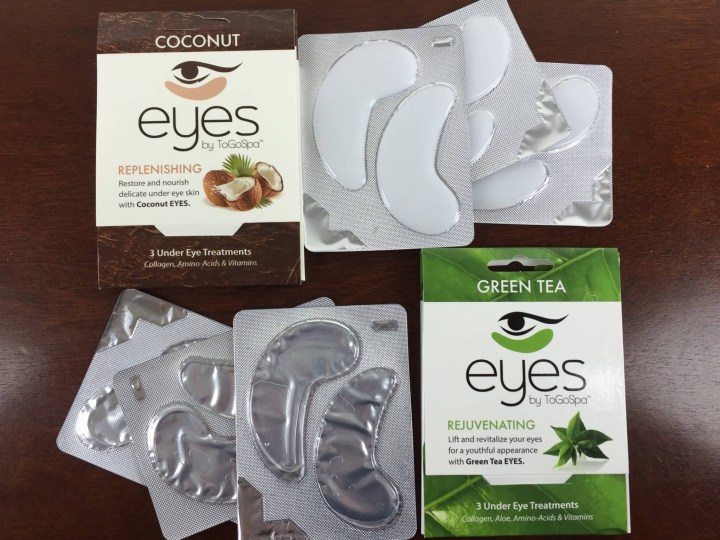 I received 2 different types of Eyes by ToGoSpa: one pack each of Replenishing Coconut and Rejuvenating Green Tea.
These are super hydrating and are activated by your body temp! EYES are collagen gel pads with Hyaluronic Acid, Vitamins C & E, and nutrients. Each different type has a different composition to provide different benefits. Coconut restores and nourishes the under eye area. The Ice Water ones (I didn't get those this time) depuff and soothe, and the green tea ones help lift and rejuvenate with green tea extracts!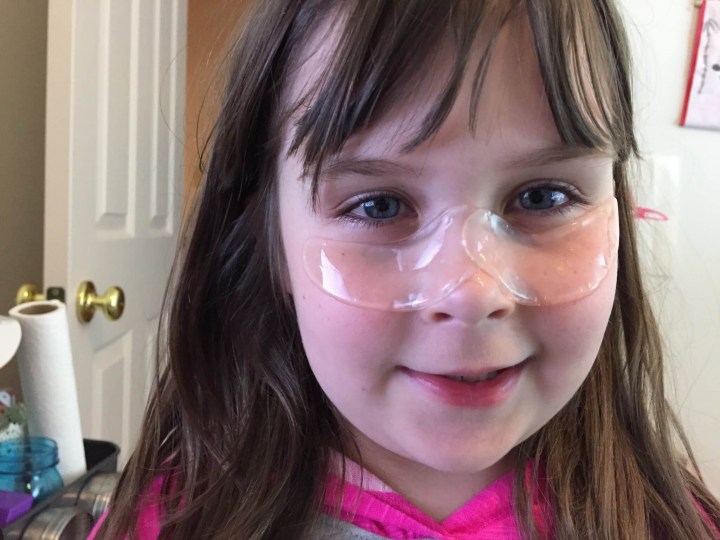 I like using the coconut eyes when my skin is really dry – like with the weather change.  FYI – slide them over so the large side is resting on the bridge of your nose – get the curve right up matched to your eyes for maximum benefit. Yes, my daughter and I share! It's a great mommy daughter activity!
I love seeing the Benefit every month – and it's always always unusual and unique! This box had a fantastic value of around $55, and I think picking up the mini box with a coupon is a ridiculous deal, and a great way to test out how you like the eye soothing patches if you haven't tried them before, plus you get The Benefit – it's a steal!
Visit ToGoSpa Society to find out more or to subscribe! Use coupon code MommySplurge5 for $5 off the first month of any ToGoSpa Society box or code MommySplurge10 to save $10 off the first month any ToGoSpa Society box with Face!
The Subscription
:
ToGoSpa Society
The Description
: The ToGoSpa Society membership offers huge discounts on Eyes and Face by ToGoSpa and in addition each month members receive The Benefit! The Benefit is a FULL size product we love and want to share free with our members.
The Price
: $40 per month for 15 EYES + Benefit or $64 for 30 EYES + Benefit add 3 FACE for $25 or 6 for $50. NEW: $25 for 6 EYES plus the benefit!
The Coupon
: Use coupon code
MommySplurge5
for $5 off the first month of any ToGoSpa Society box or code
MommySplurge10
to save $10 off the first month any ToGoSpa Society box with Face!