The Music Box  is a monthly subscription box of… Music! Just $10 per month, you'll get a box of CDs, downloads, and other music swag that will help you discover new artists.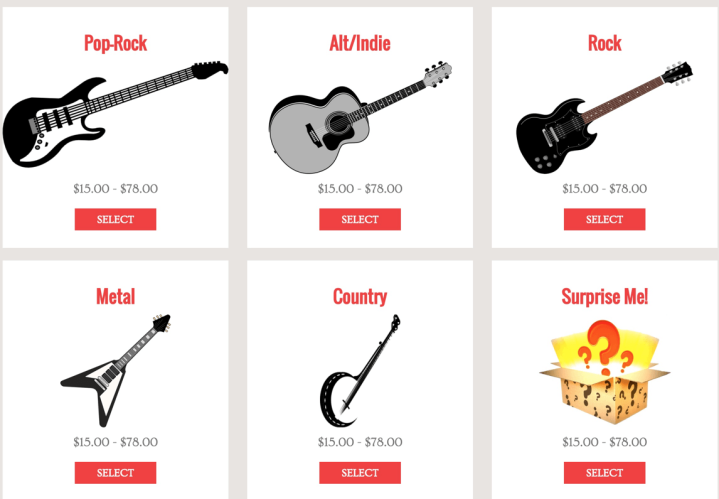 Boxes are customizable to your tastes – choose your genre when you sign up.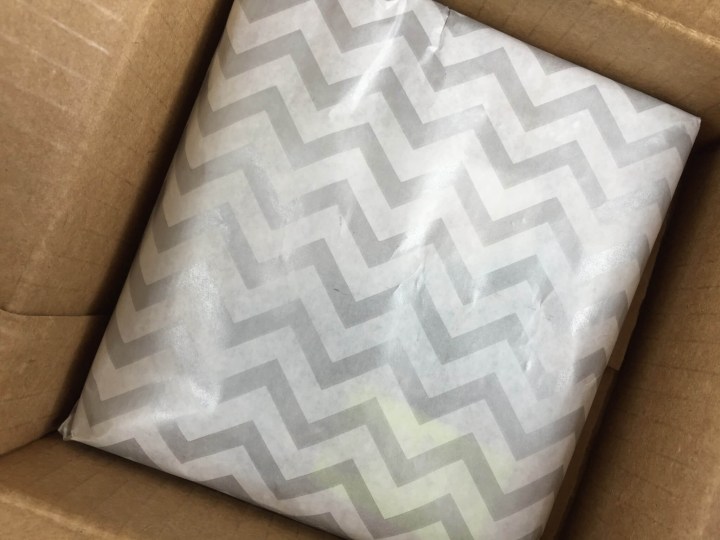 Everything came wrapped up so neatly!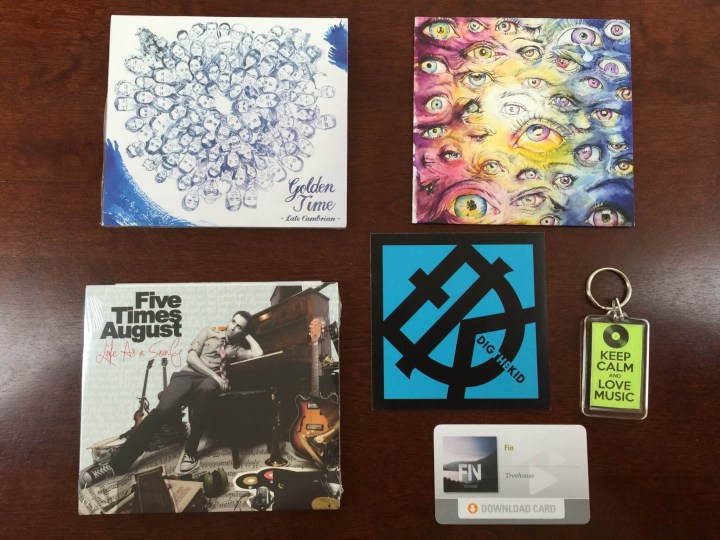 Everything in the box! I got 3 CDs, a download, and some swag.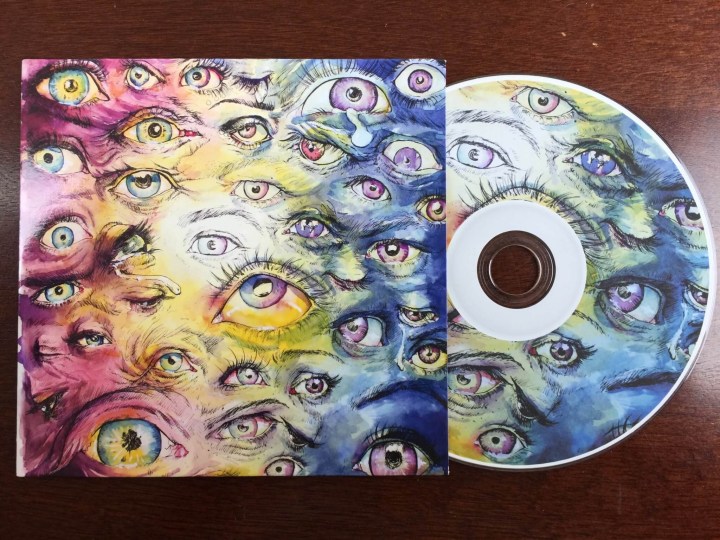 Shifting Tracks' Patchwork ($10) I'm going to classify this as alternative singer/songwriter rock with a soulful/southern flair? I think he has a great rich voice in lower registers.
Late Cambrian's Golden Time ($10) HAHAHA:
Late Cambrian is a Brooklyn Indie Alternative Rock band. If The Strokes and Phoenix adopted a rock baby from Elliot Smith and The Arctic Monkeys the baby's name would be Late Cambrian.
What a self-description.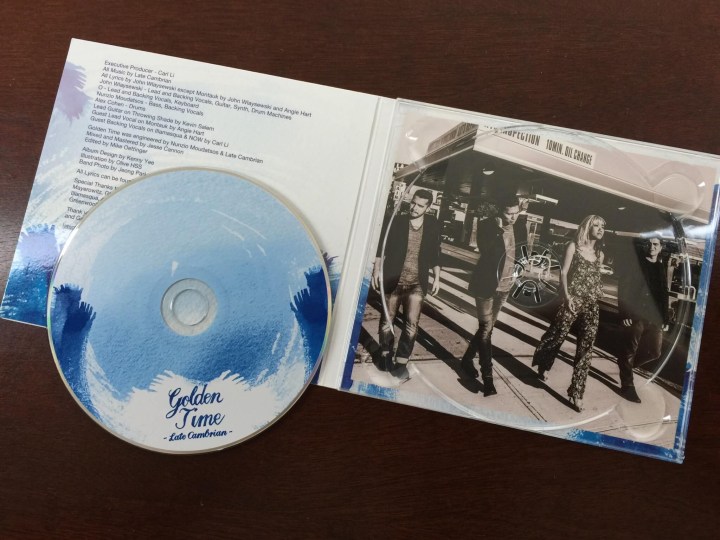 This one had lots of synth melodies and was extremely well produced. Good modern pop.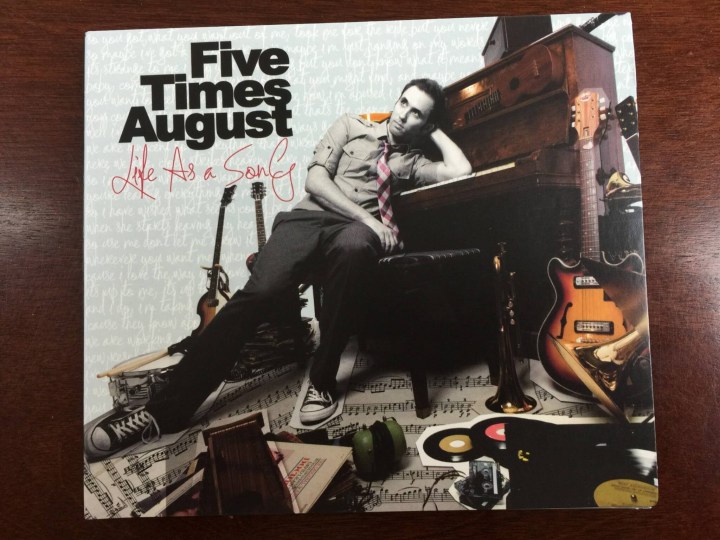 Five Times August's Life as a Song ($9) This was a fun discovery. I couldn't tell you what I thought it sounded like except for guitar based pop. I believe that this artist has licensed his music to dozens of episodes of TV shows, so I think that's why it sounds familiar to me.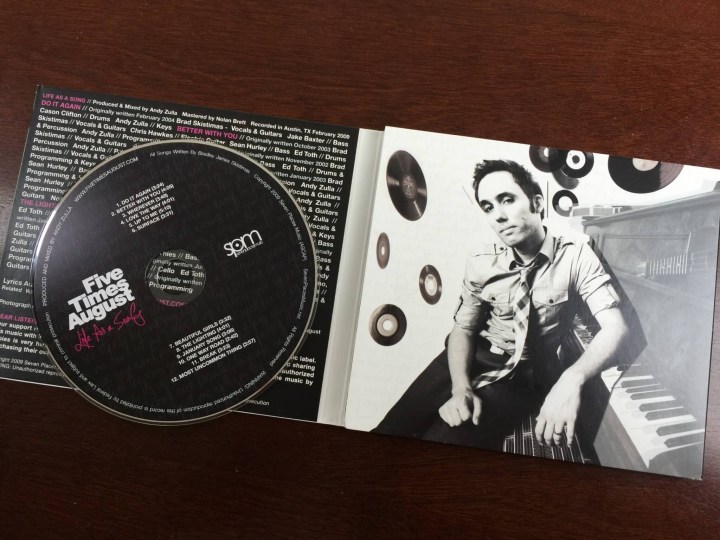 This was great background music.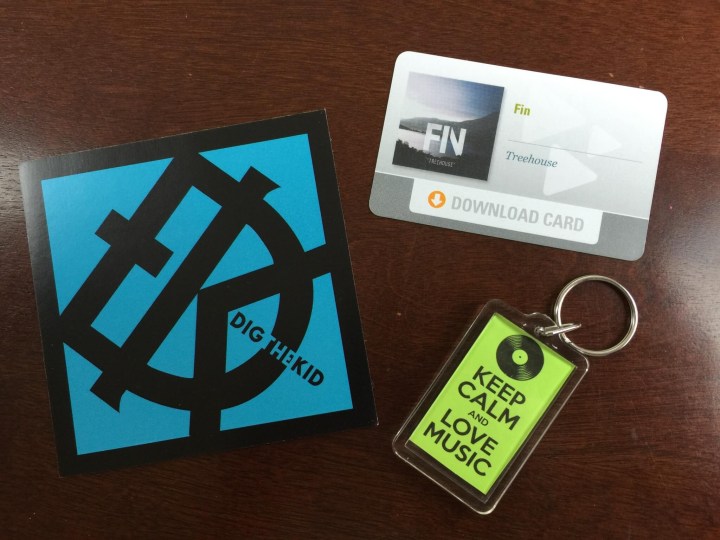 Fin Treehouse Download Card
Dig The Kid Sticker
Official RECPHILLY Kickstarter Campaign Keep Calm and Love Music keychain – Great swag for this box!
It was fun to open, since discovering music now is mostly just point and click or thumbs up/down. I liked the physical experience and it was fun to listen to some new music – I always listen to the same things! I thought this was a cool box and the curators had excellent taste in music. There are a couple different sizes available for this box too, including just an envelope or a big box.  The other thing that I liked is that this subscription supports the discovery of independent artists who are making great music – at least in the box I received!
Visit The Music Box to subscribe or find out more!
The Subscription
:
The Music Box
The Description
: The Music Box is a subscription service that sends music and fun gifts to your front door. They hand pick emerging artists and send you new music every month. Items that may be included in your monthly Music Box are CD's, concert tickets, posters, autographs, t-shirts, stickers, wristbands, and other band merch.
The Price
: $10.00 per month
The Coupon
: Use coupon code
The Music Box
 to save 15% on your first box!