The BuckBin is a monthly subscription box that is unabashedly all about partying and drinking. Items will include anything to do with beer, liquor, alcohol, and party games. This box is perfect for epic parties or just hanging out with the bros.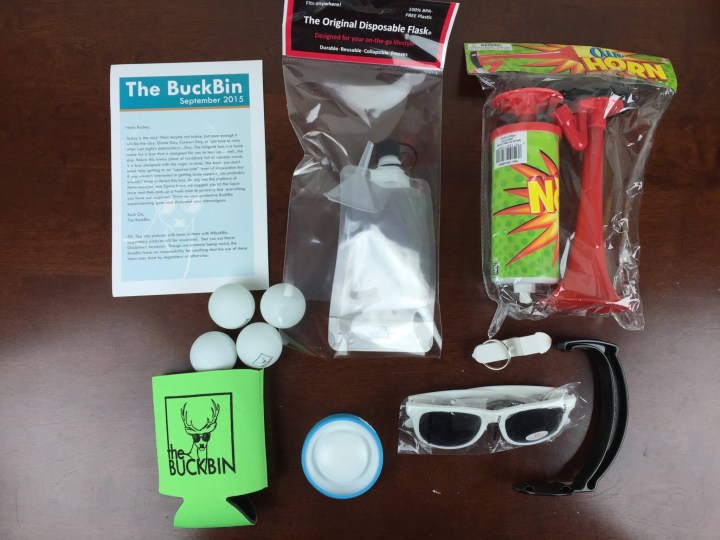 Everything in the box. Note that most all of the boxes for September had a shirt, but ours didn't.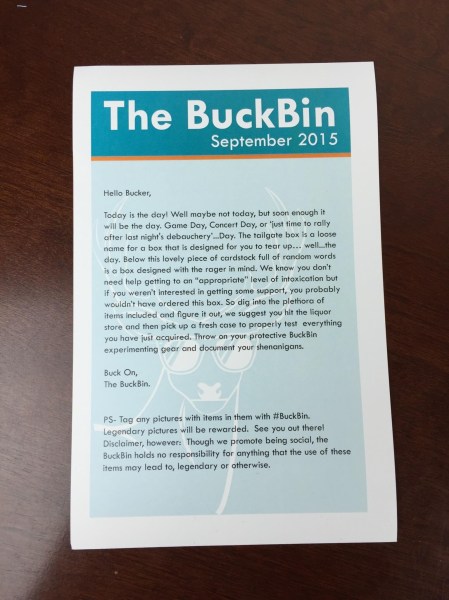 The letter notes that you ordered this box because you need some support getting to an "appropriate" level of intoxication. Please drink responsibly while you Buck On.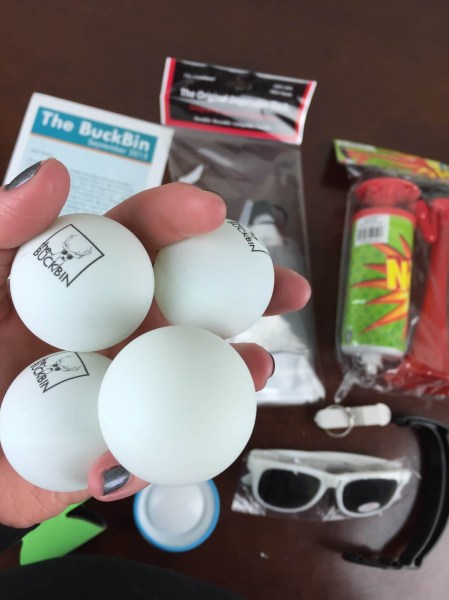 BuckBin Beer Pong Balls ($1) A necessity. Our local store has a display of beer pong balls conveniently located right next to the Red Solo Cups. We live in a college town. Today I walked past the quad where some guy threw up a slack line and starting walking it suspended 3+ feet in the air. #COLLEGE Yeah, you need these.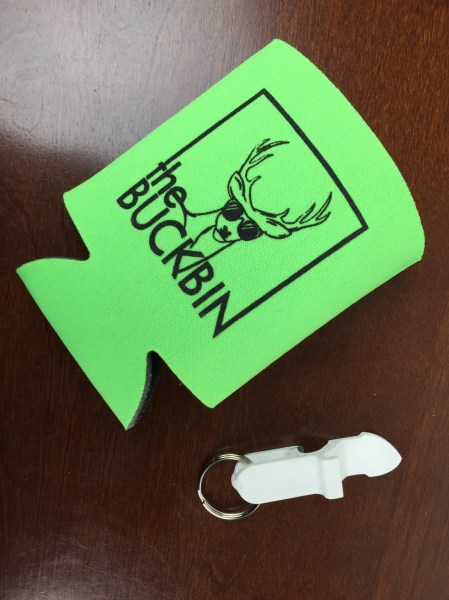 BuckBin Can Cooler & Can Opener – Whether you go can or bottle, you're all set. Buck On young ones.
The Can Opener will also punch a hole for chugging your beer. Keep it classy.
Chill Puck ($4) We note that this box offered multiple ways to keep your cans cold and your tables safe. Like you cared about the tables. Freeze the puck, set it on your table, and stick your beer on it.  This is great for chilling outside too. Or Sunday morning football when you drink a little more slowly.
The BuckBin Sunglasses: Classic white Miami Vice style shades. Bro. BRO. These are also great for wearing the next day. Or to class.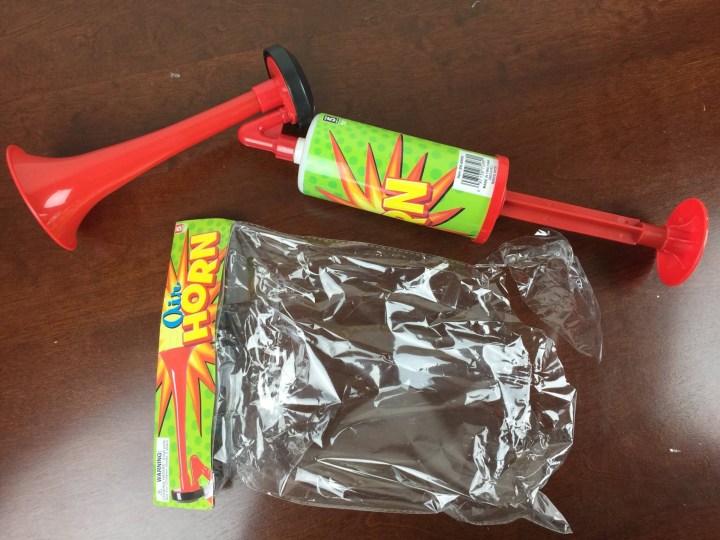 Super Blast Hand Pump Air Horn – Never Runs out ($5.15) I'm totally using this on my kids the next time they get rowdy. I tested it out and it sounds kind of like squeaky brakes, but the kids were sleeping so I did it slowly. This is actually kind of neat because you can use it over and over.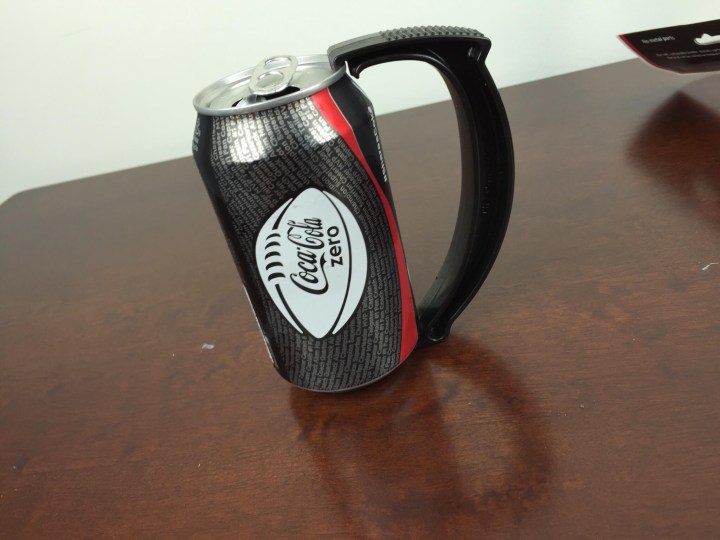 The Can Grip ($2) If you're not a can cruncher and are more of a sipper/savorer, this can grip is perfect. Just hook it on a 12 oz aluminum can and you're good to go.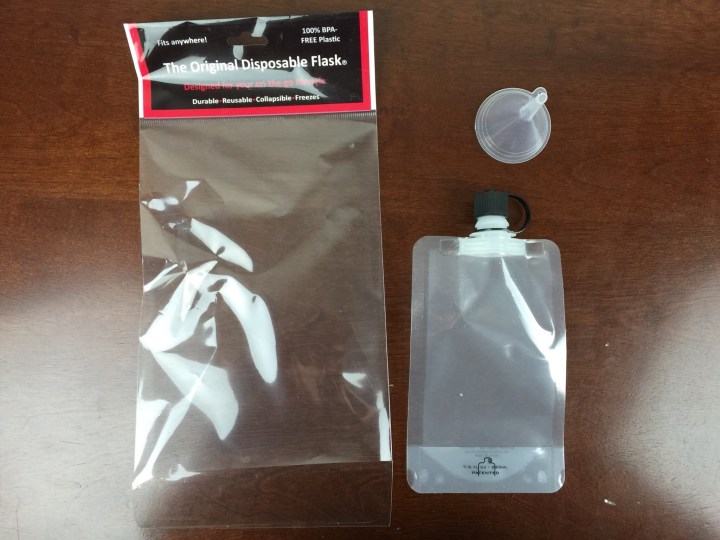 The Original Disposable Flask ($3) Two Words: Football Game. Three More Words: Don't Get Caught.
Let's face it, beer is more fun with accessories when you're in your 20s. This box alternately makes me feel really old and also makes me wish I was 10 years younger. I threw some epic parties, all of which involved copious amounts of alcohol.  Good times people, good times.  I'm more than certain I would have had a boatload of fun with this one, and the variations and types of booze-it-up accessories are likely endless. Don't be stupid – you can drink safely and responsibly while still having fun.
Visit The BuckBin to subscribe or find out more!
The Subscription
:
The BuckBin
The Description
: The BuckBin is the premier monthly social subscription box. Each month, there will be 6-8 party related items that correlate to the changing themes. These items will be traditional items and new, innovative items that take your weekend to the next level.
The Price
: Box is $20, shipping is now free
The Coupon
: Save 10% on your first box with coupon code
HELLO