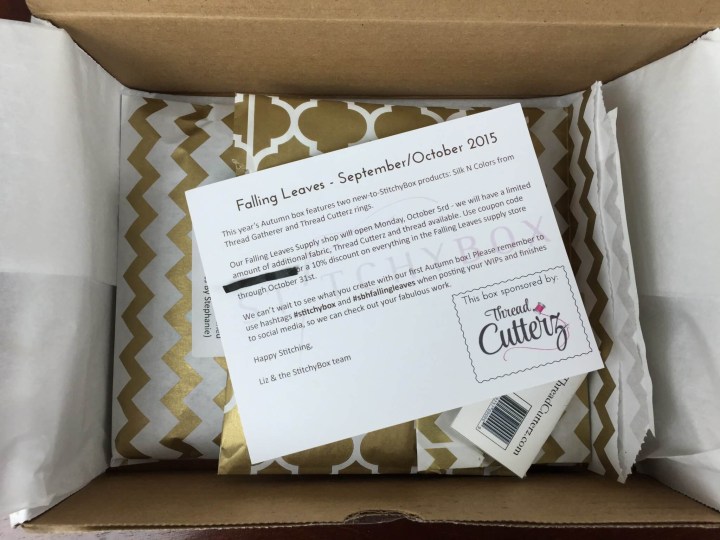 StitchyBox is a bi-monthly subscription box for counted thread embroiderers and cross-stitchers! There are two options – the Big Picture Box and the Detail-Oriented Box. With both styles you'll receive a variety of threads, from staples like DMC to specialty threads you may not have met yet, and embellishments, stitching accessories and other goodies! They also have a newer a "Just the Threads" subscription for anyone who is a fiber fiend!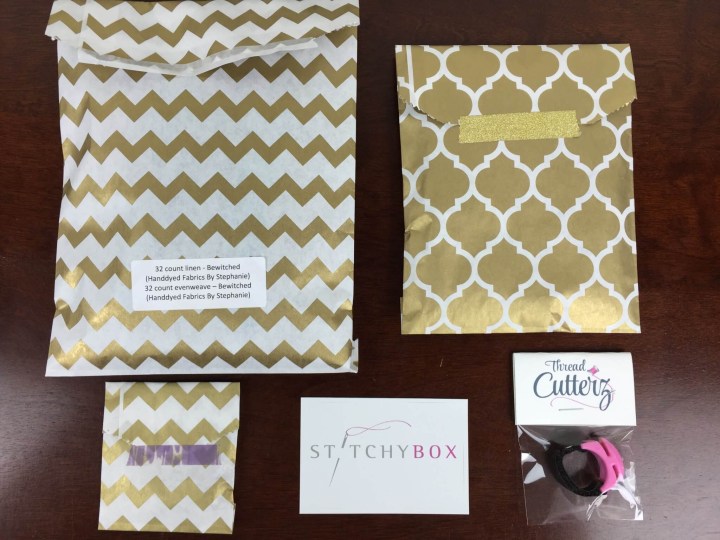 Everything in the box was neatly packaged with cute gold and white metallic bags.
With the Big Picture Box choose
2 Fat 16ths (one 14-16 count Aida, one 28-32 count linen OR evenweave – your choice) OR
1 Fat 8th (Aida, linen or evenweave).
With the Detail-Oriented Box pick
2 Fat 16ths (one 32-36 count linen, one 40 count linen) OR
Select 1 Fat 8th (either 32-36 count linen or 40 count linen)
The last box I received was a Detail-Oriented Box, but I had to switch my subscription because the linen was just too high of a count.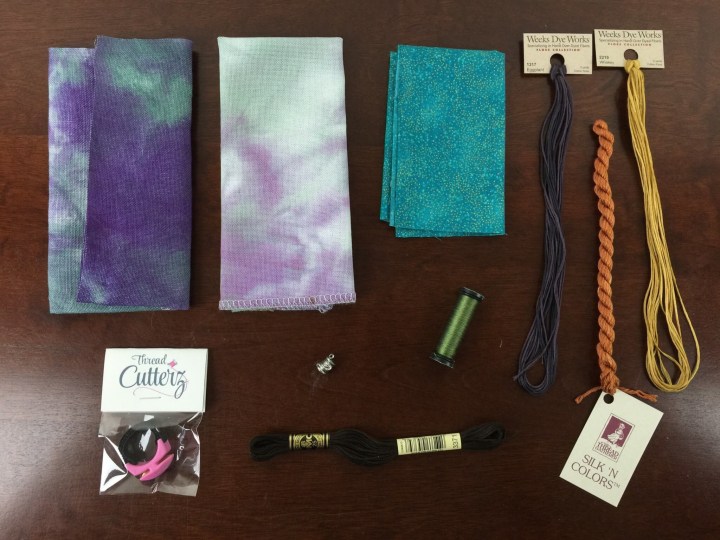 Everything in my box!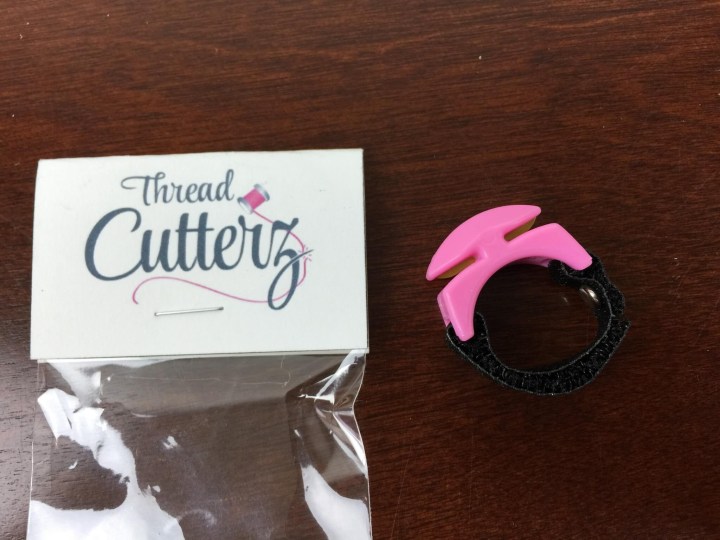 ThreadCutterz ($12) This box was sponsored by Thread Cutterz and it's a really great bonus item! You wear the ring and it has a recessed double-sided blade to cut your thread. This is a really cool item and I'm excited to use it. It's perfect for absolutely anyone who works with thread!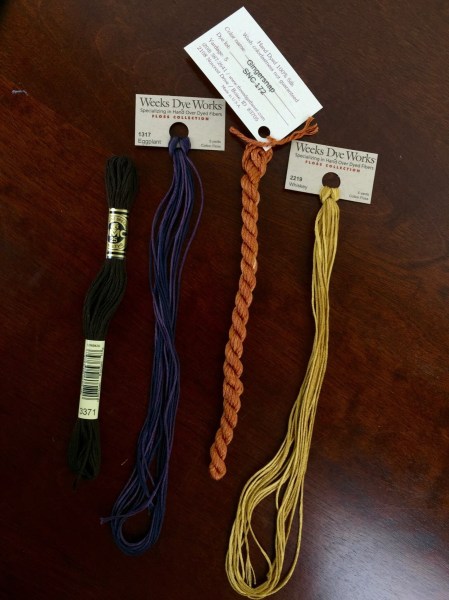 DMC 3371 – Good old DMC in dark brown!
Weeks Dye Works in Eggplant
Thread Gatherers Silk N' Colors in Gingersnap
Weeks Dye Works in Whiskey
I love Weeks Dye Works variegated embroidery floss and as always, yummy silk!!! Silk N' Colors is new to this box and as you can probably tell, it's a variegated silk. It's really nice to have a little stash of these special threads to add accents and a little life to some otherwise flat patterns.
A cute little spool charm was included in the box, as well as a spool of Kreinik Silk Bella 4206. This one is a twisted 3 ply strand and great for detail work.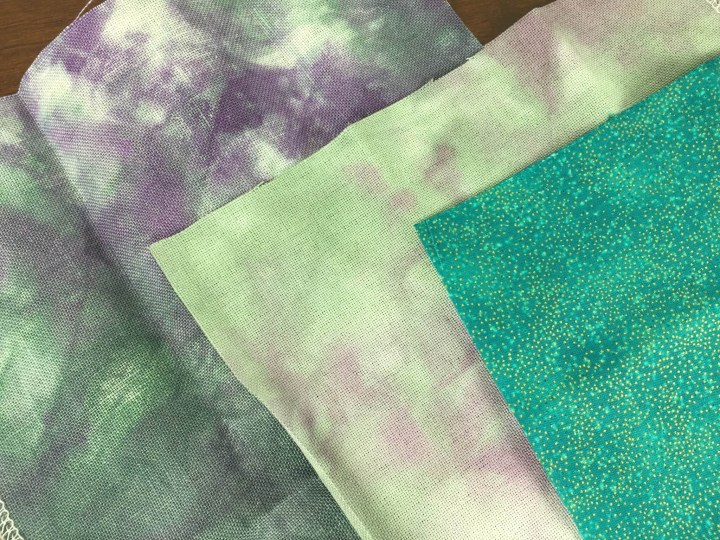 Hand Dyed Fabrics by Stephanie – Bewitched 32 Count Linen
Hand Dyed Fabrics by Stephanie – Bewitched 32 Count Evenweave
Plus accent/finishing fabric!
I was totally surprised to find that this is the same dye pattern, just in two different fabrics! It really shows how differently the two fabrics hold dye, and a very cool thing to showcase. You can really tell the difference between the linen (which takes dyes really well) and the 32 count Jobelan (which is not as well). Both are beautiful! I also received some nice finishing fabric!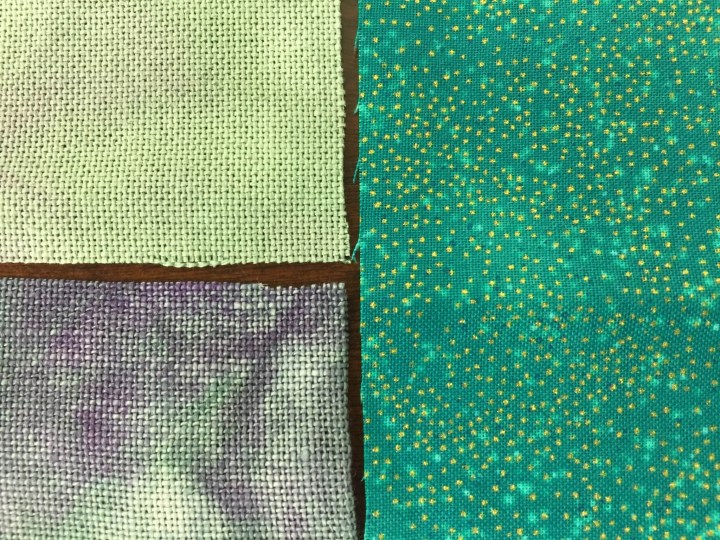 The evenweave is on the top left.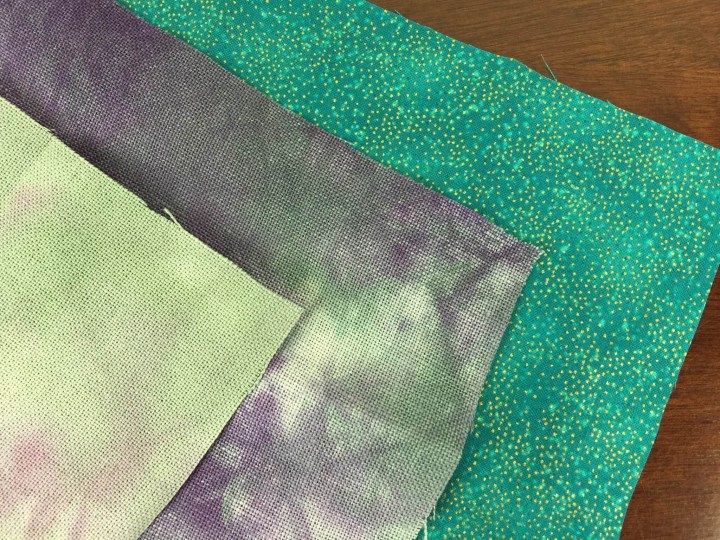 I'm going to send my fabrics off to my aunt for serging (I would pay a dollar or two extra to have it done for me, because I don't own a Serger), and then select some projects!  I'm not sure how well the fabrics selected go with the "Falling Leaves" theme but they sure fit October great for Halloween. I'm so slow that it's best for me to plan almost a year in advance, so I will have time to get excited all over again.
Stitchy Box is having a great sale right now – subscribe for one year and get an extra box free. Find all the details here.
Visit StitchyBox to subscribe or find out more! Save 10% off your first month. Use coupon code SUBK2.
The Subscription
:
StitchyBox
The Description
: Each themed box contains two cuts of stitching fabric along with a variety of threads and embellishments to get your creative juices flowing.
The Price
: $36.50 per month
The Coupon
: Save 10% off your first month. Use coupon code
SUBK2
.