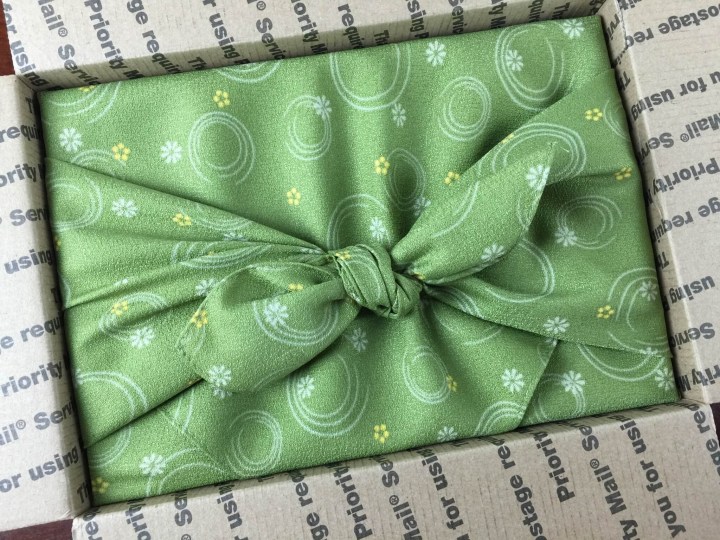 Snakku is a newer monthly authentic Japanese snack subscription box. It's quite different than all the rest of the candy and snack boxes from Japan that we've reviewed – that was evident when we opened the box to find a sweetly wrapped parcel covered in soft muted tones. Snacks in Snakku boxes are both savory and sweet from local Japanese snack makers. Every box includes a featured snack from a local artisan using local products and recipes that have sometimes been used for hundreds of years. Every box contains about 10-15 snacks total. Enter the giveaway at the bottom of this post – two winners!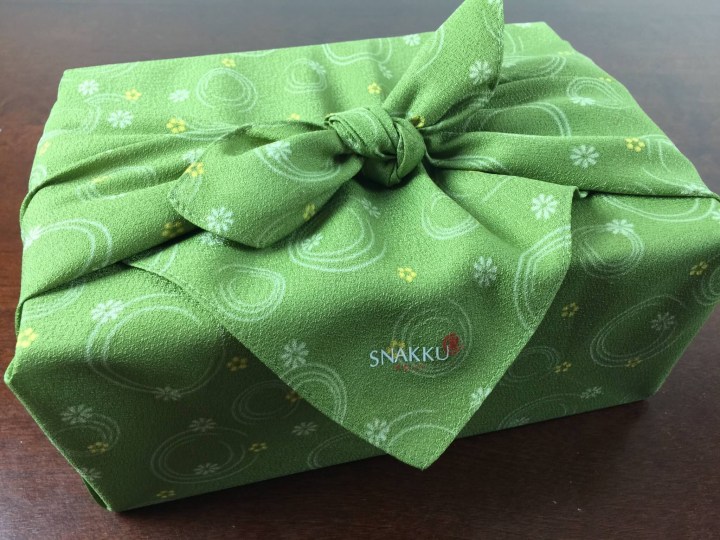 This wrapping is the traditional Furoshiki, which is just a wrapping cloth, but used to wrap absolutely everything. Subscribers on a 3 month plan will receive an actual cloth furoshiki in their first box (get 2 with a 6 month subscription!), monthly subscribers receive their box in a paper one. I think this is a nice bonus for prepaid subscribers!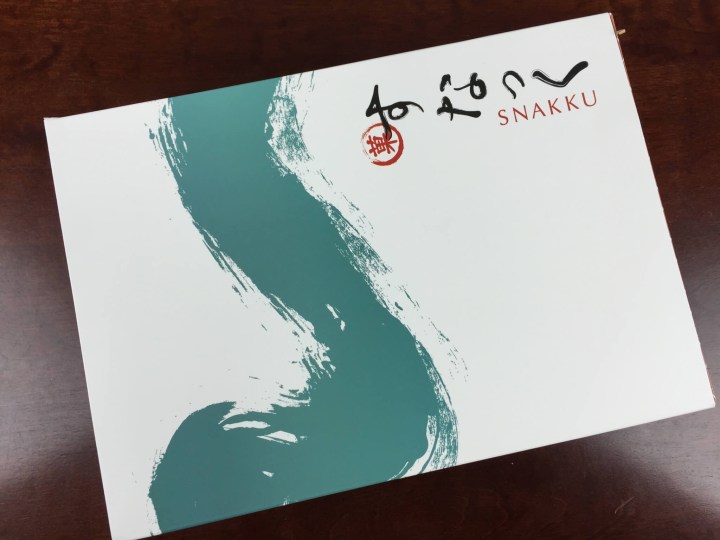 This looks like a card – it's actually the inner box.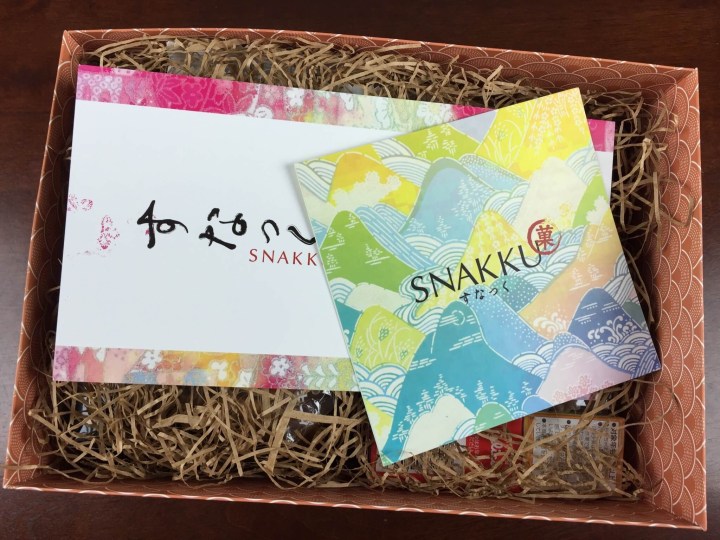 The cards are gorgeous.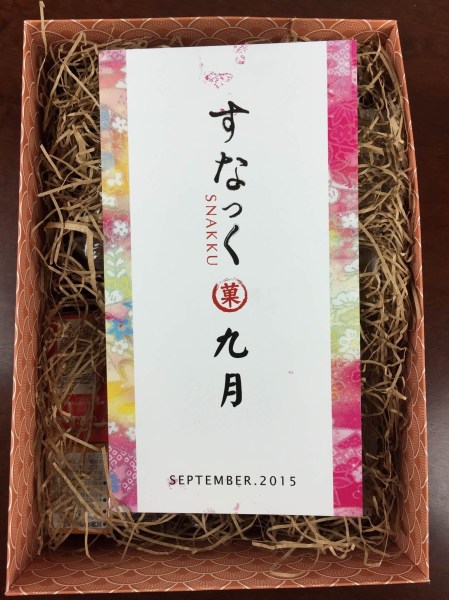 There are few Japanese snack cards that we'd consider hanging on our wall, but this is so attractive.
The included card is replete with information on the featured snacks and other popular snacks. While you will find brands such as Glico in this box, it isn't the focus.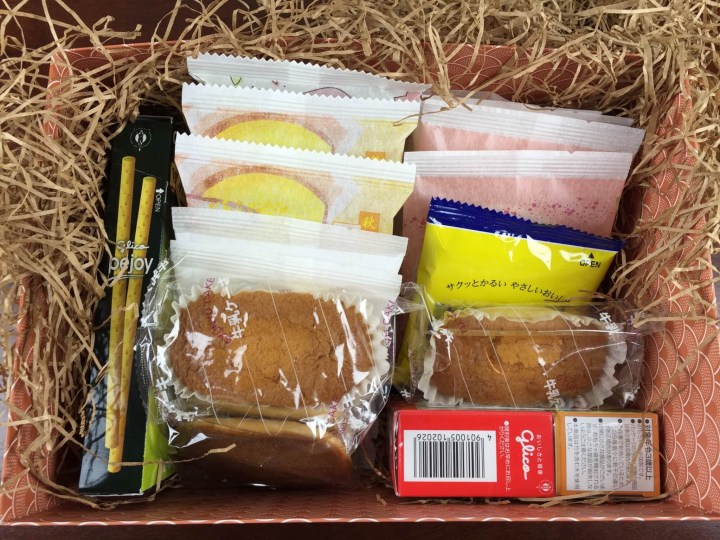 This box is so beautifully packaged. We were greeted by neat rows of treats in handsome packages.
Everything in the box.  Snakku feels a little more upscale than other Japanese snack boxes.  There are some cornerstore-style treats in the box, but the majority of the contents are classier items that are more suitable for offering guest while entertaining.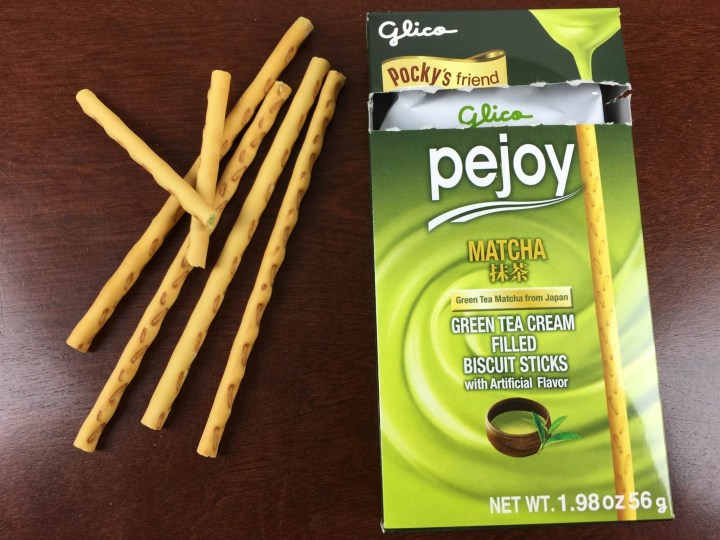 Glico Pejoy Matcha Sticks:  Produced by Glico, these are billed as "Pocky's friend."  They are a tad more sophisticated, and the roles of cookie and sweet coating are reversed.  The matcha has a very authentic flavor and is sweetened enough to complement the biscuit.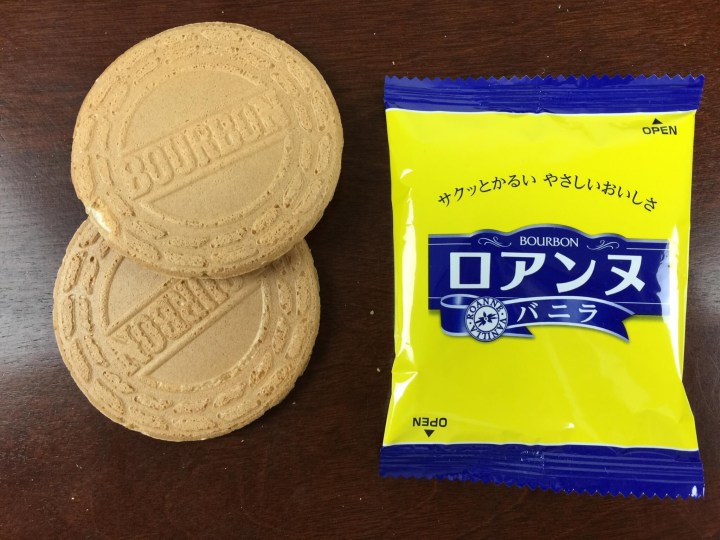 Bourbon Roanne:  These thin, crisp wafers look a little like manhole covers, but they are much more delicious.  The outside is like a wafer cookie, but it is so thin that it is mostly smooth surface and not interior puff.  Inside is a thin layer of sweet vanilla cream.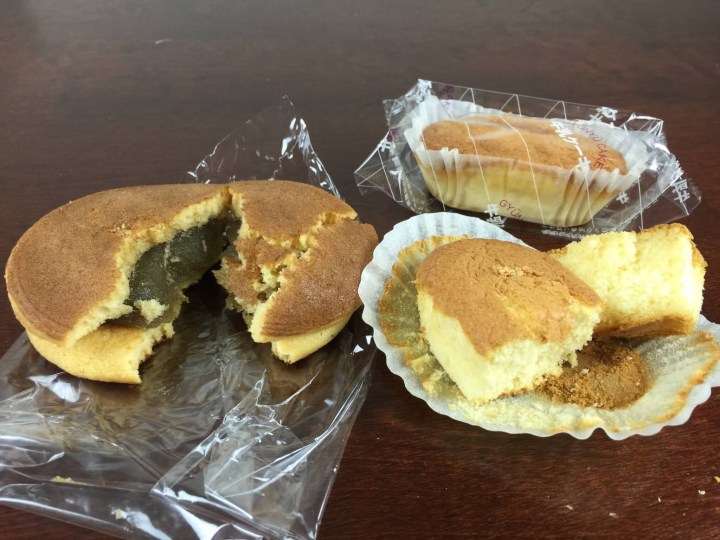 Green Tea Dorayaki:  Two moist pancakes with a hearty dollop of matcha-infused red bean paste.  The texture of the bean paste is very similar to a creme de maron.
Shiawasedo Milk Cakes:  Very delicate flavor and light texture are the principal qualities of this poundcake-like, oblong cupcake.  The milk flavor is very pronounced — it permeates the cake, lending a sweetness akin to the manner in which condensed milk flavors Thai iced tea.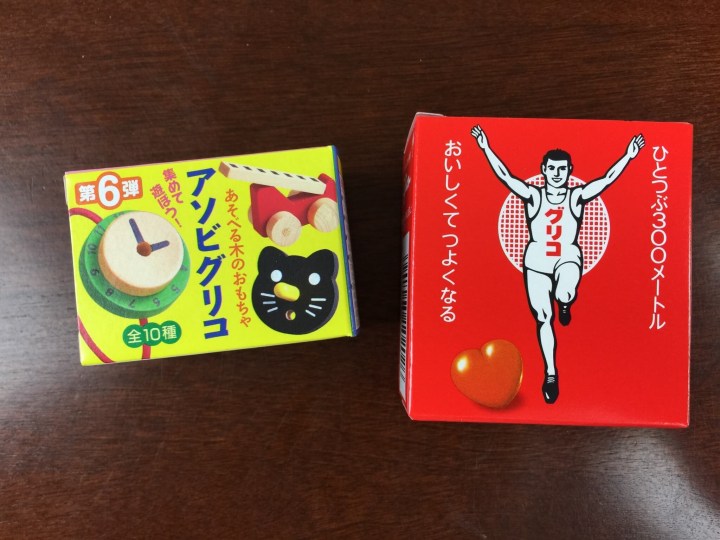 Glico Caramels:  This is the classic treat that go the Glico company off the ground, well before it became known as the Pocky company.  These little heart-shaped caramels are more dense than expected, but has a nice, classic caramel taste.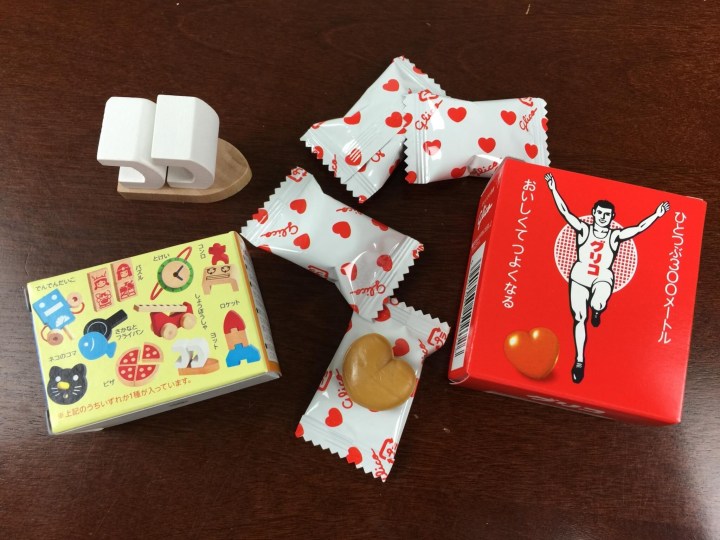 The caramel box was wrapped together with a second box, containing a wooden toy.  Ours was a cute sailboat.  The only writing on the exterior wrapper was an export label that listed the ingredients under the title "soft candy" — I thought it was hilarious to then open up a box containing wooden blocks.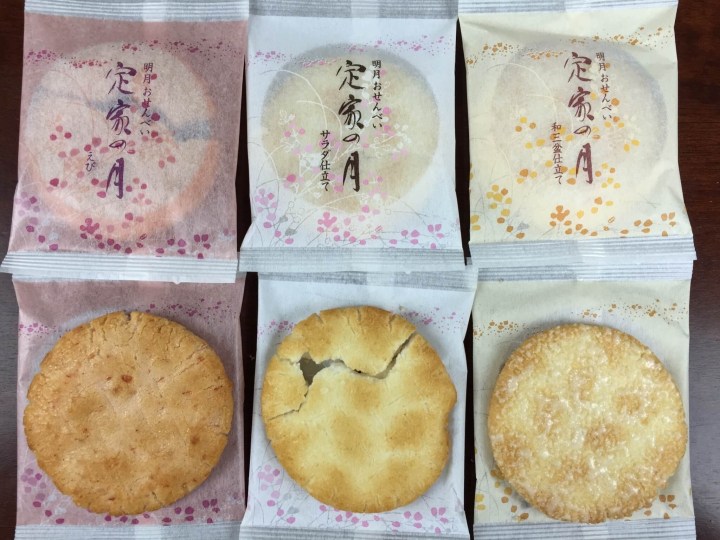 Ogurasansou Kyoto Style Senbei:  Traditionally-prepared rice cakes.  These are charcoal grilled and have a fine and crispy interior (they are NOT at all like Western "rice cakes").  Left to right: shrimp, salt, and sweet glaze.  The sweet soy used in the cooking process lends a slightly caramelized exterior and a gentle sweetness to even the savory Senbei.  A prototypical Japanese snack, these could as easily pair with beer as they could with tea or jam.  They are a perfect balance of sweet and a delicate savory contribution from the rice.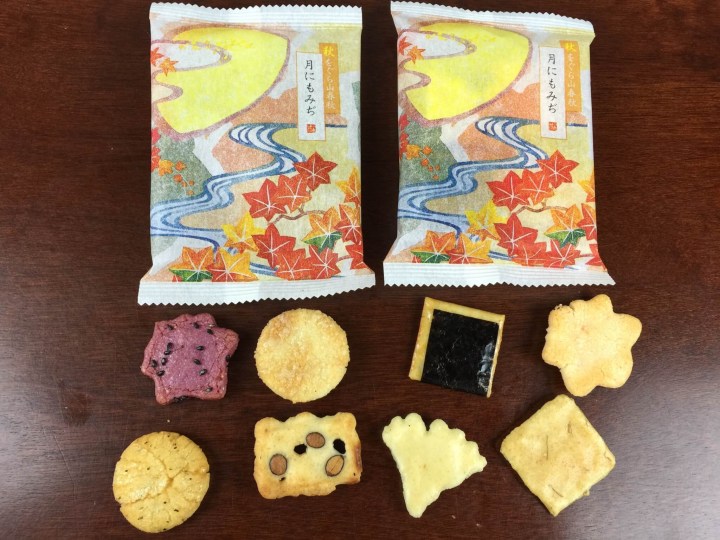 Ogurasansou Variety Mini Senbei:  These miniature versions of Senbei (Arare) are handcrafted in a variety of flavors, each representing a different aspect of nature.  We received two "Fall" packs — the Arare shown above are the contents of one pack.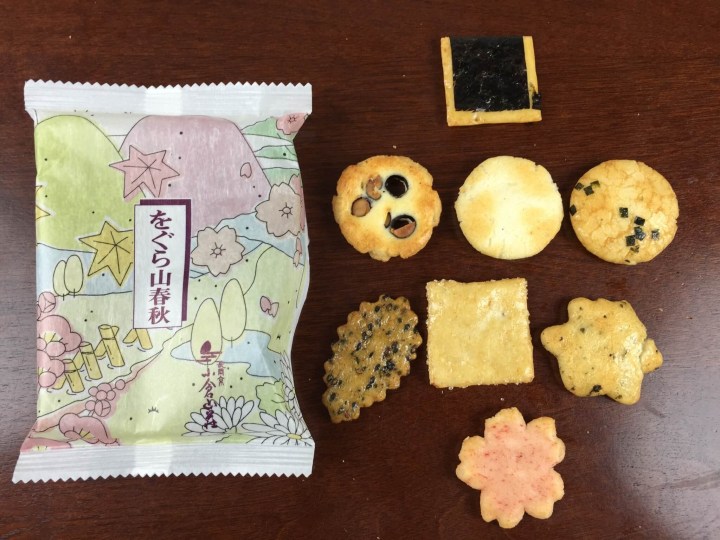 The third variety pack of Arare was either Spring or Summer.  The info card (6th pic of the review, above) describes the flavors.  The Arare have a slightly crispier bite to them, due to the greater surface to interior ratio.  The flavors, and especially the detail in the craftsmanship, are superb.
We were very impressed with our first Snakku.  The inclusion of an elegant Furoshiki wrap (provided on 3 month or longer subscriptions) set the tone for the box.  The snacks were delicious, and they were chosen carefully to represent Japanese food culture as well as tastes.  Even the more commercialized products were Japanese mainstays with much more reserved packaging than is commonly found.  Tasty, traditional, and elegant.
Visit Snakku to subscribe or find out more!
The Subscription
:
Snakku
The Description
: Get a collection of hand-picked snacks that you can only find in Japan, along with a selection of familiar & delicious Japanese snacks delivered every month
The Price: $38.95 per month
The Coupon: Use coupon code HELLO10 for 10% off!