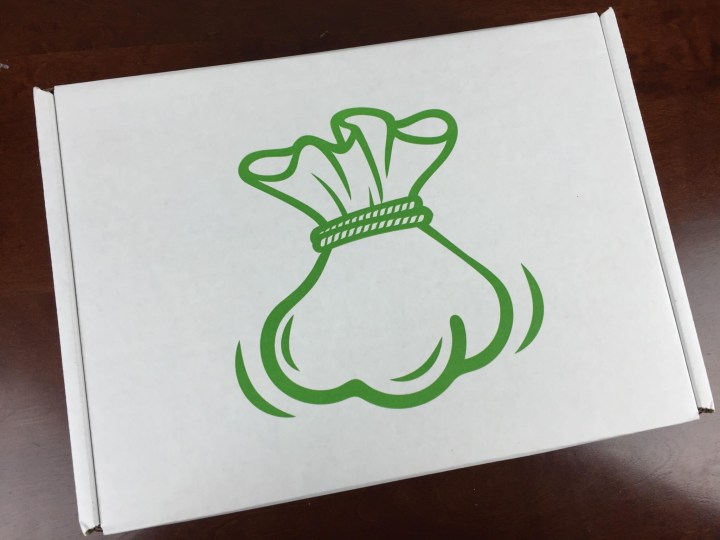 SnackSack is a monthly snacking subscription box that aims to bring high nutritional value natural snacks to your door every month. Snack Sack comes loaded with a variety of health-conscious snacks that leverage fruits, vegetables, and other natural ingredients to provide you with a more nutritious and balanced snack pantry.  Snacks are organic or all-natural, non-GMO, vegan, fair-trade, or gluten-free.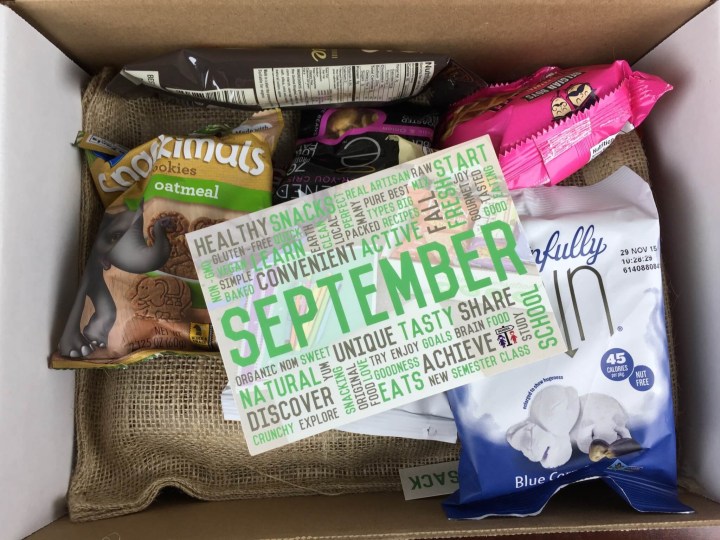 We were amused that the snacks still come with an actual burlap sack because they never all fit in.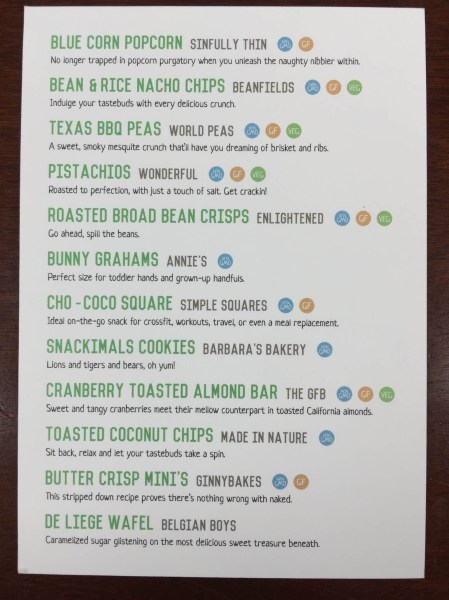 The information card gives you brief info on the many snacks packed into this box, plus a guide to which the snacks are non-GMO, gluten free, and vegetarian.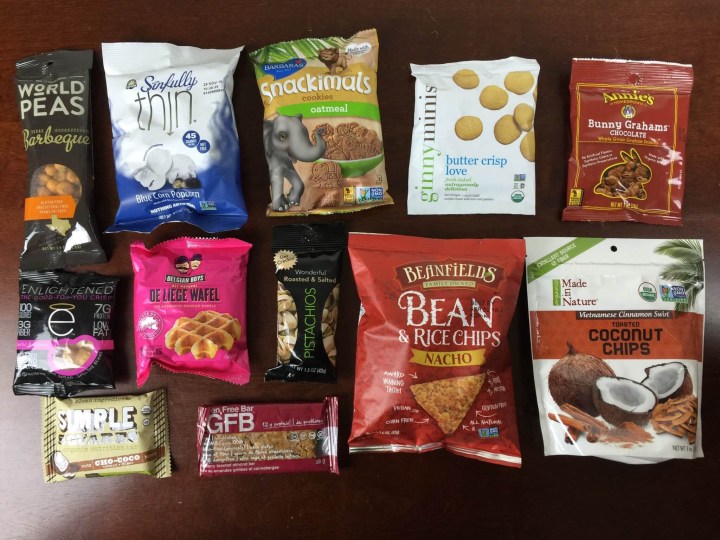 All the items in the box for September!
Beanfields Bean & Rice Nacho Chips: These gluten and corn free goodies are made with beans and rice. Tom is pretty crazy about them – he can never say no to any corn or not-corn chips! Despite the Nacho name, they're vegan!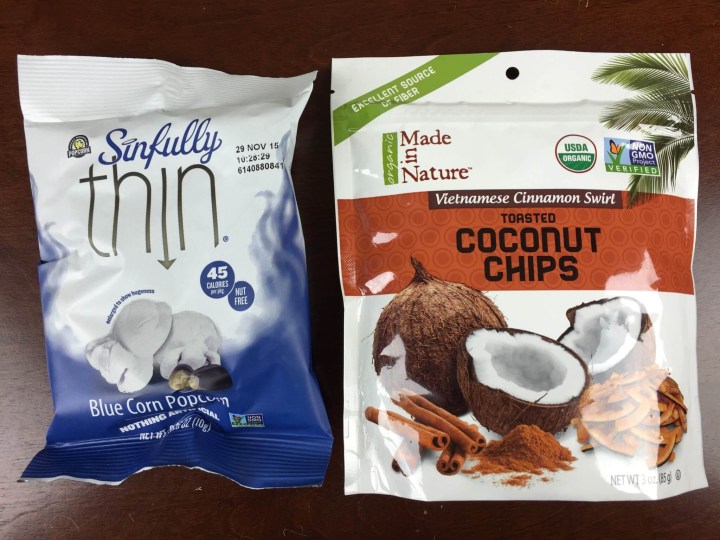 Sinfully Thin Blue Corn Popcorn: This popcorn is light and yummy, and the actual insides of the kernel retain a nice soft blue color. I had a hard time saving a few pieces to show on our video review.
Made in Nature Vietnamese Cinnamon Swirl Toasted Coconut Chips: These are absolutely coated in delicious Vietnamese cinnamon! They are like a great paleo granola all unto themselves, although you could eat them with granola, or on yogurt, or just shove piles into your mouth, as I did.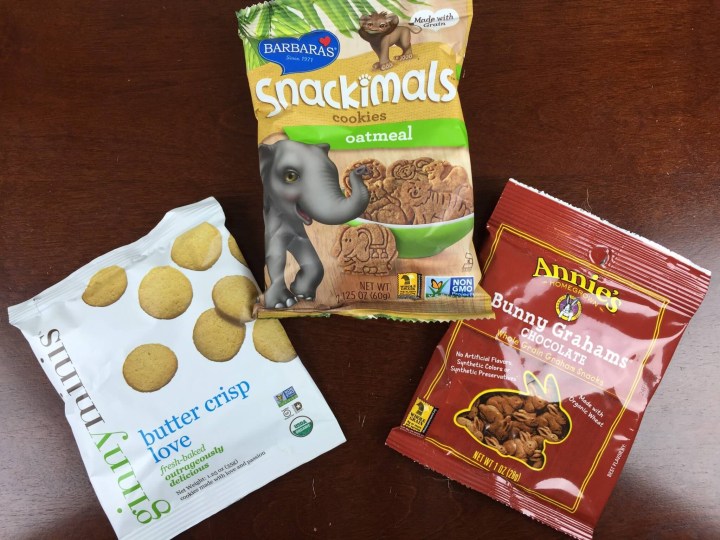 GinnyMinis Butter Crisp Love: These are gluten-free cookies that you would be hard-pressed to identify as such. I prefer their chocolate chip ones, but this is a nice way to try the plain version!
Barbara's Oatmeal Snackimals:  We have been getting Barbara's Snackimals for the kids – they love them and I like that they are made with organic grains and whole oats!
Annie's Chocolate Bunny Grahams: Because I have children I can tell you that these little guys are delicious. Bunnies for everyone – adults love them too!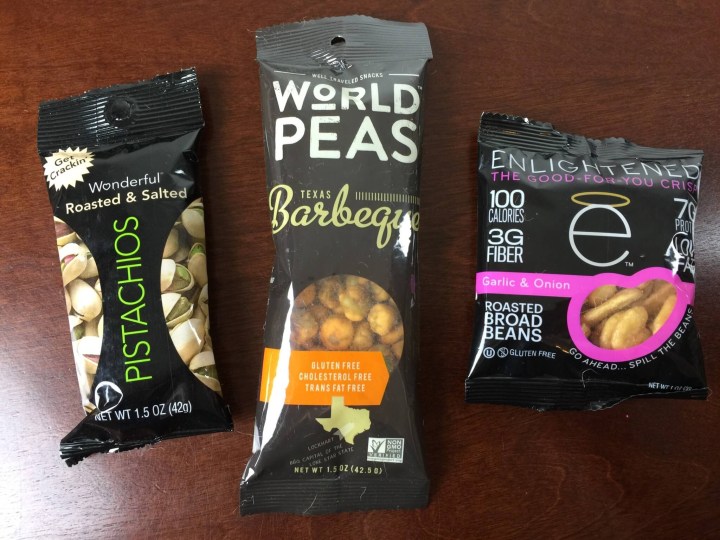 Wonderful Pistachios: We love all pistachios and the Wonderful ones are high quality and we rarely have any duds. My kids are especially fans of these. I am always tempted to get the big warehouse bag of the shelled kind, but that's so dangerous because we would plow through $30 of pistachios in days. This individual size is a much better idea!
World Peas Texas BBQ Peas: These are just like wasabi peas, except another flavor, and are gluten-free, GMO-free as well as free of cholesterol and trans-fats.
Enlightened Garlic & Onion Roasted Broad Bean Crisps: I love seeing two different interpretations of what is essentially the same snack. These are just like wasabi peas, except broad beans, and garlic and onion flavor. Pretty pungent and tasty!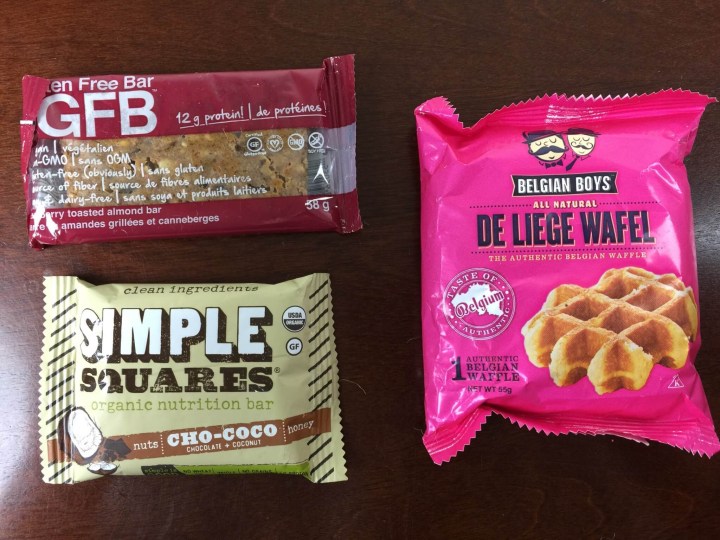 The GFB Cranberry Toasted Almond Bar: Non-GMO, gluten free (obviously – that's what the bag says because the whole name is "The Gluten Free Bar"), non-GMO, and has 12 grams of protein!
Simple Squares Cho-Coco Square: Made with nuts (cashews and almonds), honey, coconut, chocolate, vanilla, and sea salt! They are organic, raw, and paleo-friendly! This version basically takes their coconut square to the next level!
Belgian Boys De Liege Wafel: I tried these a couple months ago and bought a big pack of them! They're so good to heat up in the microwave and stick some ice cream and artisan caramel sauce on. #justsayin! These are nut-free, kosher, lactose-free, trans fat free, but I don't think the snack met the usual criteria – but it is very portion controlled. I was totally fine with this item because life is about balance (which clearly describes my Belgian waffle sundae)! Did I mention that every bite has pearl sugar?
This subscription is a fun way to try out some healthy snacks or just get them delivered without buying the big boxes of them (because you'd have to buy 12 of each bar, a giant bag of beans, etc.).  I like how there is always a variety in curation in this box, from sweet to salty and chewy/soft to crispy/crunchy. I do particularly like how there are healthy sweet choices because sometimes I just need a sweets fix! We enjoy this box and it always presents some brand new product discoveries for me – which is really hard to do!
Visit SnackSack to subscribe or find out more! Get 15% off the entire lifetime of your subscription! Use coupon code HELLO15.
The Subscription
:
SnackSack
The Description
: Monthly surprise delivery of delicious all-natural & organic snack foods. We curate a delicious assortment of gluten-free, non-gmo, & vegan goodies. Sent from beautiful Colorado directly to your doorstep.
The Price
: $23 per month
The Coupon
: Use coupon code
HELLO10
for 10% off your first box!