Pupjoy is a monthly subscription box for dogs that finds the healthiest dog treats with clear ingredient labeling, well-crafted dog toys, and artisan accessories for the discerning pup. It's customized for your dog's needs so you can find the right mix of high-quality products right for you and your dog (or dogs! They offer a larger size box for multiple or big dog families.).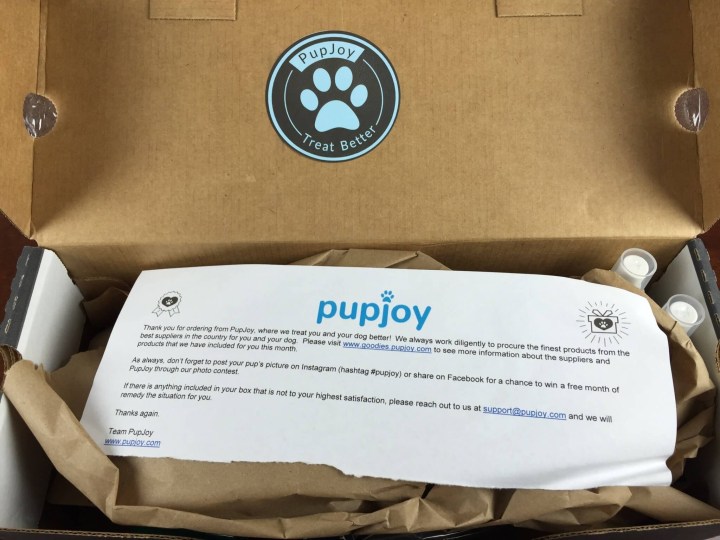 You can select toys, treats, or mixed boxes, grain free or training specific only treats, and tailor your toy preferences.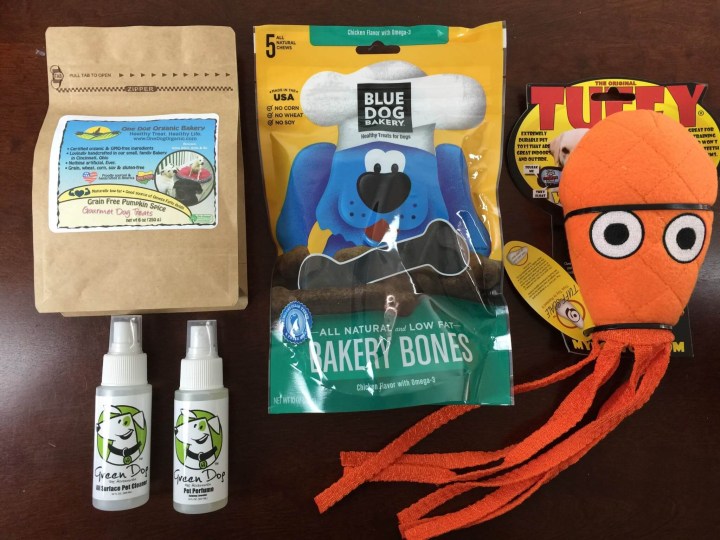 Everything in the box.  This month Pupjoy sent a mix of toys and treats. We feel that sending toys every other month is a great schedule for our dog – she isn't a destructive dog. For big chewers and dogs that tend to go through toys, you can get more toys in your box!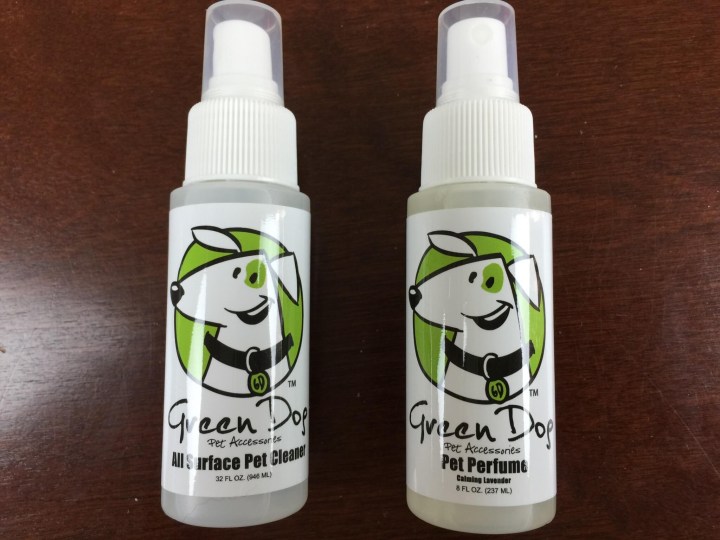 Green Dog All Surface Pet Cleaner ($6.99, based on Amazon price of $13.99 for 16 oz):  The detergent in this multi-surface cleaner is biodegradable, and the other ingredients are all organic.  I think the container was mislabelled, as it had the label for the 32 ounce size (and its clearly the same size as the 8 oz bottle).
Green Dog Pet Perfume ($13.25):  Similarly blended from earth-friendly ingredients, this lavender-infused perfume is helpful in keeping your pet fresh and fluffy between grooming.  It contains a mild conditioner to help maintain a soft, brushable coat.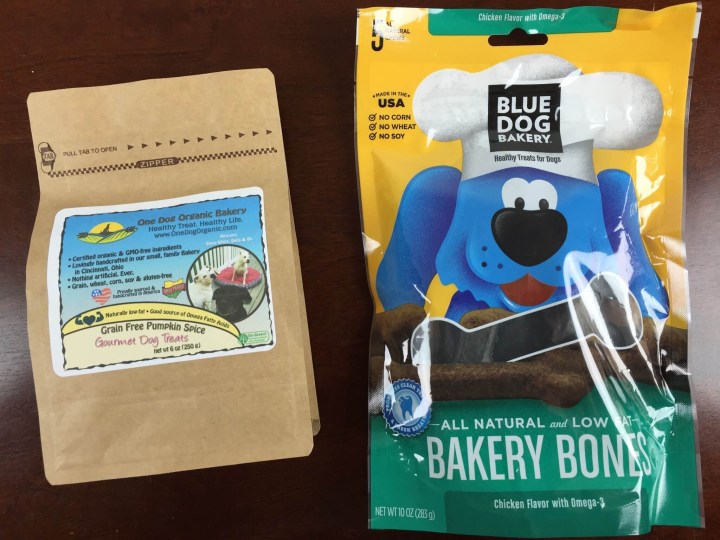 One Dog Organic Bakery Grain Free Pumpkin Spice Gourmet Dog Treats:  Made using all organic ingredients, including buckwheat flour, pumpkin, eggs, spices, flaxseed, and vitamins.  These hard biscuits look like a pumpkin shaped gingerbread cookie. We were delighted that Lindy could take part in the Pumpkin Spice Mania currently gripping the country.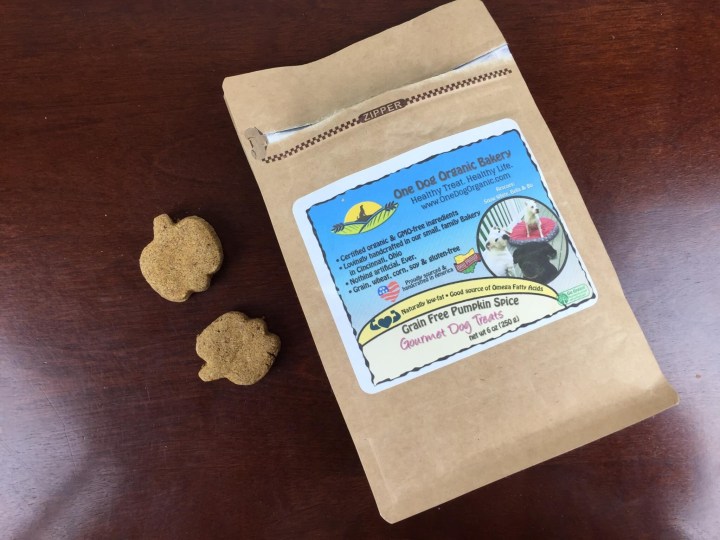 Blue Dog Bakery Bakery Bones:  These big (5″) bones are really hard and will keep your dog busy for a while.  They are chicken flavored and have a score line in the middle for portioning, which is perfect for our baby.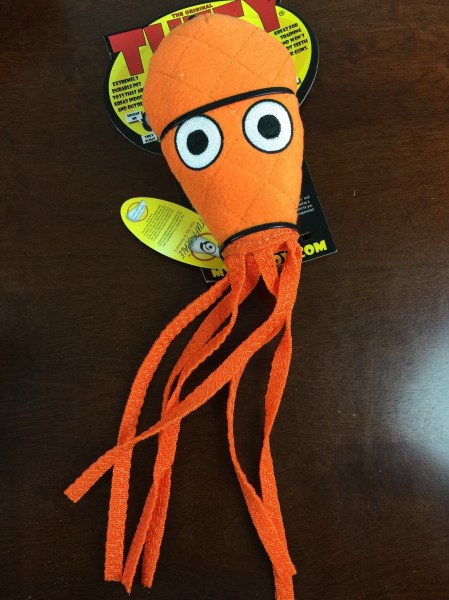 VIP Products Original Tuffy:  This six-legged octopus ("hexapus" — one was actually discovered in 2008) is rated a 9 on the Tuff-Scale, meaning it's extremely strong and extremely durable.  The main body is quilt-stitched, and the eyes are tightly sewn directly of the body (they aren't patches).  The tentacles are durable cargo strapping further reinforced with additional stitching.   This is a great toy for rough medium to large dogs.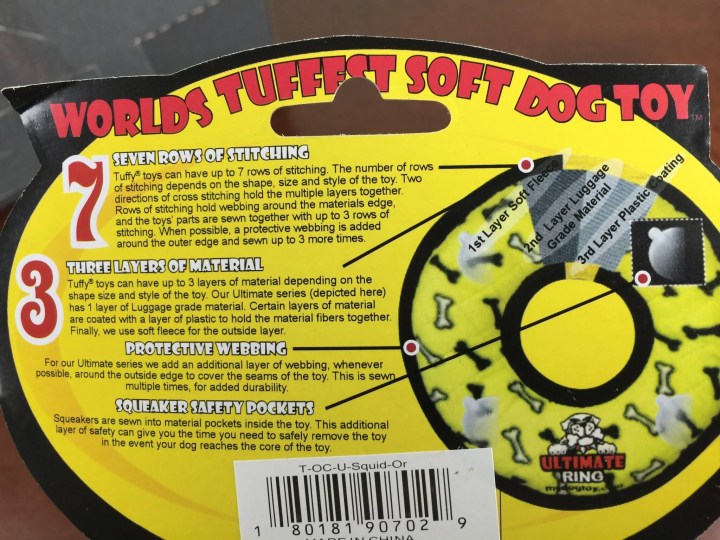 The back lists the various reinforcing measures taken.  I thought the squeaker safety pocket was a cool innovation.
We like Pupjoy quite a bit.  The treats come in big packs, and our dog has liked all of them.  They seem to find selections that are appealing to dogs without adding artificial flavors.  The treats are high-quality, filled with healthy meat and veggies, and tend to come from small to mid-size producers instead of the big conglomerates.  Our dog has her favorite toys already — she shows interest in Pupjoy toys, but she hasn't gone wild over them.  This month's toy is really best suited for a larger dog, but this is a review box, so we're never quite sure if they are sending toys for our dog or to show.  The toys are well-made and great for dogs that are into toys, but we prefer a subscription tailored to favor the treats, since our dog loves them so much.
Visit Pupjoy to subscribe or find out more. Use code HELLOSUBSCRIPTION to save 10% on any subscription!
The Subscription
:
Pupjoy
The Description
: PupJoy resets the bar for dog subscription services, with fully customized ordering, concierge service and free home delivery. 4-6 healthy and high-quality products customized to your dog's preferences and dietary needs!
The Price
: $29 per month
The Coupon
: Use code
HELLOSUBSCRIPTION
to save 10% on any subscription!