Love with Food's theme for September was Smarty Pants and the box features snacks perfect for back to school season! This is a fun snack discovery subscription available in three versions: classic tasting box, deluxe/family size, and gluten-free. We purchase the Deluxe box, because we have a big family and more snacks = more fun!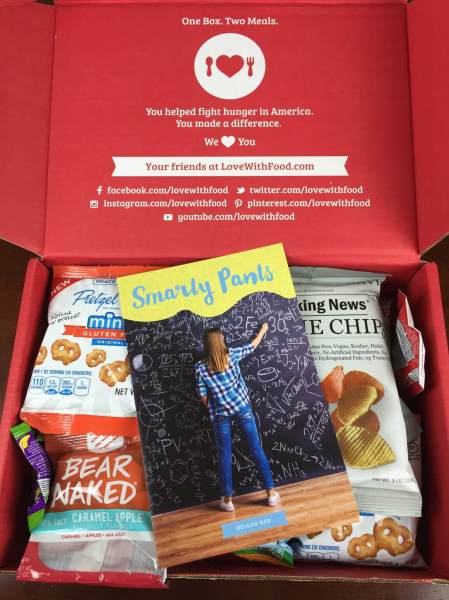 It's that time again, when everyone's buckling down for a new school year and in need of some serious brain food. The September box has you covered, so get cracking on snacking! And while you're savoring that gift of knowledge, be proud to know that every Love With Food box helps fight hunger. Extra credit, anyone?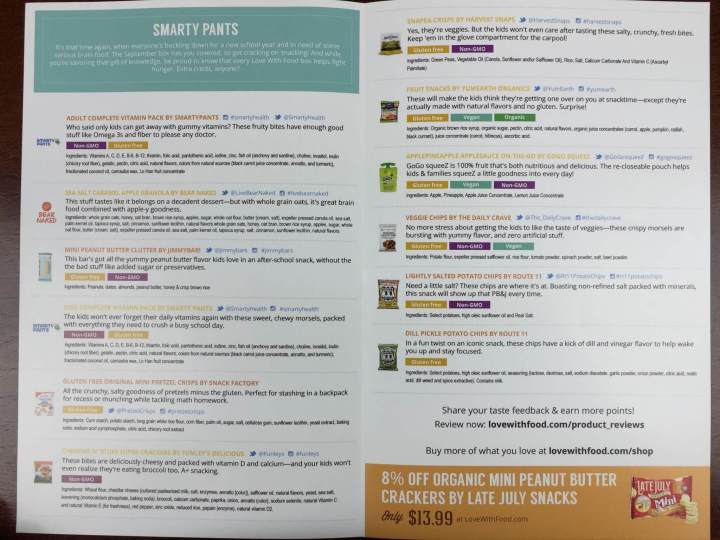 The information booklet contains both the ingredients for each item plus color-coded keys indicating which are non-GMO, gluten-free, and vegan!  Though they offer a Gluten-free box, it's nice to have this kind of info handily started for households with mixed dietary profiles.
Everything in the September Deluxe box!  We normally open up most of the food so you can see the goodies, but we were honestly in need of lunchbox snacks and we thought most of these were pretty self explanatory!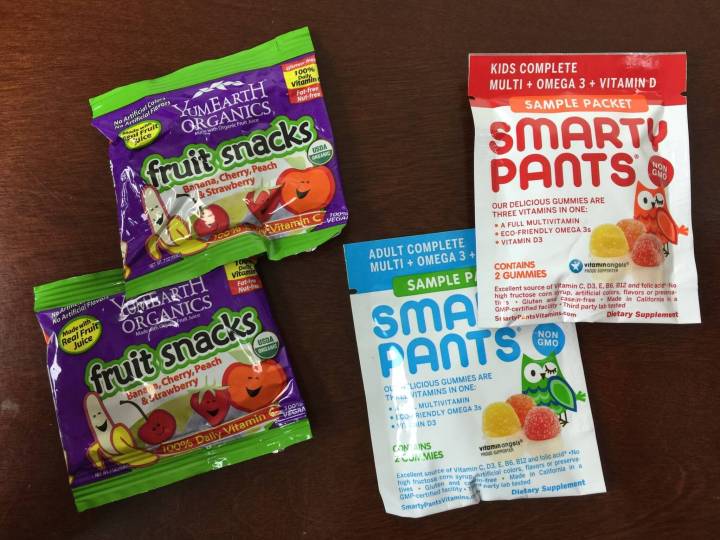 Yum Earth Organics Fruit Snacks
Smarty Pants Adult Complete Vitamins
Welll these are basically the same thing except one has vitamins. We don't purchase fruit snacks (aka candy) so these are a real treat for our kids. And everyone loves Smarty Pants gummy vitamins because they are quite tasty!
Snack Factory Pretzel Crisps Gluten Free Minis: A new gluten-free version of Pretzel Crisps. We will probably pass these to a celiac neighbor. She will be super excited (she is in 6th grade and it's super tough!). She picked up some goodies tonight!
Funley's Cheddar N' Stuff Super Crackers: We have had these crackers before and they are pretty good for hidden veggie crackers. We will see if any come back home – that's the real test!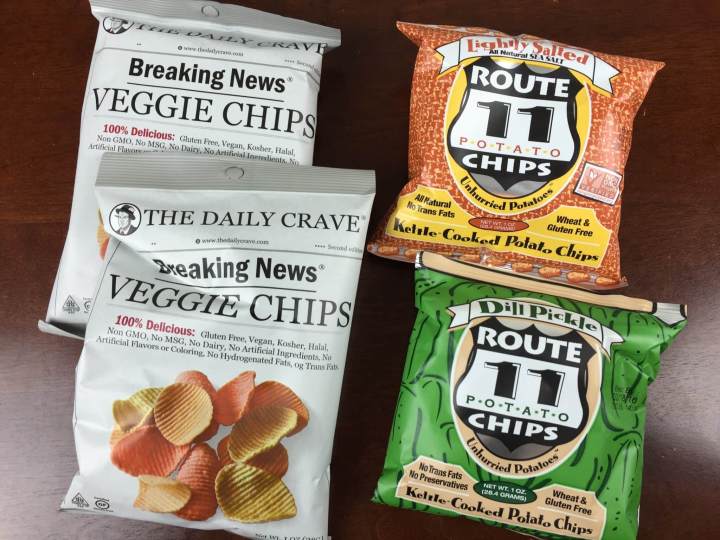 Route 11 Lightly Salted Chips and Dill Pickle Chips
Chips chips and more chips! As I get older I am finding that chips are just a bit too stay for me (shocking, because I have always been a salt fiend) but I couldn't resist the dill chips and the kids weren't interested. Yum!
Bear Naked Sea Salt Caramel Apple Granola: My daughter is a big fan of granola and we will send this in a lunch with yogurt – it helps that it's so much cooler now!
Mini Jimmy Bar in Peanut Butter Clutter: I have had Jimmy Bars quite a few times and I always find them tasty and wholesome and never weird. I love the half size for kids.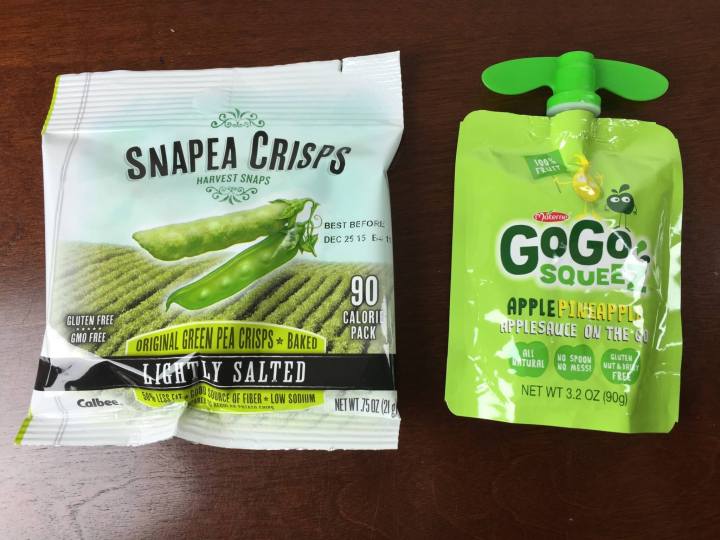 GoGo SqueeZ ApplePineapple Applesauce on the Go: I am not a fan of the Snapea Crisps but we will see how baby feels about them. He is in the rapid carbohydrate consumption phase.  It's all he seems to eat!
Calbee Lightly Salted Snapea Crisps: And the squeeze pouch he is wild about – I am happy that we got one Pineapple so he can test it out and see if it agrees with him.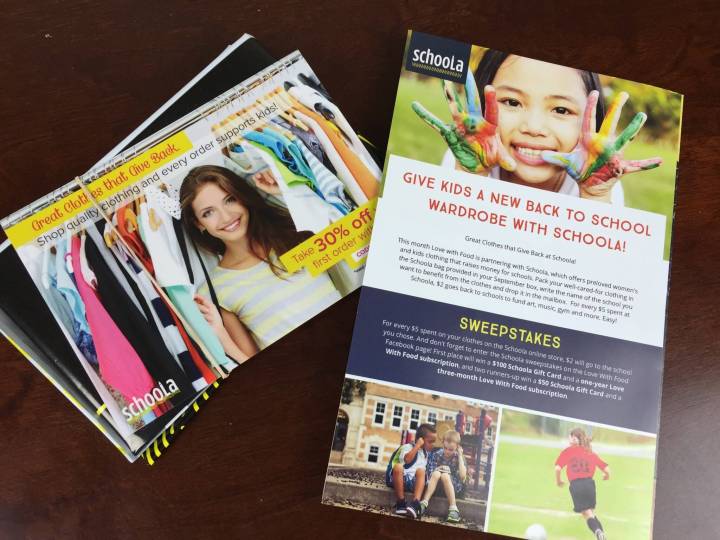 There was also a Schoola bag to recycle your clothes.
This box was really well themed for back to school and I couldn't have asked for anything more… except there were a few repeats and we didn't get the cookies featured in the tasting box (not getting all the goodies and then some does bug me on the deluxe box). I think Love With Food needs to buckle down a bit on their curation and ensure they are finding new product discoveries for their members because while it's fun – this isn't a huge value subscription.
You can try out Love With Food by using this link to get your first Classic Size Box 40% off . You can also save $10 on your first Gluten-Free box by using this link. If you're looking for a longer subscription, use coupon code HELLOSUB20 to save $20 off any 12 month plan! (That's $6.32/box for tasting, $14.83/box for deluxe, and $18.32/box for gluten-free) The longer plans now offer more significant savings plus extra reward points. As always, Love With Food donates meals to charity with each box purchased.
Visit Love with Food to subscribe or find out more.
The Subscription
:
Love With Food
The Description
: Love with Food is a gourmet sampling and discovery subscription box filled with 8+ gourmet treasures centered around a monthly theme. The deluxe box contains 16-20 items.
The Price
: $9.99 (regular) or $19.95 (deluxe) per month
The Coupon
: Use this link to
get your first Classic Size Box 40% off
– pay $1 shipping. Or, use coupon code 
HELLOSUB20 
to save $20 off
any
12 month plan!