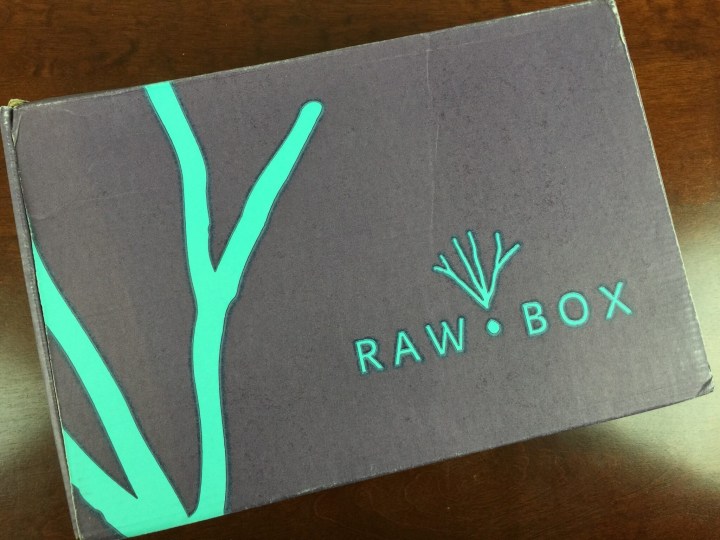 The first RawBox is officially here!  RawBox is a new monthly subscription box intent on delivering only the healthiest snacks and cleanest lifestyle products.  The snacks are all raw and plant-based, free of gluten, wheat, dairy, soy, and many other common food sensitivity triggers.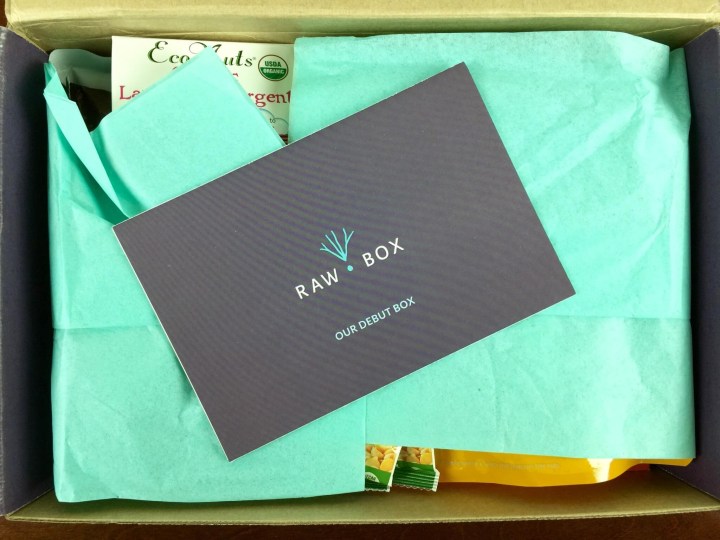 The Debut box was sent in both September and October – your first box should be their sophomore offering.
The info card shares a bit on the philosophy of the founders and their aspirations for the box.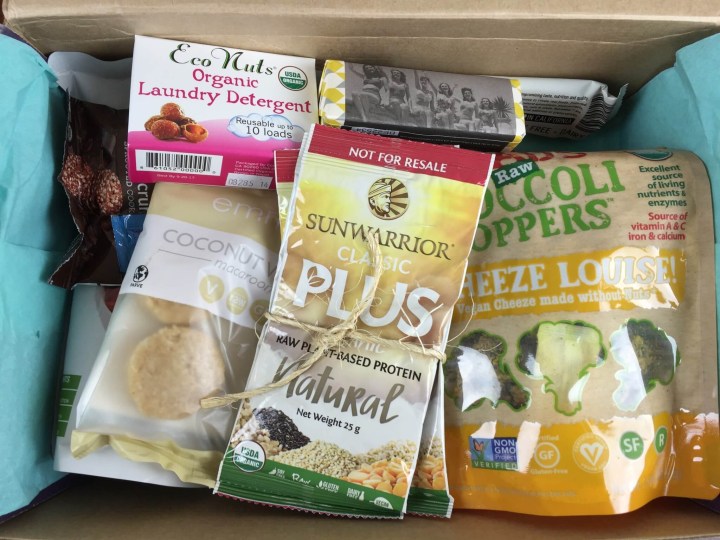 Within the nice blue tissue is a raw bonanza.

The info card is actually a giant fold-out.  It has a plethora of info on each item in the box.  Along with descriptions, it includes retail values for each item, some discount info, and suggested uses.
The card even has recipes and "Food for Thought" info blurbs for several of the products.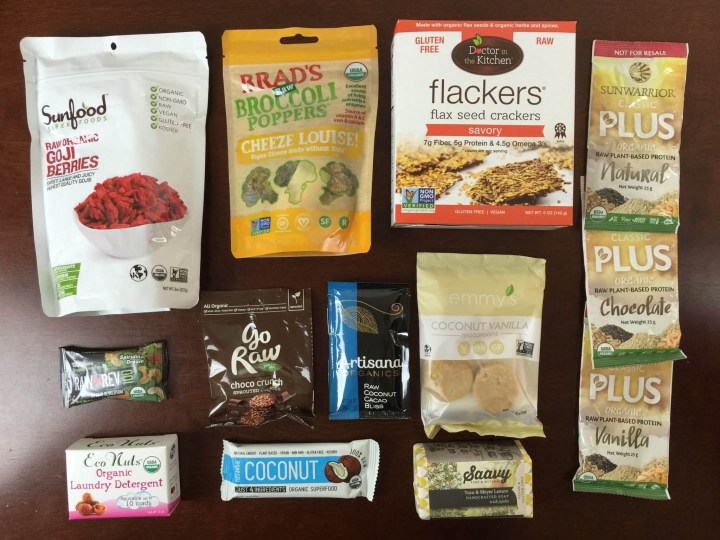 Everything in the Debut RawBox!
The box came with some information cards plus a sticker.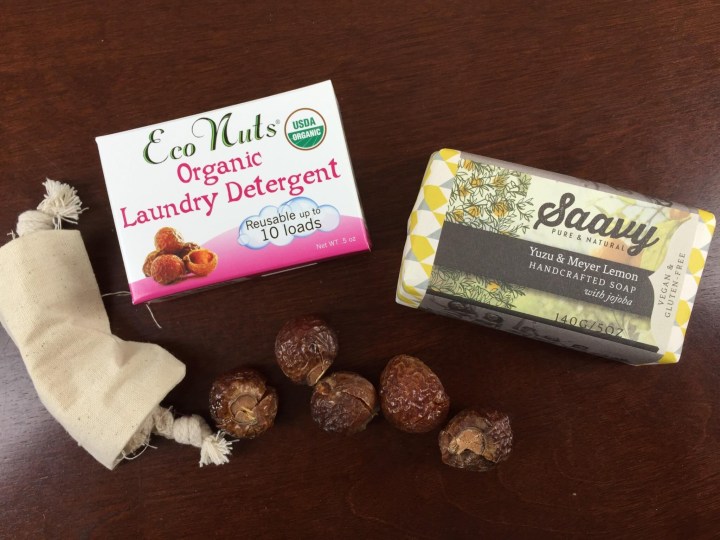 Eco Nuts Organic Laundry Detergent: We have never tried Eco Nuts before! You use them in place of your detergent, or along with it as a fabric softener.  They are dried de-seeded soap berries from trees that grow in the Himalayas and they are supposed to work great!  
Saavy Pure & Natural Yuzu & Meyer Lemon Handcrafted Soap with Jojoba: Totally natural and vegan and made with pure essential oils, plant extracts and 100% natural colors.  It has a great, light scent.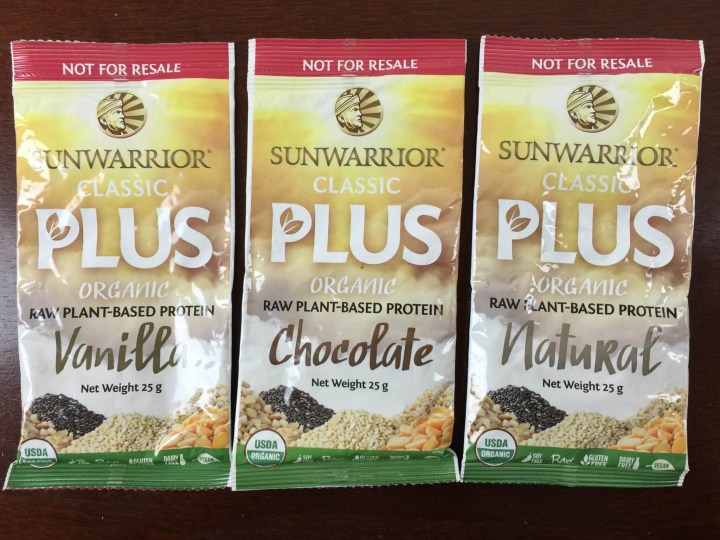 Sunwarrior Classic Plus Organic Raw Plant-Based Protein:  We received three flavors to try:  natural, vanilla, and chocolate.  This raw and plant-based protein is great for vegans and others who want to add some protein to their diet but can't leverage the most common, milk or soy-based supplements.  Rice, peas, chia, quinoa, and amaranth all contribute amino acids to the blend.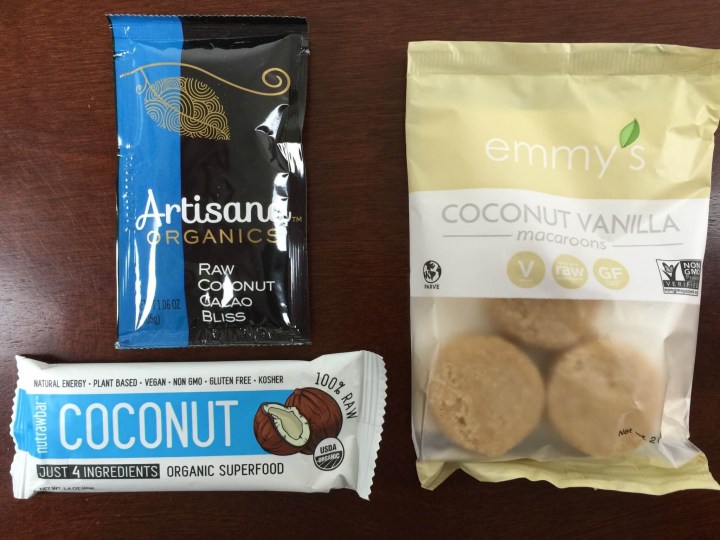 Artisana Organics Raw Coconut Cacao Bliss:  A rich, chocolate and coconut spread — use it like you would Nutella.
Nutrawbar Coconut:  4 ingredients: organic dates, organic coconuts, organic almonds, organic cashews.
Emmy's Coconut Vanilla Macaroons:  Moist and light in flavor, these macaroons have a creamy and satisfying texture.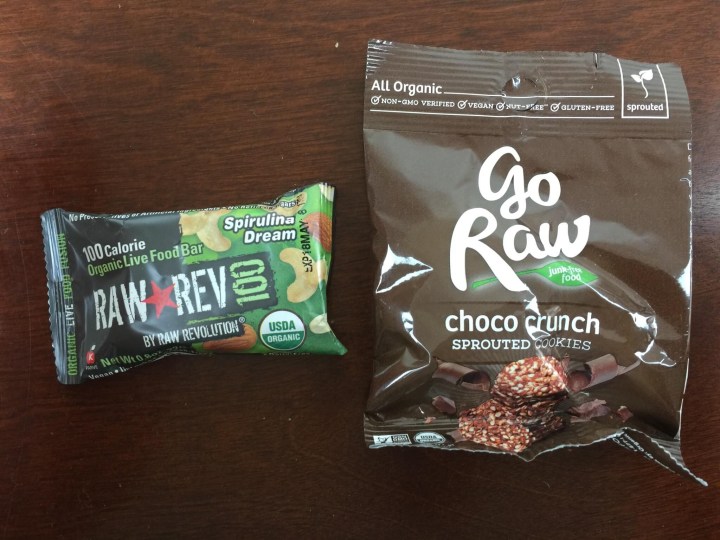 Raw Rev 100 Spirulina Dream:  Spirulina powder, vitamins, minerals, and B12 add a nutrient kick to this 100 calorie snack bar.
Go Raw Choco Crunch Sprouted Cookies:  Chocolatey and crunchy, these sprouted cookies retain the nutrients of raw chocolate and sprouted seeds.
Sunfood Super Foods Raw Organic Goji Berries:  Goji berries are renowned for their high levels of potassium, iron, and selenium, and their contribution of B vitamins, calcium, zinc, fiber, and protein.  This huge bag gives you the freedom to use the raw and organic berries in any recipes you choose (two are included on the info card) or eat them straight from the bag!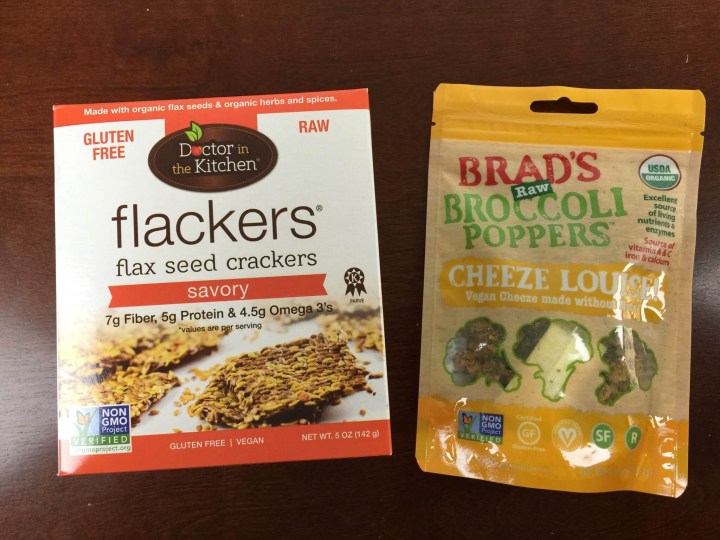 Doctor in the Kitchen Flackers Flax Seed Crackers – Savory:  These crunchy crackers get their crispness from flax seeds, so they are loaded with Omega 3s, protein, and fiber.  A wonderfully healthy alternative to wheat crackers.
Brad's Raw Broccoli Popper – Cheeze Louise:  Low heat air-crisping keeps these broccoli florets crunchy and packed full of bio-available nutrients.  Sunflower seeds and chickpea Miso is used to create the vegan cheese coating that gives these poppers their signature Cheeze Louise! flavor.
This debut RawBox had a great selection of carefully curated items.  Founders Ally and Melanie met with the folks responsible for each product to personally vet each item included in the box.  I loved the recipes given for some of the items, and the really unique finds included in the box, like the Eco Nuts!  This box has a great appeal, because their raw and plant-based approach (as well as strict attention to what does not go into the items) makes this box suitable for so many dietary philosophies.
Visit RawBox to subscribe or find out more!
The Subscription
:
RawBox
The Description
: RawBox is the first subscription box that may be safely enjoyed by Raw Foodists, Vegans, Vegetarians, Celiacs, Paleoists, Athletes, Dieters, and more. Each box has only raw, plant-based snacks and lifestyle products from the healthiest brands on the planet. 10-12 products; a total value of $60 or more. Totally raw, plant-based, gluten-free, wheat-free, soy-free, dairy-free, GMO-free, MSG-free, sulfite free, and more. All lifestyle products are free from parabens, polypropylene and polyethylene glycols, sodium lauryl and laureth sulfates.
The Price
: $39.95 per month