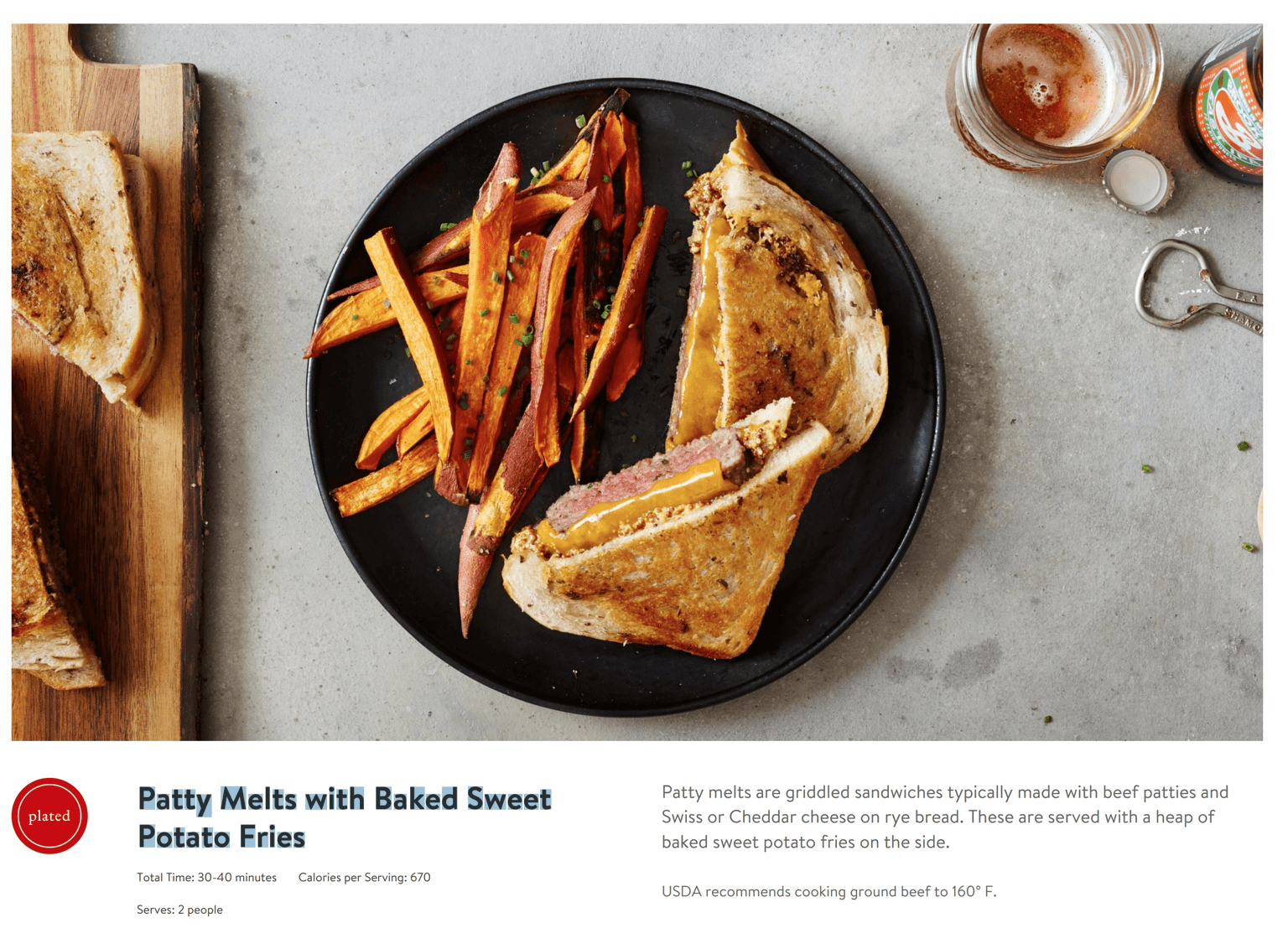 Plated sends weekly dinner kits with high quality ingredients and chef-created recipes. Each week you'll choose from a variety of dishes that range from meats, chicken, seafoods, and purely vegetarian options. There's enough selection to please all palates, and the recipes are seasonally focused. We love the way each meal incorporates only a couple key herbs or spices; the flavors shine through, and the recipes remain easy to follow. We love getting boxes most week to try new recipes, and we save the must make again recipes – although they're also available in your account. Plated's recipes rely on mise en place and then cook, and to be honest, we often mix up the steps, but we're both experienced cooks and know what can be accomplished while something else cooks. So, read your cards if you need the step by steps.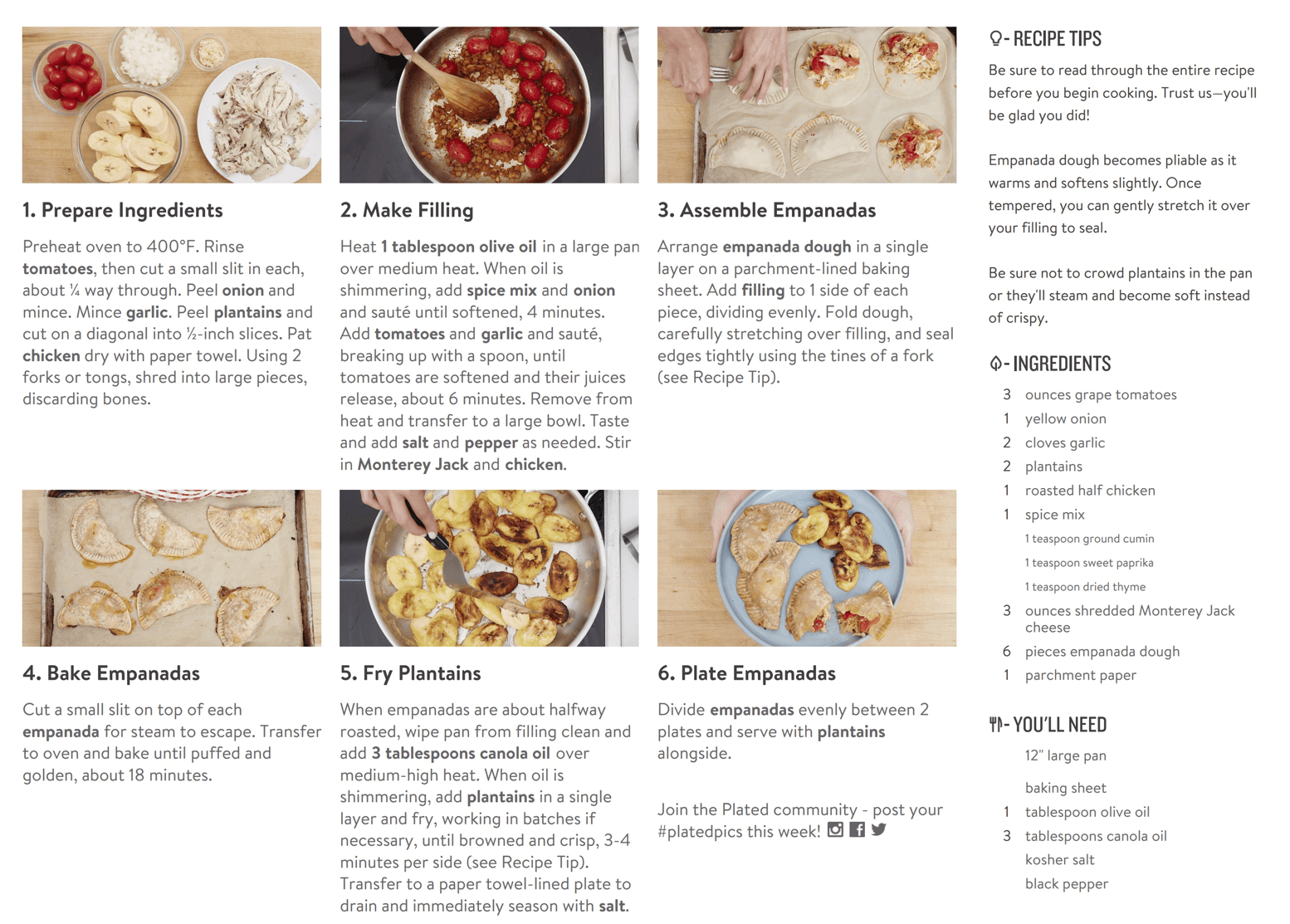 The recipe card was updated earlier this year, though I wish it would indicate the ease of the meal right on the card. When your box is sent out you'll get an email indicating the pantry items you'll need (this week:black pepper egg kosher salt olive oil water) , plus a reminder of what meals are coming, preparation ease, cook time, and calorie count.  Our last batch of cards had been further updated to add beer or wine pairing suggestions — a great idea, since many of the recipes feature exotic spices or flavor combos that would stump the novice sommelier.  They apparently went back to the old format, omitting the pairings — we'll have to see if they come back next box.  We get asked a lot – Sometimes we order Plated and sometimes Hello Fresh. It just depends on what meals we're interested in. [Hello Fresh: Take $40 off your first box with coupon code 7UT7K8]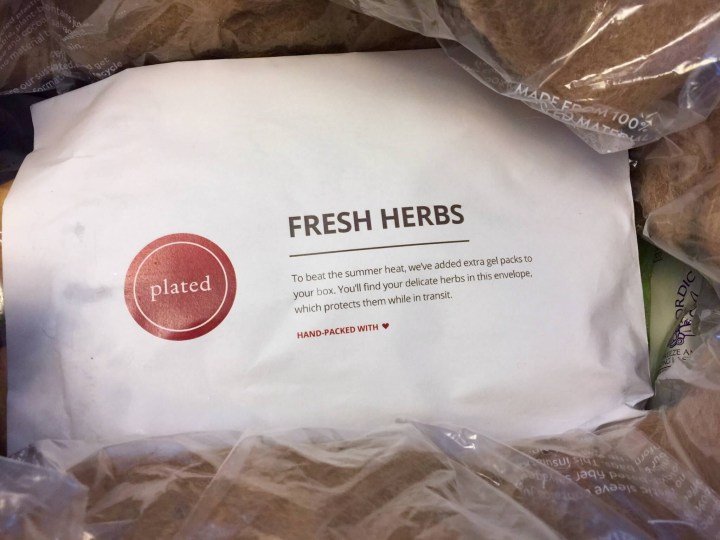 They've also reverted to the former packaging, abandoning the jute insulation.  They have continued packing herbs in an envelope to protect them from the chillier box (pictured above; sorry, the above photo is from the prior box and shows the jute too, as I neglected to grab a shot of the reverted packaging).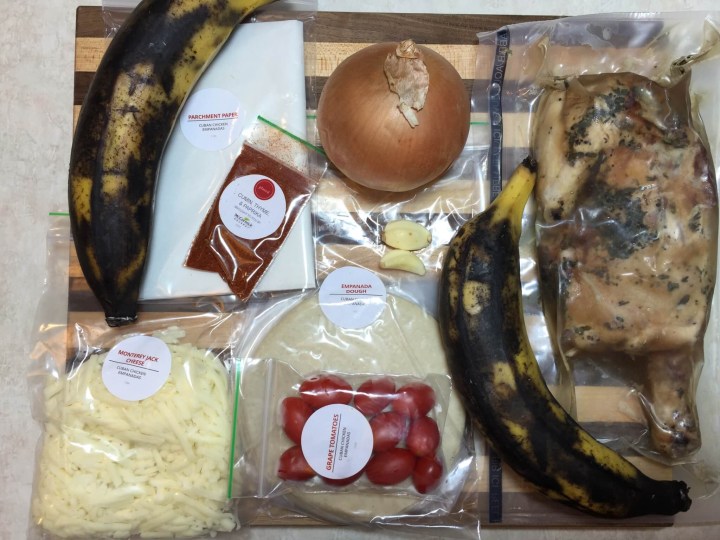 Cuban Chicken Empanadas with Crispy Plantains. 45-55 mins, 800 cal.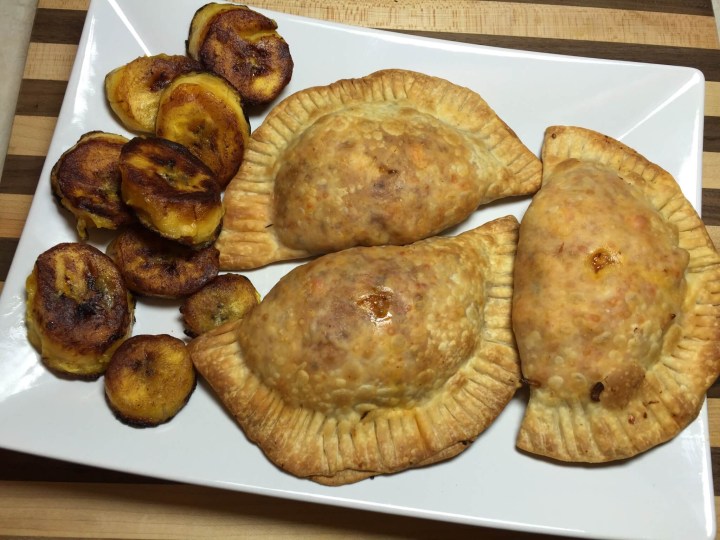 Very simple and tasty.  The roasted chicken removed a lot of the fuss that would have accompanied making this dish.  The pastry cooked perfectly, even sealing exceptionally well (but maybe that was the talented chef).  Great bright flavors, without too much heat.  The only downer was the fried plantain — they didn't get crispy for me, as I likely crowded them too much.  It is worth pointing out that the card cautioned against this very eventuality, so my deliberate failure to heed the warning demonstrates the appropriateness of their advice and should actually should count in Plated's favor.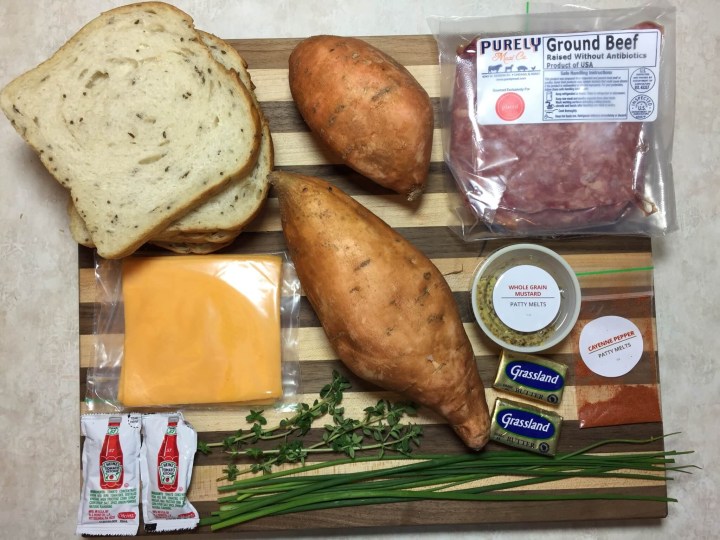 Patty Melts with Baked Sweet Potato Fries. 30-40 mins, 670 cal.
I believe it is the rye bread that distinguishes the patty melt from a burger.  This was essentially a thyme and chive seasoned cheddar burger with great sweet potato fries.  The beef is fairly lean, so it takes to the gooey cheese well, without over-greasing the bread.  This was a welcome classic with great texture and flavor. 
Concord Grape and Peanut Butter Hand Pies. 30-40 mins, 410 cal.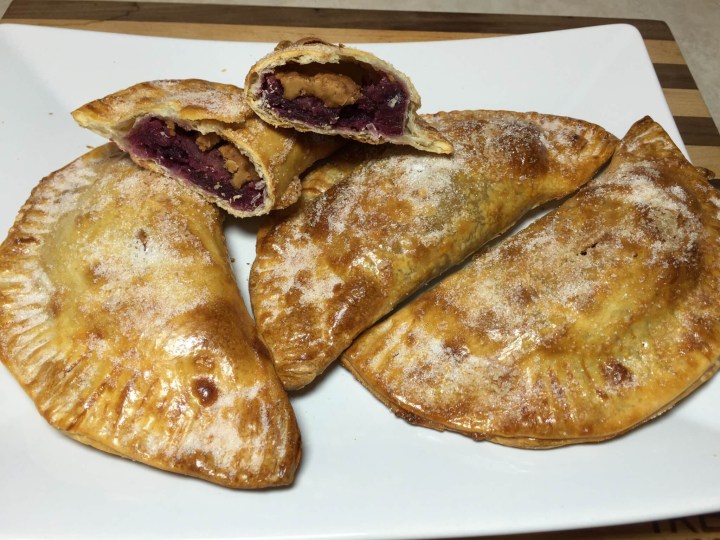 These were so cool!  The concord grape lent a massive flavor — far beyond what I would think you could get out of a smallish bunch of grapes.  Very simple to put together.  I think the dough was the same as that used for the empanadas, but the egg wash and sugar sprinkle gave is a completely different look and texture.  The tough part of this dish is waiting for the finished pies to cool enough to eat!  We stood around as a family and polished them off without even making it to the table.  Fun, and very kid friendly, too.
We like it when dishes are offered that the kids can try, too.  We offer them a bit of everything we make, but spiciness is occasionally prohibitive.  Desserts are always a hit, but this batch of dishes went over well with the kids on all fronts.  Servings are usually pretty big, so we were able to essentially feed two adults and two kids (aged 4 and 6) two modestly-portioned meals and a dessert by sharing our two melts, six empanadas, and four big hand pies.  Don't expect this to always be the case, though — we usually plan on getting two generous servings and a single lunch's worth of leftovers from most recipes.
Visit Plated to find or more or to subscribe. Currently you can get 2 free plates when you buy 4 when you sign up with this link (no coupon code required).
The Subscription
:
Plated
The Description
: Ingredients for chef-designed meals delivered to your door. You select the chef-created recipes on the Plated.com website and Plated sends you a box of food and recipes.
The Price
: $12 per plate – must order in multiples of 2 and your box ships free with $50 in product. If you want only 2 meals, go for a Chef's Table + a regular, or 2 regular plates plus a dessert!