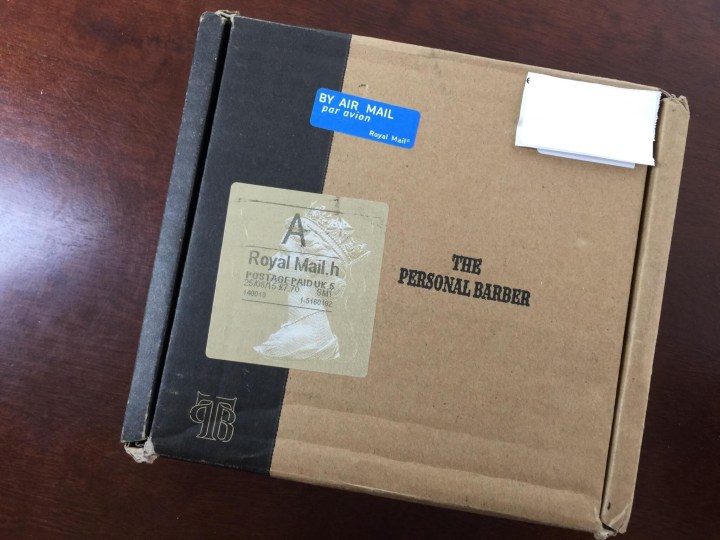 The Personal Barber is a montly wet shaving subscription box from the UK. Your first box will be a welcome box! The welcome box includes a safety razor and shaving brush, replacement blades, soap, pre- and post- shave lotions, and wet shave instructions. Thereafter you'll receive new and exciting wet shaving and men's grooming products.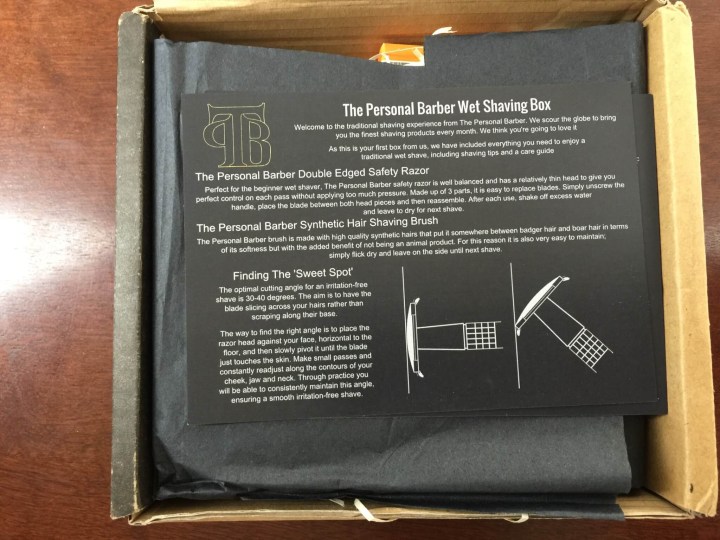 The pack arrived in a rather dignified box, and the contents were neatly tucked in tissue.  Thick and handsome cards were included to convey all necessary information…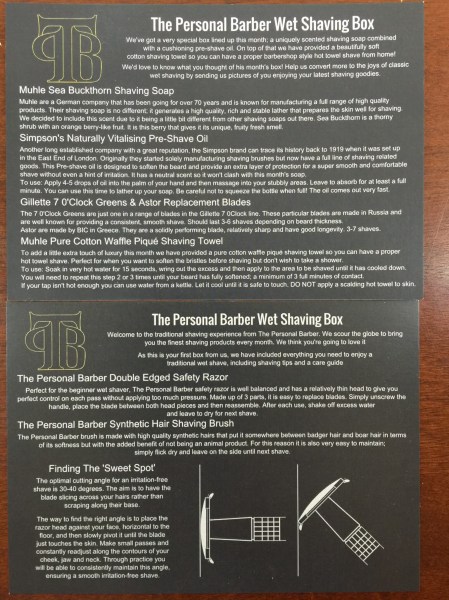 … such as a detailed description of the contents of the box, and a handy how-to-wet-shave guide.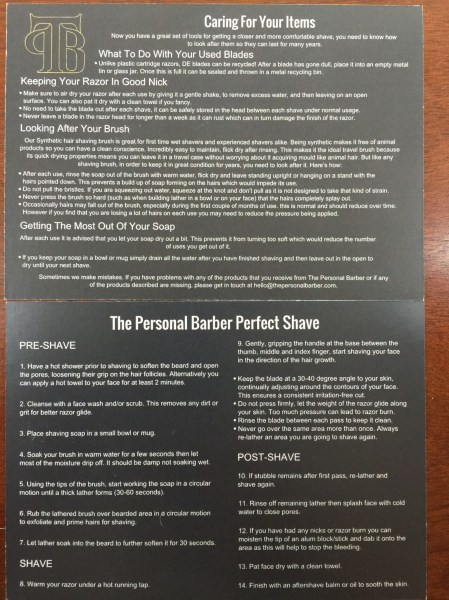 The back of the information card gives details on how to care for your new wet-shave accessories. The reverse of the shave guide gives additional tips for the perfect shave.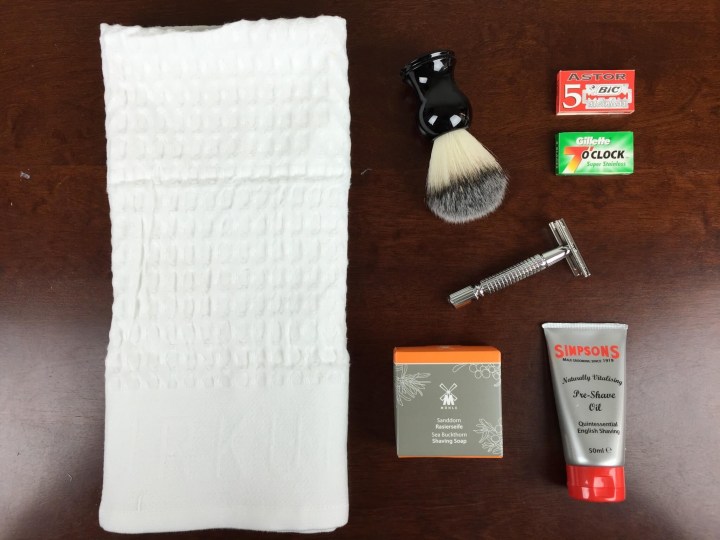 All the items in the welcome box. This is a really nice wet shaving kit.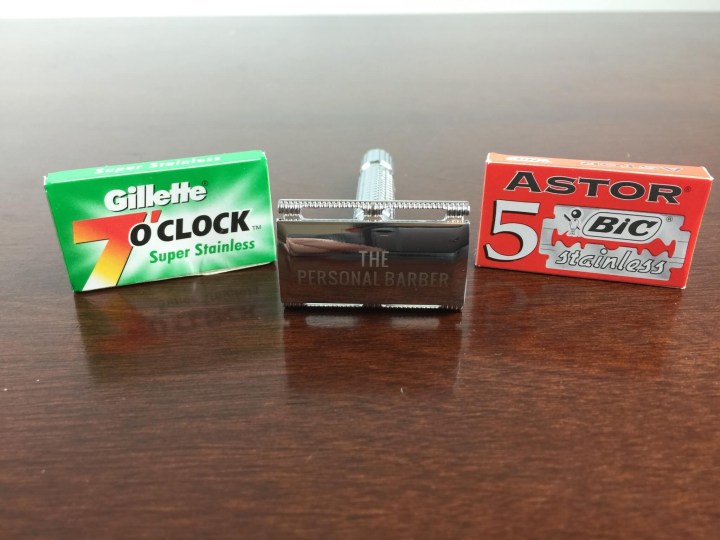 The Personal Barber Double Edged Safety Razor:  The most essential item of a shaving kit is the razor itself.  This model has a nice heft and textured handle.  It accepts a variety of double-edge blades.
Gillette 7 O'Clock Greens Super Stainless Blades:  Apparently there is a level of stainless beyond merely stainless — super stainless!  The high-resistance to corrosion means the blades will retain their micro-edge longer.  Russian-made.
Bic Astor Stainless Blades:  Not to be outdone, BiC offers a stainless of their own.  These French blades are made in Greece.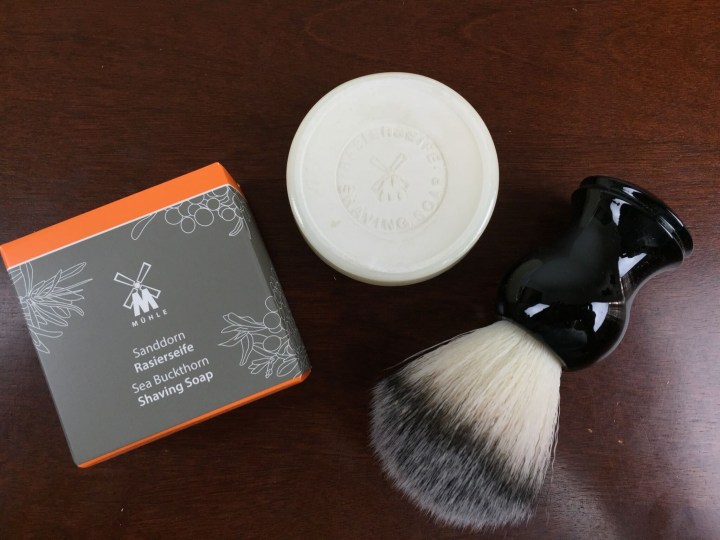 Muhle Sea Buckthorn Shaving Soap ($12):  This big puck of shaving soap has a really alluring blackberry-type scent from the sea buckthorn, itself a powerful anti-oxidant to combat aging of skin cells.
Wet Shaving Brush:  The soft synthetic bristles are intended to exhibit a stiffness between badger and boar hair.  The light handle allows easy foaming and application.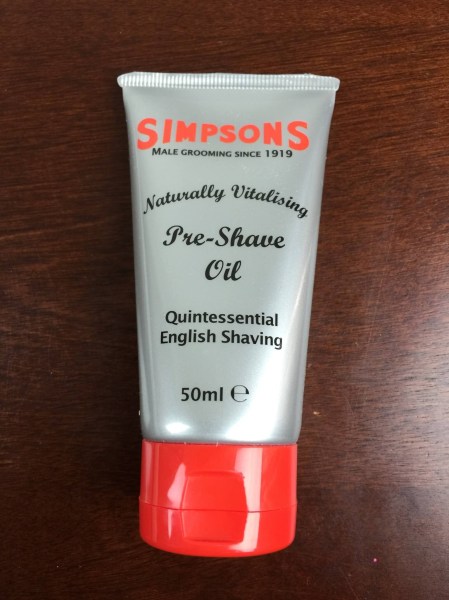 Simpson's Naturally Vitalising Pre-Shave Oil($15.18ish):  Applying pre-shave oil can help reduce razor burn and irritation.  This non-viscous oil adds a slippery coating of protection and has a seed-oil scent (like grape-seed oil or similar light cooking oil).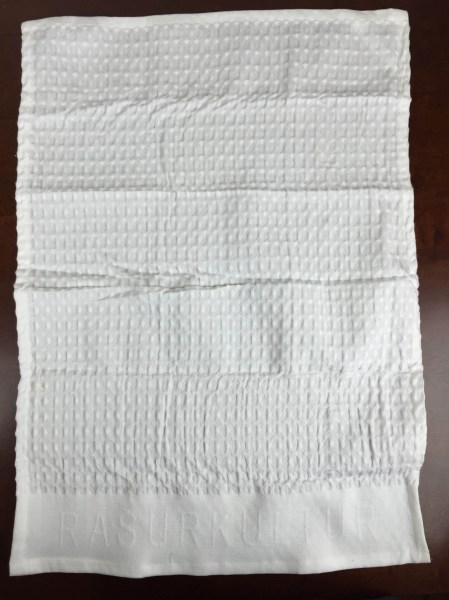 Muhle Pure Cotton Waffle Pique Shaving Towel ($14.48):  This 100% cotton towel has pleasant raised waffling, offering soft thread ridges among very durable woven hollows.  The edges are hemmed to avoid fraying.  The feel is of a cloth napkin, soft enough to wipe your face comfortably, but with a bit of drag and high absorbance.
This box costs £24.95 per month plus £7 shipping to the US – free in the UK. That works out to about $48.75.  I would like to see what combination of products are offered in the recurring box to take the place of the brush, towel, and razor provided in the starter.  This is sensible starter kit for wet shaving — I particularly enjoy the sea buckthorn shaving soap and the lovely towel!
Visit The Personal Barber to subscribe or find out more!
The Subscription
:
The Personal Barber
The Description
: The Personal Barber is a new shaving subscription box. The First month includes a safety razor, shaving brush, soap, blades, a handy step by step guide and more. It's time to jump in the bathroom and get shaving.
The Price
: £24.95 per month
The Coupon
: Save 20% when you subscribe. Use coupon code
BESTSHAVE20
.