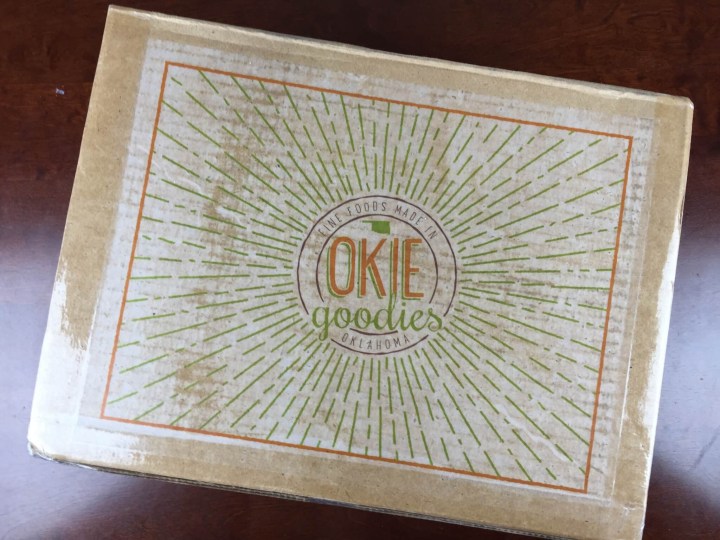 Okie Goodies is a monthly subscription box packed full of goodies from Oklahoma – 5-7 full-sized products that will get you your fill of Oklahoma wholesomeness! To find the goods Okie Goodies scours the truly last bastions of local: local shops, festivals, fairs, farmers markets, and more.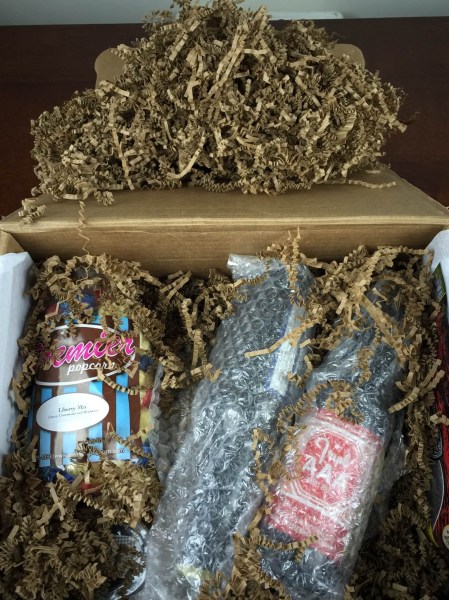 This is a giant box!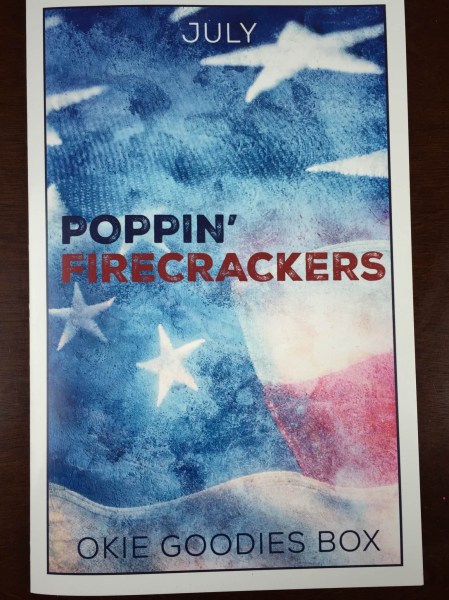 This is the July box. There was some unfortunate third party communication (not us and not Okie Goodies). Hence it was delayed in the middle. But is safely to us now – and we can happily report that everything in the box was fresh and delicious, even though it had been shipped all around the country.
The information sheet gives all the details. The July box celebrated America's birthday by Poppin' Firecrackers! If it pops, fizzes, or fires up your tastebuds, it belongs in this box!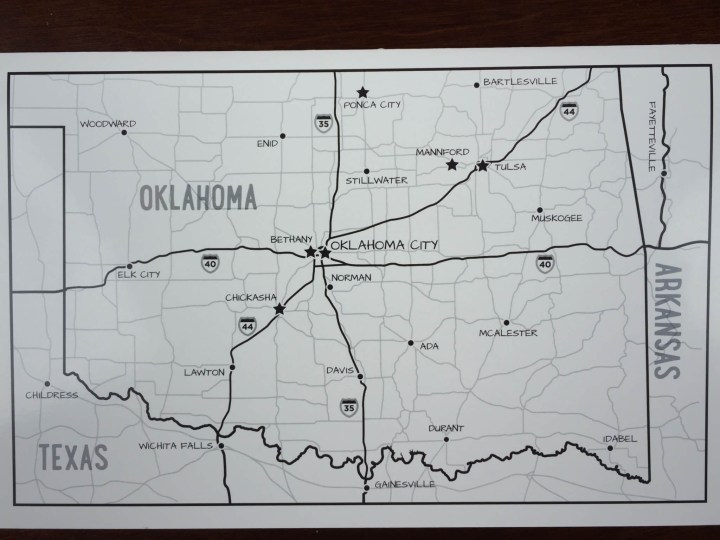 The back of the card not only reminds you where our 46th state is located, it also kindly points out exactly where each goodie is made!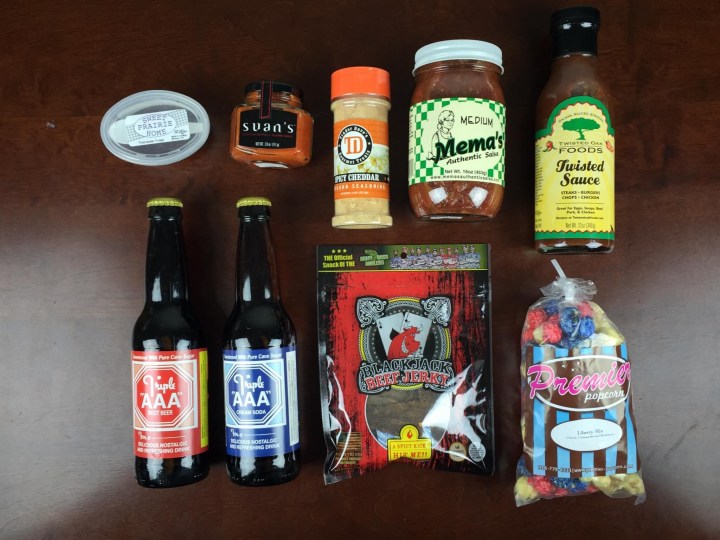 Nine full size items inn this box!
Triple "AAA" Root Beer & Cream Soda: Triple AAA is not only the most halfway redundant beverage name I've seen, it's also a really nice craft soda company. They started in 1937, shut down in 1974, and a candy company came along and reopened them! Tom loves root beer and cream soda. Like in a bizarrely intense way. He was super excited about this! I think it's a really nice inclusion for this box – because you would likely never taste this outside of Oklahoma!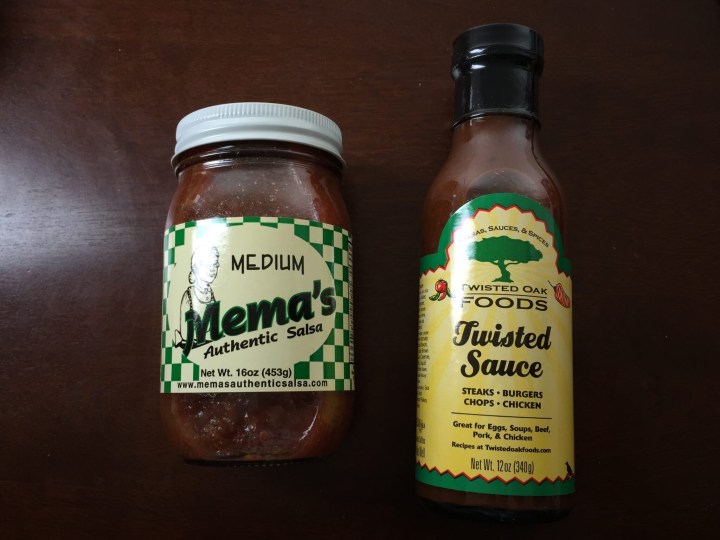 Mema's Authentic Salsa: We love salsa in any and every box, and I think this opens your mind a little about Oklahoma – it's not just midwestern fare! Oklahoma straddles the line between the midwest and Texas, so I expect to see a little of both in this box. This salsa was really excellent, great flavor, and fresh!
Twisted Oak Foods Twisted Sauce: This is one of those local sauces that get popular locally and you'll never get – or never hear about even – outside of going to that locale (or in a box like this one!).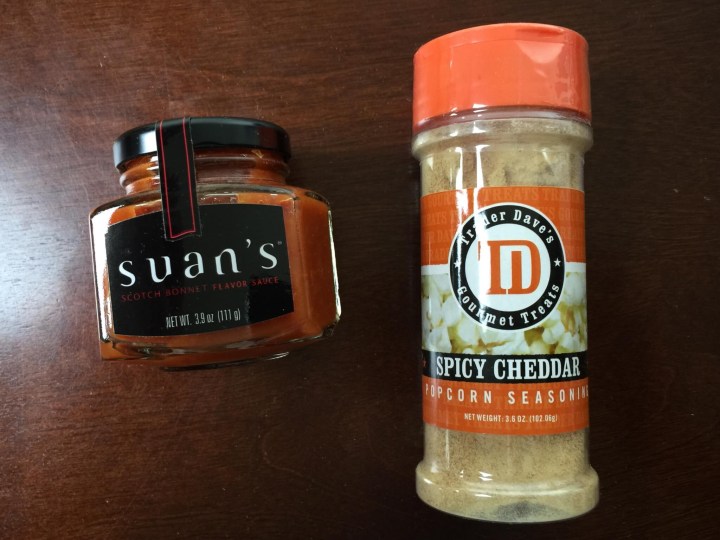 Suan's Scotch Bonnet Flavor Sauce: I loved how this was called a flavor sauce instead of a hot sauce – although it undeniably brings the heat! This is a mix of traditional Oklahoma with the focus on flavor and all-natural ingredients with the addition of the Jamaican Scotch Bonnet!
Trader Dave's Gourmet Foods Spicy Cheddar Popcorn Seasoning: Tom keeps on making nachos for every snack, so I was happy to see this! My favorite snack is popcorn and this will also his relieve his daily requirements for spicy dairy!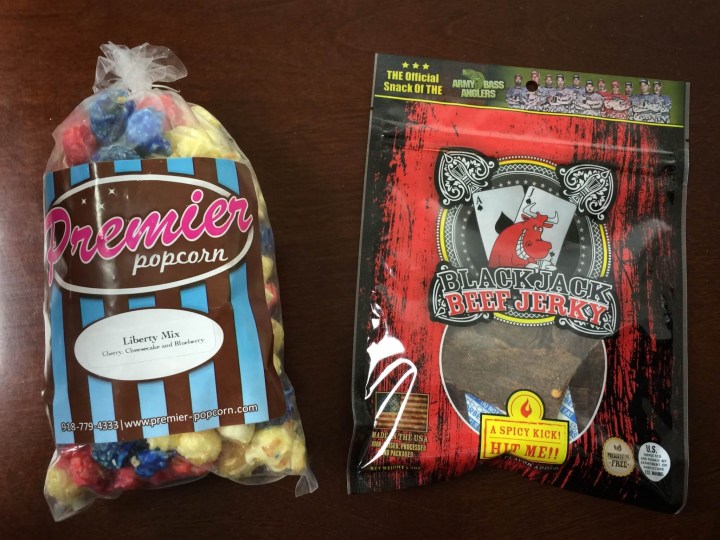 Premier Popcorn Liberty Mix: A mix of caramel popcorn that's also flavored: cherry (red), cheesecake (white), and blueberry (blue).
Blackjack Spicy Beef Jerky: This really isn't all that spicy – the major flavor to me is the worcestershire sauce, but I like it. The slabs are thin and chewy and then the spice hits you in the back of the throat!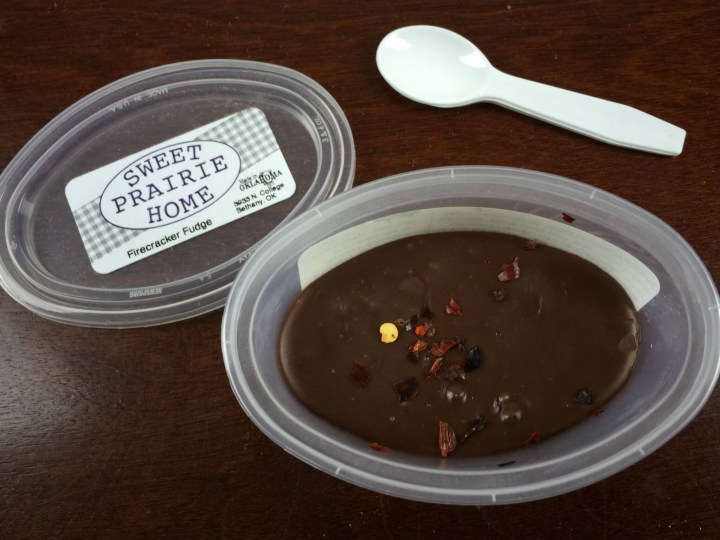 Sweet Prairie Home Firecracker Fudge: This was really good – and really spicy! Chocolate + Chili is probably my fave flavor combo and I couldn't stop eating it. I loved the little spoon that came with it too! Ooooh it's pretty spicy!! I'm not really a big fudge fan (that's Tom's thing) but this was a poured fudge and I liked the consistency and mouthfeel! It was like… what ice cream would be if it wasn't a frozen dairy product.
This was a wonderful taste from flyover country. And I don't say that in a derogatory way – it's the part of the US that is a little more traditional and a little less affected by trends.  I think Okie Goodies did an excellent job of selecting interesting, unique, and tasty products from local producers and keeping them all on theme! I really enjoyed this box and was impressed how much was in it for the price.
Visit Okie Goodies Box to subscribe or find out more! Use OKIEHELLO20 for 20% off any Okie Goodies or Oh! Fudge subscription!!
The Subscription
:
Okie Goodies Box
The Description
: Get 5-7 full-size goodies from mixes and sauces to ready-to-eat snacks – all from Oklahoma! Okie Goodies visits state fairs, county festivals, and local shops to find small businesses who have the tastiest goodies in Oklahoma and help them find the audience their food deserves.  Specialty artisan fudge subscription box also available.
The Price
: $30 plus 4.95 shipping per month
The Coupon
: Use
OKIEHELLO20
for 20% off any Okie Goodies or Oh! Fudge subscription!!