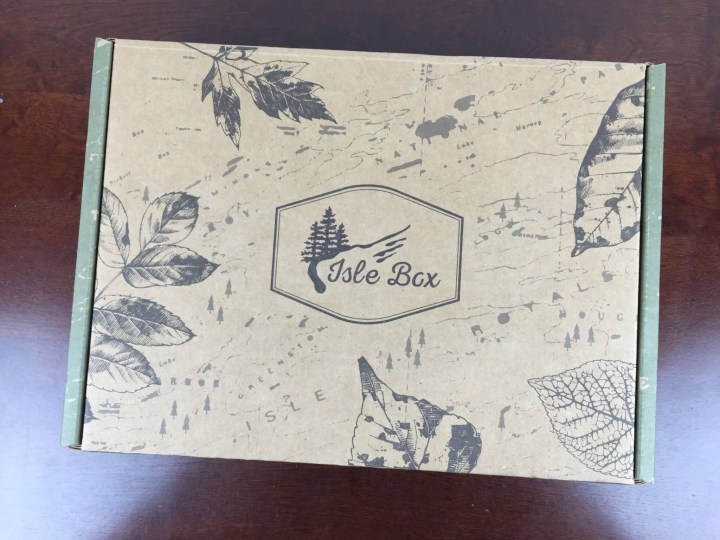 Isle Box is a subscription for outdoor enthusiasts, particularly those going into the wilderness for awhile — hikers, campers, and hunters.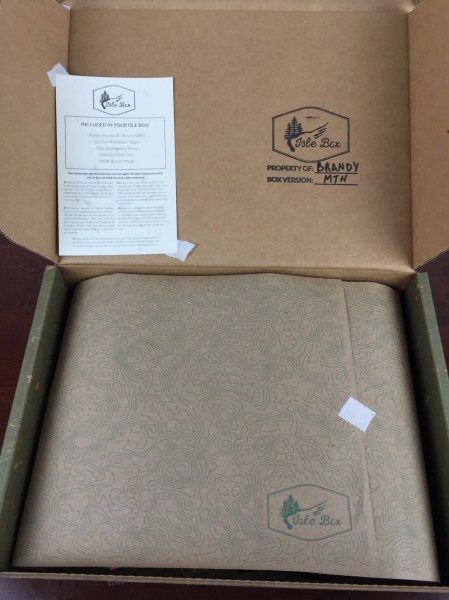 This is actually the first test.   If you need this box, you'll know what the design on the packaging is.  I like the use of the topographical map instead of a camouflage print.  I know it is a trivial decorative item, but I think it speaks to the nature (ahem) of the box — it is not strictly a hunters box or a survivalist box filled with weird food — it is of general utility to anyone who goes into the wilderness.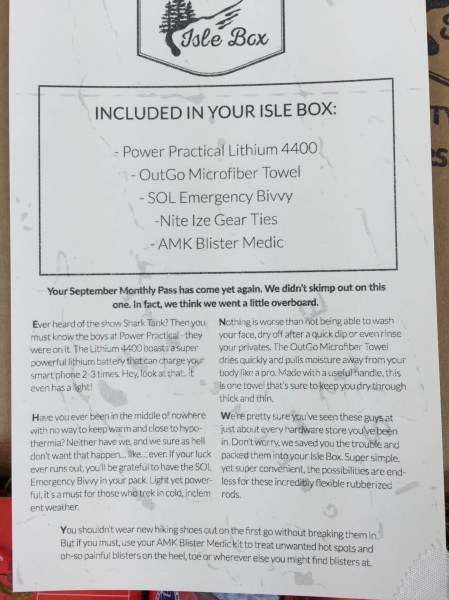 The info card lists the contents of the box.  It is of the "here's why you want this" cards, not a "here are the specifications of the items" card.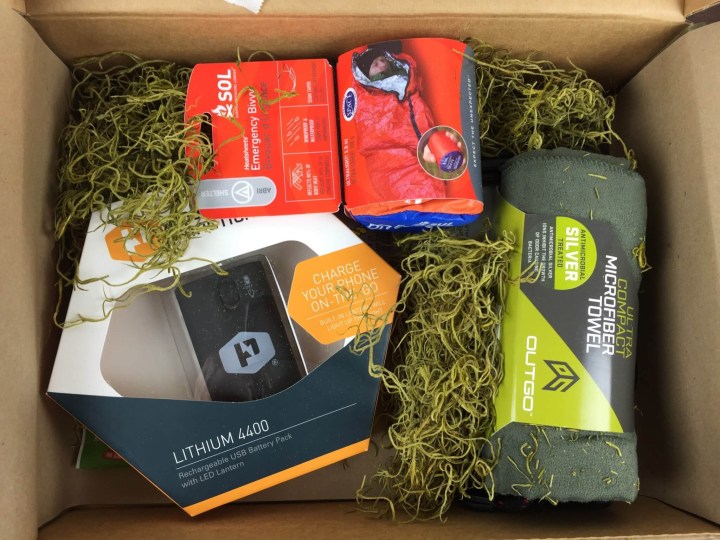 The  natural spanish moss packing material is a nice touch, and it's not as messy as one might think.  It did cling a bit to the microfiber, but everything does.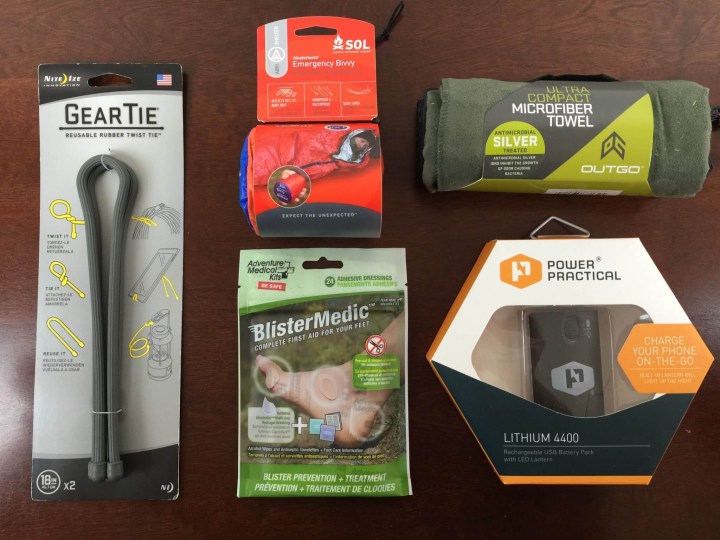 All the items in the box.  This is a great kit for any outdoor venture, whether it's hiking or deer camp.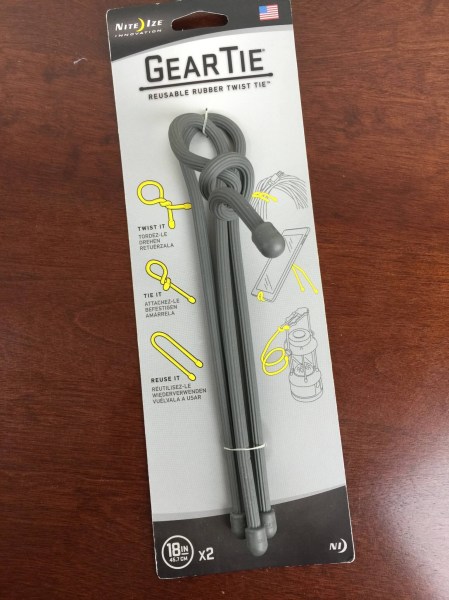 Night Ize Gear Ties ($6.50):  These are eminently practical.  This particular pack is really heavy gauge — you could attached gear to a frame pack or hang a lantern with it.  This is one of those items where you wonder how you are going to use it, but once you break it out, you wish you had a bunch more.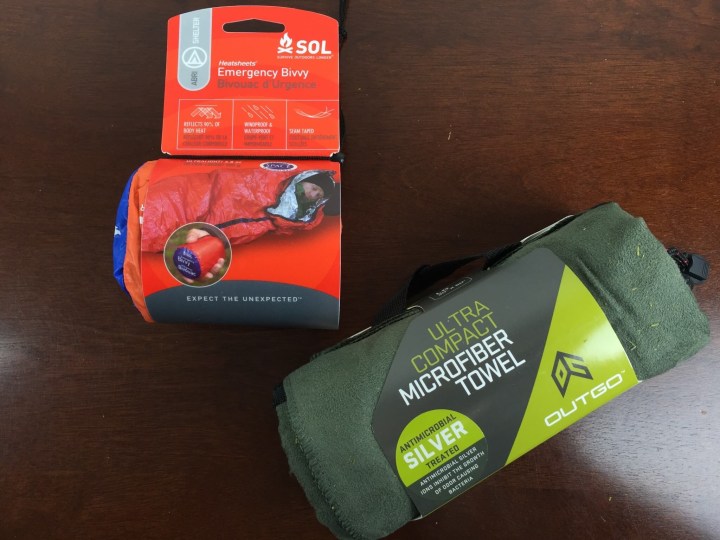 SOL Emergency Bivvy ($17):  This is not for regular use, but it is lightweight and small enough that it should come with you whenever there is a chance you will get stuck in weather or where and unexpected overnight might occur.  Similar to the emergency space blankets, this bag has really high heat reflectivity.  You still need to insulate yourself from direct heat conduction, but this bag could turn a tragedy into a good story.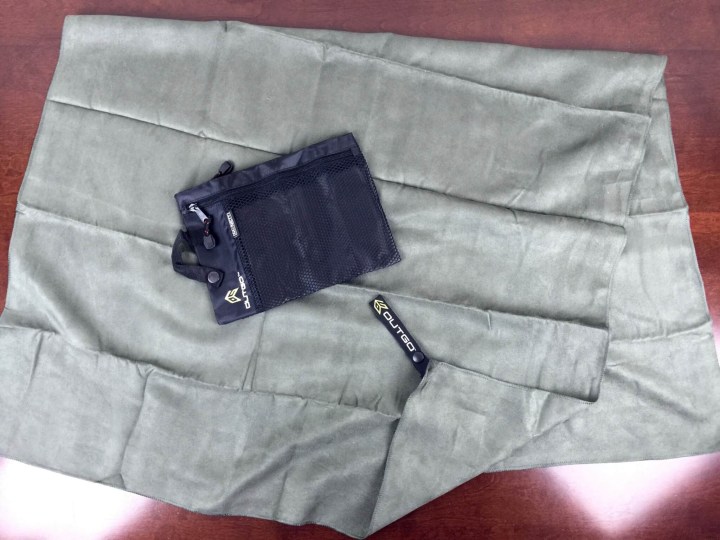 OutGo Microfiber Towel ($16.65):  Super-absorbent and fast drying, this big microfiber towel is really soft and has a chamois feel to it and looks a bit like suede.  The color of this particular towel is best represented by the picture above where it appears with the SOL blanket.
The towel comes with a mesh pocketed case which has a horizontal pocket on one side and a vertical pocket on the other.  The Mesh helps the towel dry out.  The bag is big enough to tote around some toiletries with your towel.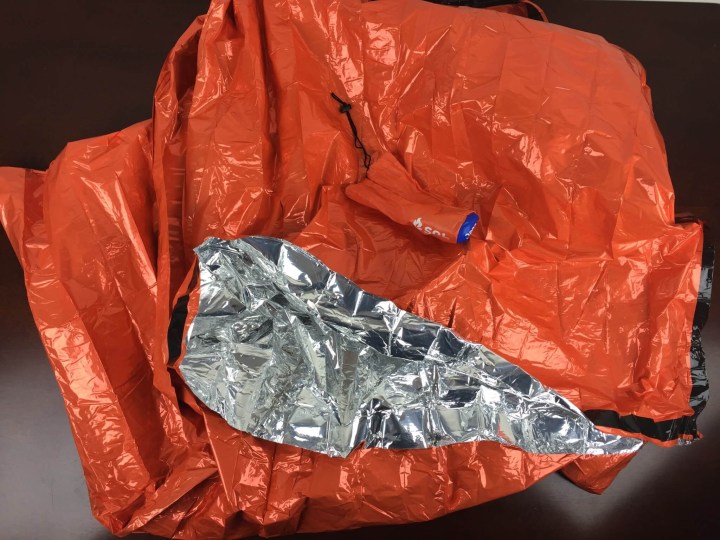 The SOL Emergency Bivvy unfolded.  I was expecting a little sack to huddle in, but this bag is big enough t0 encase a full-size mummy bag.  It seems tougher than space blankets, which tear rather easily, and the seams are reinforced with tape.  Still, it is really an emergency bag and doesn't appear to be designed for the rough and tumble of regular use.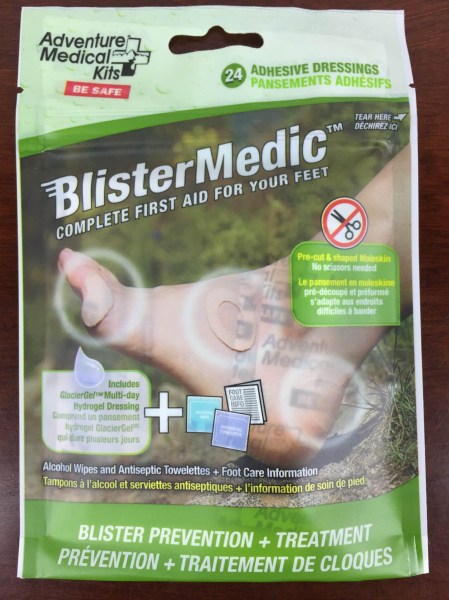 AMK Blister Medic ($9.99):  Dude in the pic must've bought new boots for the trip.  This handy pack has everything you need to treat blisters and hotspots.  It includes some footcare info, antiseptic and alcohol wipes, and 24 pre-cut moleskin bandages.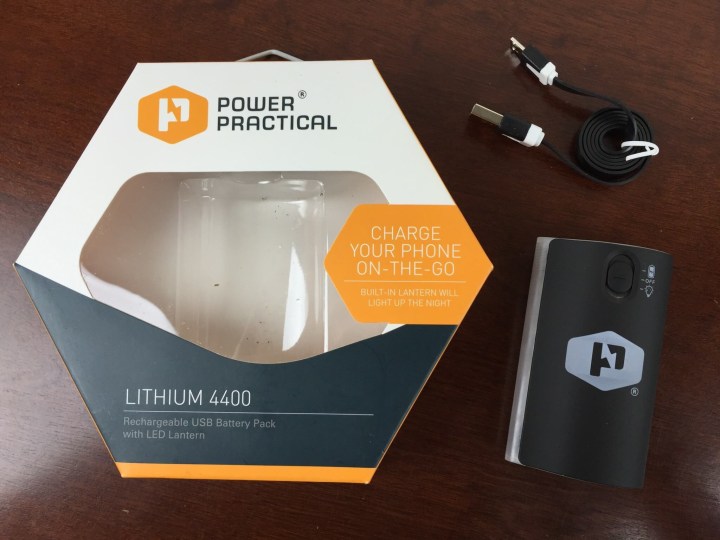 Power Practical Lithium 4400 Rechargeable USB Battery Pack with LED Lantern ($30):   This handy little battery charges your phone or other portable device when an outlet is not available.  The pack charges itself via USB, and your USB-chargeable devices plug in with their standard cords.
The charger also has a handy lantern feature.  This is really handy, since cellphone lights such a lot of charge, and lanterns or flashlights with lantern functionality tend to be quite cumbersome.
This was my second Isle Box, and I continue to admire its general utility for outdoorsmen and women.  This is an absolutely fabulous gift for Boy Scouts, hunters, or amateur trekkers.  Looking back at the last two boxes, I can't help but think back a couple of decades to my scouting days and think how incredibly perfect the contents were for every outing we went on.  A Seasonal Pass would make any scout the envy of their troop.
Visit Isle Box to subscribe or find out more!
The Subscription
:
Isle Box
The Description
: Isle Box seeks to give you the greatest gear that you don't even know you're missing out on. Some of the greatest adventures that you can have are spawned from the unknown and that is exactly what we aim to bring you with Isle Box: an unknown box of gear that we know you're going to love. Get the Monthly Pass or the Seasonal Pass.
The Price
: $44.99 per month for the Monthly Pass, $124.99 per quarter for the Seasonal Pass.
The Coupon
:Save 10% on your first box! Use coupon code  
NATIONALPARKS
.