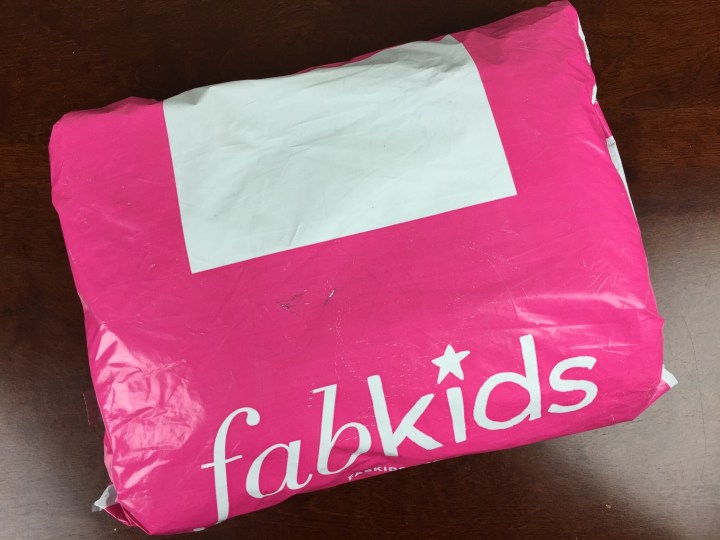 FabKids is a kids clothing subscription that's part of the Just Fab family and is a boutique subscription  – you'll get a showroom or boutique of outfits curated for your kid, making it easy to select great items without rooting through all the racks. Pick one or skip by the 5th (you'll get charged unless you skip). My kids love picking out a new outfit every month, and they are always among some of their favorites. When you sign up for FabKids you will be invited to join and get your first outfit for $15!  Just use this link to sign up!
The packaging is fun on this one and the kids always get excited about new clothes arriving!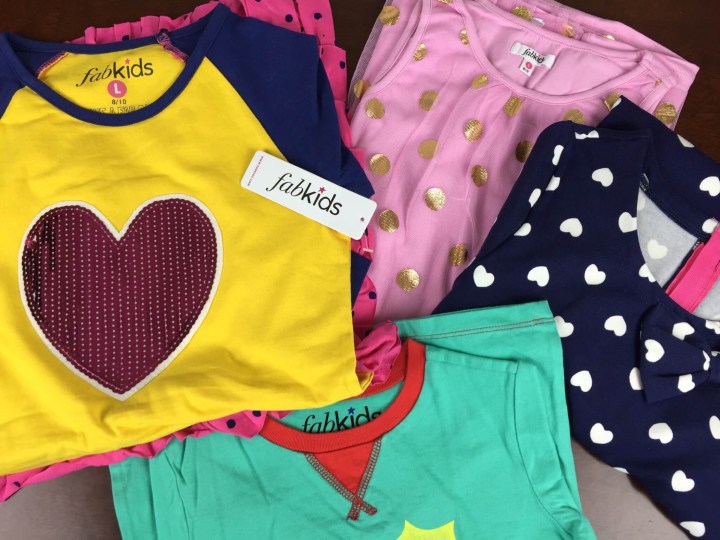 We kinda got a lot of stuff!
Say Cheese Graphic Tee ($5.99) This one was a clearance item that I couldn't resist for $6!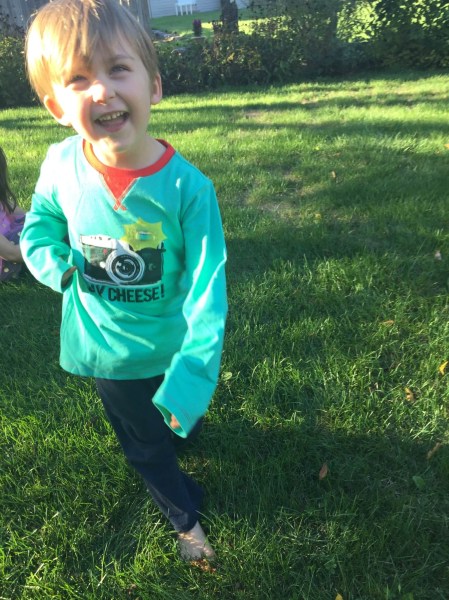 My son loves to ham it up so this tee was perfect for him.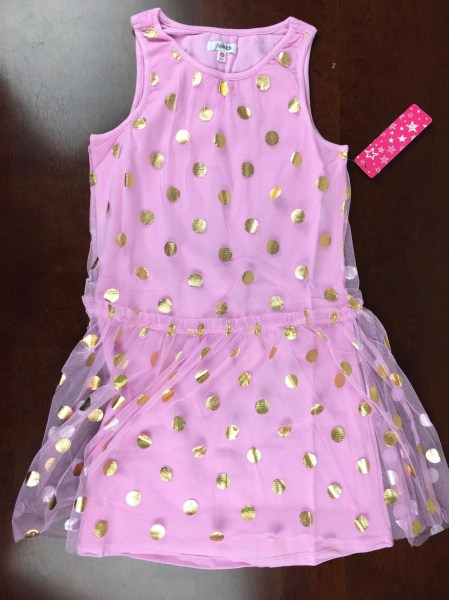 FabKids Dot Tulle Dress ($14.99) My daughter specifically asked me for a princess dress last month and we couldn't help getting this one. It's a little out of season but we're going to Florida this month and she'll wear it there! She was thrilled with this dress!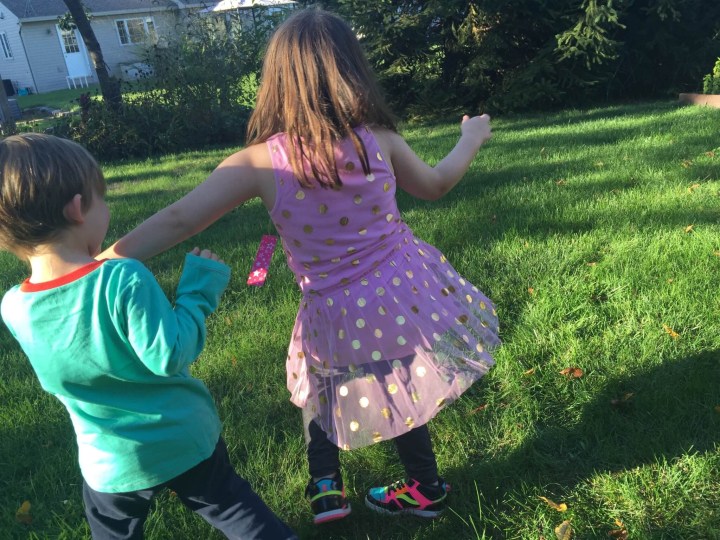 It has a great twirl!
I got the next two dresses as part of a set and saved $10!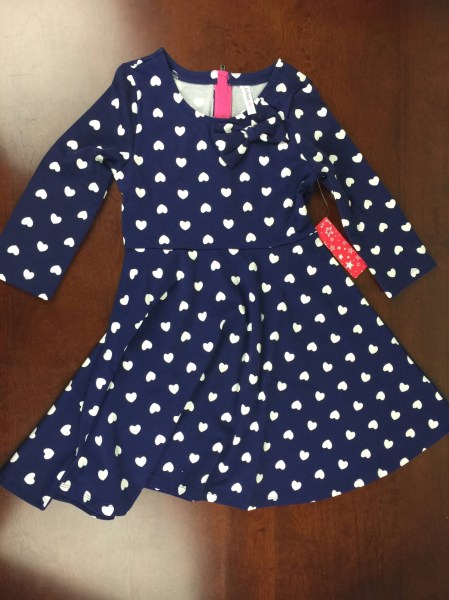 Hearts & Bow Skater Dress + Varsity Ruffle Dress ($39.95) I really really wish I thought about school picture day earlier – we would have picked this dress for the photos because it's cute but not fussy on the top and doesn't cut off any graphics in a photo.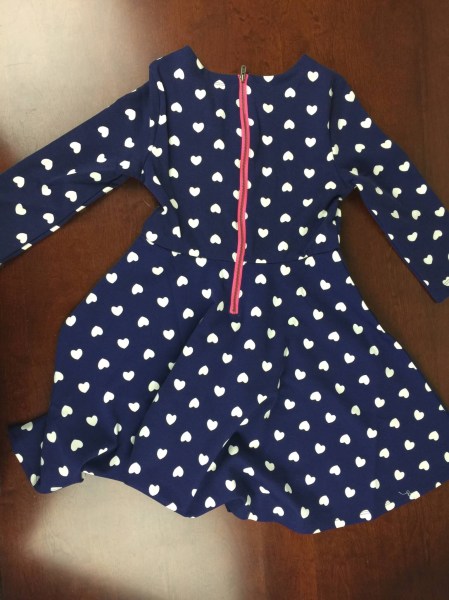 We both thought the hot pink zipper was an excellent touch!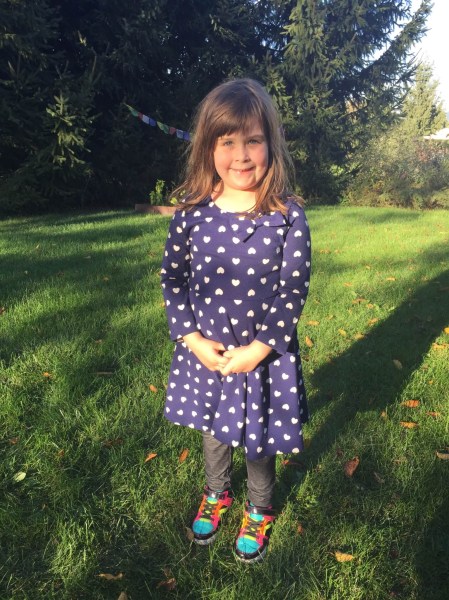 She was very happy with this one!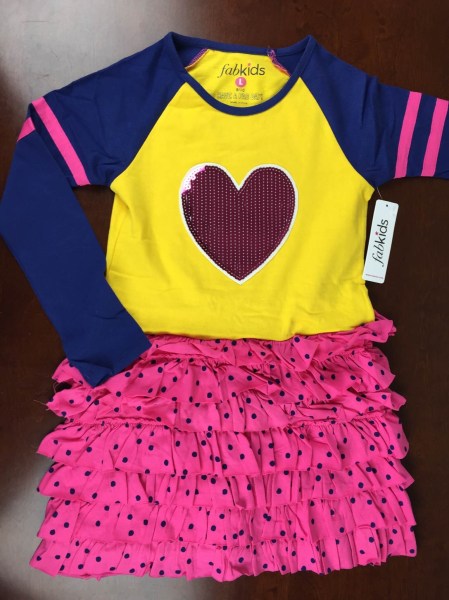 It was hard to get her out of the ruffle dress for dinner (good thing we tried it on before dinner – because I guarantee you that she would've worn it to bed otherwise – she's done that before!). She's wearing it to school tomorrow.  She loved it!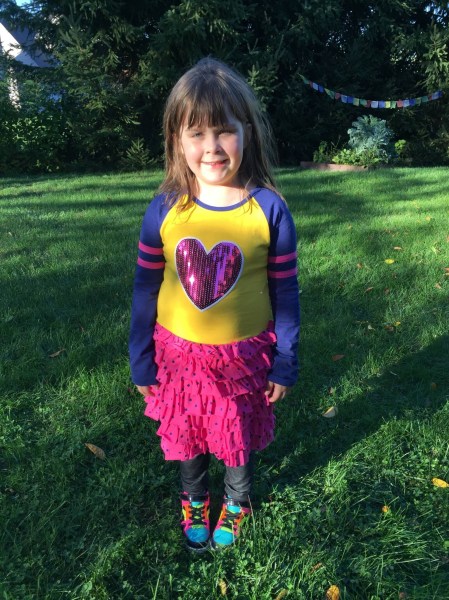 How could a six year old girl not love a big sequin heart? And also I'm really pleased to mention that our prayer flags have properly faded and frayed and are ready to come back inside perfectly weathered!
This was a great purchase for us and couldn't have come at a better time. We're in rapid clothing acquisition mode as the kids are growing and my daughter needed some new dresses!
Visit Fabkids to subscribe or find out more. You'll get your first outfit half off when you sign up!
The Subscription
:
FabKids
The Description
: FabKids is a monthly subscription box of kids clothes You can select one of the outfits or skip it entirely. Free shipping & free returns. The clothing is exclusively produced for FabKids (some designed by Christina Applegate).
The Price
: $30 per month
The Coupon
: Get your first outfit for $15! Just
use this link to sign up!