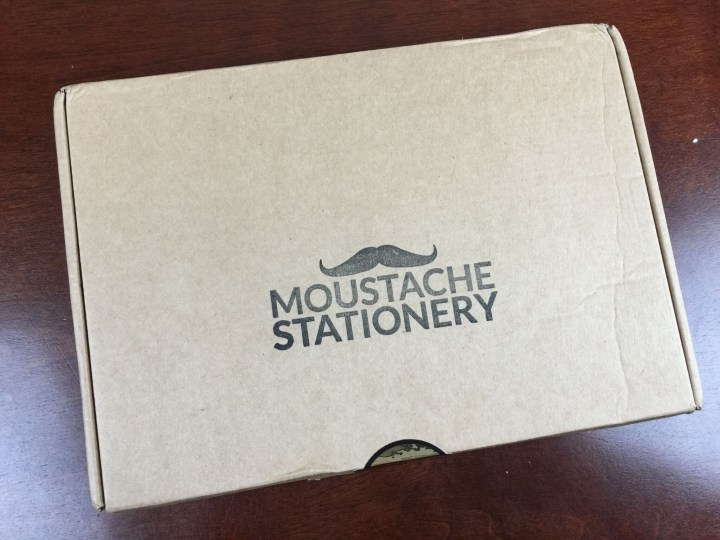 Moustache Stationary is a monthly stationery subscription box featuring 4-8 high end paper, writing, and writing utensil products. Boxes feature unusual, hard to find writing products – some exclusive to this box!  This is a UK subscription but ships free to the US!
The box comes in an outer mailer and is sealed with a sweet gold moustache!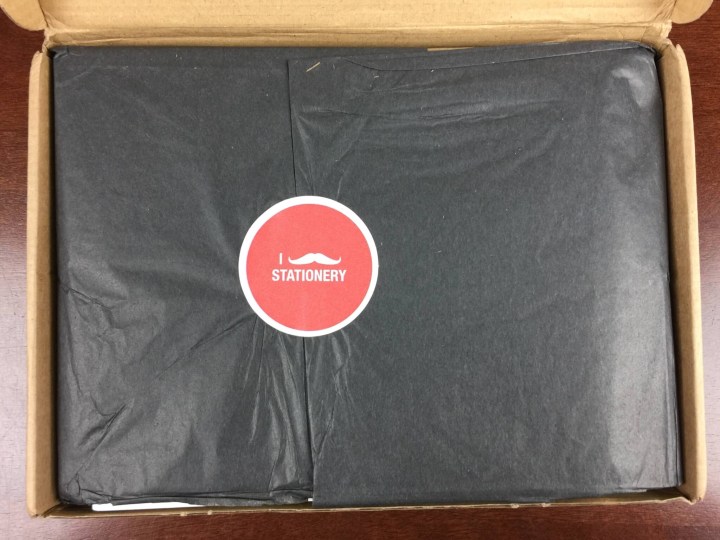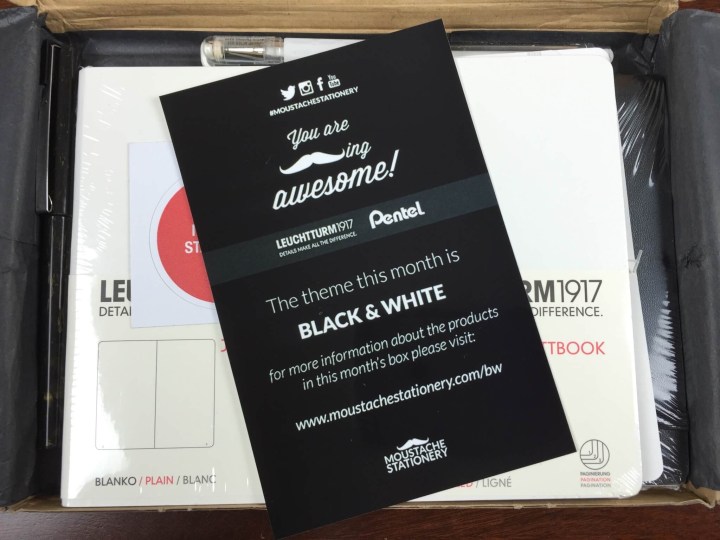 The theme for the  month was Black & White!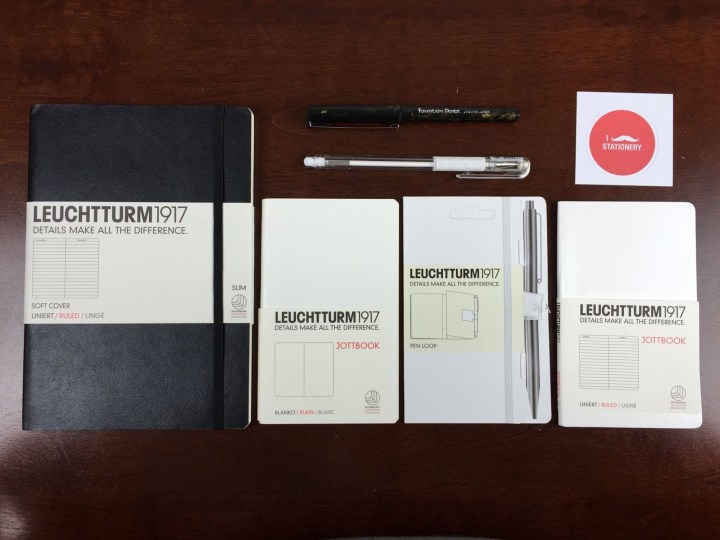 Everything in the box! I have to say – it looks pretty slick to me.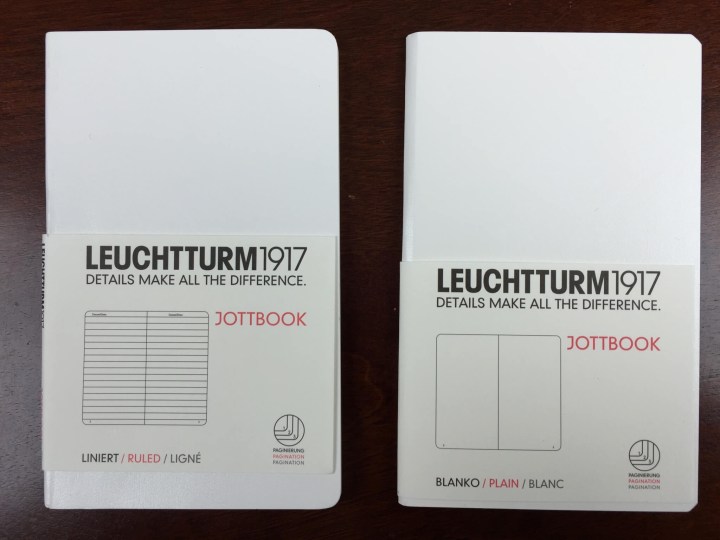 LEUCHTTURM1917 Pocket (A6) White Jottbook ($5.99 x 2) One lined, one blank. Made with lay-flat binding and acid free paper, each page is numbered and perforated for easy separation from the book.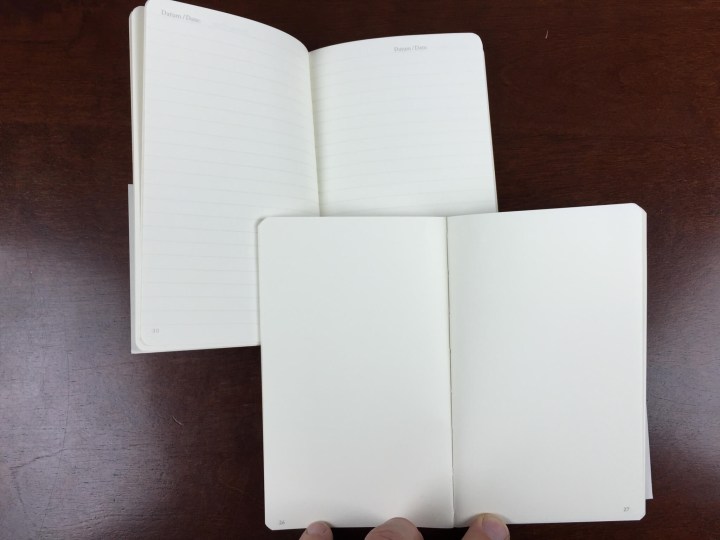 I suspect that my husband will snag the unlined version for his drawings. I love his little cartoons and actually save all of them. It would be nice to have them on acid free paper.
The paper products in this month's box were all from LEUCHTTURM1917
Founded in 1917, Leuchtturm can look back on over 90 years of experience in the production of high-quality stationery. The company was re-established in Hamburg from 1948. From the 1960s, Leuchtturm's international expansion continued apace, culminating in the company becoming the world's leading supplier of postage stamp and coin albums. Axel and Max Stürken took over management at the end of the 1990s as the fourth generation to head the traditional Hanseatic family-run company.

Experience and consistency are important requirements for quality. quality gives ideas a solid foundation on which they can develop. We are convinced that small details can make a big difference.

Some items, such as the springback binder, are still made in the same way as they were back in the days when the company was first set up. Since then, many items have been added to our range. All LEUCHTTURM1917 items unite the belief that success stems from quality and well thought-out detailed solutions. Today, LEUCHTTURM1917 stands for premium quality in more than 50 countries.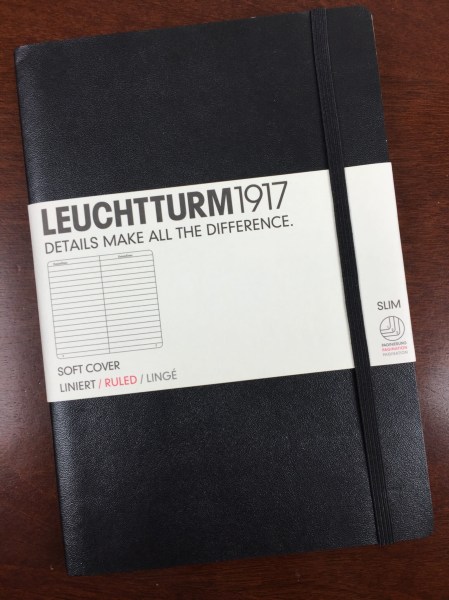 LEUCHTTURM1917 Medium (A5) Black Softcover Notebook ($15.95)  This is a lined notebook with a soft cover, which makes it perfect for tucking along in a pocket or elsewhere you want a really portable journal.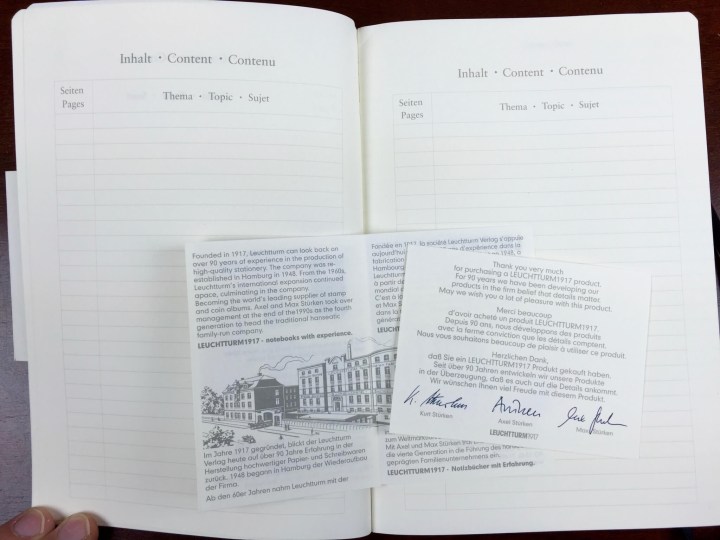 Unusually, it came with a table of contents. It reminded me of turn of the century scrapbooks (you would clip newspapers and add your annotations, and index everything in the front of the book.
The notebook comes with an elastic strap and page marker. The paper itself is smooth and a nice pale cream color. Reminds me a bit of the old Levenger stuff, but smoother. Most importantly, the pages are again numbered! You can also use it for the Bullet Journal system.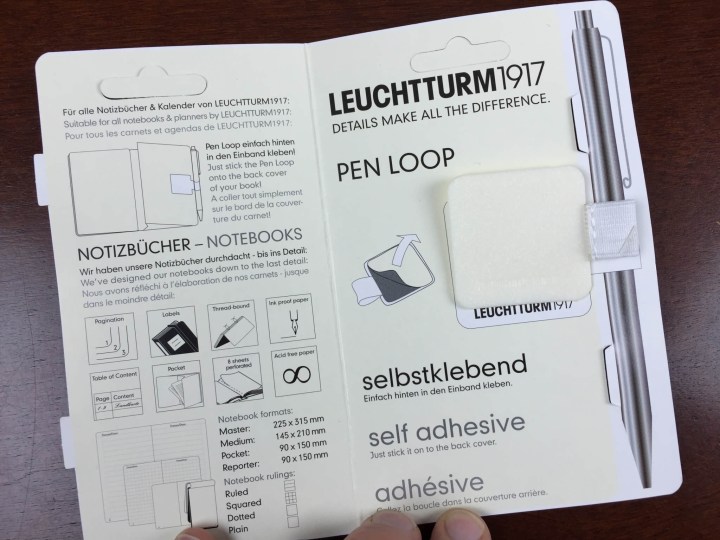 LEUCHTTURM1917 White Pen Loop ($7.92) You can stick this in the back of your journal or planner to keep your pen or other writing utensil handy.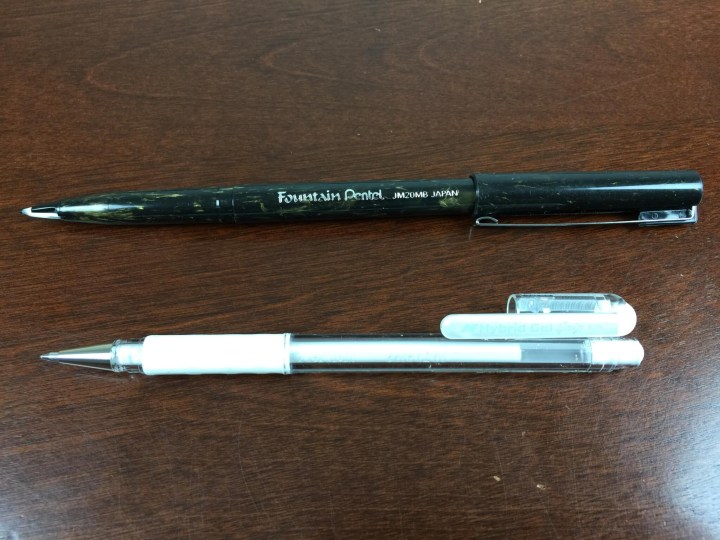 Pentel Fountain Pentel JM20 Pen ($3.54) While I've used fiber nibbed pens, I don't think I've used one that's really intended to be an every day writer. This was neat! The nib is solid on one side and flexible and springy on the other.
Pentel 0.8mm Hybrid Gel Grip Pastel White ($2.89) I don't know why I didn't know this existed, but I think it's awesome! It's the perfect thing for writing on dark colored stock paper and greeting cards (next to a metallic pen of course – but that wouldn't fit the theme!).
This is a cool subscription of hard to find and unique writing items! It was fun to test out everything and for anyone who has a paper and pen fetish, I'd venture a guess that this box would be amongst their favorites!
Visit Moustache Stationary to subscribe or find out more! Save $10 on your first box! Use coupon code NEWS10.
The Subscription
:
Moustache Stationary
The Description
: Mustache Stationary scours the earth to find small independent stationery producers who are passionate about producing awesome stationery. Each month receive 4-8 products delivered right to your door!
The Price
: $35.95 per month
The Coupon
: Save $10 on your first box! Use coupon code
NEWS10
.