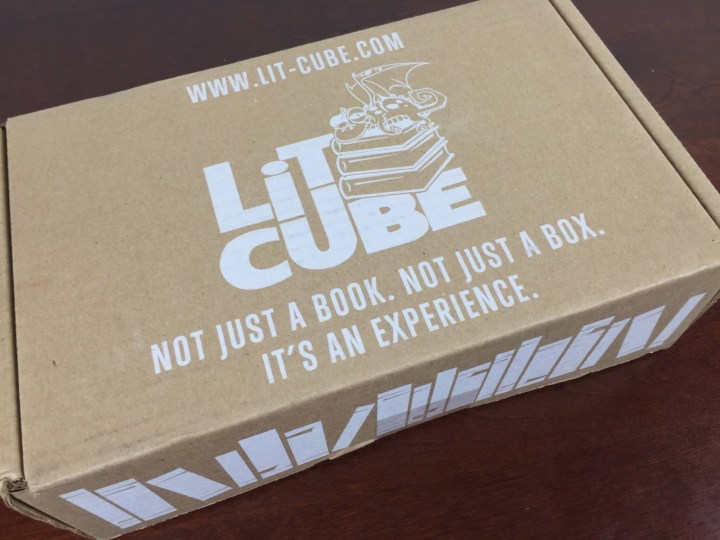 October's Lit-Cube theme was Supernatural, Idjits! Lit-Cube is a monthly themed book and bookish items subscription box. This box provides you with an immersive reading experience by providing reading material paired with quality themed items!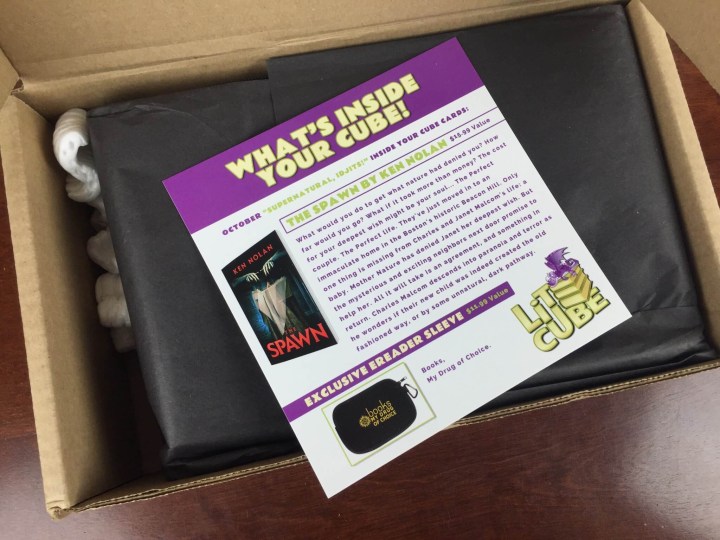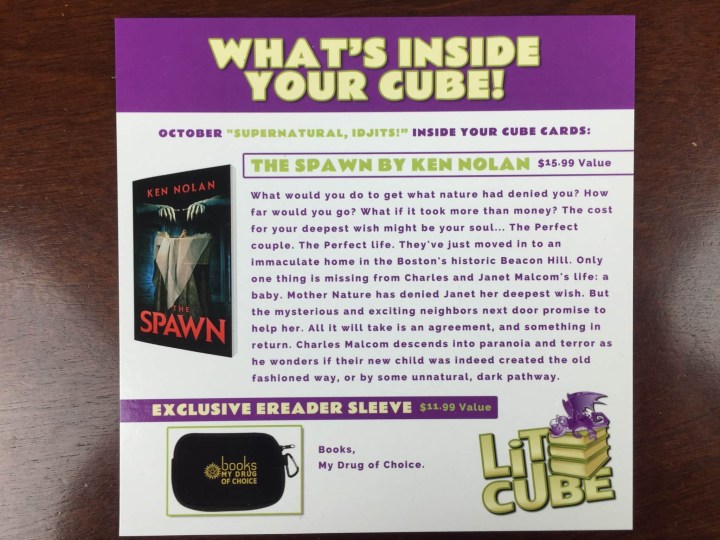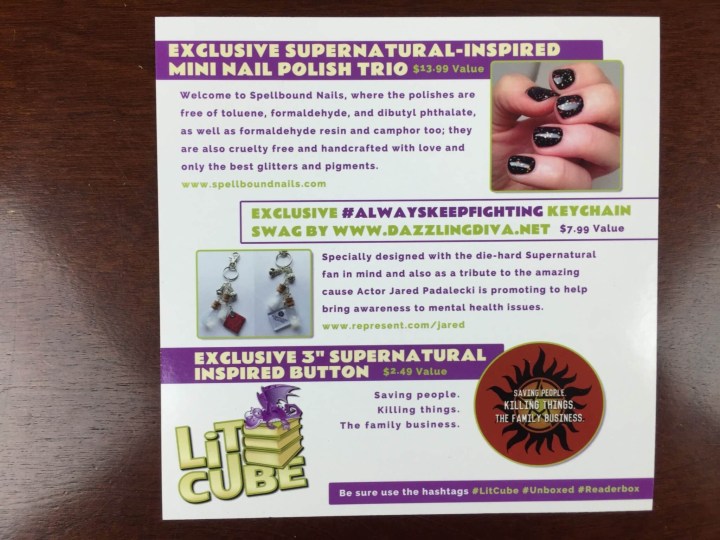 The information card has all the details on each item.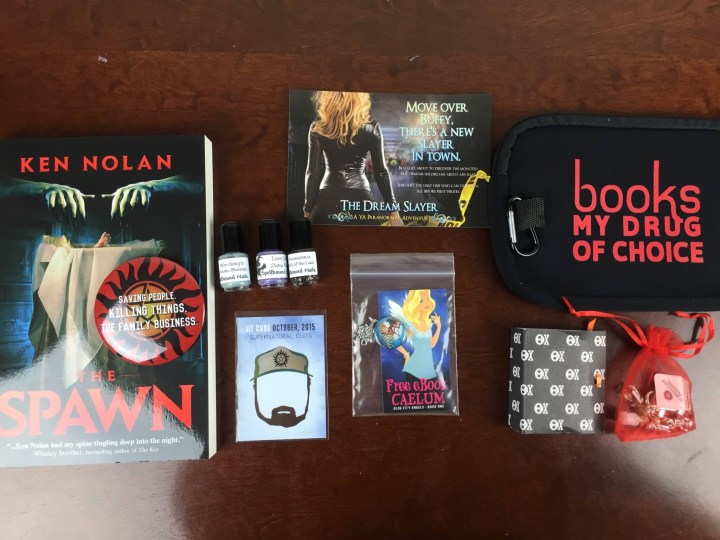 Everything in the box!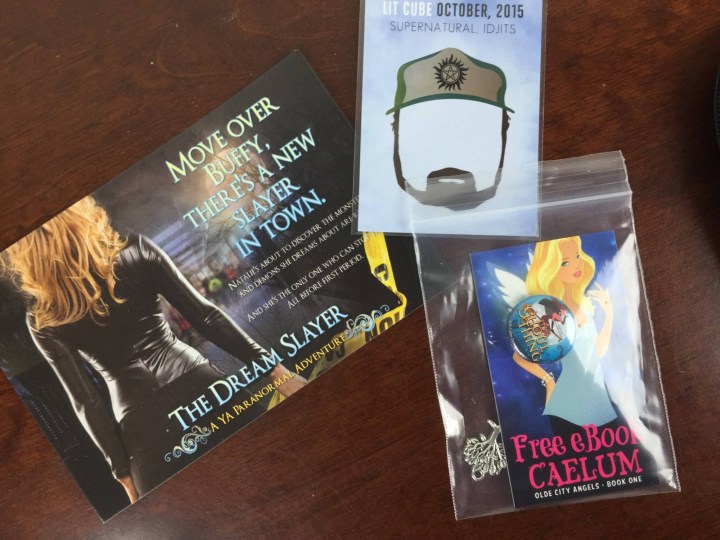 Every box contains a little collector's card with the monthly theme. There's also always some extra book swag. This month it was a card for The Dream Slayer, a YA Paranormal Adventure series, and Caelum: Olde City Angels Free eBook and charm and pin!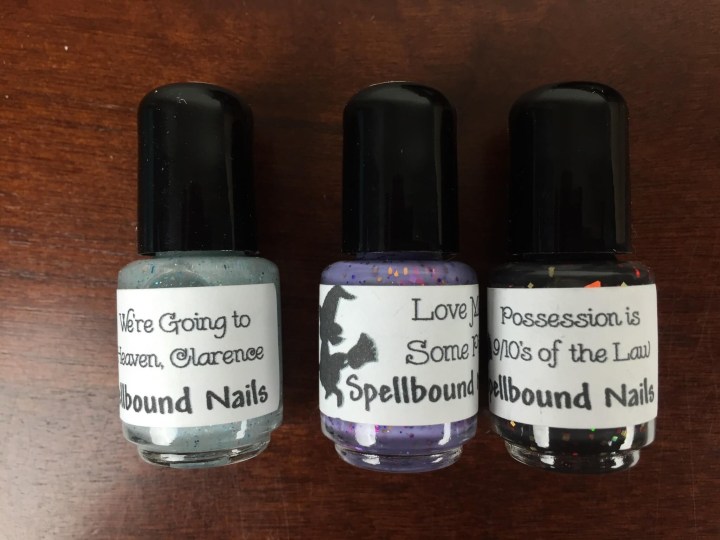 Spellbound Nails Supernatural-Inspired Mini Polish Trio ($13.99) Exclusively produced for this box! 5-free and cruelty-free.
From Left to Right:
We're Going to Heaven, Clarence: glow in the dark glitter topper inspired by Meg & Castiel
Love Me Some Pie: blueberry scented glitter polish (and obviously inspired by the role pie plays in the series!)
Possession is 9/10ths of the Law: black tinted polish with red, gold, and orange glitter inspired by demons and the fires of hell.
I love this item! It's super fun and I can't wait to wear them!
Supernatural Inspired 3″ Button ($2.49) This is probably the best button I've ever received in a box! I'm a Supernatural fan and can't wait to wear it! I think it will be my Halloween costume!
#AlwaysKeepFighting Keychain by Dazzling Diva ($7.99) This item was packaged in a little organza bag inside the little black folder.

The design is in support of Jared Padalecki's fund in support of mental health awareness. FYI – there seemed to be some issues with this design (not all keychains were the same) and if you didn't receive vials you should contact Lit-Cube for them!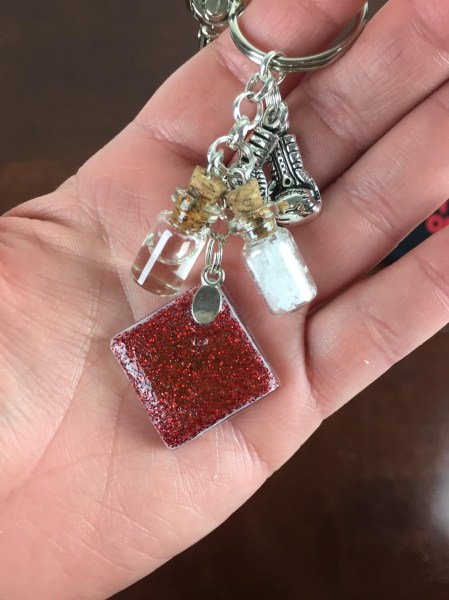 It's a cute design and it's a nice mix of Supernatural inspired stuff (like the holy water and salt vials) and mental health awareness (boxing gloves, Always Keep Fighting saying). The red part of mine was a bit sticky but I probably won't use it for keys, so I'm not all that concerned with it – it may have cured further since I took the photo.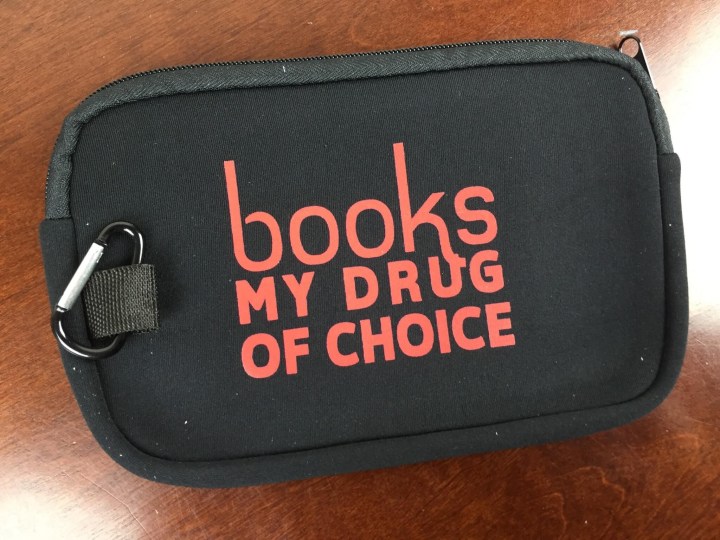 Books – My Drug of Choice eReader Pouch ($11.99) The photo on the card shows this with a Supernatural logo, and I don't know why it isn't on mine (trademark issues perhaps??). I tried a Kindle once and it wasn't for me – I prefer to read books on the smaller screen of my phone and I didn't check it for iPad mini sizing – because I've already put it into service to store my array of recharging devices.
Ken Nolan's The Spawn ($14.69) Ken Nolan is apparently quite a prolific but relatively "unknown" writer – he wrote the screenplay for Black Hawk Down.  I'm not a horror fan so when I read the description I didn't realize that it was a take on Rosemary's Baby.
Rosemary's Baby from the husband's point of view written by an award-winning Hollywood screenwriter.

The Spawn plunges the reader into a world of shadows, secrets, and growing, unspeakable horror.

Meet the Malcolms. They've just moved in to a home they can't afford, they're trying to climb a social ladder that they don't belong on, and both are chasing careers that are just out of their grasp. They want a child, but every time they try, every attempt they make, fails.

Charles Malcolm, successful bestselling writer of cutting-edge, timely pop-science books finds himself staring at the blank screen. Unable to top himself yet again, he descends into writer's block, and finds himself taking long walks through Boston's historic cemeteries, his dog at his side.

Janet Malcolm finds herself chasing partnership at a high-powered law firm while facing her latest medical results — she can't have children. Desperate, Janet will try anything to have a baby.

Charles watches as his wife seems to change before his eyes, spending more time with the mysterious and alluring couple next door. Then, one day a miracle occurs–Janet is pregnant. Charles is elated. Why wouldn't he be? But…was it a miracle?

Charles realizes that he can't remember certain periods of time, and has horrifying glimpses of memories–cult members, blood, and some…thing, from the deep ocean, risen, hungry, red-eyed. As his new infant son grows ever larger, he begins to suspect that the boy may not have been conceived naturally.

As Janet slips into madness, Charles begins to doubt everything in his life, from the people around him, from his next door neighbors, to his own wife, and finally – to his infant son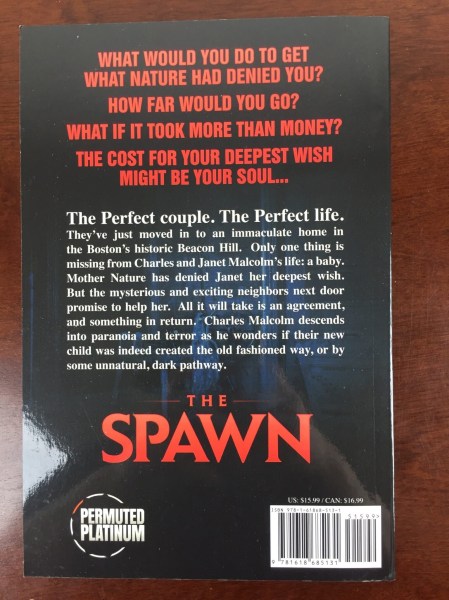 I thought this book was a good selection for a supernatural themed box, and probably a better choice than the official Supernatural books. I admittedly won't read this one in all likelihood – but I'm planning on gifting it to a friend who is a horror fanatic!
As always, a well-themed box with really great bookish extras and excellent customer service.  The theme for November is Immortal Kiss, and will contain a wearable item that isn't a t-shirt. Obviously vampire themed! The book will be a hardcover and is said to be a "classic vampire experience."
Visit Lit-Cube to subscribe or find out more!
The Subscription
:
Lit-Cube
The Description
: Lit-Cube is a monthly subscription box for readers. Lit-Cube strives to pair hand-picked books with high quality literary themed products to bring you a magical reading experience each and every month. Now also offering Junior subscriptions!
The Price
: $21.99 plus $7.99 shipping and handling.