Linen Crate is a newer subscription box filled with linens like bed sheets, towels, curtains, shower curtains, rugs, mats, and more, plus coordinating home decor items. When you sign up you'll fill out a home decor style profile, and your boxes will be based on the color and style preferences expressed in your profile. Every month you'll receive $150+ worth of expertly curated goods in every box. You can get this box every month, every other month, or every three months! Every subscriber will receive a bathroom box as their first box, see what we received in our Linen Crate Bathroom Box!  You can see the box schedule here. Linen Crate now offers a Prime Crate and an Elite Crate – the Prime Crate ($109) is the full box like this – the Elite Crate ($75) will have a bit less.
They have decor personality, color, and room-specific questions for every room of your house – but they're super quick.

The color choices have been updated for October and going forward in warm, metallic, and calm families.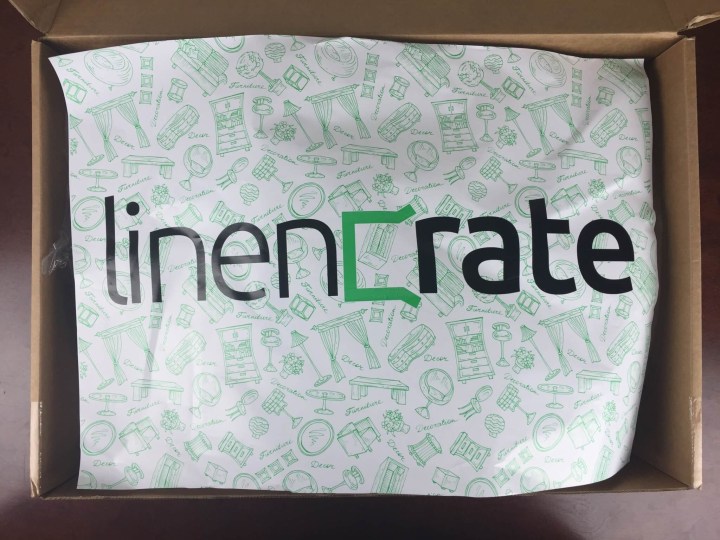 This is a gigantic box!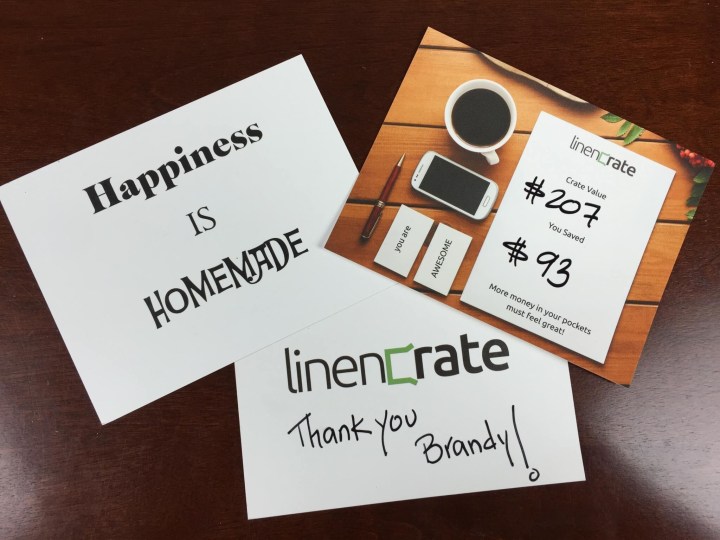 The card on top notes the crate value.  Everything was extremely well protected, wrapped up, and packed neatly and securely.
There's an information card this month!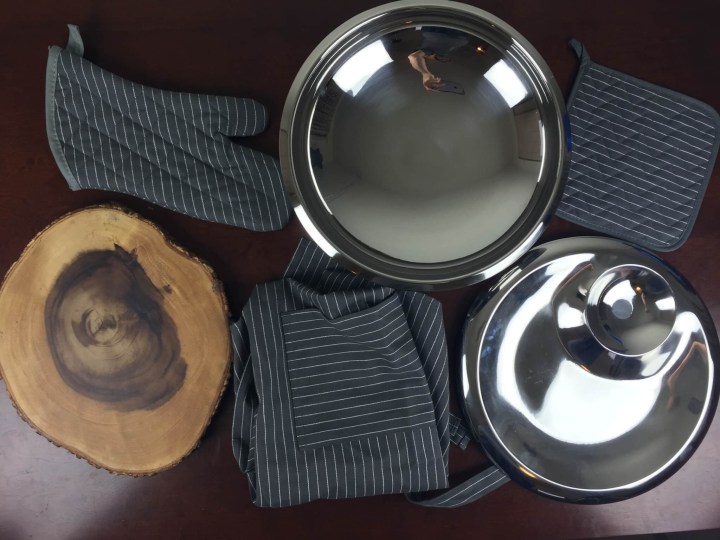 Everything in our September Linen Crate box for the Kitchen!!
Before I get started I just need to say that I love this box!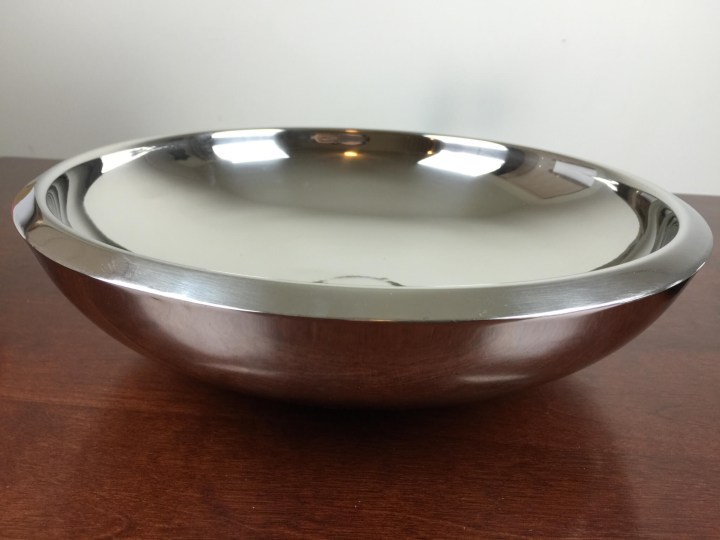 Torre & Tagus Axis Stainless Steel Double Wall Bowl ($75) Torre and Tagus is a favorite brand of Linen Crate and known for their modern and contemporary pieces – and I am really loving their selections. This is a double walled bowl and I am not entirely sure of its functionality (does it keep cold things that way?) but I love the looks of the polished stainless steel and the wide rim. I would like to get some doodads to keep in it so I can have it out on the table (if it doesn't have decorative items it is too easily repurposed by my children).  This is just a gorgeous piece – simple and elegant!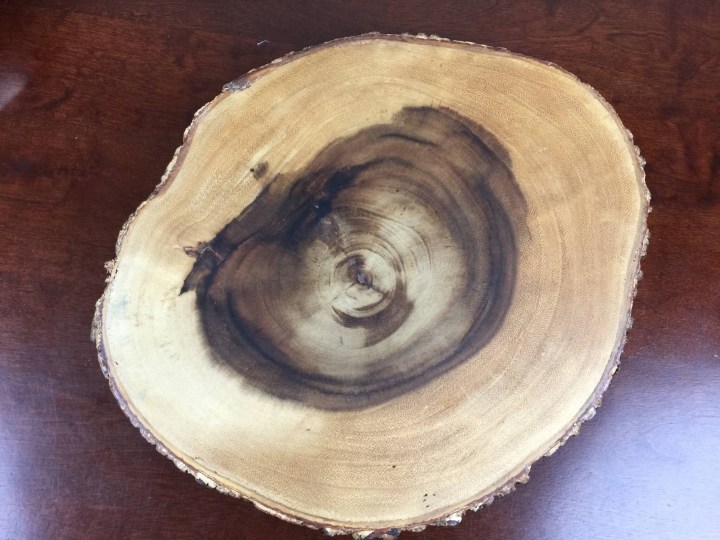 Acacia Bark-Edge Round Serving Board ($55) I adore this serving board. While I love keeping things modern, I also really love the juxtaposition of natural elements among all my designy sort of things.  I think this is perfect for arranging some cheese and fruit, or even collection various spices and salts and placing them atop of it in the kitchen.  I think this would match a wide variety of decor styles.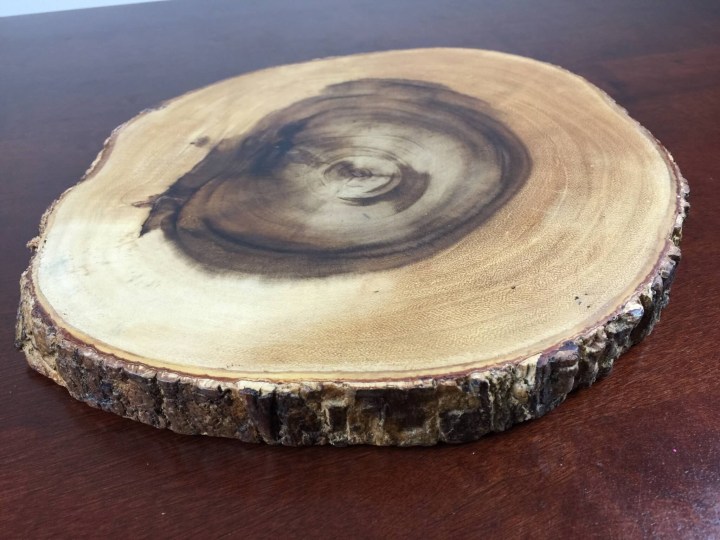 If I were you, I wouldn't be surprised to see this in future blog posts! I love the bark on the edges.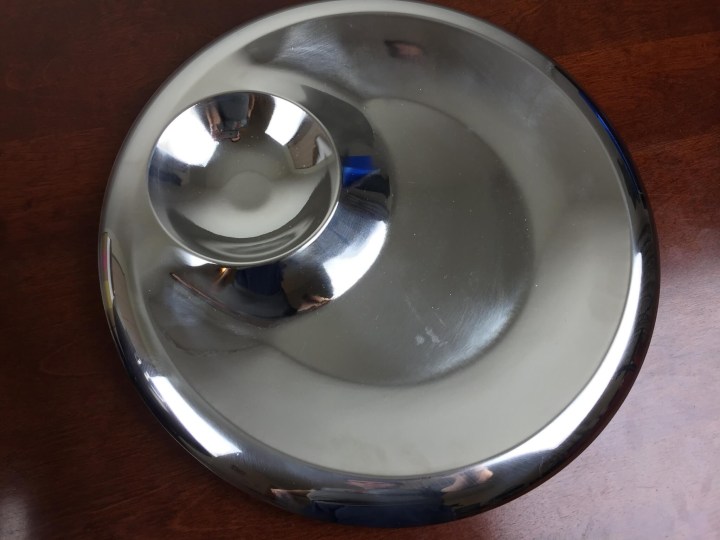 Torre & Tagus Discus Stainless Steel Chip & Dip Platter ($37)  I love this chip and dip platter! Usually these are very hokey (sombrero anyone?) but this is clean, crisp, and modern. Now we just need to convince ourselves to use it for our night time snacks instead of saving it. I like to actually use my things – I am not big on saving them for special occasions.  We have this little table that fits over our couch that we can place this on for our snack (my husband and I celebrate fourthmeal pretty much on the daily).
Now Designs Apron, Oven Mitt, and Pot Holder Set ($40) This matches my home perfectly and is something that I would actually hang in my own personal kitchen. I absolutely love the gray pinstripes and I really needed a new pot holder and oven mitt.  I'm not sure that I've ever seen such a nice modern design on an oven mitt before!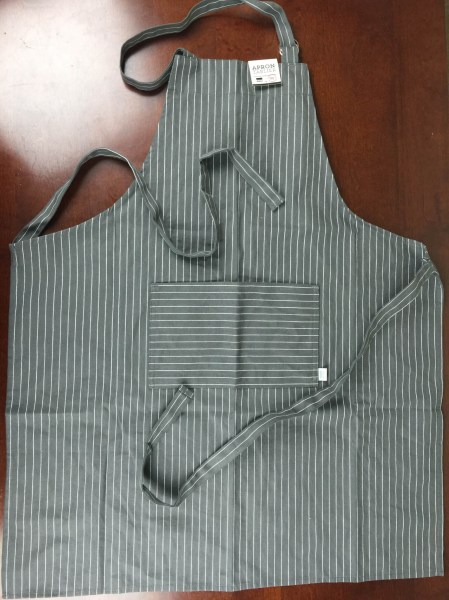 The apron is high quality and unisex (even though we show it on the lady below!).
This box was absolutely fantastic, with a ton of value for the price – I got about double the value in this box as the cost and I loved each and every item – they're so me!  I also think it's totally fantastic how responsive this company has been to the requests of their subscribers and shaping their subscription program to match demand for upscale beautiful items for our homes. The last two boxes have been sourced from companies that also sell through high end department stores.  I know I personally cannot stand shopping for the items that really bring together a room, even though I love them, so I am pretty in love with this box. I'm excited for future boxes too – I can't wait to see what's coming!
The October Living Room box is shipping soon and some boxes may contain the Torre and Tagus Hammered Copper short vase ($56.91) above! I recommend that if you are already a subscriber to Linen Crate to log in and update your profile for the new color schemes. Also, Linen Crate is now offering some limited edition Powder Room luxuries boxes!
Visit Linen Crate to subscribe or find out more. Use coupon code my15off to save $15 on your first monthly Prime crate!
The Subscription
:
Linen Crate
The Description
: Get premium bed sheets, curtains, bath towels, and many more home decor items, monthly – leaving you time for everything else. Each Box You Receive Will Include 6-9 Linens And Accessories Items Curated For The Featured Room Of The Month. Every Month Different Room, Different Accessories And Different Furnishings!
The Price
: $109 plus $4.99 shipping
The Coupon
: Use coupon code
my15off
 to save $15 on your first monthly prime crate!
See Linen Crate in the Hello Subscription Box Directory!
The Categories:Home, Housewares, and Household Subscription Boxes.
The Reviews: See all our Linen Crate Reviews.