Linen Crate is a newer subscription box that has transformed quite a bit over the past few months – instead of just linens, it's pretty squarely focused on home decor in general. When you sign up you'll fill out a home decor style profile, and your boxes will be based on the color and style preferences expressed in your profile. Every month you'll receive $150+ worth of expertly curated goods in every box. You can get this box every month, every other month, or every three months! Every subscriber will receive a bathroom box as their first box, see what we received in our Linen Crate Bathroom Box!  You can see the box schedule here. Linen Crate now offers a Prime Crate and an Elite Crate – the Prime Crate ($109) is the full box like this – the Elite Crate ($75) will have a bit less.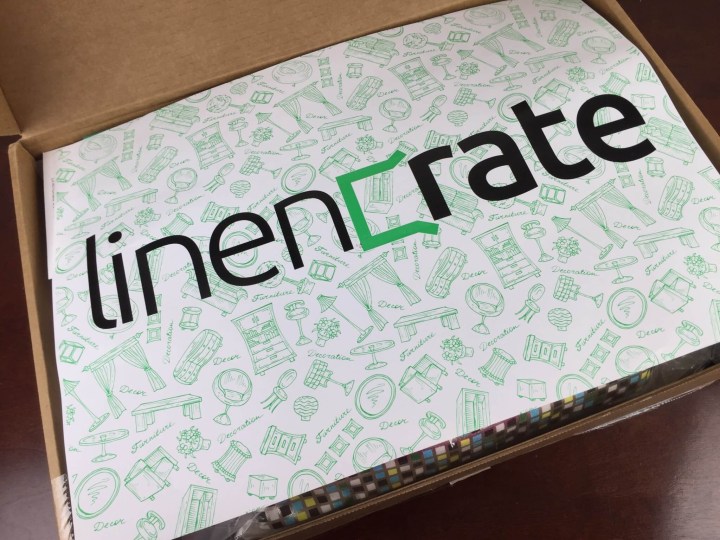 Linen Crate has changed ownership and going forward will focus on modern/contemporary styles. As that has been my preference, I do not expect the style of the items I have received to change. The new owners have dramatically simplified everything by eliminating the style profiles and the multiple frequency options.
The card on top notes the crate value.  Everything was extremely well protected, wrapped up, and packed neatly and securely.
The information card.
Everything in our October Linen Crate box for the Living Room!!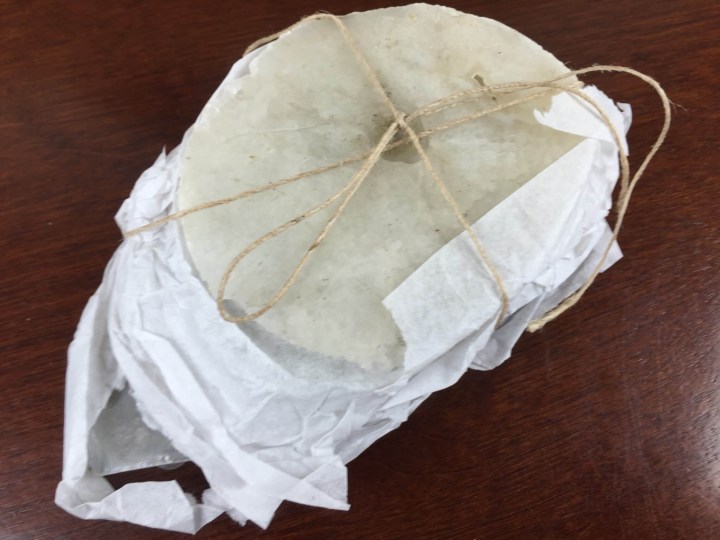 Shiraleah Agate Coasters ($34.99, original MSRP $71.99) I like a nice natural touch to balance out my modern decor. These were ok. In particular, mine don't seem to be of the same quality as the stock photos, and bits of agate fell out when I lifted these up.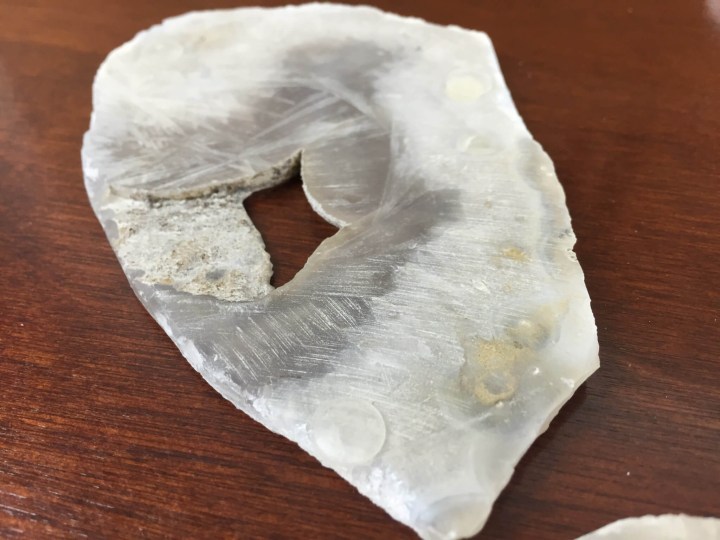 The bottoms have little dots to protect your table.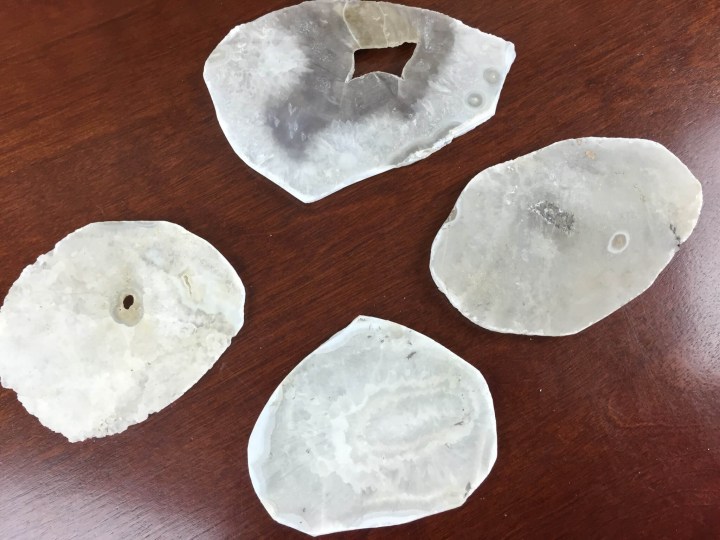 I'm not entirely sure that the ones with holes will fulfill their intended purpose.  There's no edge around these like you normally see with agate. I think I will use these as bases for candles or something like that. They're still useful and interesting, but I don't think they're going to make it to my coaster rotation.
Shiraleah Bali Pillow in Seaweed ($29.99, original MSRP $60) This pillow came packed with the insert and the pillow, and you just tuck the insert in and zip it up. It's made of an extremely sturdy canvas like metallic and printed with a sort of chevron grid theme.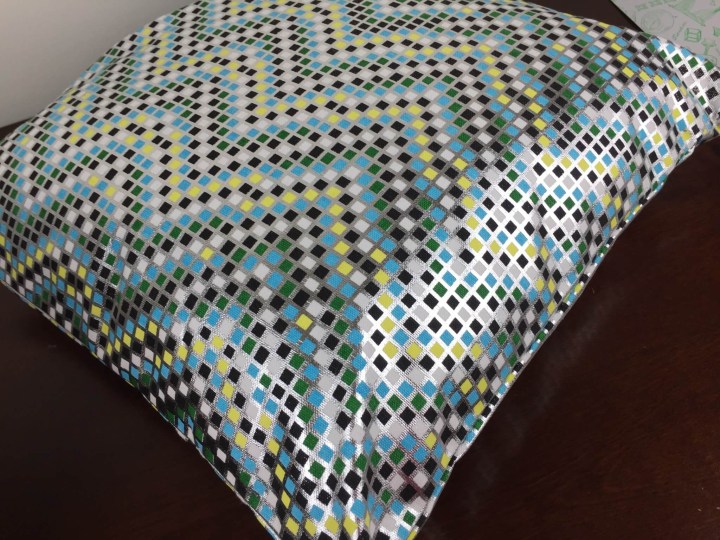 I cannot make up my mind about this pillow. I cannot stand it close up but far away I really like it. It matches my living room perfectly and I think the bright yellow provides exactly the touch of color it needs. I have a turquoise couch and everything is modern so it does fit right in. Some subscribers received this in a totally glam gold print, which I love.  I am pretty sure that the October box was sent using previous profiles and I would say that this pillow matched mine!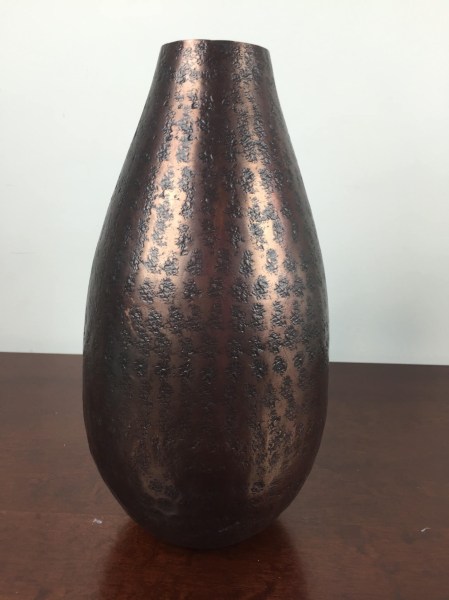 Torre and Tagus Talis Hammered Copper Short Vase ($48.71) If this is short, who needs tall! I have said it before and I'll say it again – I love receiving tall items in home decor subscription boxes.  They really balance out the rest of your display. I love the colors in this piece, and in particular, I like that it can stand alone as a statement, but is subtle enough for a background. Bonus – the bottom is felted!
The total value of my box added up to $113.69, which is a handful of change less than the box cost with shipping. Finding and curating gorgeous home items that happen to have been clearanced is fine – there's value still in someone putting it all together and shipping it to you. However, the items need to be totally top notch. I would say with the $40 coupon it's very much worth it to give it a try, but I'll have to see the November box in order to see how this box might shake out in future months.
Use coupon code hello40 for a $40 discount on a Monthly Prime Crate. This coupon expires on October 31, 2015 at 12 am ET.
Visit Linen Crate to subscribe or find out more.
The Subscription
:
Linen Crate
The Description
: Get premium bed sheets, curtains, bath towels, and many more home decor items, monthly – leaving you time for everything else. Each Box You Receive Will Include 6-9 Linens And Accessories Items Curated For The Featured Room Of The Month. Every Month Different Room, Different Accessories And Different Furnishings!
The Price
: $109 for the Prime Crate or $75 for the Elite Crate plus $5.99 shipping
The Coupon
: Use coupon code
my15off
 to save $15 on your first monthly prime crate!
See Linen Crate in the Hello Subscription Box Directory!
The Categories:Home, Housewares, and Household Subscription Boxes.
The Reviews: See all our Linen Crate Reviews.