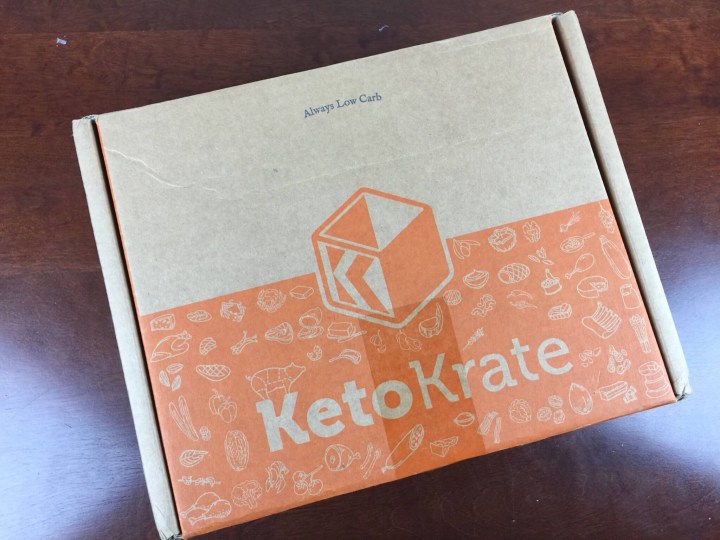 Keto Krate is a monthly subscription box full of kerogenic snacks, foods, recipes, and tips! Every item in the box – 7 to 9 total – will be appropriate for a keto diet (and obviously a low carb diet as well!).  No items will include maltitol.  All snacks in Keto Krate have less than 5g of carbs per serving according to the website.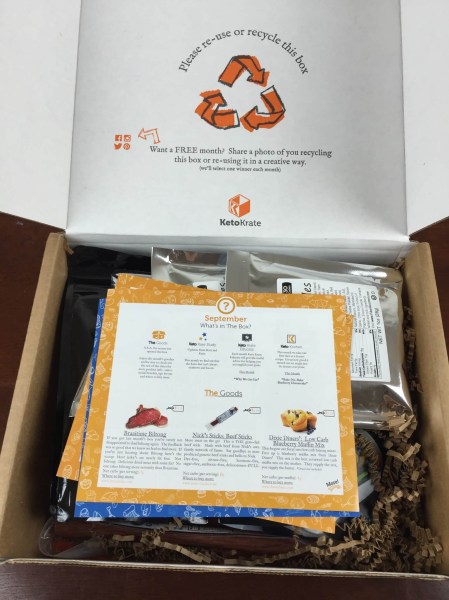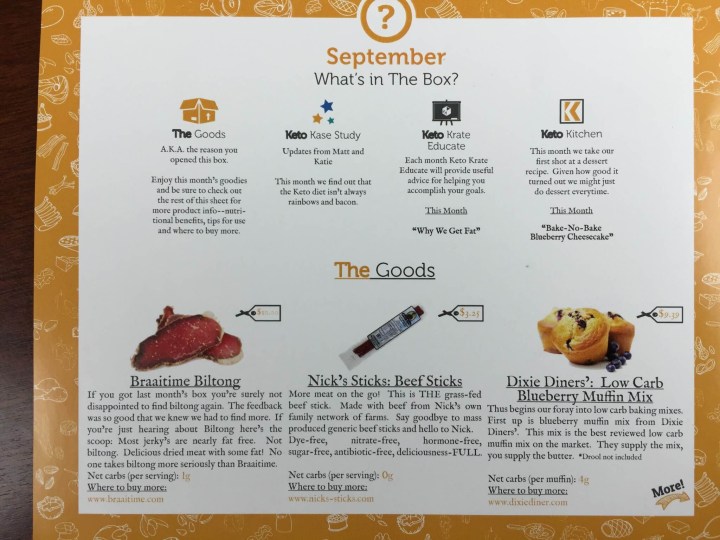 The information card provided details on each good, including the number of net carbs per serving, the retail price, and where to buy more!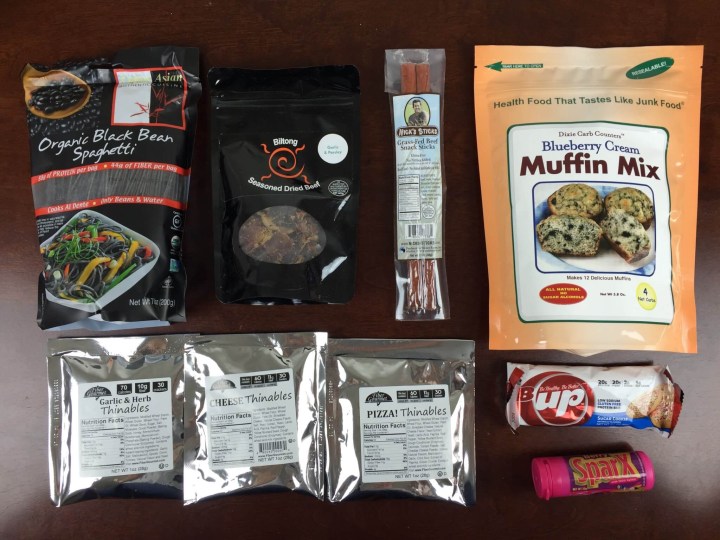 Show us the fooood! Everything in the September Keto Krate!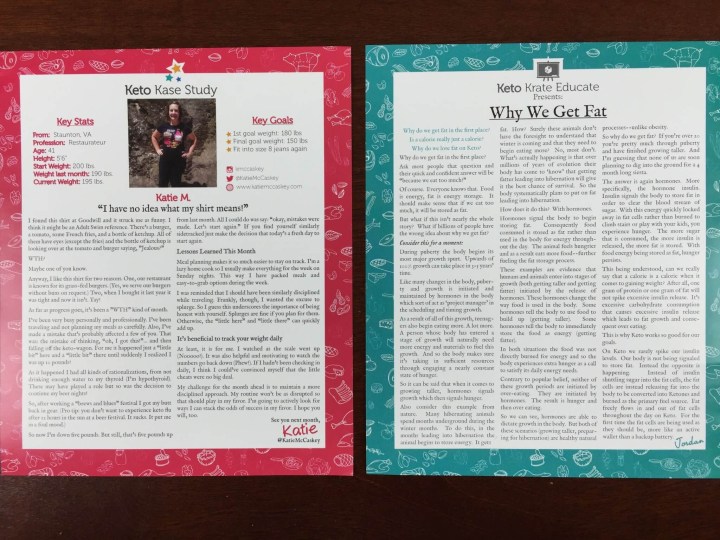 The box also includes a Keto Kase study and a why we get fat "Keto Krate Educate" about the diet, plus a recipe.  If you're unfamiliar with the ketogenic diet, it's an adequate protein (no more, no less), low carb to keep you in ketosis, and the rest of your energy needs are made up with fat.
Another Keto Kase study plus a recipe!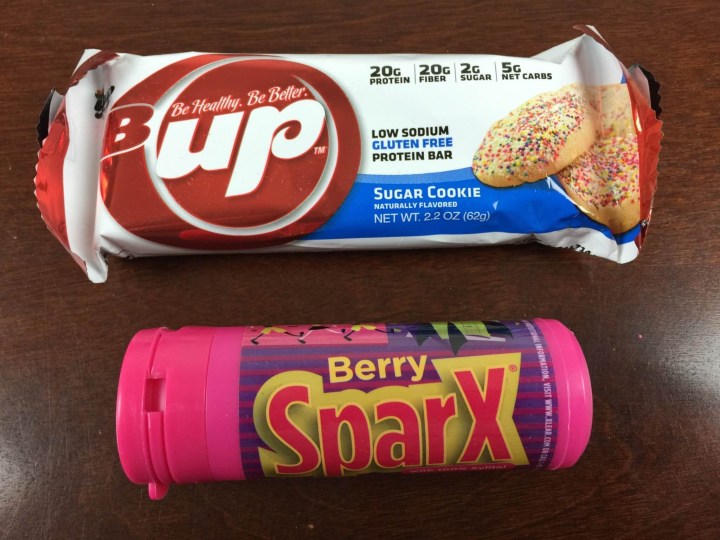 B-Up Sugar Cookie Protein Bar ($2.92, 5g net) This bar has no sprinkles if you're wondering. It has a somewhat dry texture but it's a tasty bar made mostly out of whey and milk protein plus some oils and natural sweetener. It does have that sugar cookie taste.
SparX Xylitol Candies ($1.99, 0 g) These are quite tasty and are little candies sweetened with non-GMO corn derived xylitol, which is a natural anti-bacterial for your teeth. Yes, good for you candy!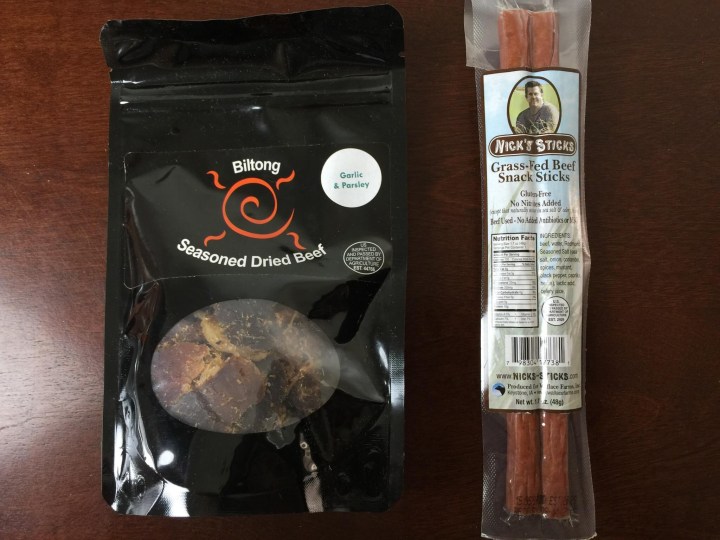 Braaitime Biltong Seasoned Dried Beef – Garlic & Parsley ($10, 1 g per serving) I know this beef in particular is big in the paleo world and I wasn't surprised to see it here either! It's tender and flavorful, with fat, and is seasoned with garlic and parsley. It's cured rather than jerky.
Nick's Sticks Grass-Fed Beef Snack Sticks ($3.25, 0 g) Grass-fed dye-free, nitrate-free, hormone free, sugar-free, and antibiotic-free beef sticks! This is quite a tasty snack and well seasoned.
Fiber Gourmet Thinables ($3, 7 g per serving) I kid you not, I have been on the mailing list for this company since it launched in 2007 and never bought anything. I always wanted to try it but I think the shipping was too high. Anyways, I tried the cheese and it was super tasty, but it does have 7 g of carbs per serving, so I'm not sure about that in a day where you might have 20 g carbs total. I enjoyed it for me!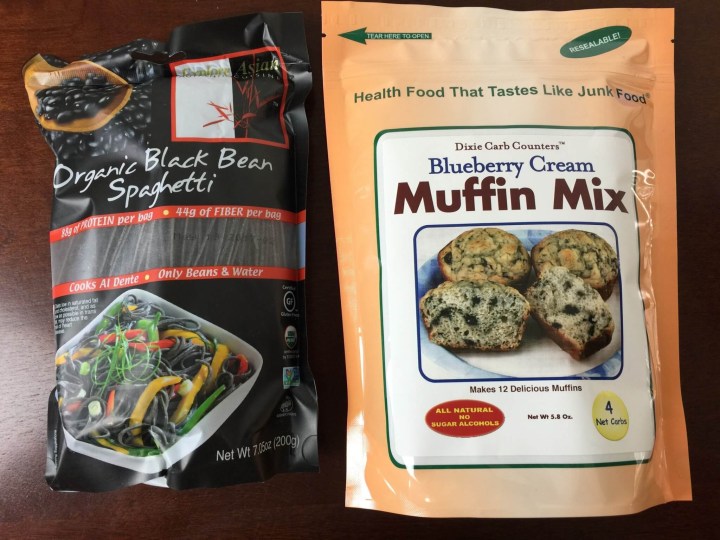 Explore Asian: Organic Black Bean Spaghetti ($5.99, 5 g)  I have never had black bean spaghetti, so I'm looking forward to trying this! It's made only out of black beans! We are going to make a pumpkin alfredo sauce for Halloween!
Dixie Carb Counters Low Carb Blueberry Cream Muffin Mix ($9.39, 4 g per muffin) All natural health food that tastes like junk food, with nutritionals you can trust! Because of scandals a lot of the low carb manufacturers have had to have their products independently tested to show that they're really low carb! Reviews on Netrition say these are great!!!
This box had about $37 in products, which I think is good for this sort of specialty subscription. However, one of the items went over the 5g carb limit. I see this more of a lower-carb lifestyle subscription box rather than a totally keto box – but that might just be my impressions of the diet itself (which to me is a lot more fat!).  However, these are great lower carb foods to work into your keto diet to help you find good low-carb alternatives to your favorite snacks!  I am now gobbling those Pizza flavored Fiber Gourmet crackers – they're fantastic (and btw – totally not keto to eat the whole box in one go).

Visit Keto Krate to subscribe or find out more!
The Subscription
:
Keto Krate
The Description
: Every month members receive various Keto friendly snacks. In addition to these snacks each Krate will also contain Keto tips, advice, member case studies and success stories and basically anything we think Keto'ers might find useful or interesting.
The Price
: $34.95 per month