Le Matchbox is a quarterly beauty subscription box from cosmetics brand Jouer. When you visit the site, you'll be prompted to take your warm/cool profile quiz (and make sure to log in before you subscribe, or they will not be able to send you emails). Jouer promises an assortment of full size Jouer essentials most flattering for your coloring and suitable for your skin type.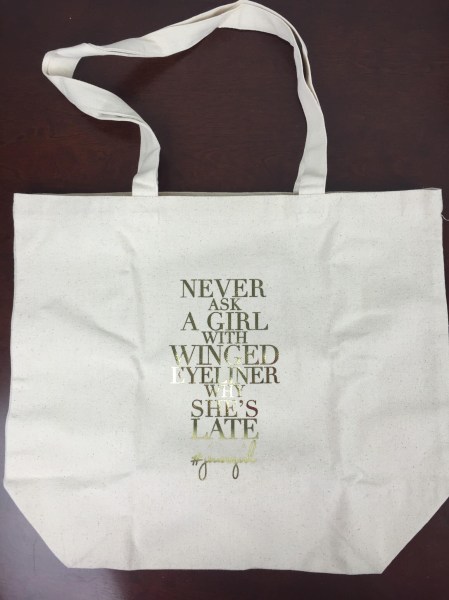 I was surprised to find a tote in with the box – Never Ask A Girl With Winged Eyeliner Why She's Late #Jouergirl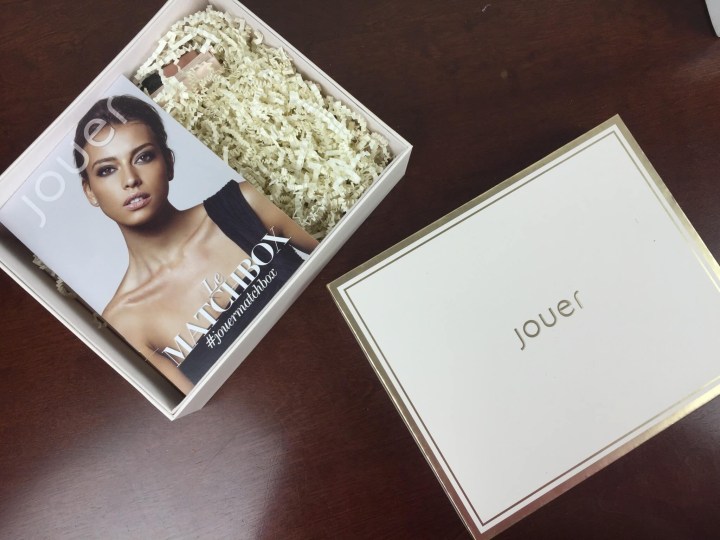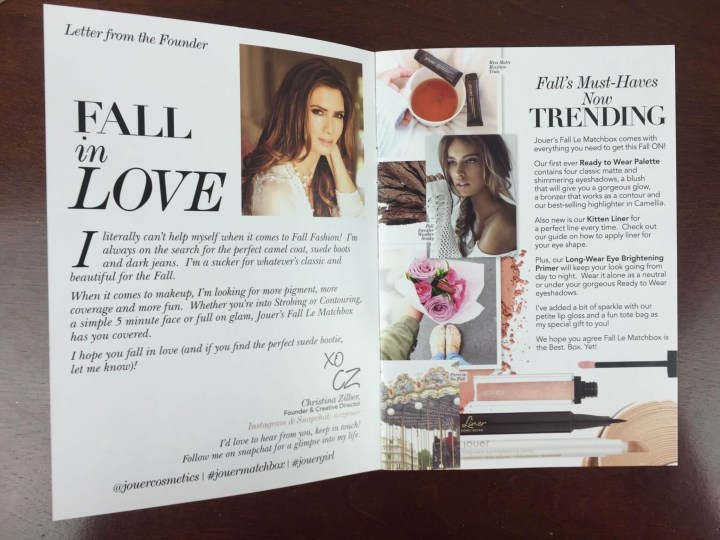 The box comes along with an information booklet about the items and variations.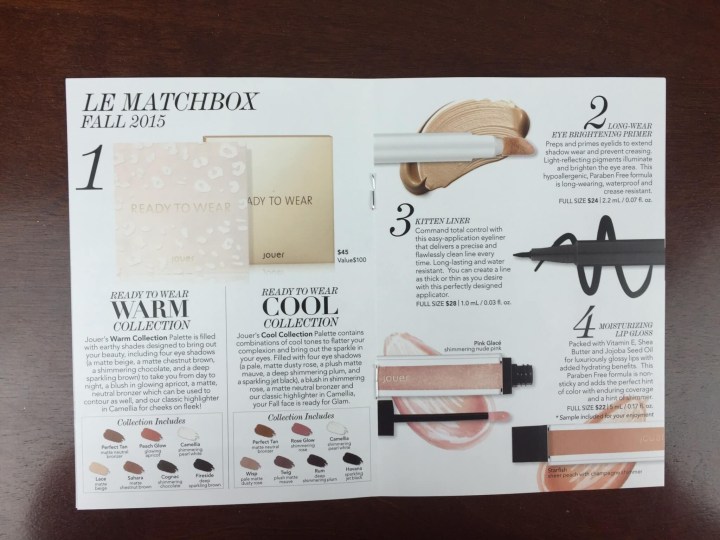 It details the items, why they were chosen, and tips for use.

4 items in the Fall box.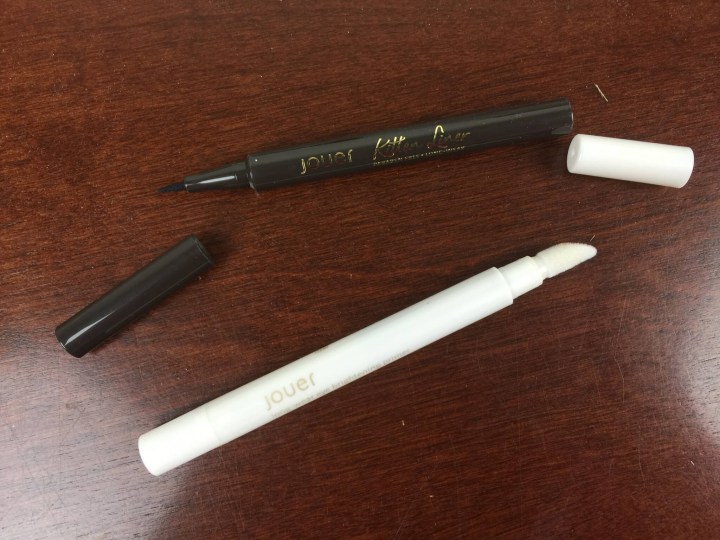 Jouer Kitten Liner ($28) Launched in this box, this is a black eyeliner with a felt tip. It went on nice, but when I went to remove my swatches (below), I noticed that it wiped away with a baby wipe – so don't expect it to stay put that long.
Jouer Long-Wear Eye Brightening Primer ($24) This has a click-pen applicator, which is nice and keeps things clean, but I think I prefer a regular doefoot one. I noticed that this primer is quite dark, but it really does get the shadow to stick and stays put (it's the only thing still left on my arm!).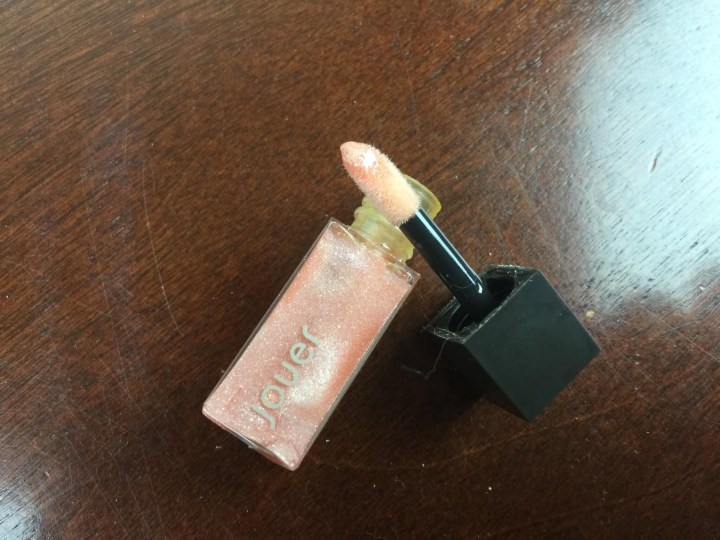 Jouer Moisturizing Lip Gloss Mini in Pink Glace ($11) I'm a bit agog at the value because they literally couldn't have sent a smaller sample. I do love the color though.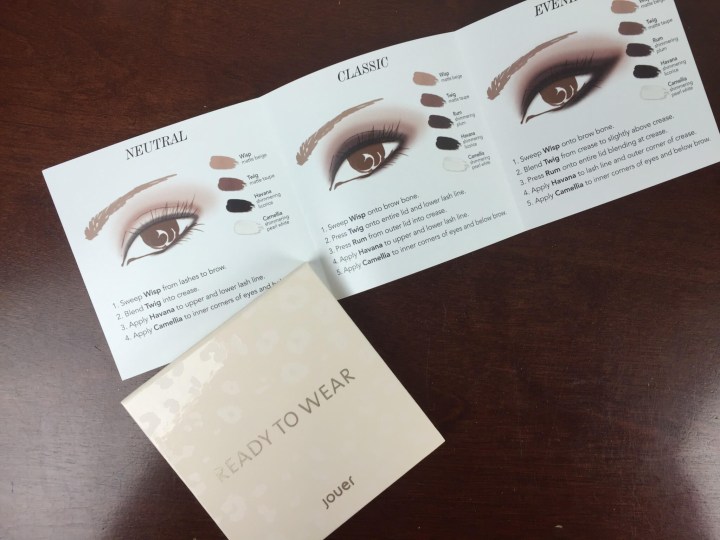 Jouer Ready to Wear Cool Collection Palette ($45) This retails or would retail as $45 with a "$100 value." Ok.  You guys know I'm a sucker for a good eyeshadow chart so this was an automatic love.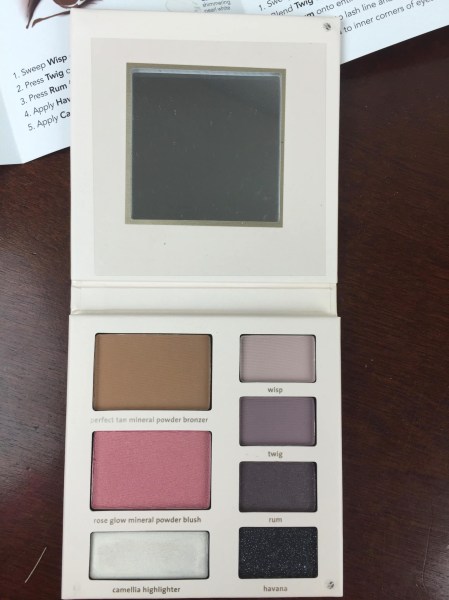 This an amazing palette. The bronzer is totally matte, and the pink blush has an awesome golden shimmer to it. I swatched below with the shadow primer and you can see how dark it is – really way too dark for light skin.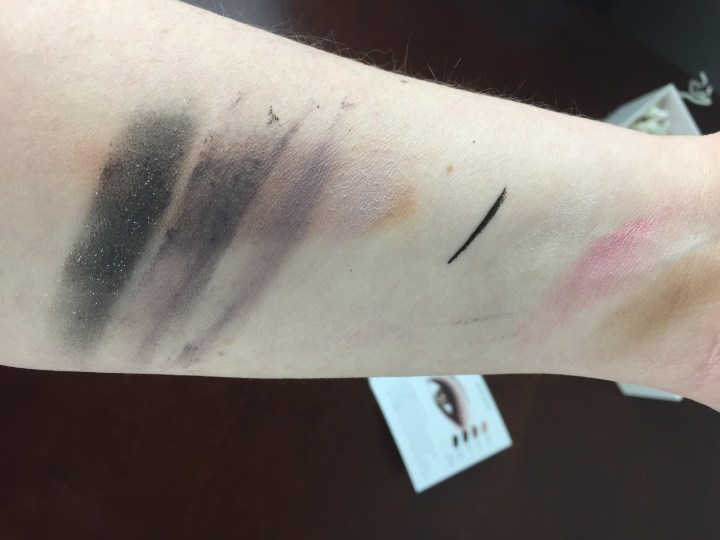 To the right of the liner is the highlighter, blush, and bronzer.
I loved this box but I cannot figure out how to cancel – I've emailed them several times, and never heard a response back. I tweeted them, which you shouldn't have to resort to to get customer service.   I'm a pro at canceling subscriptions and if I can't figure it out – hmpph! Good news though – you can still buy this as a one-time box with coupon code ALLURE25.
I probably won't actually cancel because I loved the palette so much and I'd like to see the next box – but I'll definitely post the information. Then again the only thing I really loved was the palette (the gloss is sooo small – I love it but realistically there's only a few uses). OTOH the palette is exclusive to this box!
Visit Jouer Le Matchbox to subscribe or find out more!
The Subscription
:
Jouer Le Matchbox
The Description
: Get first access to new product launches and unbelievable savings on full-size Jouer products.
The Price
: $45.00 per quarter