Notice the Bible verse on the side?   Galatians 6:9?  God sure has great timing.  I just used that verse last week in my almost weekly emails to the ladies group that I chair.  I used that specific verse because the fall is packed with big ministry projects for us and I don't want the ladies to be discouraged.  When I saw that verse I couldn't wait to open this box. 
Faithbox is a monthly subscription box that inspires positive Christian living through monthly boxes of meaningful products. Faithbox has an additional unique curation factor – planet – and curates its items to also be socially responsible.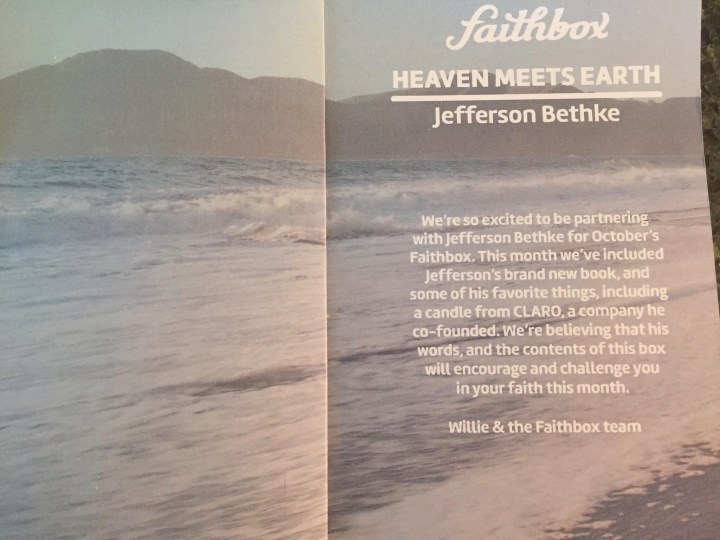 There's a brief note in the October devotional about the theme of this month. They partnered with Jefferson Bethke to include his new book and some of his favorite items.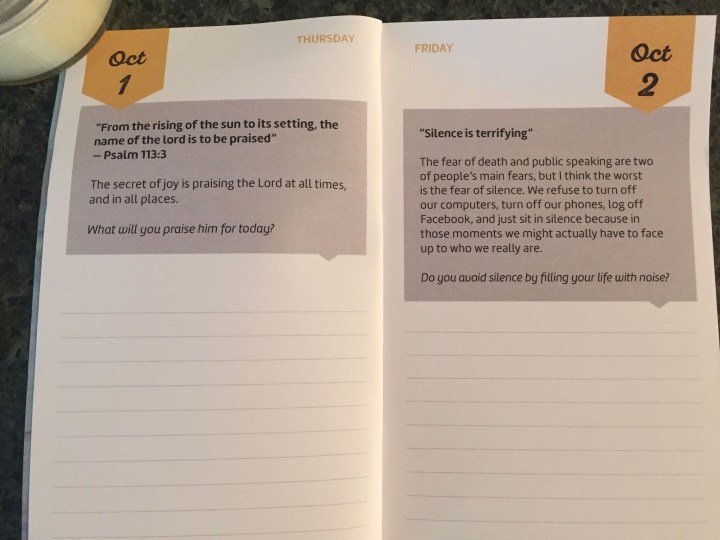 Everyday Faith October 2015 Devotional by Jefferson Bethke: The 2015 devotional book everyday faith is great for someone who journals a little with Bible verses, quotes and wonderful questions to get you thinking about your faith in God.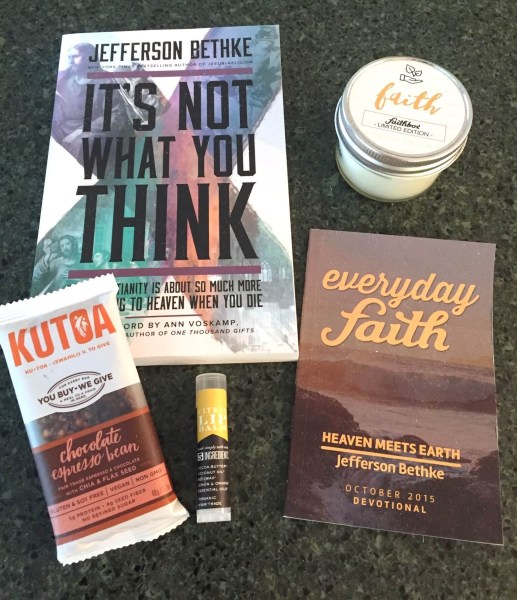 It's Not What You Think: Why Christianity Is About So Much More Than Going to Heaven When You Die by Jefferson Bethke ($11.97) The title of the book It's Not What You Think intrigued me.  I hate to admit it but I am NO theologian and don't do a lot of Biblical study reading, except the Bible and that's sporadic. Shhhhhh, I can't wait to start reading this book.
Other items in the box include a Claro candle ($8?).  Claro literally means "to bring light to the darkness." Claro Candle Company helps support several charities and ministries. This was a limited edition candle created exclusively for Faithbox!  Kutoa Chocolate Espresso Bean Bar ($2)was created to combat world hunger and is in partnership with the World Food Program USA.  For every bar purchased they feed a child in need. S.W Basics Citrus Lip Balm ($4) has been made from sustainable agriculture products bought from organic, Fair Trade, or small-farm sources. 
This box did not disappoint.  I normally share all my faith based box materials with my church family but I am keeping the book. I'll read it and then pass it on!  I try to keep in mind Acts 20:35.  I also really liked the items included in this box. Not only were they all high quality, they all supported ministries, programs helping those in need, and/or were good for our planet.
Visit Faithbox to subscribe or find out more!
The Subscription
:
Faithbox
The Description
: Faithbox inspires positive Christian living by helping people grow in their faith, impact their community, and discover meaningful products. Faithbox hand-picks the products from companies and organizations who share our vision of a triple bottom line: people, planet, purpose.
The Price
: $20.00 per month + $5 Shipping
The Coupon
: Save $5 on your first box with coupon code 
SAVENOW