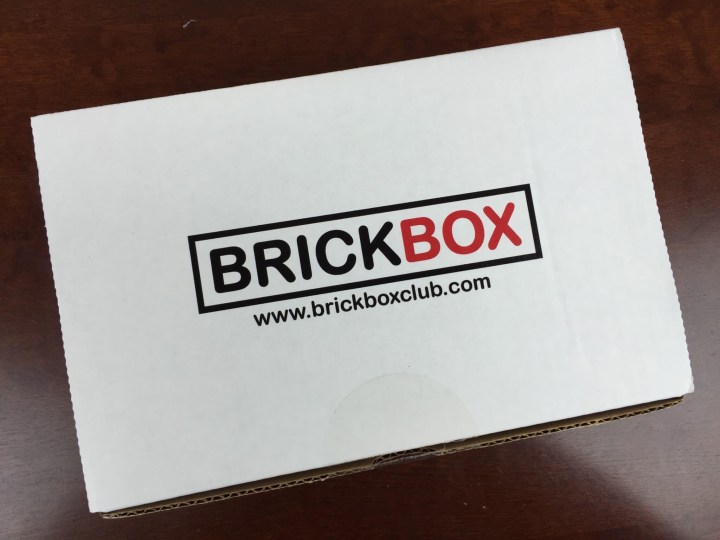 BrickBox is a monthly subscription box for LEGO fans.  BrickBox distinguishes itself from other brick-themed boxes by providing actual LEGO pieces and accessories to add to your set instead of LEGO-themed merchandise. BrickBox offers 3 sizes of box: Loot (minifig + accessories), Mini (brick set + goodies), or the full box. This is the full box.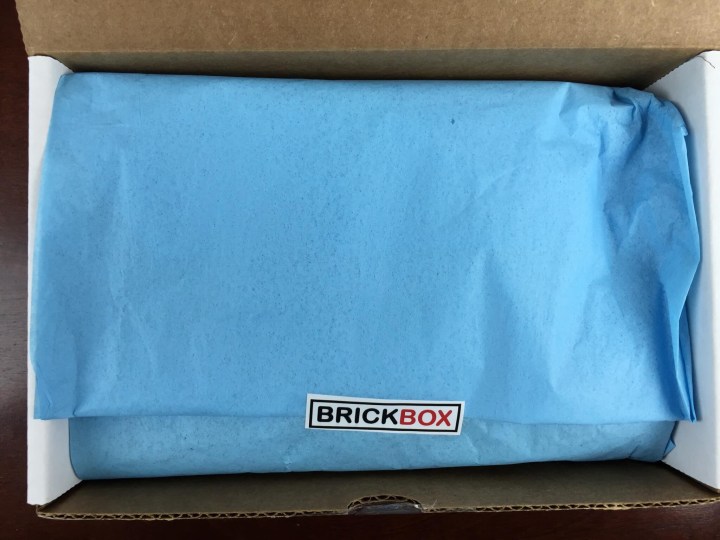 The inside of the box is neatly wrapped in tissue to preserve the suspense.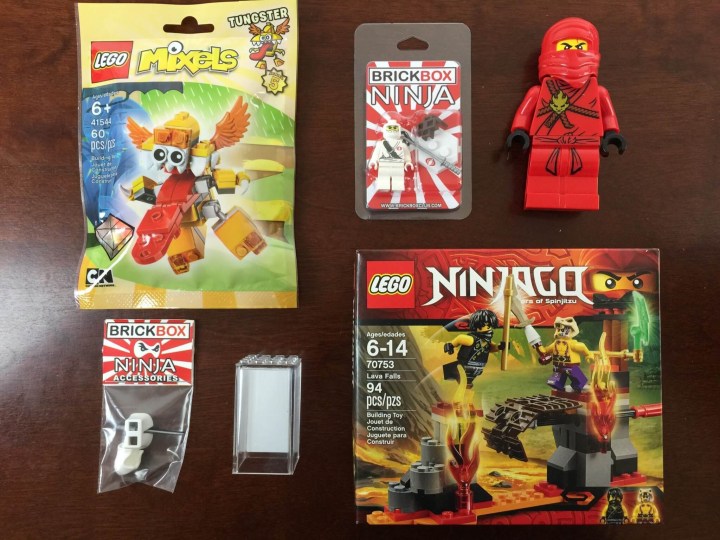 All the items in the box.  We received LEGO-licensed sets and merchandise and third-party LEGO-compatible accessories. This box was themed around the LEGO Ninjago 70753 Lava Falls Set!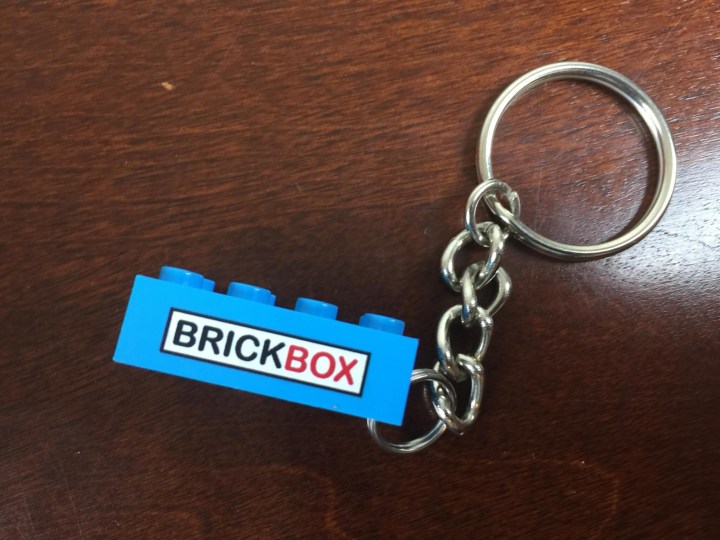 Your first box will come with a BrickBox keychain ($5?), which is really neat! And your name will be printed on the side, so be sure to use the right name you want when you order.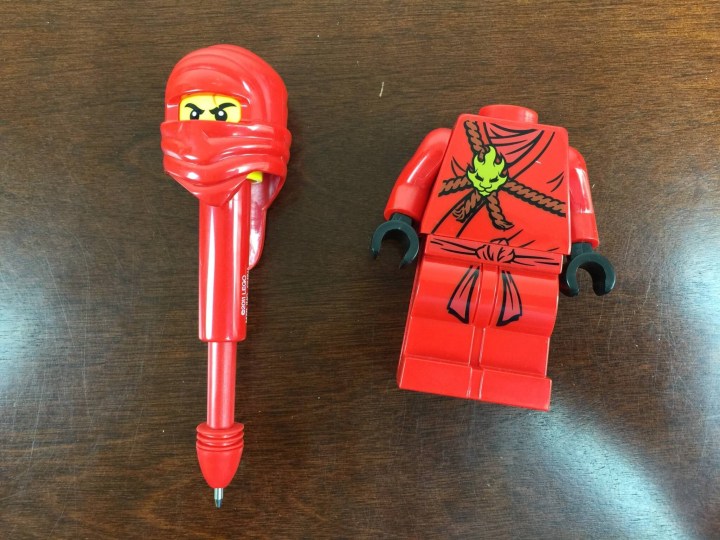 Lego Ninjago Retractable Pen – Red ($9.50):  Kai, the Red Ninja, from the Ninjago sets and cartoon series.  His neck has a hole for the pen, so his body serves as a handy pen holder.  He is MUCH larger than he appears.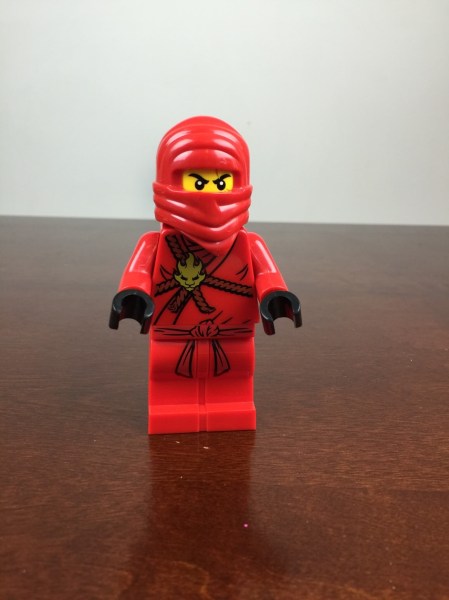 Kai looks angry — don't lose your head!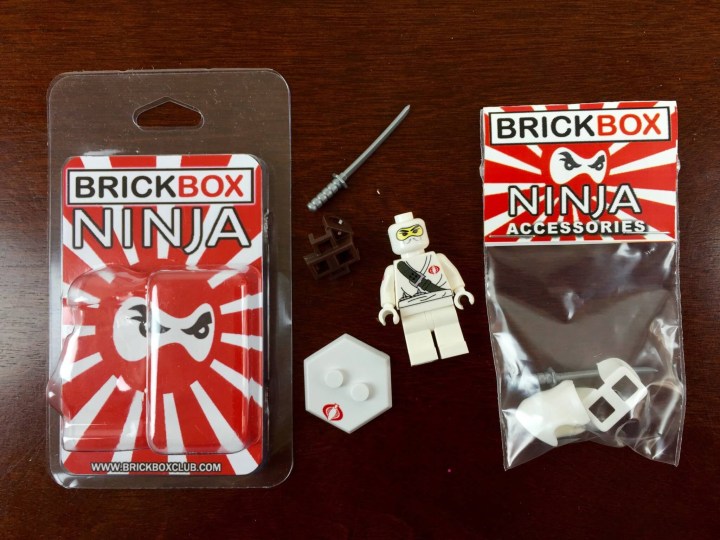 BrickBox Ninja Minifig and Ninja Accessories ($10?):  I assume these are all third-party parts, because I cannot locate any branding.  The ninja comes with a stand, double back-mounted scabbard, and single katana.  He is outfitted to look like Stormshadow from G.I. Joe.  The additional accessory pack has a hood, trench coat extension, and extra katana.
Stormshadow in his full gear!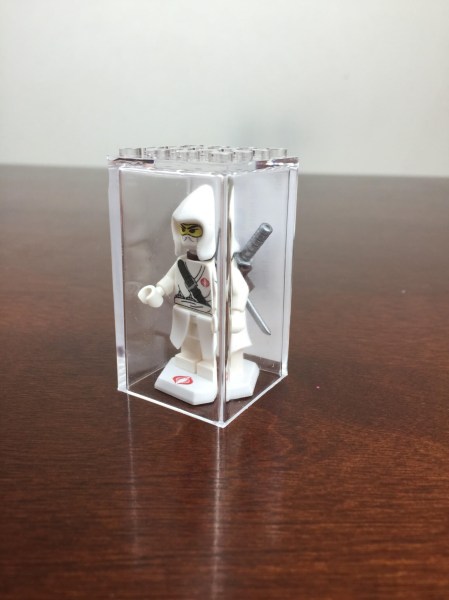 FaBiOX ($2):  This clear cube is perfect for covering mini-figs and keeping them dust-free.  It looks like they are also stackable and can have blocks attached to them, too. It would be awesome to make a jail out of these.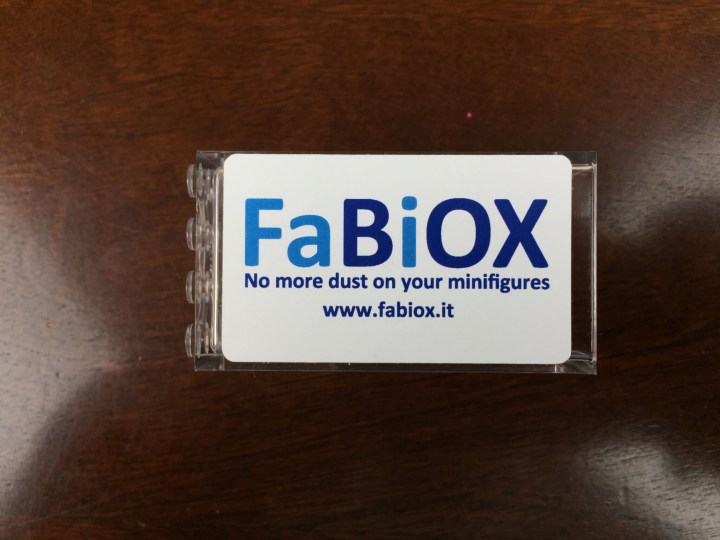 These would look really cool stacked several figures high.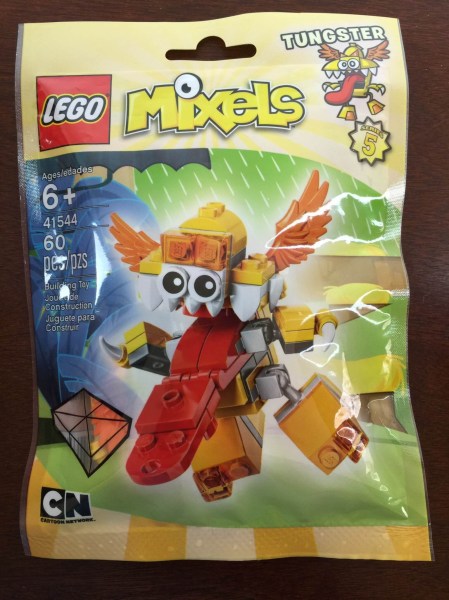 LEGO Mixels Series 5 Spugg  ($4.99):  Mixels are crazy creatures that are silly and bizarre standalone figures that also join together with other similar, but distinct, and equally crazy creatures to form a larger beast.  Also includes an in-game code for the Mixels app.
Pieces and instructions for the Tungster Mixel.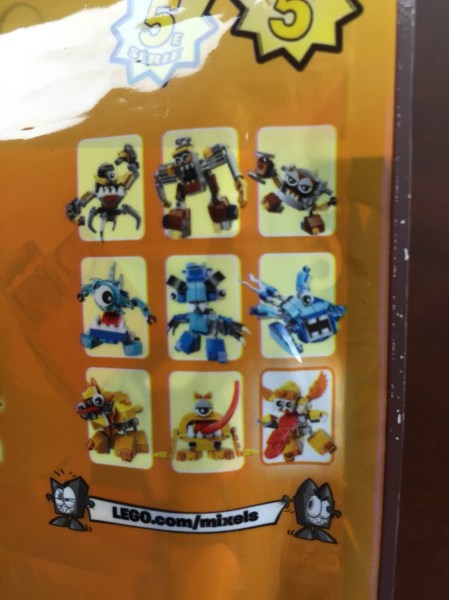 Tungster is part of the Lixers family of Mixels.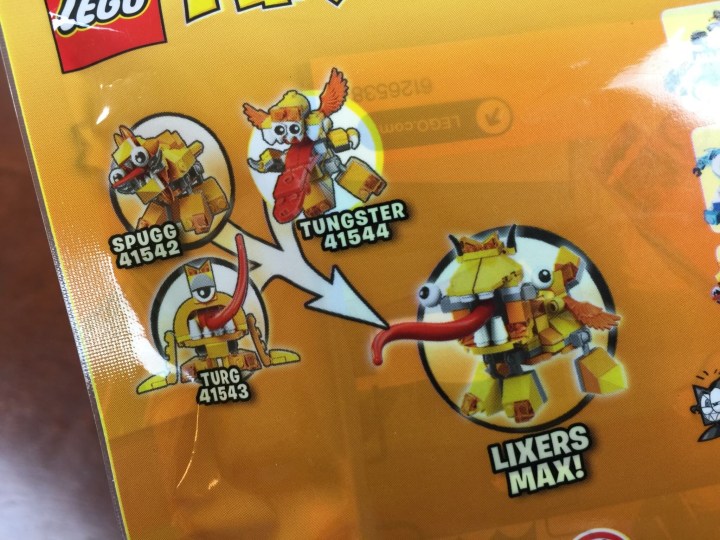 Tungster combines with Spugg and Turg to form Lixers Max. I feel like they should have called it MAXXX.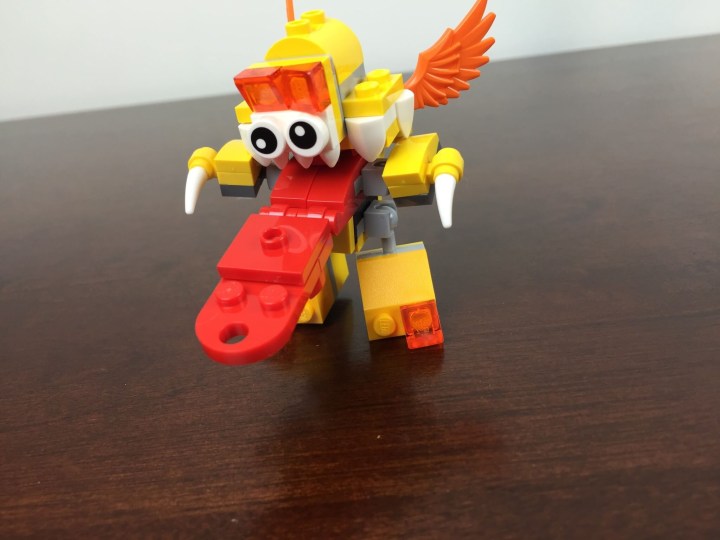 This is an awesome and fun build and we're totally getting more!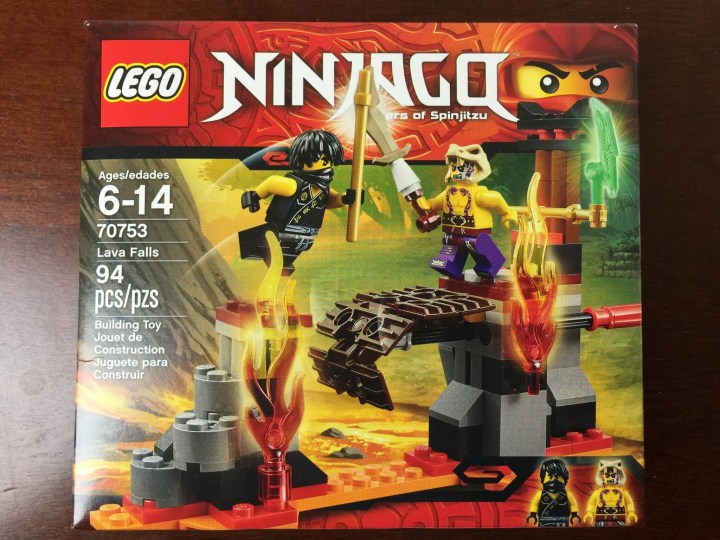 LEGO Ninjago 70753 Lava Falls Set:  This action set has a collapsible bridge and comes with Cole and a serpentine figurine.  My kids really got into the Ninjago series recently, so this item is going to make a fantastic present!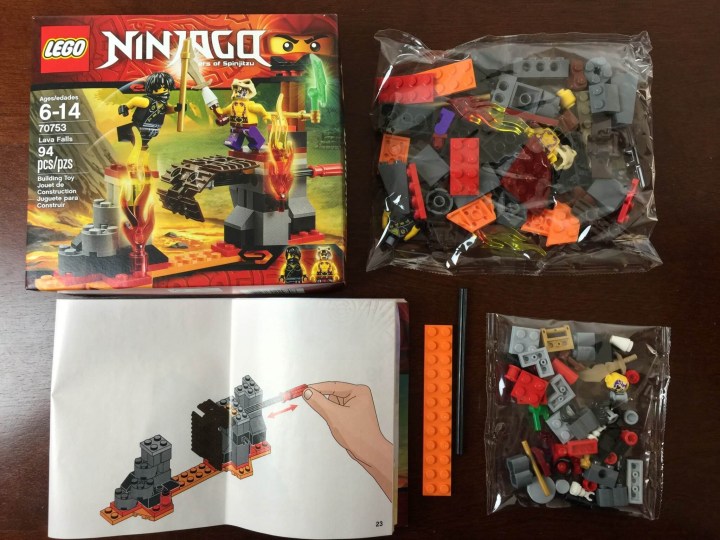 The contents of the kit.
This was an awesome build and the drawbridge feature is really neat.

They won't know that we played with it first – right?
This month's BrickBox was loaded with cool stuff.  The Mixel was a bit out of theme, but was an interesting addition, since I wasn't aware LEGO had this line.  I love that each month has a cool new fully-decked-out mini-fig to add to our collection, and the official LEGO kits simply can't be beat! I thought this was an awesome box for LEGO fans who still build with the sets, because everything was actual LEGO characters and accessories.  Fan boxes are good for anyone who likes the brand, but this set also had utility for active builders. Our kids will be so excited – they are really huge Ninjago fans (and are even dressing up as Ninjas for Halloween!).
Visit BrickBox to subscribe or find out more!
The Subscription
:
BrickBox
The Description
: Join Brick Box and receive awesome LEGO products every month! They carefully select Authentic BRICK Sets, Minifigures, Accessories, Parts, T-Shirts, Gear and much more, put it all together and deliver it right to your door.
The Price
: $19.98 for the BrickBox Loot (MiniFig & Accessories), $29.98 for the BrickBox Mini (LEGO brick set + accessories), and $39.98 for the regular BrickBox