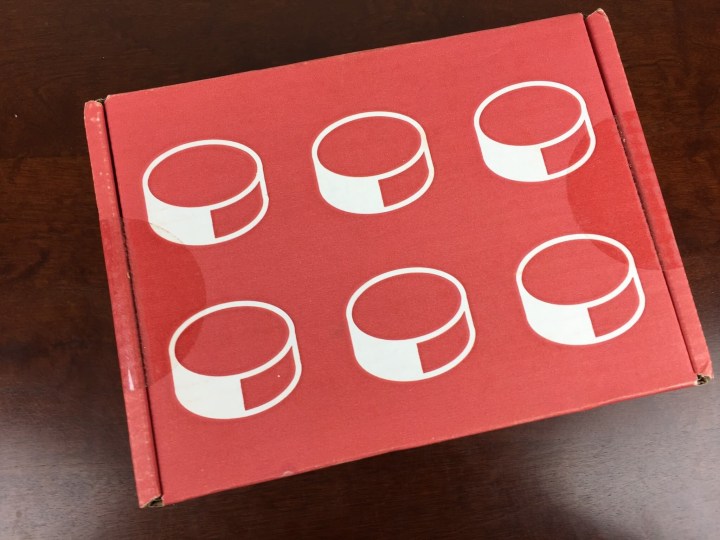 Brick Swag by Brick Builders Club is a monthly subscription box for fans of LEGOs and other studded brick building systems.  Each box comes with brick-related swag, including an exclusive build pack.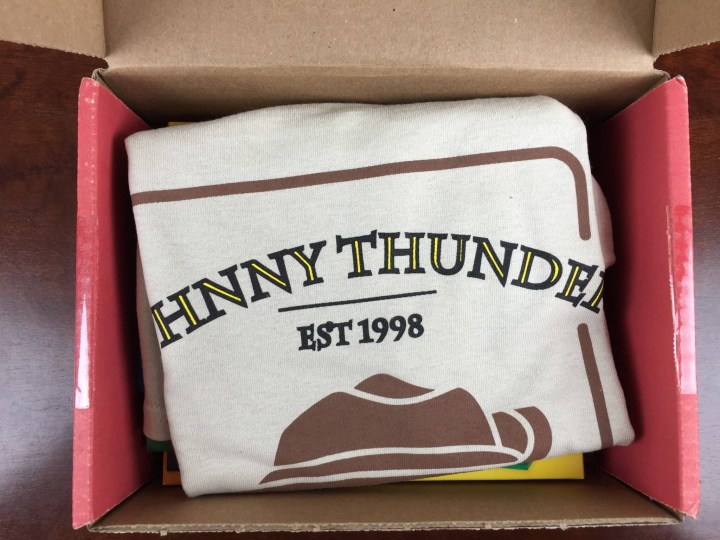 Though not officially themed, this month's Brick Builders Club had a distinct air of "Adventure" about it.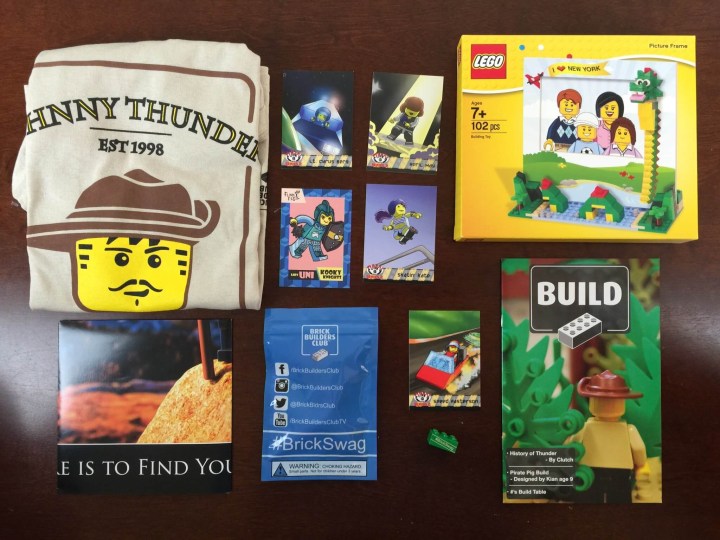 Everything in the box.  With the exceptions of the Build Pack and frame, all items are brick-themed, rather than actual bricks or brick accessories.  This is a brick fan's box, not a brick supply box. However, this month includes a LEGO Picture Frame!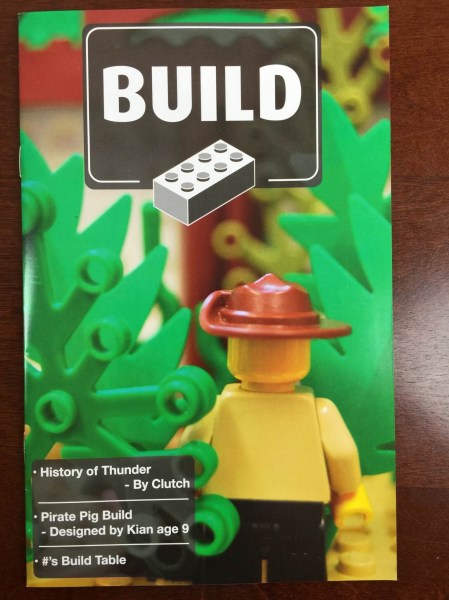 Each box comes with BUILD magazine, a short glossy booklet with several single or double page features, like the Build Table, where fans submit pics of their creations. One page of BUILD lists the the contents of the box.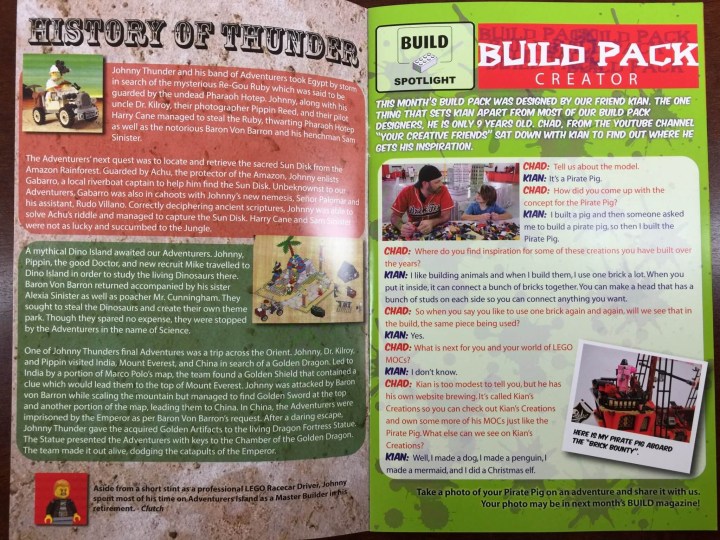 BUILD is filled with fun stuff like fan-contributed pics and more info on the items in the box.  Above is a bit of biographical backstory for Johnny Thunder, the LEGO personality featured on the T-shirt included in the box.  Also pictured is an interview with the youthful designer of this month's Build Pack.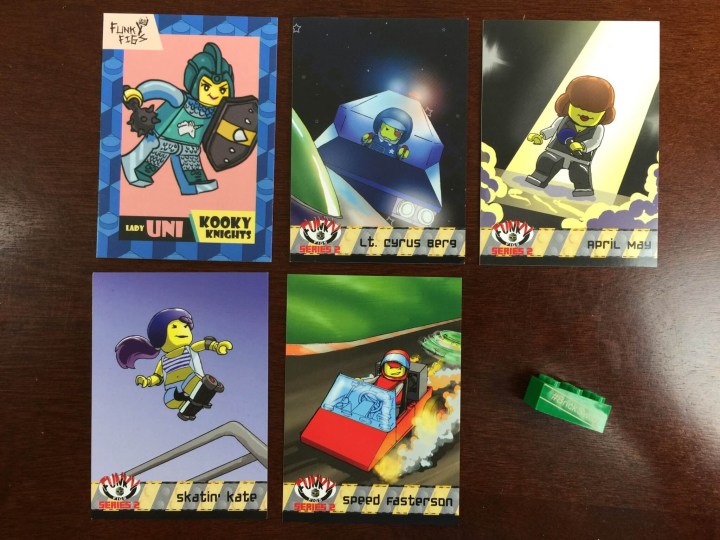 Funky Figs Trading Cards:  These silly cards feature LEGO characters imagined to inhabit the LEGO universe.
The back of the cards and the September 2015 Brick of the Month.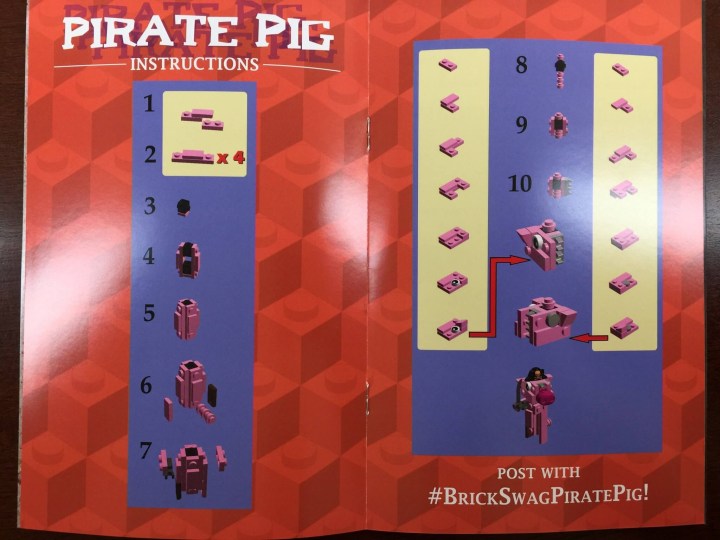 Build Pack: Pirate Pig!  BUILD has a couple pages dedicated to the instructions.
This guy is pretty cool — the design demonstrated some really clever use of pieces (e.g. the laundry-basket snout) and directionality of pieces.  Plus, he's adorable!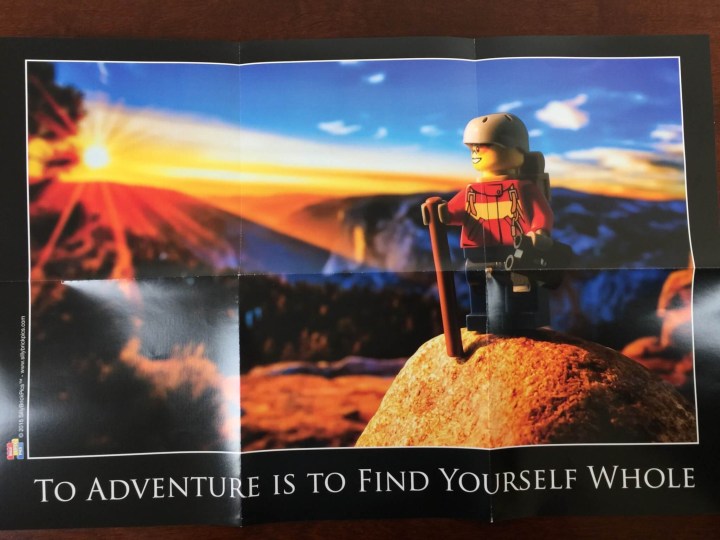 To Adventure is to Find Yourself Whole Minifig Poster:  Posters look to be a recurring item, so clear a wall.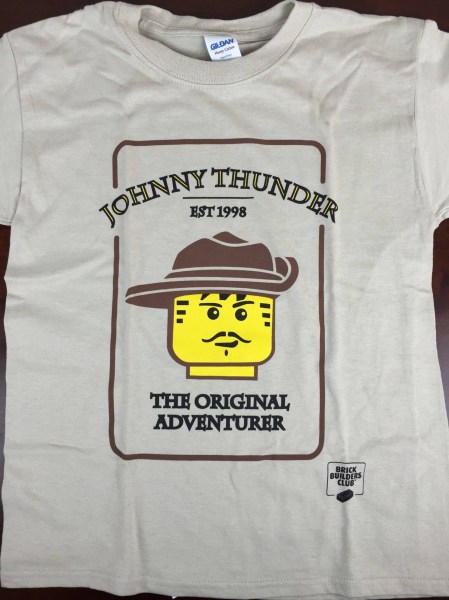 Johnny Thunder Brick Builders Club Shirt ($15):  The legendary Johnny Thunder  adorns this shirt.  Johnny is featured in many of the Adventure line of LEGO sets (including Dino Island, Orient, Egypt, and others), and has appeared in seven LEGO video games (more than any other character).
Lego Picture Frame (~$15):  This fun frame becomes partially encircled by a 3D dragon once you piece together the included LEGOs.  This is an official LEGO product, and a really cool way to add a bit of levity to the portrait gallery. The great thing also is that if you've been to the Lego Store at Disney Springs, this is the same dragon. We'll find a photo of the kids in front of it.
This month had some great stuff — in addition to the fun little items, the Johnny Thunder shirt and LEGO picture frame were real scores!
Of the growing number of (unofficial) LEGO fan boxes, Brick Builders Club is the lifestyle box, weighing heavily toward LEGO-themed merchandise, rather than actual LEGOs or third-party kits.  At $34 (including shipping), it is in the middle of the pack price-wise. This box is perfect for a LEGO fan that prefers to purchase their own sets but still wants swag and other fun gear (just like a box for gamers – you buy the games, the box sends the swag).
Visit Brick Builders Club to subscribe or find out more!
The Subscription
:
Brick Swag by Brick Builders Club
The Description
: Brickswag is a monthly subscription service for Lego Fans. Each box includes items such as t-shirts, trading cards, parts packs, master techniques and more.
The Price
: $34 per month