We were absolutely thrilled to find this package at our door! 30 Days of Candy is a monthly candy subscription box. Every month you'll get 30 different candies from around the world, packed into individual servings.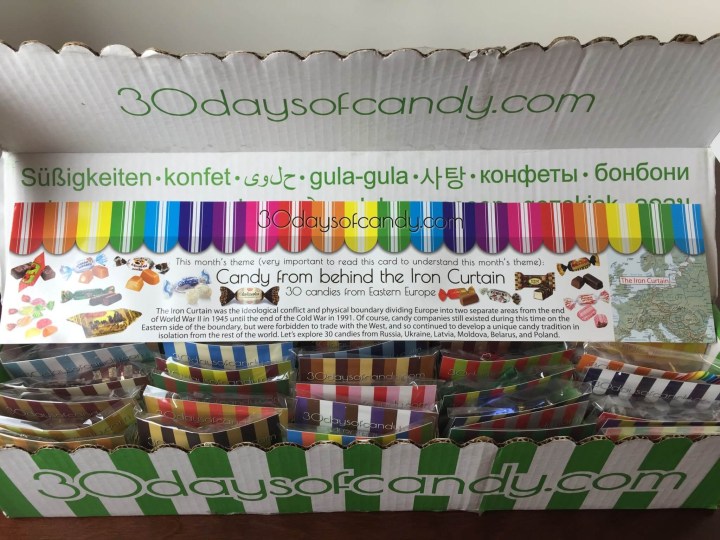 The theme for this month is "Candy from behind the Iron Curtain – 30 candies from Eastern Europe." Currently when you subscribe you will always get the first 30 Days of Candy box, Around the World in 30 Sweets. Essentially you are subscribing to a candy narrative and as you go further, you will experience different parts of the story. This subscription's founders are candy experts and one of them is the owner of Powell's Sweet Shoppes in California. Their expertise shows in the packaging, quality, theming, and information provided with the sweets!
The Iron Curtain was the ideological conflict and physical boundary dividing Europe into two separate areas from the end of World War II in 1945 until the end of the Cold War in 1991. Of course, candy companies still existed during this time on the Eastern side of the boundary, but were forbidden to trade with the West, and so continued to develop a unique candy tradition in isolation from the rest of the world. Let's explore 30 candies from Russia, Ukraine, Latvia, Moldova, Belarus, and Poland.
Because I've never seen most (if not all) of these candies before, I had to try them all. The candies are individually packaged along with an information card as well as a cool photo on the back.
Past boxes have had trivia on now-extinct candies, and other fun stuff. This month, each pack featured a fun guessing game, challenging you to identify a candy by a small piece of the label. 30 Days of Candy has made each pack around 100 calories (perfect for a daily sweet treat!) but we also found that there's just enough to share for our family, too! We all enjoy tasting the candy and the kids adore reading all the facts. This would be perfect for a family (or maybe even a cool lunchbox snack??), a candy fiend, or of course, as a corporate gift.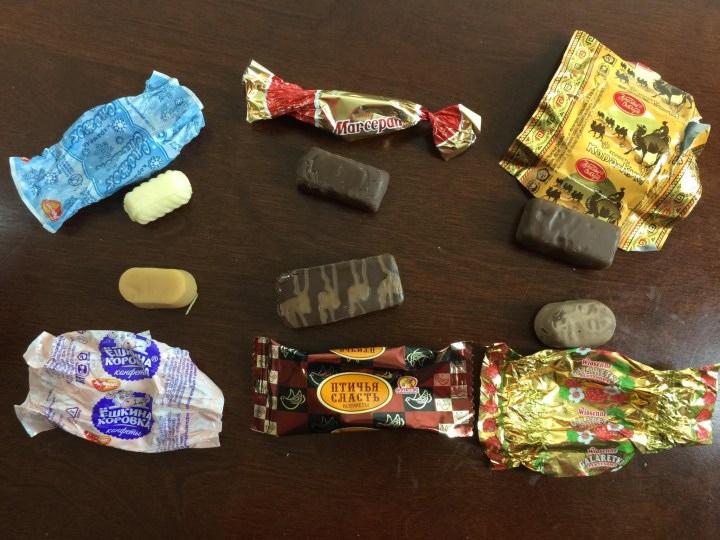 Left to right, as ordered in above photo —
Rot Front Snow: Rot Front (Leoniv's Trading House, prior to nationalization in 1917; the English translation of the Russian name for the German communist organization Red Front creates the humorous Rot Front) is one of the oldest confectioners in Moscow, and snow is a common can variety, a hard white candy shell with a white creamy center. The center has a bit of lemon flavor to it.
Solidarity Marcepan: Marzipan is not popular in Eastern Europe. This Polish version is slightly coarser than what you may expect from Italian marzipan.
Red October Black Sands: This treat was created by Moscow confectioner Red October (a nationalized Teodore Einem company, officially renamed National Confectionary Factory #1) to celebrate the 1954 completion of a The Kara Kum Canal in Turkmenistani. Kara Kum means bland sands, and the candy is a creamy chocolate mouse center (like an Aero bar without the big bubbles) that is silky in texture, surrounded by chocolate.
Rot Front Eshkina Korovka: This is a Russian version of the Polish Krowka (little cow), a slightly gummy caramel.
Slavyanka Bird's Milk: Bird's milk is a legendary substance from Slavic myth, cited by a clever princess as her favorite food to frustrate questing suitors. It is a sweet and soft white filling that looks like marshmallow creme, but is much more sweet and moist, with a flavor like sweetened condensed milk.
Solidarity Galaretki: This Polish classic has a jelly center and chocolate coating.
Left to right, as ordered in above photo —
Babaevshy Belocha: The confectioner is named for a communist official. The candy type is "squirrel," a popular motif featuring chocolate and nuts.
Kommunarka Boiled Peppermint Lollipop: A mint bon bon by the Belarussian company whose name means "a communal life."
Akkond Bird's Milk: a version of the chocolate covered meringue by Moscow's Akkond.
Rot Front Batonchiki: A popular Russian candy type, a "stick" of dry but creamy candy of indeterminate flavor.
Laima Goose Feet: Latvian candies with a lightly-flavored fruit hard candy around a peanut butter filling.
Roshen Spring Jellies: Ukrainian version of the French Pate de fruit. I like the name of the Ukrainian company, as it is no doubt meant to sound like Russian.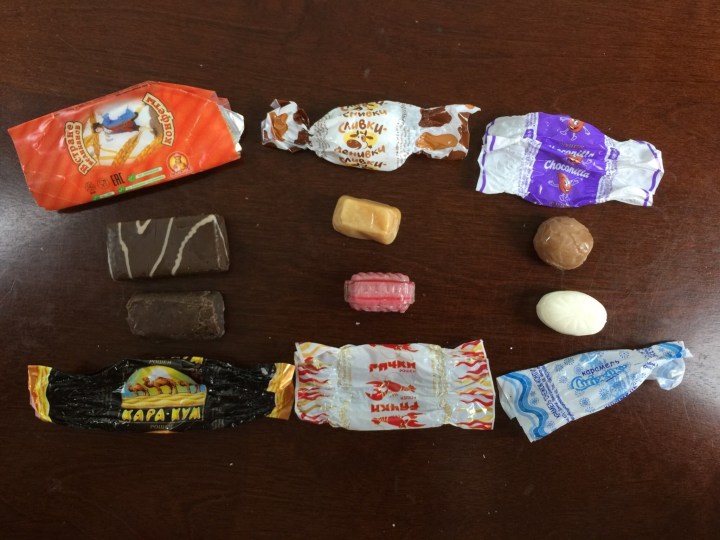 Left to right, as ordered in above photo —
Slavyanka In Giant's Land: a coffee and chocolate wafer themed on Gulliver's Travels.
Roshen Slivki Lenivki: Creamy milk toffee, like a Cow's Tail.
Roshen Choconilla: thin chocolate syrup inside a waxy, chewy chocolate flavored candy shell.
Roshen Kara Kum: The Ukrainian Roshen's version of Kara Kum.
Roshen Lobster Tail: a peanutbutter center with a striped candy shell. Similar in concept to a peach blossom.
Konti Snow: Ukrainian Konti's version of the popular snow style of white creme in white hard shell.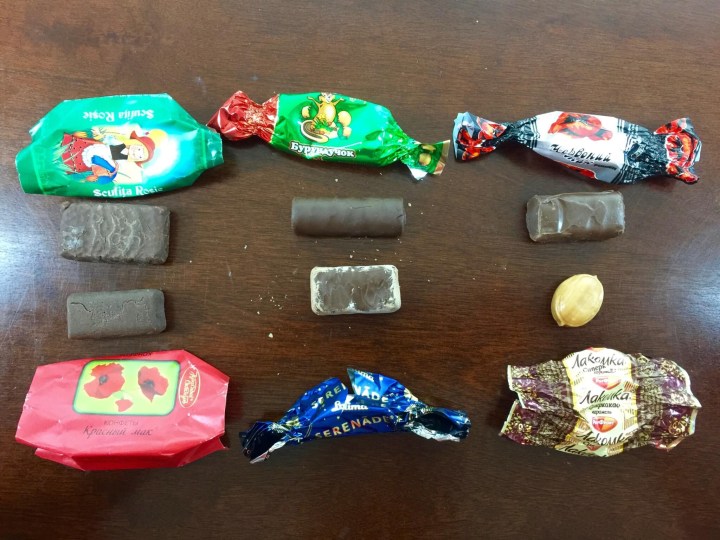 Left to right, as ordered in above photo —
Bucuria Red Riding Hood: Moldova's Bucuria makes this thick cocoa centered wafer bar coated in chocolate.
ABK Burunduchok: Dark chocolate and peanut praline from the Ukrainian ABK.
Roshen Red Poppy: created in honor of the 1927 revolutionary ballet production of the same name. Similar to a black sands candy, but less sweet and creamy, with poppy seeds studding the filling.
Red October Red Poppy: The Russian confectioner's version of Red Poppy.
Laima Serenade: Apricot jelly and nuts with a chocolate coating.
Rot Front Lakompka Cocoa: Caramel with a chocolate center.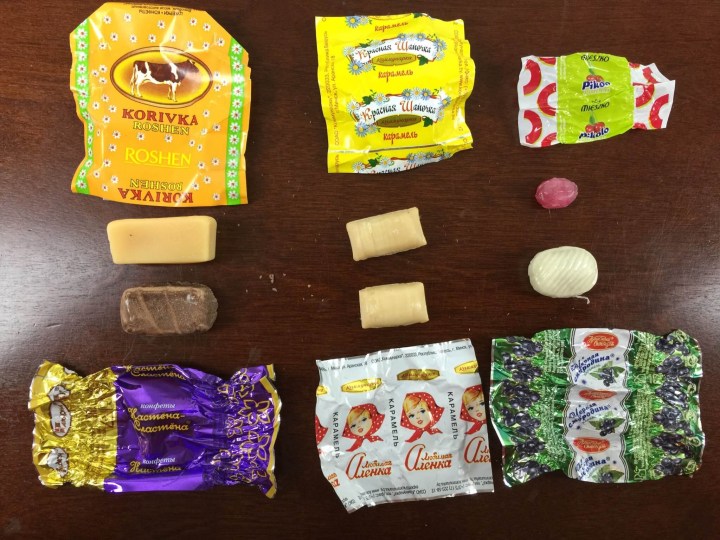 Left to right, as ordered in above photo —
Roshen Korivka: Milky fudge with a creamy center. Probably my favorite — the sweet milk taste is incredible, and the center was slightly crystallized.
Kommunarka Red Riding Hood: Strawberry jam within a crunchy sweet shell.
Mieszko Mini Fruit Pikolos: Polish fruit hard candies.
Akkond Nastena Slastena: Chocolate and cream treats named after Anastasia Romanov.
Kommunarka Alyonka: A version of the jam in hard candy interpretation of the Red Riding Hood candy.
Red October Black Currant: Black currant jam-filled hard candies.
Red October Citrus Fantasy: The curator provided this fruity hard candy as an example of Russian candy most similar to common western candy flavor profiles.


The theme for the next box is A Few Of My Favorite Things: My personal favorite candies from 30 different candy companies. We can't wait to see what his picks are. As we noted last month, we suspect the curator of this box is probably the top candy expert in the world, a veritable Willy Wonka, so his personal picks should be really great!
Visit 30 Days of Candy to subscribe or find out more.
The Subscription
:
30 Days of Candy
The Description
: Get 30 deliciously indulgent, individually packaged, expertly curated, portion controlled (about 100 calories per bag) and super fun candies from all over the world every month. You'll also receive little behind-the-scenes stories of each candy and fun little trivia tidbits that add to the joy of discovery.
The Price
: $29.95 + $5.95 shipping
The Coupon
: Use coupon code
30

%OFF
to save 30% on your first box