For August, all of the Wine Awesomeness wines were paired with recipes from Bon Appétit's Best Recipes 2015 Cookbook!! Wine Awesomeness is a wine club that's sort of like a subscription box  – the wines are really well curated around a cool theme. We had been subscribing to the 3 bottle box but last month we upgraded to the six bottle box. Every month you'll get themed, wine-fueled adventure complete with 3 (or 6!) excellent wines and "The Back Label" mini-mag!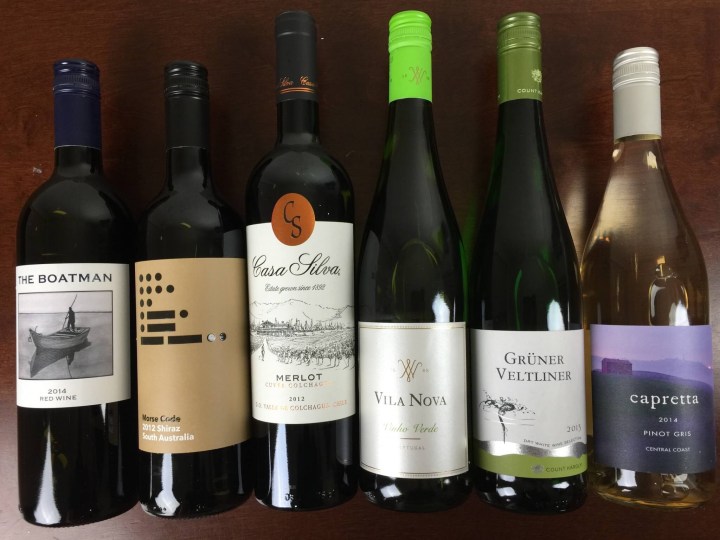 You'll get 3 (or 6, depending on your choice) wines every month or every quarter, depending on how often you'd like to receive it. The 3 bottle box costs $45, and the 6 bottle box is $75. The six bottle box doesn't ship in the rad Wine Awesomeness boxes. Guess that's where the savings are!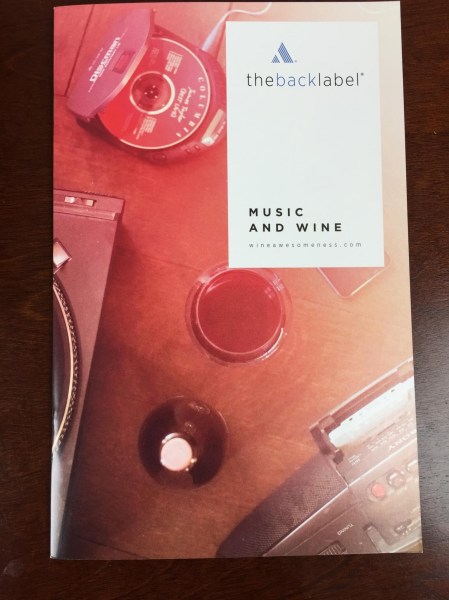 The August Wine Awesomeness theme was Music and Wine  Every month you don't just get 3 "really good" bottles of wine, you got 3 really good bottles curated around a specific theme along with an introduction to the theme, very readable educational materials about all the grapes in this region or the theme, and page by page introductions to each wine.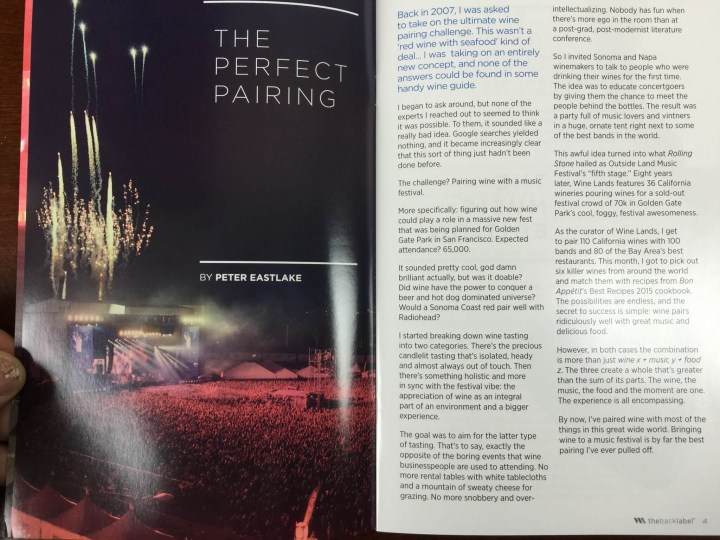 This is such a great, accessible mini-mag. This is my favorite wine subscription because of the theme and the magazine (and the great wine!). The Wine Editor's letter was about curating wines for Wine Lands, part of Outside Land Music Festival in the Bay Area.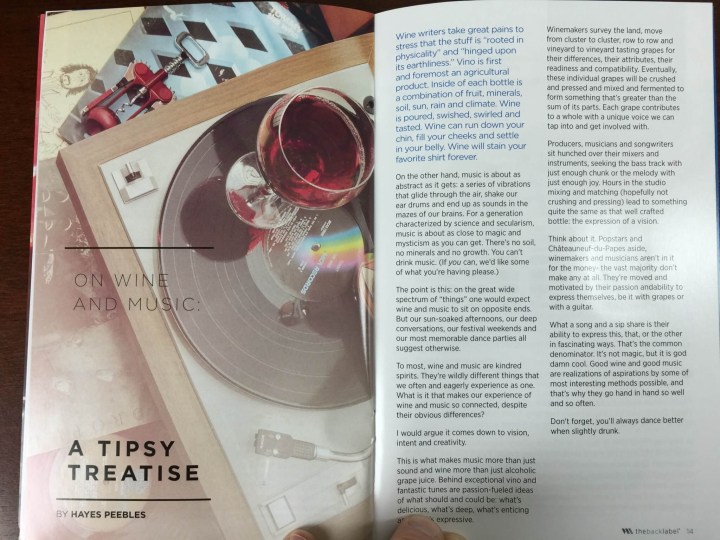 This article compared the creative vision and artistic expression that go into both wine- and music-making.
Each wine information page includes the following:
Wine Name
Grape
Location
What you should do while drinking this wine (many tongue in cheek)
What to eat with the wine
What to listen to while you drink the wine
A cool chart showing a visual on the Acid, Body, Tannin, and Fruit of the wine (this is new!)
Wine Bouquet
Tasting Notes
Description
The recipes appear facing the wines, which you can make to eat with, or use to guide your selections. We usually pick whatever is closest to what we're already eating!
Not only was this super informational, it helps you learn about wine in a really low key way.
August Wine Awesomeness: Whites
Vila Nova Vinho Verde 2014 (50% Loureiro, 25% Azal, 25% Avesso). Paired with D'Angelo – Sugar Daddy, and Charred and Raw Corn with Chile and Cheese: A bit fizzy and acidic, fruity and appley with a twist of citrus!
Count Karolyi Grüner Veltliner 2013 (Grüner Veltliner). Paired with Wilco – Impossible Germany and Cod with Potatoes and Preserved Lemon Relish. This was an excellent Hungarian wine and to me was a perfect example of terroir, because it tasted wet, lush, and fruity, just like Hungary.
Capretta Pino Gris 2014 (95% Pino Gris, 5% Gewürtztraminer). Paired with Laura Marling – Sophia and Carrot Pancakes with Salted Yogurt. This wine was excellent for a waning summer. Dry and fruity with a definite tropical flair and lychee notes.
We don't necessarily make the recipes in this box, but only because we review so many food items that it's difficult to pack it all in. I would totally make these, except maybe the carrot pancakes. I typically use the recipes as a guide to what to pair the wines with at dinner.
July Wine Awesomeness: Reds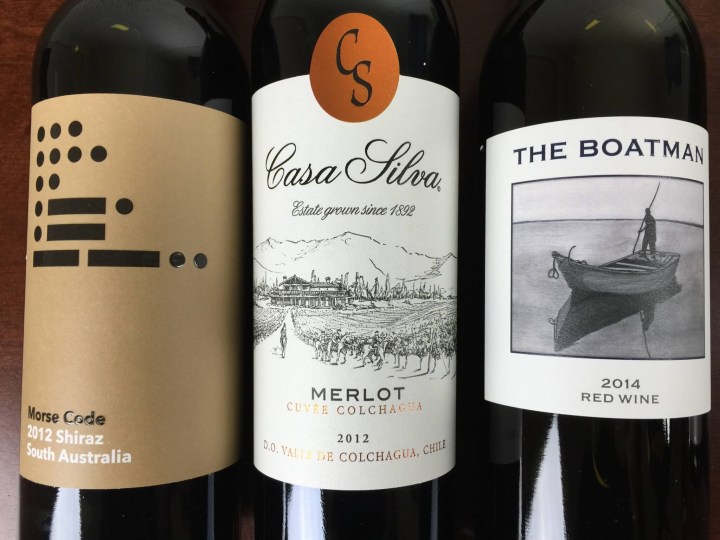 This is my second month with the reds of Wine Awesomeness. They are really excellent.
Henry's Drive Morse Code Shiraz 2012 (Shiraz 100%). Paired with Tame Impala – Mind Mischief and Soy and Sesame Short Ribs. This wine was full of red fruits and definitely formed the perfect foil to a spicy, flavorful, and meaty dish. The wine itself was very reminiscent of crushed cherries with a spicy undertone.
Casa Silva Merlot 2011 (100% Merlot). Paired with The Black Keys – The Lengths and Slow-Roasted Pork Shoulder with Mustard and Sage. I thought pairing a red with this dish was pretty bold! This isn't a traditional wine subscription though, and that's why I like it. This red was a lot more tannic than the others with a lot of body. It was sort of nutmeggy, which is why it paired well with the suggested recipe but would also match the traditional spaghetti.
The Boatman Red Blend 2014 (40% Alicante Bouschet, 26% Merlot, 23% Malbec, 7% Cabernet Sauvignon, 4% Petite Sirah). Paired with Hot Chip – And I Was A Boy From School and Bobby's Crunch Burger (from Bobby Flay). Can I get behind putting coleslaw, potato chips, jalapeños and chipotle ketchup on a burger and then serving it with a delicious fruity super red wine? yes, yes I can.  This made me particularly happy.
The information booklet is the same for reds as it is for whites, but for completeness sake, here's a shot.

We love this box, it's definitely a favorite (ummm, wine!). But it's really more than just the wine – the booklet is expertly produced and you'll learn all you want to know about the wines and have a lot of fun! I know we do!
Visit Wine Awesomeness to find out more or to subscribe. You can get your first month (3 bottles) free, just pay $22.50 shipping and handling – click here to activate the offer – no code necessary!  \
The Subscription
:
Wine Awesomeness
The Description
: Get 3 or 6 bottles of red, white, or mixed, curated monthly. WA membership comes with tasting notes, recipes, and music suggestions. Awesomeness!
The Price
: $45 per month
The Coupon
: Get $10 off your first club 6-pack box!
Use this link
and coupon code
YAY10
to get the deal.
Ships to
: All states except Alaska, Hawaii, South Dakota, and Utah. Yep, this wine club ships to Pennsylvania.