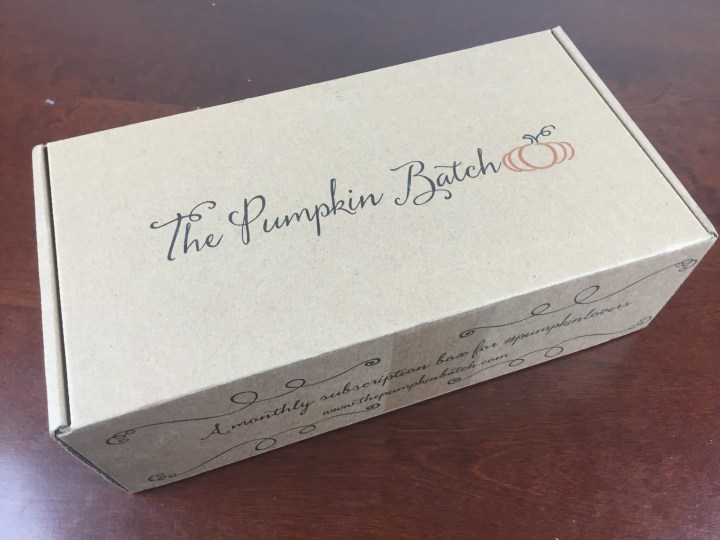 There's nothing that's exciting like a brand new subscription box, especially when that subscription is all about PUMPKIN! My fave! The Pumpkin Batch is a monthly subscription box for pumpkin lovers – every month you'll receive 4-6 products for pumpkin and pumpkin spice lovers – all year round! Products are sourced from small businesses all across the US!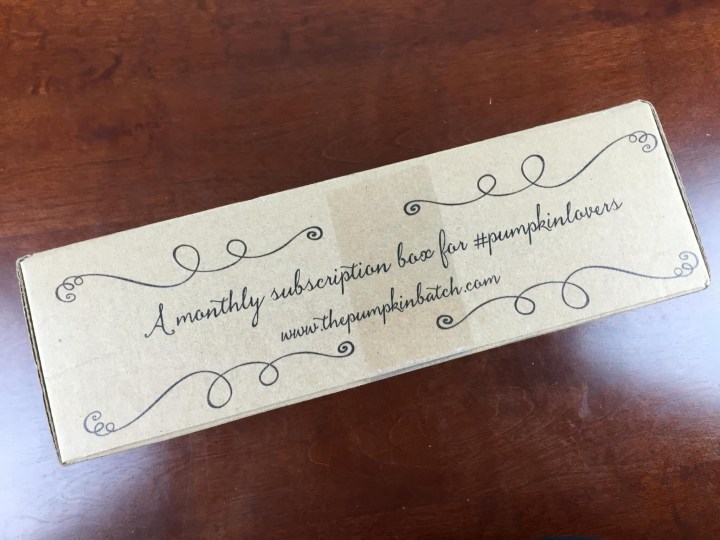 I had to take a couple extra photos of the box!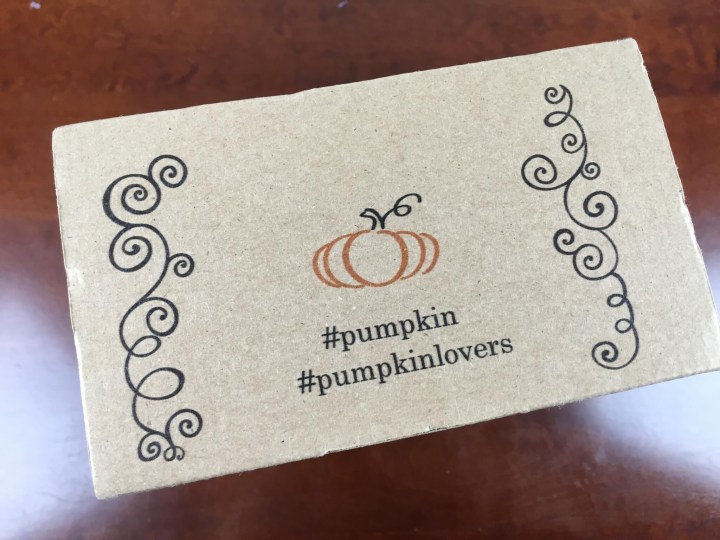 #pumpkinallthethings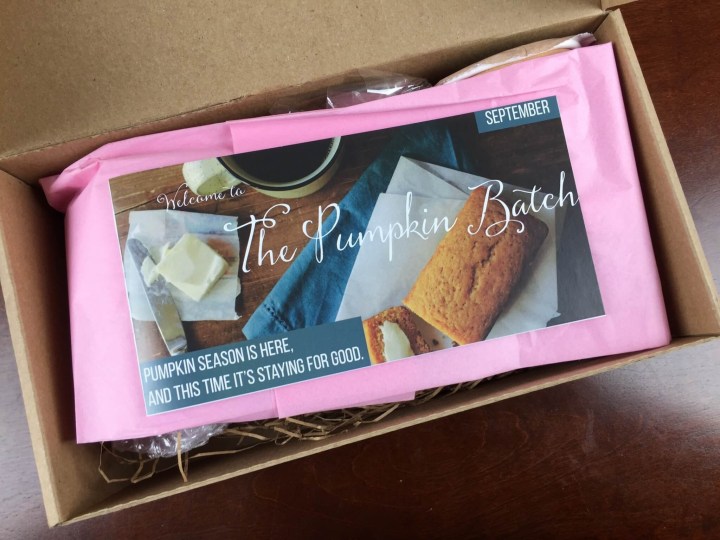 How cute! The card says "Pumpkin season is here, and this time it's staying for good."
What's Brewing Inside This Month: The information card has details on every item! Apparently there will be a fresh goodie in every box!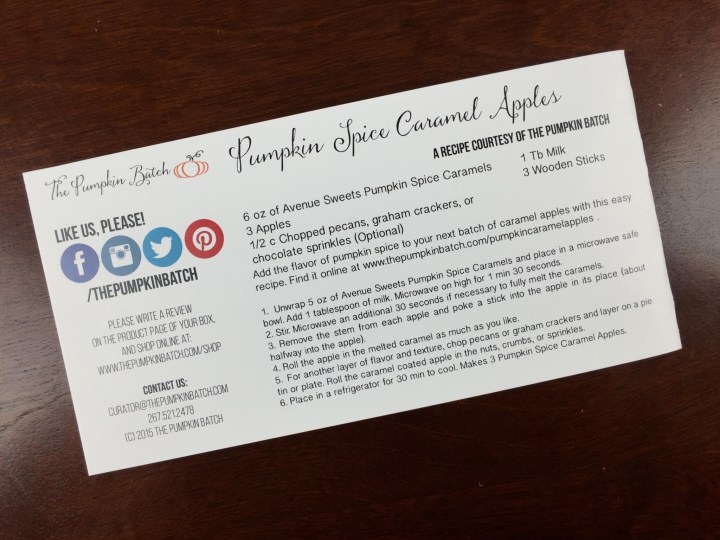 The back of the information book had a Pumpkin Spice Caramel Apples recipe (spoiler – I can't imagine those caramels lasting that long).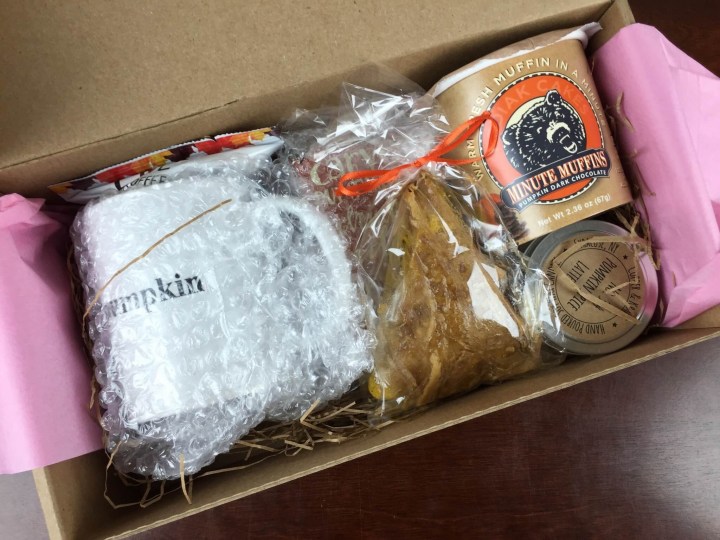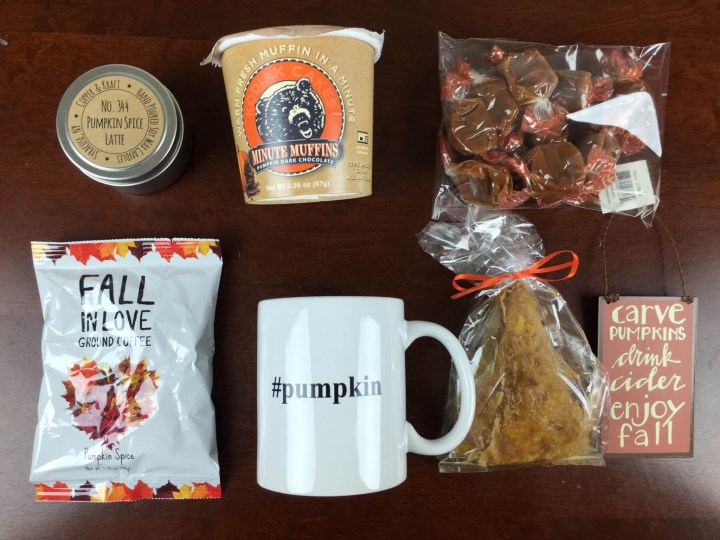 All the items in the September 2015 Pumpkin Batch box!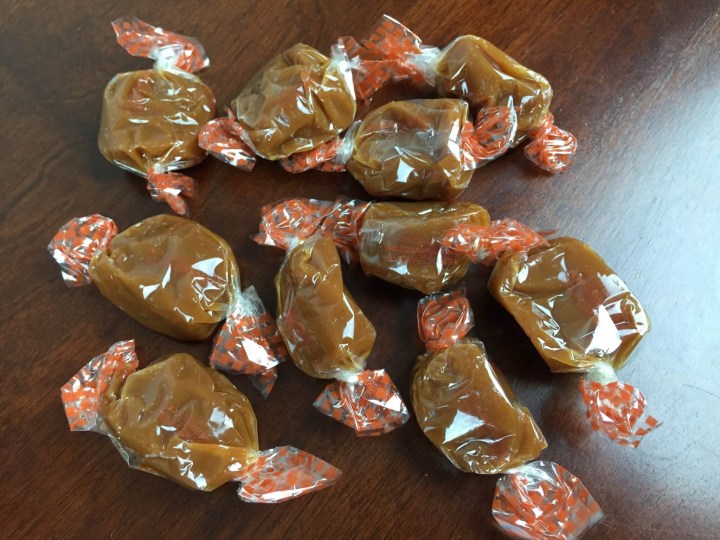 Avenue Sweets Pumpkin Spice Caramels ($7) These hand crafted caramels were super delicious, extra-large, and there was a PILE of them! They were chewy and not hard at all, and each caramel was the size of two from any other brand. They were ginormous! And also packed with a nice soft pumpkin spice flavor!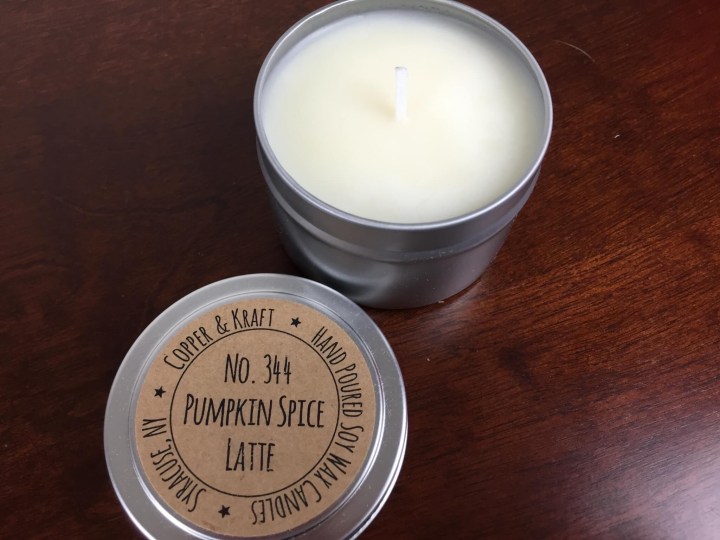 Copper & Kraft Pumpkin Spice Latte Soy Candle ($6.95) This smells absolutely fantastic (even to me, and I don't like coffee). Even better – it's made with natural soy wax, lead-free cotton wicks, phthalate free fragrance oils, and no dyes. I was pretty impressed with that, because I somewhat expected artificial fragrances. This was a delightful find, and I can't wait to check out more of the candles from this brand.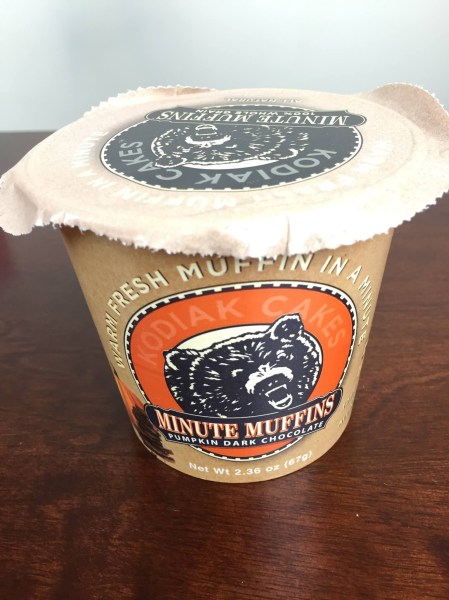 Kodiak Cakes Pumpkin Dark Chocolate Minute Muffin ($3) OMG this is the coolest product ever! You only have to add cold water to the line, mix, and nuke. The manufacturer website directs you to Amazon to buy them but they're sold out! I haven't tried mine yet but they have excellent reviews.I love mixing a can of pumpkin and a box of cake mix but this is considerably easier on the waistline to have just one.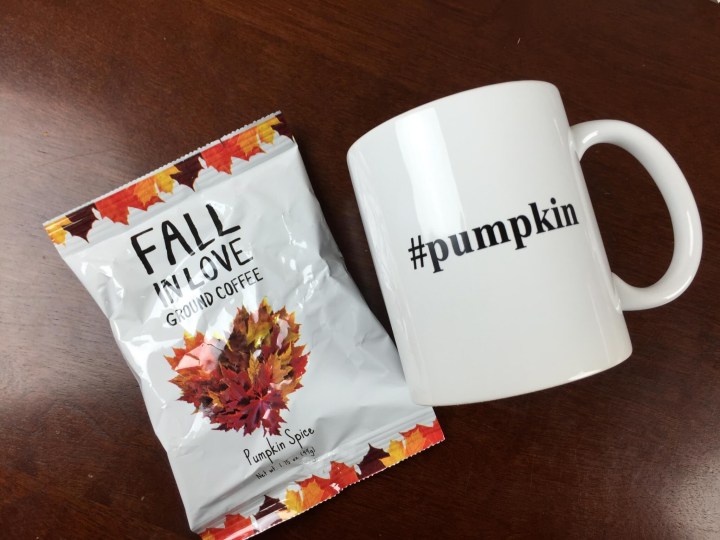 Paramount Coffee Fall in Love Pumpkin Spice Coffee ($2) This is a seasonal item and has a "smooth, creamy pumpkin pie flavor with hints of clove, cinnamon and ginger." My husband is the coffee drinker and he'll gladly take this off my hands!
The Pumpkin Batch #pumpkin Mug ($18) This is so cute and as the card says – will make for some excellent selfies. I need a hot pumpkin non-coffee beverage. Or to recreate my favorite pumpkin beverage and drink/eat out of here (Jamba Juice's Pumpkin Smoothie). It's so good. That will be perfect. The retail on this is much higher than similar mugs, but they're selling it, so that's what I've listed it for.
Primitives by Kathy Carve Pumpkins Tin Ornament ($4.60) This is a cute little piece of fall decor! While I tend towards modern decor, I totally go all primitive for my fall decorations, so this is cute and perfect. I know just the nail to hang it on. Judging by the looks of it and a quick search I am pretty sure you can find a lot of items from this brand at Kohl's.
Sweet Treats Boutique Pumpkin Maple Scone ($4) I really didn't expect a freshly baked goodie in the box. This was tied with a cute orange ribbon, which you can see in the review photo above. I wanted to show you the nice seal on this package – it's something I appreciate, especially for a gooier item.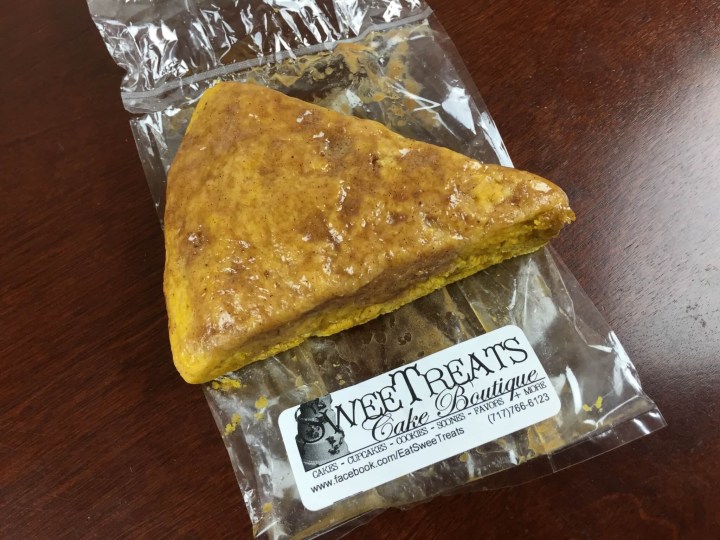 This was great! It had a nice icing that got gooey in the package but made it on the moister side, and the pumpkin, maple, and pumpkin spice were all in excellent proportion. The Pumpkin Batch is based out of Pennsylvania, not too far from where I live (about 2 hours) and this is a local bakery to them. I'm really looking forward to seeing what they source for the goodie in future boxes.
Amazing concept, beautiful execution, what isn't to love?  I love pumpkins and was just gleeful at the prospect of a monthly subscription of pumpkiny goodness – and The Pumpkin Batch pulled off their first box with a pumpkin-truckload of class. There was about $46 in value in this box, which was great for this type of subscription plus there were some really fun product discoveries.  I was really happy with the variety of items, too – something from all the major categories.  It was just delicious throughout!
Visit The Pumpkin Batch to subscribe or find out more!
The Subscription
:
The Pumpkin Batch
The Description
: The Pumpkin Batch offers high quality, hard to find pumpkin products year round to pumpkin lovers. Each subscription box is full of delicious flavors and sweet aromas of pumpkin and pumpkin spice. Each month receive 4 – 6+ pumpkin or pumpkin spice inspired products curated from small businesses across America.
The Price
: $29.99 per month