My Texas Market is a monthly subscription box featuring small batch and artisan made goods – including beauty products, food items, home goods, unique artisan products, and more – all from Texas!  You can enjoy awesome artisan goodies from farmers' markets and local Texas shops without even leaving your home – Texas comes straight to you.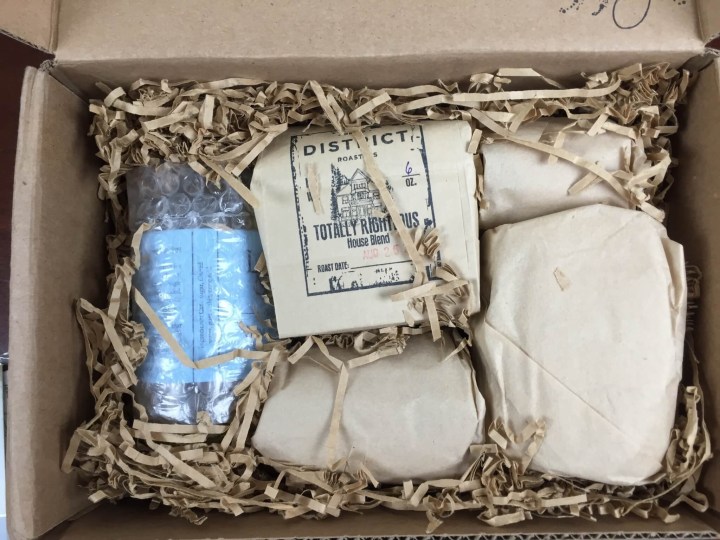 It has great rustic appeal and country style! This month the box was a bit different (no inner box). I loved the brown tissue wrapping!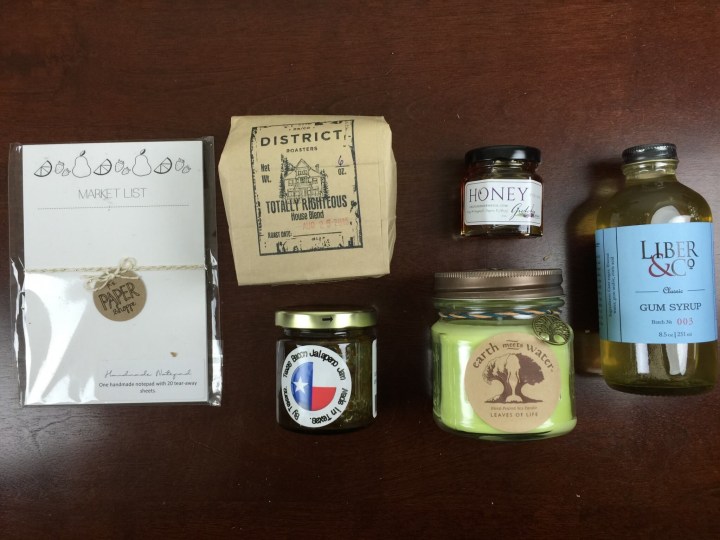 Everything in the September box!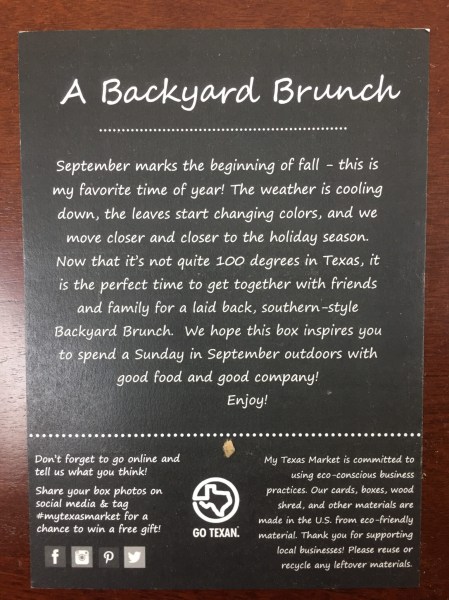 The September theme is A Backyard Brunch – fall is the perfect time to get together for a laid-back brunch! FYI, this box donates 10% of its profits to the Houston Food Bank.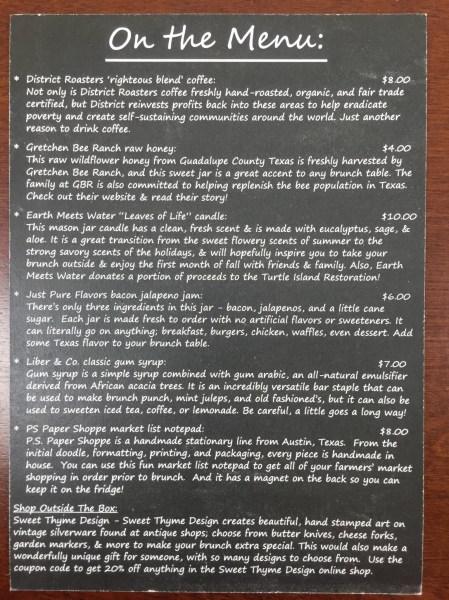 The information card had the details on each item, plus a "Shop Outside the Box" feature . This is a cute idea and perfect for this kind of regional box, when you're specifically hunting for producers from the area.
Gretchen Bee Ranch Raw Honey ($4) There are really only a few products that have its character change so dramatically with the region its grown in (wine, dairy products, coffee etc – anything associated with terroir). Honey is one of them! This one is from Guadalupe county and is a mesquite honey with a bit of a smokey taste – perfect for brunch and PERFECT FOR BISQUITS! (you gotta spell it bisquits).
Just Pure Flavors Bacon Jalapeño Jam ($6) OMG.  Seriously, someone made bacon jam better. Really, bacon + sugar is pretty much everything and when you add jalapeños into the mix, just shut up and eat it. It's delicious! This may not even make it until the end of the week!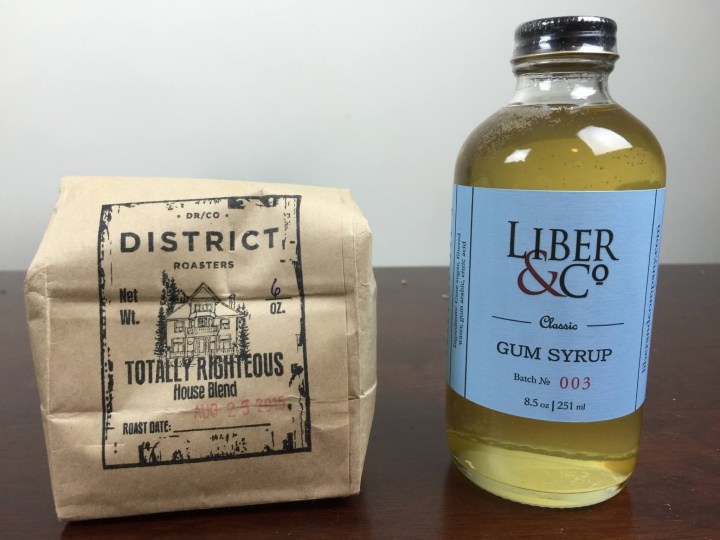 District Roasters Totally Righteous House Blend Coffee ($8) I could smell this coffee when we got the box (which was extraordinarily heavy I might add!). It was freshly roasted blend that's pleasing to a Texan palate with notes of chocolate and juniper. My husband was excited by this. This arrived ground (which I think is appropriate and wanted in a non-coffee box), so we unboxed this right away so he could freeze it.
Liber & Co. Classic Gum Syrup ($7) Gum syrup is a traditional cocktail sweetener and thickener and to me it really turns a homemade cocktail into an artisan one. If you weren't clear on it, Liber & Co is based in Austin. I kinda sorta (really really) wished they had sent the Texas Grapefruit Shrub for this box, I think it would have been a little more brunchy (plus 1 – I love shrubs 2 – I love grapefruits and 3 – Rio Star Shrub Mimosaaaaas!). But that's just me and grapefruit is a peculiar taste, so I think this was a great choice for this box – use it anywhere you would a simple syrup.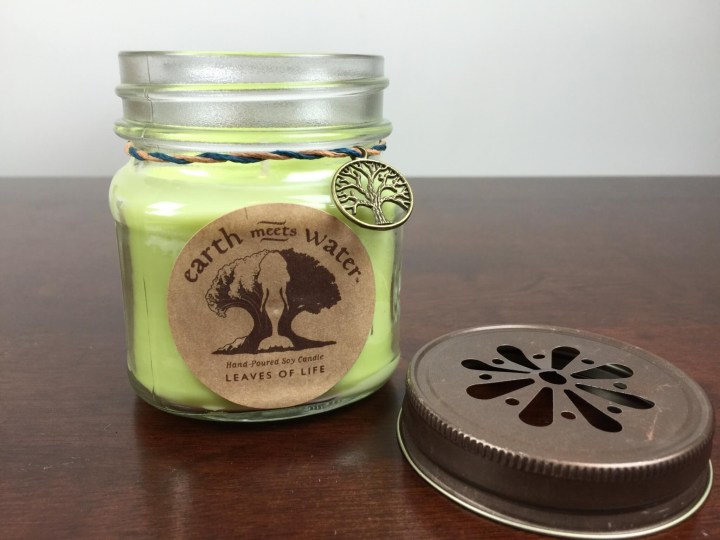 Earth Meets Water Candle Co. – Leaves of Life ($10) This is a great smelling candle with so many sweet touches! First of all it's pretty with the little tree of life decoration and the punched mason jar lid! It's also made from certified Kosher 100% soybean and the wicks are lead and zinc free. The scent is lovely – eucalyptus, sage, mint, basil, and aloe – and made with premium phthalate free fragrance oils! For me this is a great find!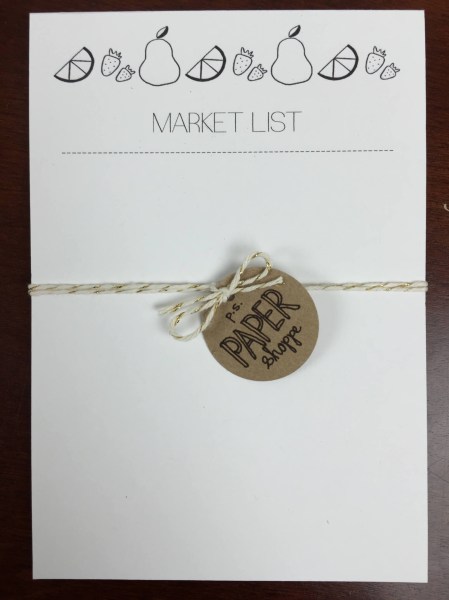 PS Paper Shoppe Market List Notepad ($8) This is super cute and I think it matches the tea towel from my April Little Lace Box! I like setting out things that match (it makes my brain think my house isn't a train wreck) and this is handy for writing down what you want to shop for at the market! And best of all it has a magnet on the back so it can't get ruined by my husband's/kids' experiments.

This was another great box from My Texas Market. I have been totally wowed by them – every box they have delivered has been thoughtful and beautiful and just right on the theme. This box had a bit higher of a value this month ($43 in items). I don't expect artisan boxes to be very high in value so I was really impressed by that. I think Texas has such a variety of modern artisan producers and it's so fun to discover them!
Visit My Texas Market to subscribe or find out more.  Save 10% on your first box with coupon code 10FIRST.
The Subscription
:
My Texas Market
The Description
: A monthly subscription box including small-batch locally made food items, beauty products, & home goods, all from Texas.
The Price
: $35 per month
The Coupon
: Save 10% on your first box in a month to month subscription with coupon code
10FIRST
.