I really needed some eye soothing so I broke open my September ToGoSpa Box!
ToGoSpa Society is a monthly replenishment and surprise subscription by ToGoSpa.  With ToGoSpa Society you'll get either 6 ($25), 15 ($40), or 30 pairs ($64) of Eyes by ToGoSpa plus The Benefit, a monthly surprise from ToGoSpa or their selected brand. The Benefit is always valued at $20-$50 and is a high quality spa item. It's so fun to get a total surprise plus some really fabulous skincare!  You can upgrade your box to receive more Eyes or add on Face by ToGoSpa as well!  ToGoSpa EYES and FACE are innovative, collagen-infused under-eye and full face mask treatments – and the newest "must do" for anyone in need of a quick, portable, spa-like pick-me-up for their tired, puffy, overworked or over-stressed eyes and skin.
They have recently made available a new smaller size, which is great for those of you that don't have a chance to use your EYES every day. Although I recommend it (I have them on now!).  The new box is really an awesome deal!!!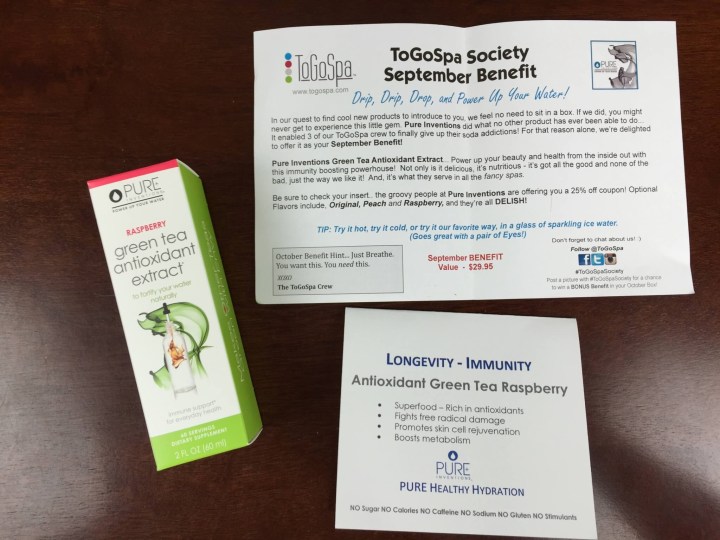 The information card details the Benefit item including its benefits and suggestions for use.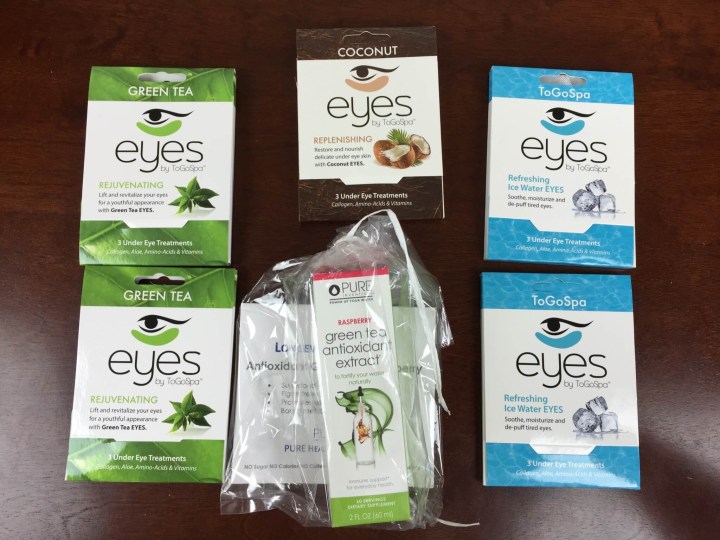 So many goodies in this box, all perfect for a relaxing spa night. Or day!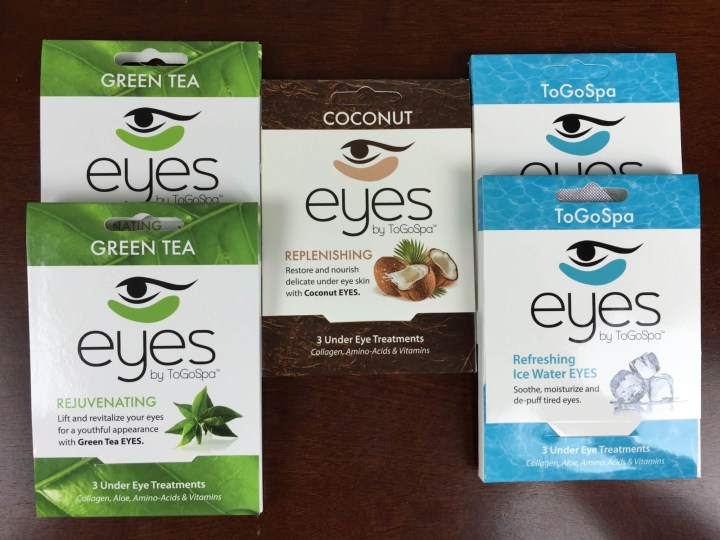 So many eyes I received 3 different types of Eyes by ToGoSpa – Replenishing Coconut, Rejuvenating Green Tea, and Refreshing Ice Water. The total value of these 15 treatments is $55 (this medium box costs $40 plus you also get The Benefit!) These are super hydrating and are activated by your body temp! EYES are collagen gel pads with Hyaluronic Acid, Vitamins C & E, and nutrients. Each different type has a different composition to provide different benefits. Coconut restores and nourishes the under eye area. The Ice Water ones depuff and soothe, and the green tea ones help lift and rejuvenate with green tea extracts!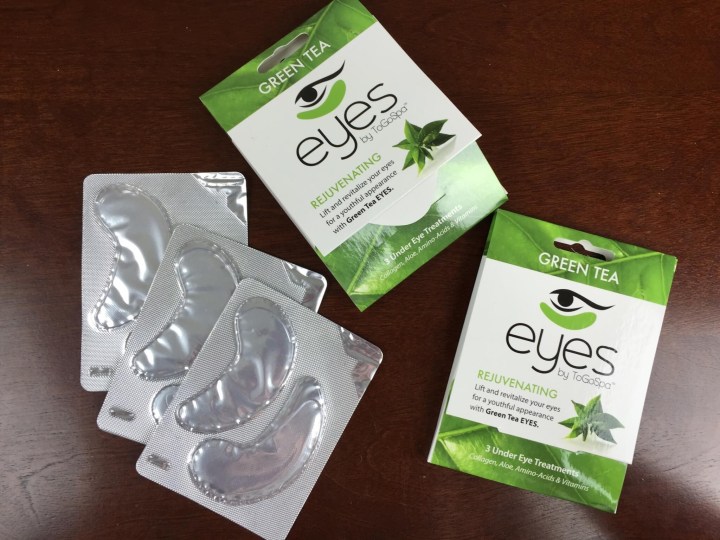 I paired my beverage with my green tea eyes. I felt like this would be a lunchtime treatment that I could pop in for. Which BTW – you should totally take a few packs of these to work. There is no reason not to get a facial treatment while you work. We are busy ladies and instead of packing everything in at night I love multitasking.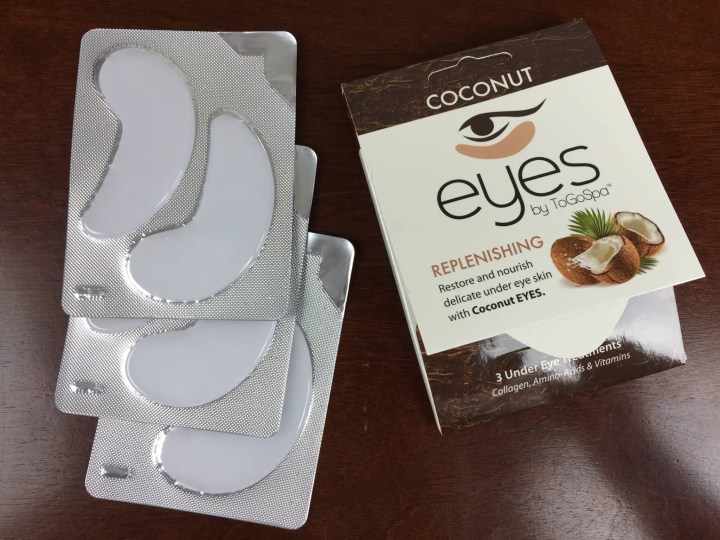 I like using the coconut eyes when my skin is really dry – like with the weather change.  FYI – slide them over so the large side is resting on the bridge of your nose – get the curve right up matched to your eyes for maximum benefit.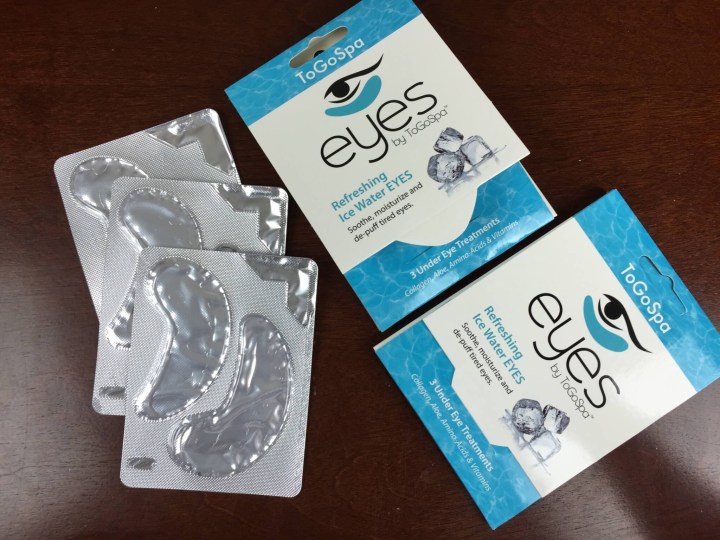 These are the ones I keep in the fridge for a crisp and refreshing treat. When you get your box put at least one of each kind in there. They really work and if you are puffy and tired a cold pair of eyes is totally transformational. 
Pure Inventions Green Tea Antioxidant Extract ($29.95) I absolutely loved this as The Benefit this month! It made me totally feel like I was at a spa getting infused by antioxidants in all ways! I will never give up my soda addiction but I love to make my other beverages count, and this really fit the bill. It's tasty and packed with antioxidants from green tea – and NO caffeine too! It boosts metabolism and fights free radicals from the inside!
I thought this was a really great month for this box and it's always so soothing. The September box had $85 in value – more than double the cost of the box.  I love getting the variety but you can choose to just get the type you love best! I think the new 2-pack box is a phenomenal value – you pay basically the cost of the EYES and get the Benefit for free! And free shipping!
Visit ToGoSpa Society to find out more or to subscribe! Use coupon code MommySplurge5 for $5 off the first month of any ToGoSpa Society box or code MommySplurge10 to save $10 off the first month any ToGoSpa Society box with Face!
The Subscription
:
ToGoSpa Society
The Description
: The ToGoSpa Society membership offers huge discounts on Eyes and Face by ToGoSpa and in addition each month members receive The Benefit! The Benefit is a FULL size product we love and want to share free with our members.
The Price
: $40 per month for 15 EYES + Benefit or $64 for 30 EYES + Benefit add 3 FACE for $25 or 6 for $50. NEW: $25 for 6 EYES plus the benefit!
The Coupon
: Use coupon code
MommySplurge5
for $5 off the first month of any ToGoSpa Society box or code
MommySplurge10
to save $10 off the first month any ToGoSpa Society box with Face!