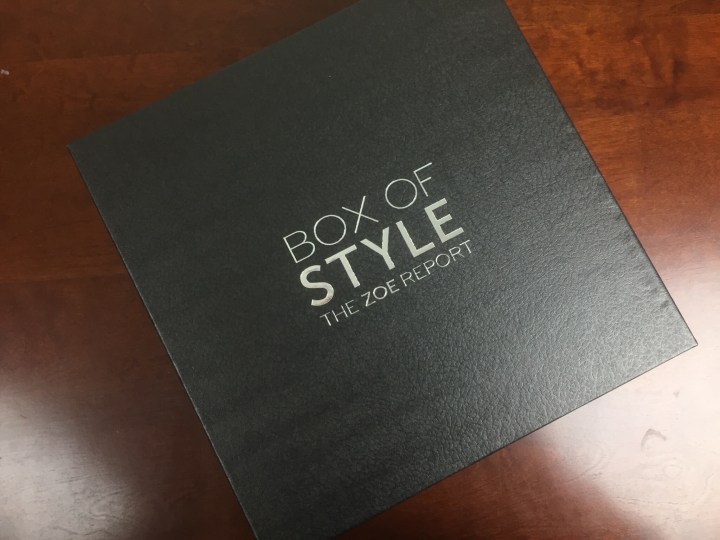 Fall Fashion Week starts in two days so it was absolutely perfect that the delivery of this box was timed to coincide with it. Flawless! Box of Style by Rachel Zoe is a new fashion, beauty, and lifestyle quarterly subscription box from Rachel Zoe.  I love subscriptions like Popsugar and this is definitely a great one – every box is like a limited edition box from Popsugar, except with more of a focus on fashion.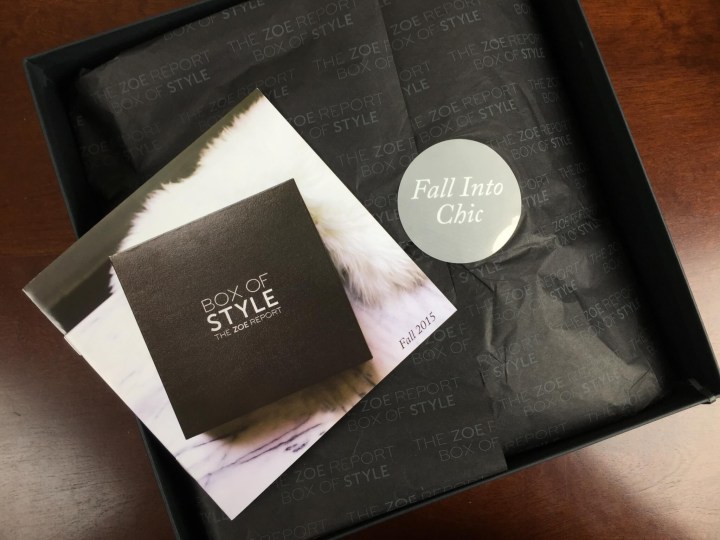 I love it when I get a truly reusable box – they are my organizers! This one is chic, but seemed a bit less sturdy than the previous one.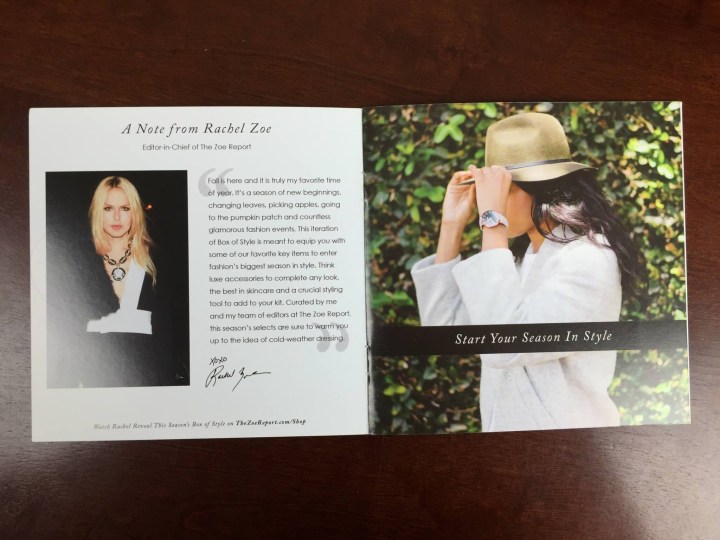 A note from Rachel Zoe:
Fall is here and it is truly my favorite time of year. It's a season of new beginnings, changing leaves, picking apples, going to the pumpkin patch and countless glamours fashion events. This iteration of Box of Style is meant to equip you with some of our favorite key items to enter fashion's biggest season in style. Think luxe accessories to complete any look, the best in skincare and a crucial styling tool to add to your kit. Curated by me and my team of editors at The Zoe Report, this season's selects are sure to warm you up to the idea of cold-weather dressing.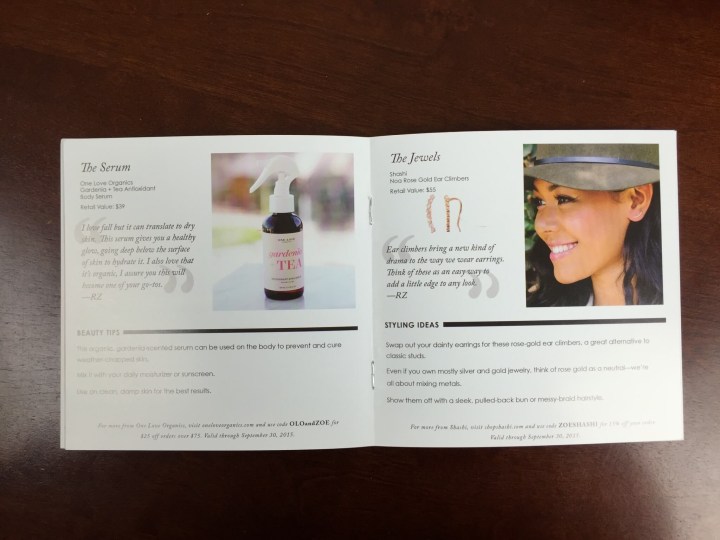 Every item has it's own page, a note from Rachel Zoe on why she loves it, and usually 3 styling tips. So helpful!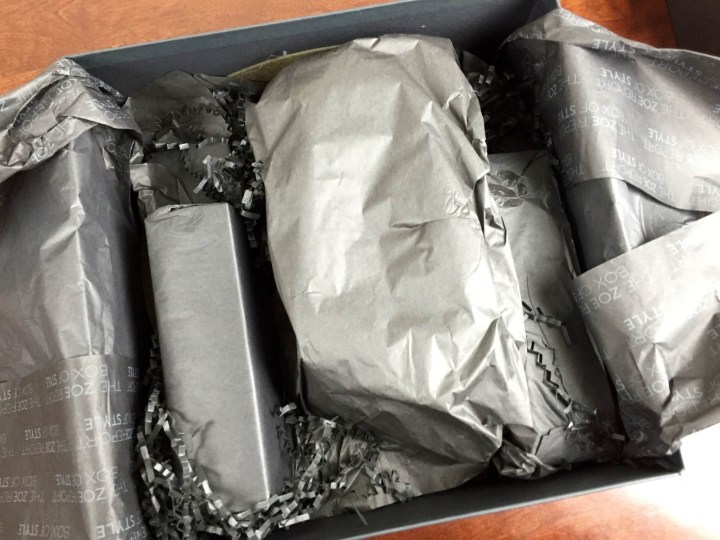 Everything is individually wrapped.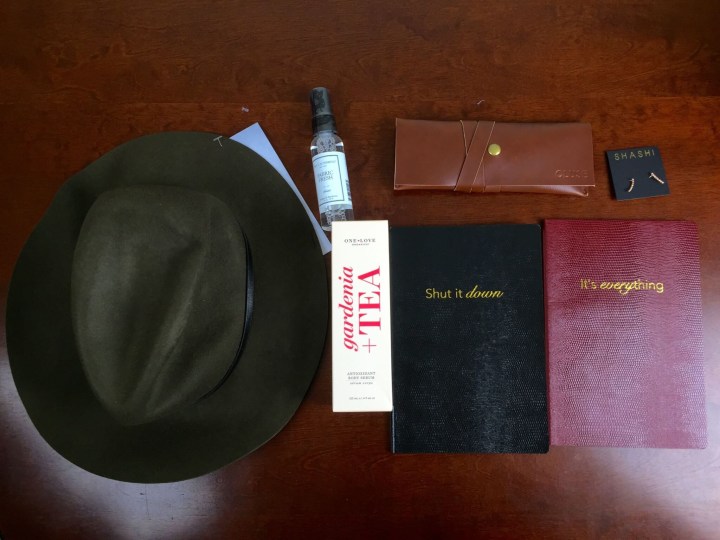 And here's everything in the box!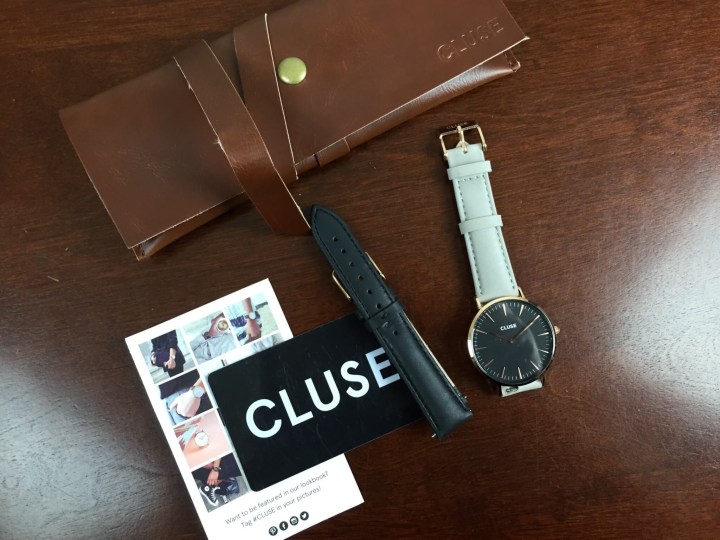 CLUSE La Bohème rose gold watch ($138) I love the rose gold on the case of this watch. As you may know, I am particularly partial to rose gold (something I realized back in 2013 with that Popsugar necklace!). I was excited about this! It comes with grey & black straps and a perfect leather case to hold the watch when you aren't wearing it. Apparently all Apple Watch users do is check the time, so I no longer feel bad that I don't have the rose gold Apple watch, because I can do precisely the same thing with my new watch!
Umm I totally wrote that before new non-18k rose gold apple watch. So… yeah. #envy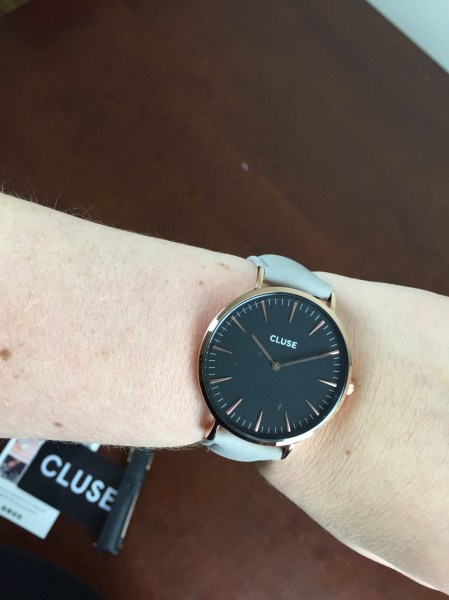 It does have an extremely large face. I think for my wrist I need to loosen it up and wear it back some – keep it more fashiony? What do you think?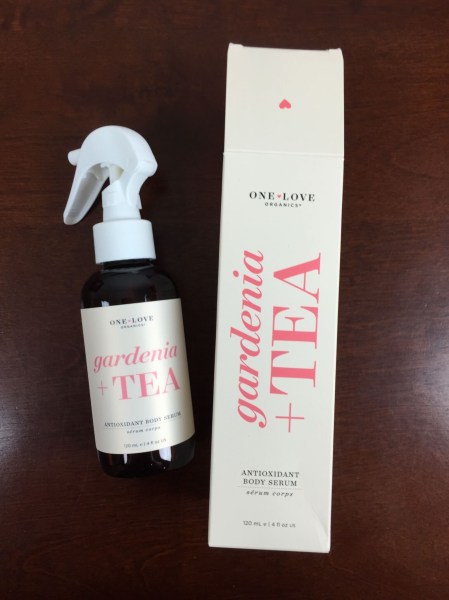 One Love Organics Gardenia + Tea Antioxidant Body Serum ($39) I actually used mine from the Popsugar Must Have Box earlier this year this morning, totally randomly! It works great either dry or post shower, has an excellent scent, and made my legs feel great this morning!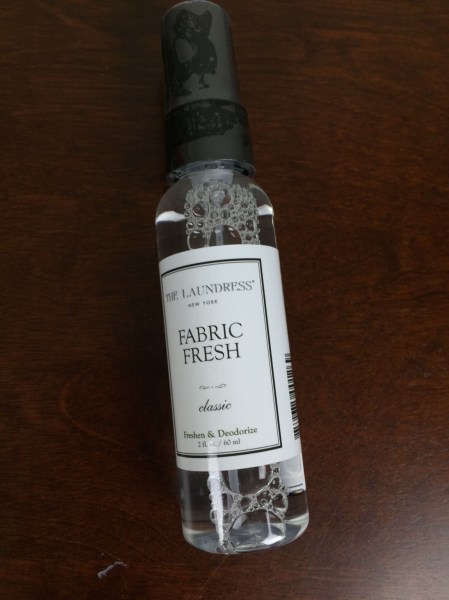 The Laundress Fabric Fresh Classic Spray ($8) I love this pick as a styling tool instead of tape or nipple covers 🙂 It's an essential, and I think everyone can use it (plus it's an upgrade to what you probably already own).
SHASHI Noa Rose Gold Ear Climber Earrings ($35) RZ tells me to swap out my dainty earrings for these, and since I do have studs in, I think I'll do just that! I love the fashion forward style without being out there (compare, say, to Nina Garcia ear cuff – which was also popular but not really for everyone). This box is very classic to me. Modern classic.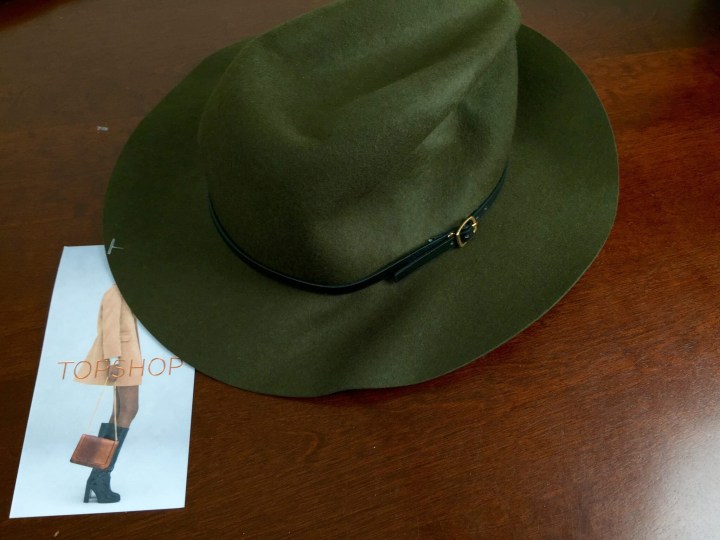 Topshop Classic Fedora ($48) Well… BUMMER! I thought this was black and I pretty much think this is in my 3 least fave colors (which are olive, orange, and puke-pink). I cannot get behind this color, which is sad because I was thrilled about a fedora. This one was a miss for me solely due to the color.
Sloane Stationery Custom Set of Notebooks ($40)  "Shut It Down" + "It's Everything". Well, I think we'll use the Shut it down journal to track the unending pile of boxes that seem to be arriving. I don't typically keep single-purpose notebooks but I liked that she had ideas on how to use the two different ones.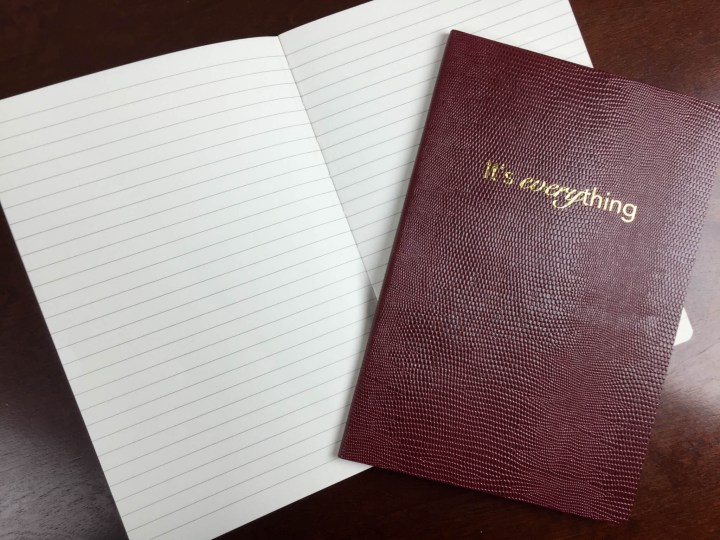 Another ridiculous value box at $322, and I'm still perfectly happy with it even though I didn't like the hat – I'm feeling inspired to find a black fedora! I feel super chic now and cannot wait to incorporate these new classics into my fall wardrobe and routine! I also cannot wait for the Winter 2015 Box of Style spoilers/hero item to come out – I'm guessing it will arrive right after Fall Fashion Week has concluded!
Visit Box of Style by Rachel Zoe to subscribe or find out more! The Fall Box is totally sold out. Sign up here for the Winter box Box of Style by Rachel Zoe and save $10 on your first box!
The Subscription
:
Box of Style by Rachel Zoe
The Description
: A curated assortment of the best fashion, beauty, and lifestyle items of the moment – and of course one styling tool to make sure you're looking your most glamorous all year-round. Every box has at least $300 in value and is curated by Rachel Zoe.
The Price
: $100 per quarter
The Coupon
:
Save $10 on your first box by using this link!