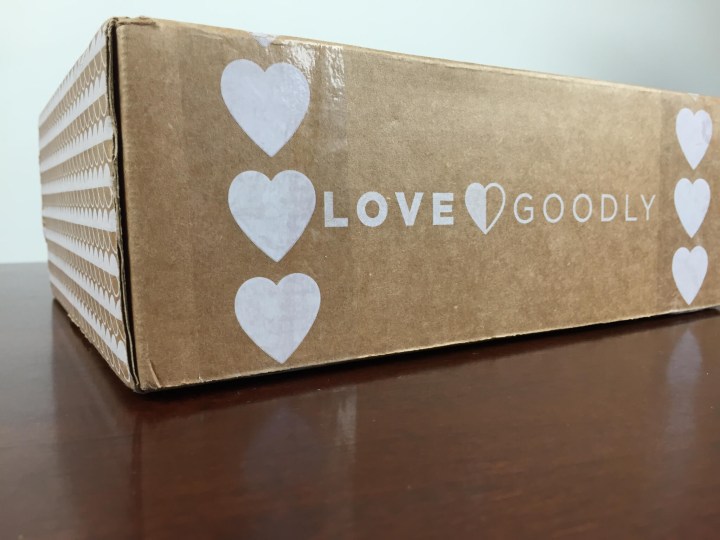 Love Goodly is a new bi-monthly vegan and eco-friendly subscription box. Every box features 5-7 cruelty-free and non-toxic products just for you – beauty, lifestyle, home, wellness, jewelry and accessories, and cosmetics. Every purchase supports a cause. This is the August/September 2015 box, so if you subscribe now you'll get a box for October/November!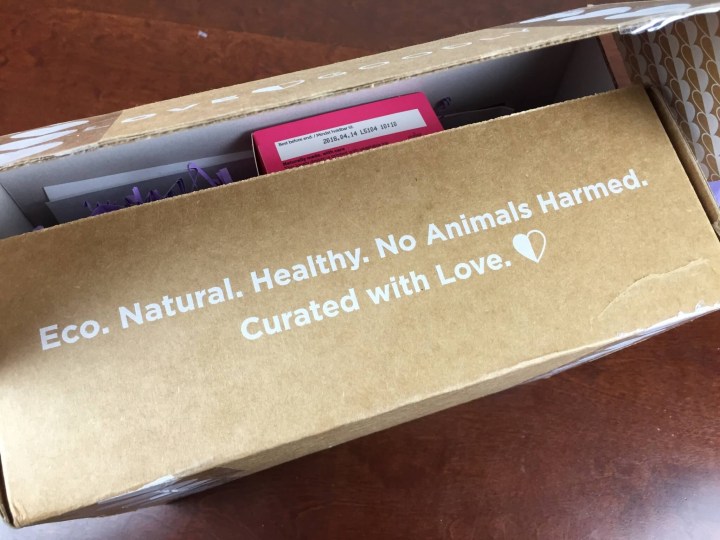 Their box describes what's inside: Eco. Natural. Healthy. No Animals Harmed. Curated with Love.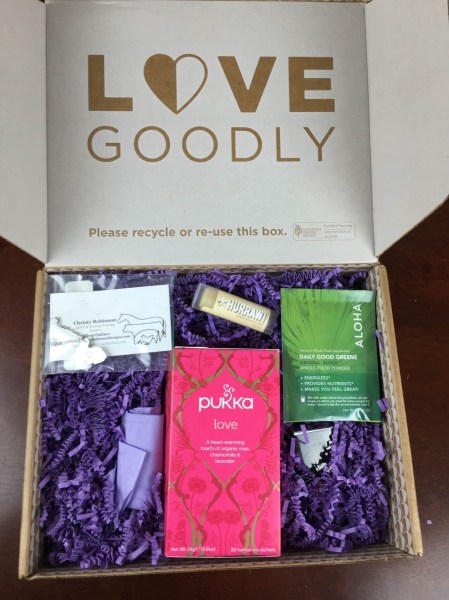 Such a great presentation!

The box came with some recipe cards from The Forks Over Knives Plan, which advocates a whole-food plant-based diet.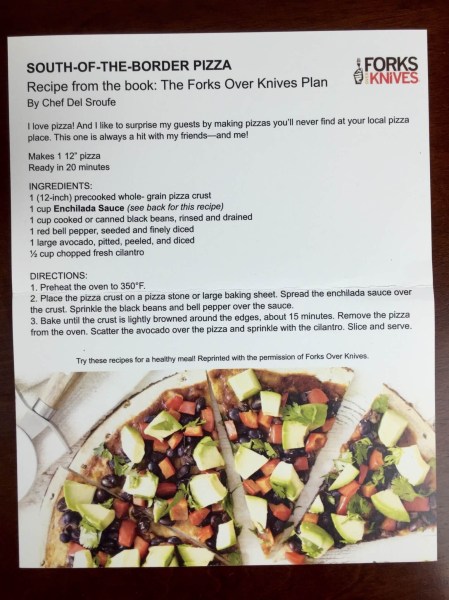 Nice bonus item, especially if you are flirting with changing your lifestyle!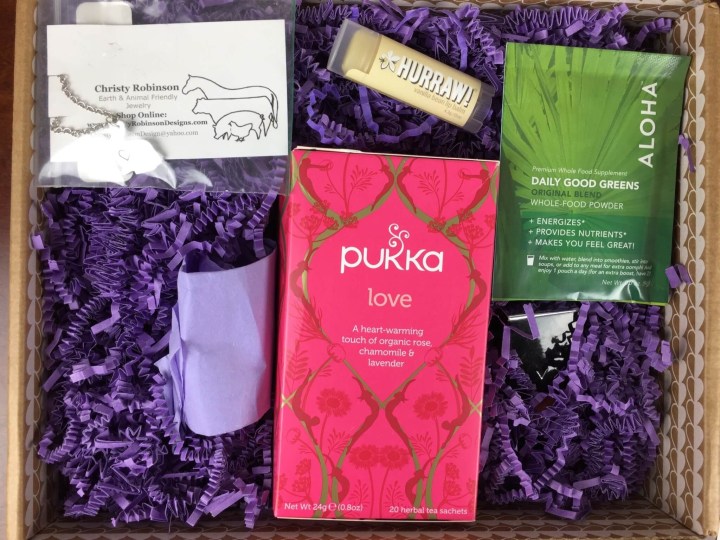 This box was so pretty that I didn't even do my normal review shot.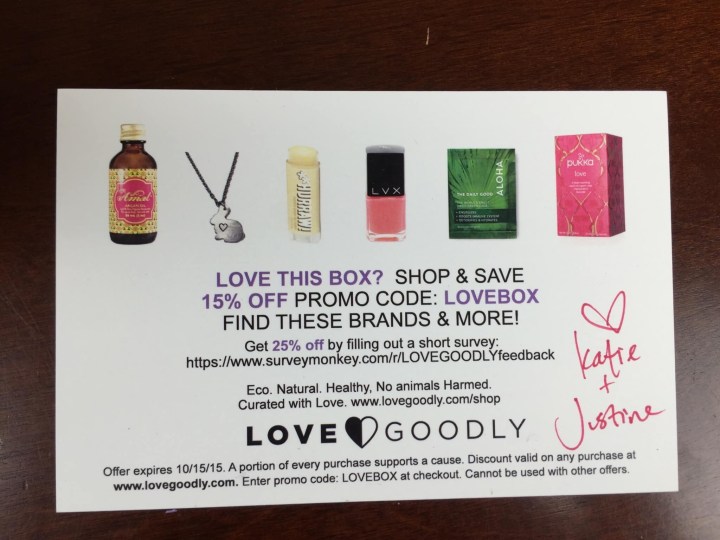 The other side has the information card, which I totally forgot to take a photo of, but it lists all the items, the price for the full-size, as well as their qualities. This side had a shop coupon!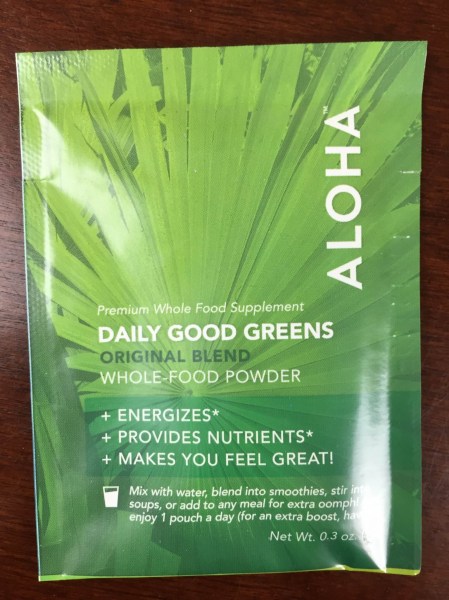 ALOHA Daily Good Greens ($1.50) I love ALOHA stuff, I think they're great! This is a whole-food nutrient powder that you can drink as a drink but I prefer sneaking it in to other things.  Check out ALOHA in the directory to see more if you missed this box and want to try it out.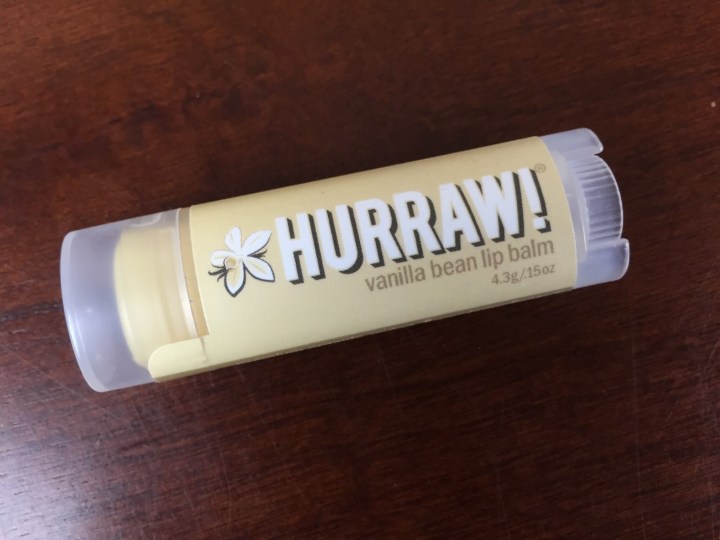 Hurraw! Vanilla Bean Lip Balm ($3.79) This was a great lip balm that is nice and shiny but not greasy, and tastes like vanilla! I loved the formula and it's infused with raw, organic vanilla beans from Madagascar!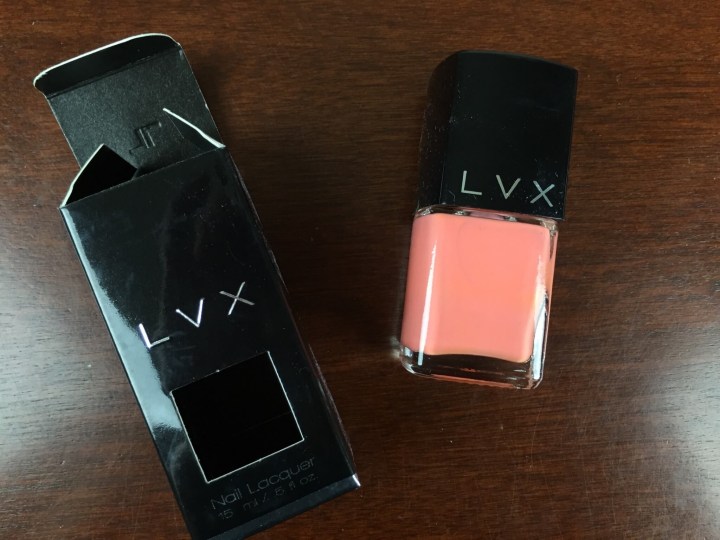 LVX Nail Lacquer in Deco ($16) This 5-free polish is made without formaldehyde, formaldehyde resin, DBP, toluene, or camphor. Although this is a summery shade to me, this was an August/September box, so I think it was selected properly – I'm just a little late to the game! I love peachy corals like this – I think they're super flattering on a wide variety of skin tones.
Amal Argan Oil ($7.80) Just organic argan oil and nothing else! Argan oil can be used for hair, but I prefer it for skin. You just need 2 drops (not 3, I promise) and it will help keep your skin soft and supple. I've been having a terrible problem with dry legs so I'm going to try this out on them.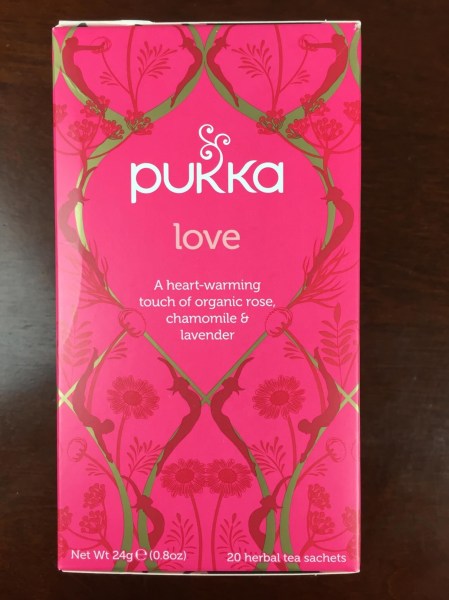 Pukka Organic Tea – Love ($6.95) This tea is caffeine-free and ethically sourced and has the most delightful packaging! It's made with chamomile, limeflower, elderflower, marigold petal, licorice root, rose, and lavender.
This is a UK company and you can see they have lots more interesting stamps than we do. I thought the FairWild certification was interesting – they promote the sustainable use of foraged resources.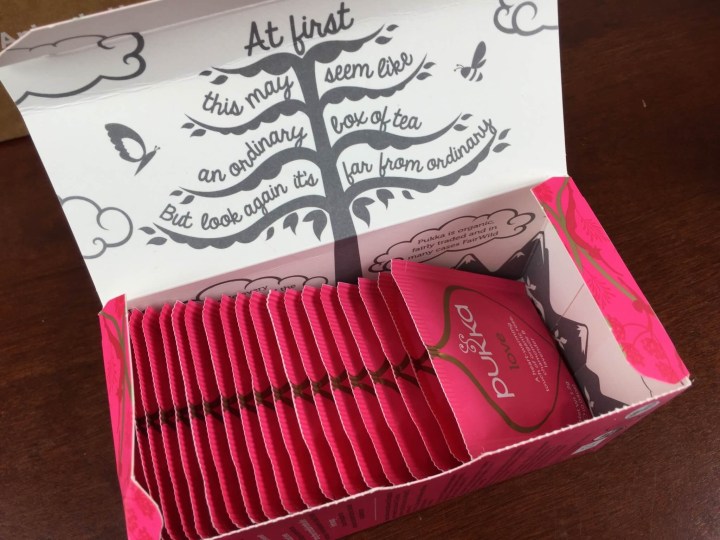 This tea really is far from ordinary! The box design just made me really happy.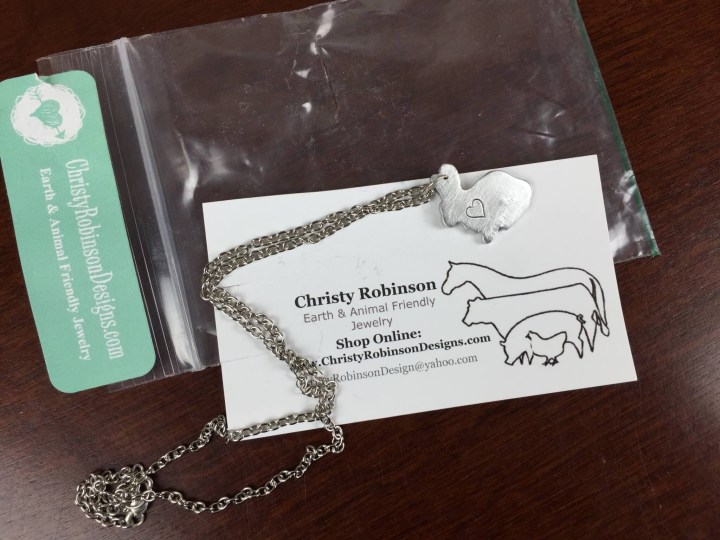 Christy Robinson Mini Bunny with Heart Necklace ($16) This is an exclusive item made out of recycled aluminum. It's super cute and has already been claimed!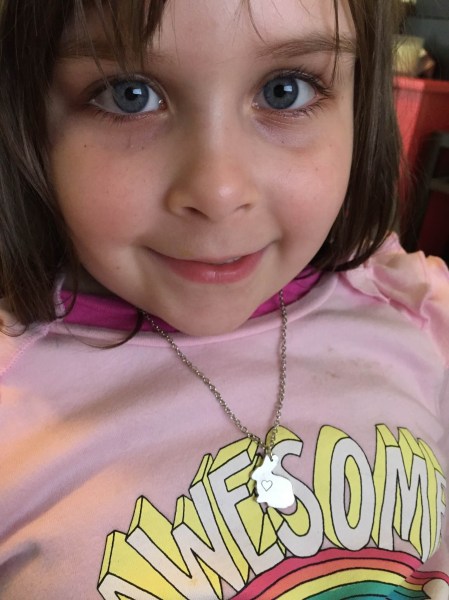 The first Love Goodly box was fantastic! I really like how it's a bi-monthly box too – it prevents some product overload, and I especially loved how this was more of a lifestyle box than a straight up beauty box. I think there's a demand for vegan subscription boxes that are more than just beauty or food! All of the items were really nice, four of them were full-size, and there was around $52 in value, which was great! The exclusive necklace was also a fantastic item! I'm definitely looking forward to the next box!
Visit Love Goodly to subscribe or find out more! Save $5 on your first box! Use coupon code LOVE5.
The Subscription
:
Love Goodly
The Description
: Every other month you'll receive 5-7 cruelty-free, natural, vegan products, including a mix of full size products and deluxe samples of nontoxic beauty and skincare, healthy snacks and eco style accessories.
The Price
:
$35 every other month
The Coupon
: Save $5 on your first box! Use coupon code
LOVE5
.