Loot Crate's theme for August was SUMMON.    Loot Crate is the original subscription box for geeks & gamers. Every month you'll get awesome geeky items curated around a central theme. One of the things I love about this box is that it's only $20 per month – a super affordable geeky fix with a subscriber base so gigantic that every box is full of really awesome geeky items – many of which are exclusive to this subscription (and not just oh, it will be released later – actual exclusive items you'll only get in this box!). You can save $3 on any Loot Crate subscription with code SAVE3 or save 10% on a longer subscription plan with promo code HELLOSUBSCRIPTION (perfect for the new annual subscription).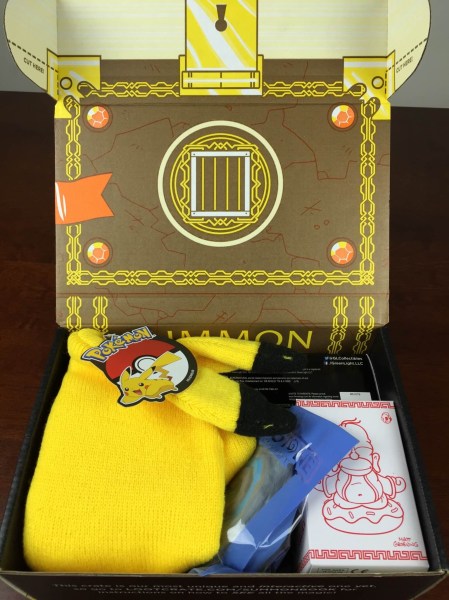 Loot Crate is getting really crazy with these crate designs!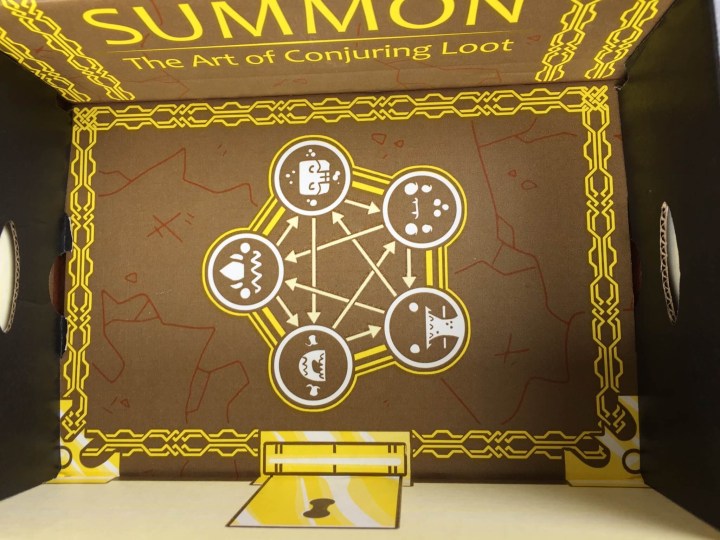 The one was quite different than most of the past ones.
https://youtu.be/LO3k2NrZf3k&rel=0
.You can see the magic of the crate in the embedded video above. If you have children you will know that this is the same technology as the Crayola Color Alive coloring books and app! It's very neat and we will totally be putting this together!
The cards in the back of the mini-mag are used with the game!
All the items in the September box!
Every Loot Crate box comes with the mini mag.  There are interviews and fan stories inside, as well as details on all the products.
Some examples of what's in the mini mag.
Pokemon Yellow Pikachu Laplander Hat ($16.99) From what I saw in Instagram this hat is a giant hit! Pikachu is just such a fun character and  I suspect my daughter and I will be sharing this one. The Poké Balls at the end really take it up a notch.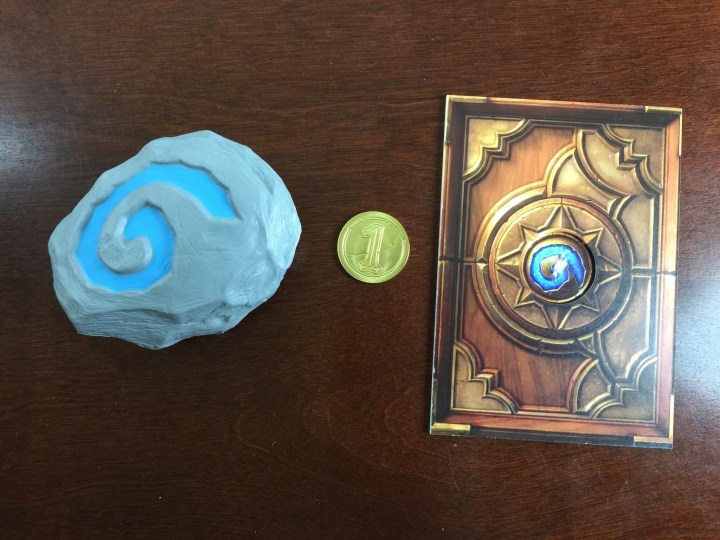 Hearthstone Stress Rock + metal coin + free card pack code: So this is a WoW item, and I didn't realize from the spoilers that there was a WoW item in the box – I have to avoid long involved games because otherwise it will be the only thing I do. This is a nice stressball that I'm going to squeeze the heck out of because I need it and a collectible coin, plus a game code!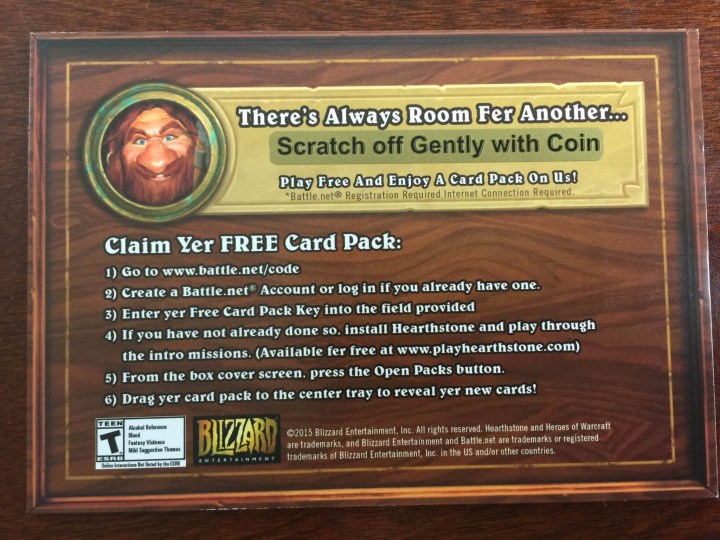 No Blizzard, I will resist.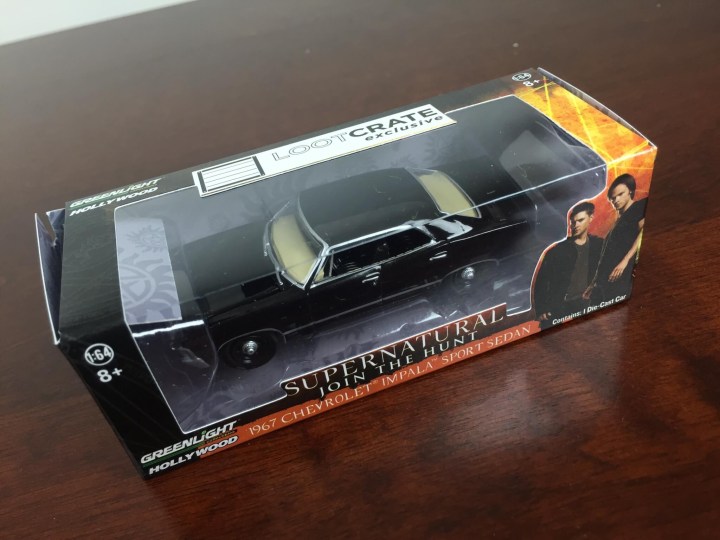 Winchester Brothers' (haha ok just Dean) 1967 Chevy Impala Model Car from Supernatural
So, I noticed that Tom was taking notes an excessively long time to take pictures of this box and was like HONEY WHAT ARE YOU DOING?! 
And he said that he was taking pictures of the best subscription box item of all time and I replied: Carry on my wayward son. I didn't even need to ask him what it was.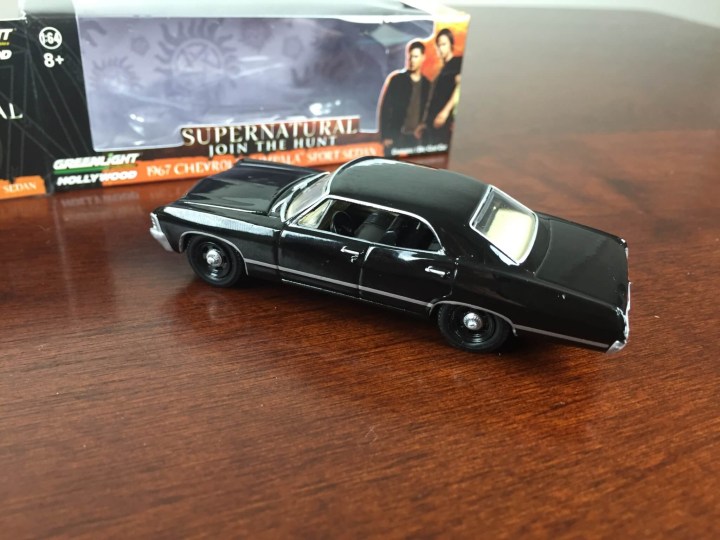 BTW, the 4th episode of the new season is called "Baby." I haven't looked up the description yet. Hold me.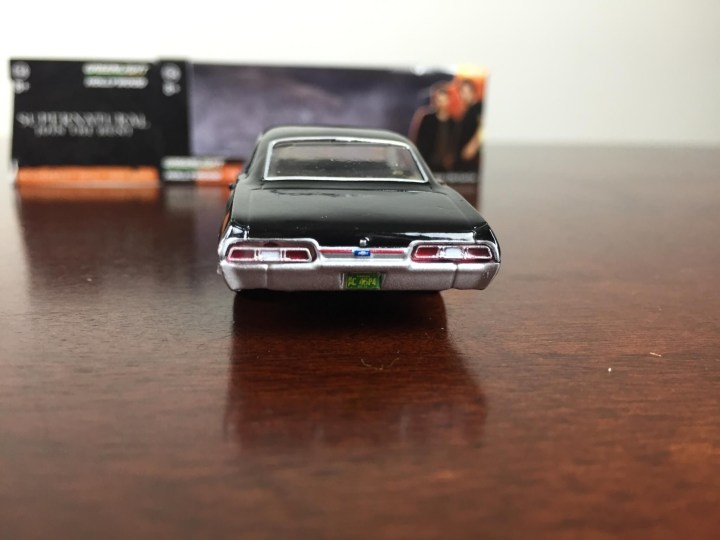 This is a replica of Dean's Baby and even has the Kansas plates from 1973! We are Supernatural super fans. Not quite as much as Jenny (our #1 commenter <3)  but close. Really close.
Kidrobot Simpsons Homer Buddha: Homer comes sitting on a doughnut along with a pretzel and beaded bracelet accessory. Rub his big belly for good luck!
This was a really fun box, even if you aren't into Summon in a games sort of way! The three big items were awesome, I can always use some stress relief, and I know the bonus online game with the crate will be awesome. I'm really happy with this one!
Visit Loot Crate you'd like to subscribe or find out more! Save $3 on any Loot Crate subscription with code SAVE3 or save 10% on a longer subscription plan with promo code HELLOSUBSCRIPTION. Check out all our Loot Crate Reviews and other Geek, Gamer & Nerd Subscription Boxes in the directory!
The Subscription
: 
Loot Crate
The Description
: Lootcrate is a subscription box full of gamer-ific loot for geeks and gamers. Past crates have included figurines, candy, stickers, gift cards, accessories, more figurines, buttons, books, postcards, shirts, stickers, games, you name it, all with a geeky, game-y flair.
The Price
: $20 per month
The Coupon
: Save $3 on any subscription with code 
SAVE3 
. Or save 10% with coupon 
HELLOSUBSCRIPTION 
!