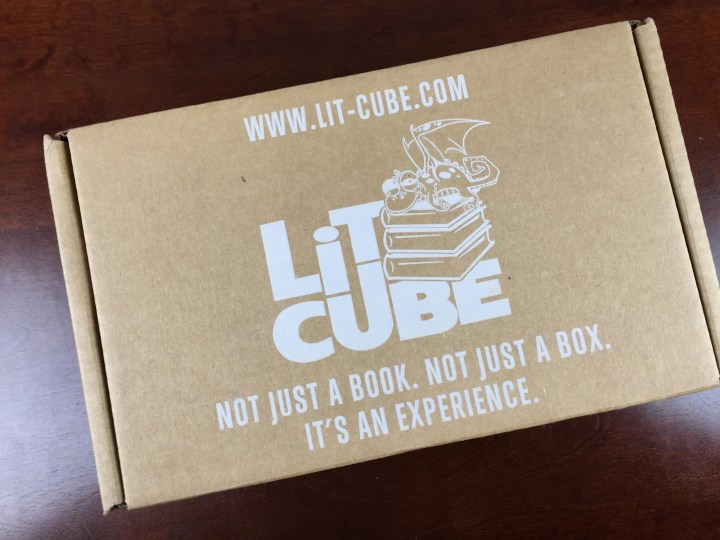 September's Lit-Cube theme was We Will Never Be Royals! Lit-Cube is a monthly themed book and bookish items subscription box. This box provides you with an immersive reading experience by providing reading material paired with quality themed items!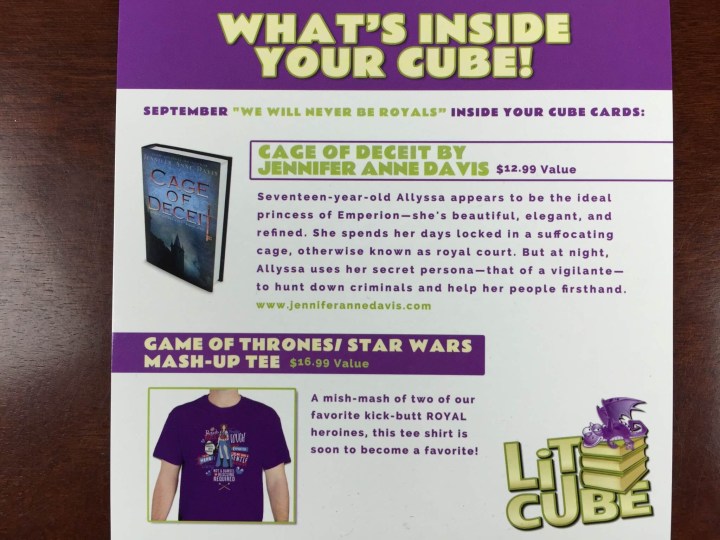 The information card has all the details on each item.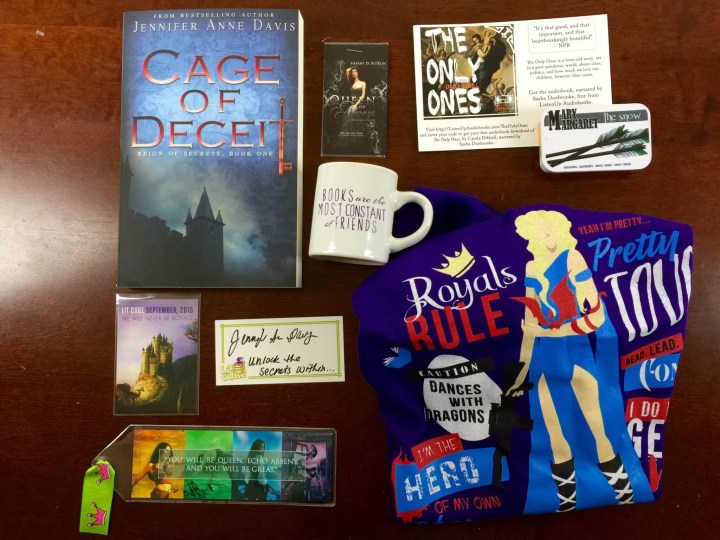 Everything in the box!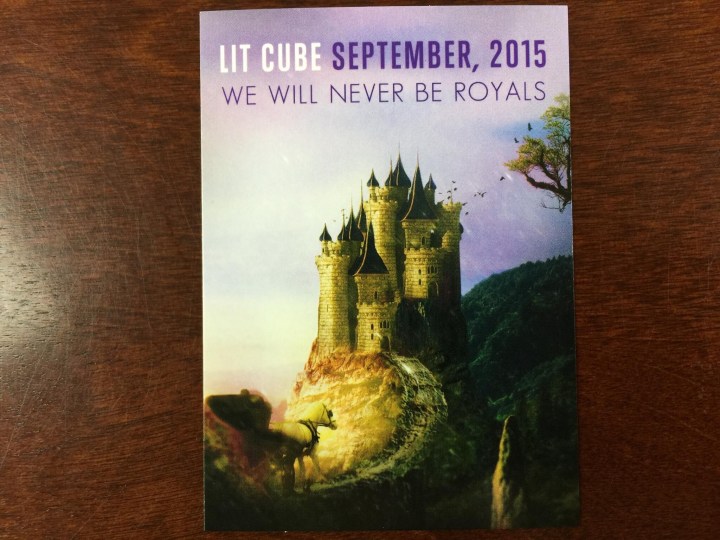 Every box contains a little collector's card with the monthly theme.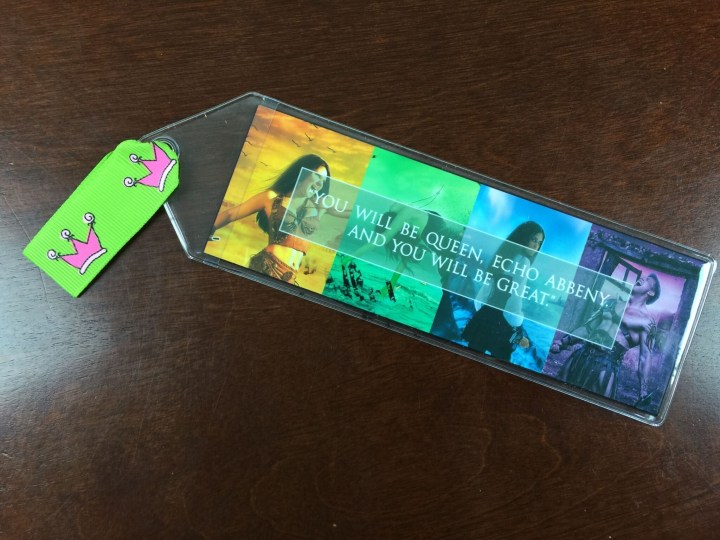 I shot the video for this box before looking at anything and I really couldn't figure this bookmark out. It's from Nadège Richards and advertises the Bleeding Heart Trilogy. Effective swag, because I had to go and look it up!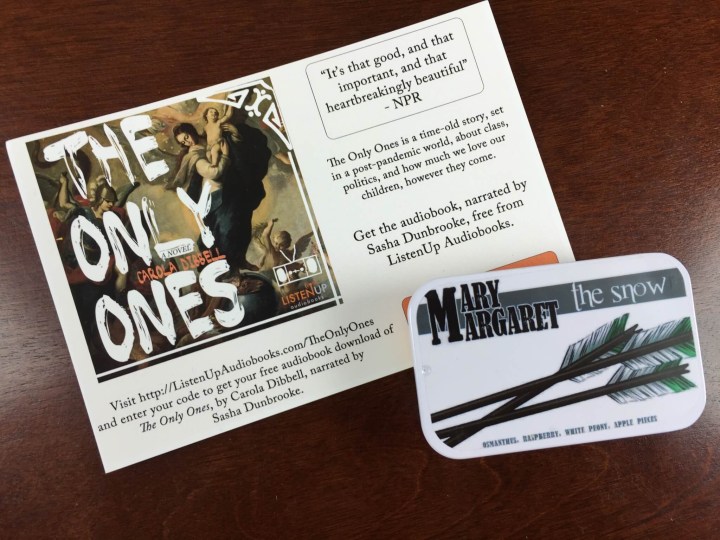 There's a code for a half-off book at Listen Up Audio books, plus a code to download the audiobook of The Only Ones by Carola Dibbell for free! If you're not a subscriber you can also try out Audible for 30 days and download 2 free books. I tried to get into listening to audiobooks but they're not my thing – because I read ultra fast.  If you want my code drop me a note in the comments (if someone doesn't snag it from YouTube first).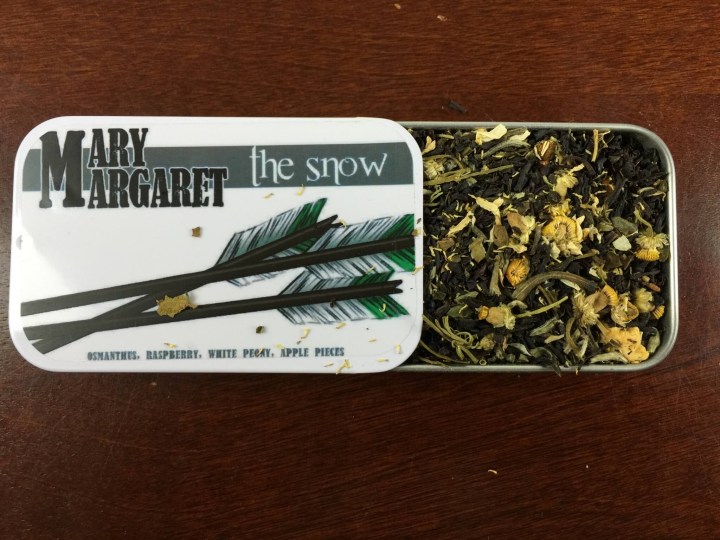 Once Upon A Time Fandom Blend from Adagio Teas ($4.99) This is the perfect item for this box! I'm not a tea drinker personally (although I totally ate some osmanthus today from it!) but I think this is such a great item, matches the contents and the theme.  Adagio Teas also has a subscription – find out more in the directory. There's always some sort of edible treat in this box.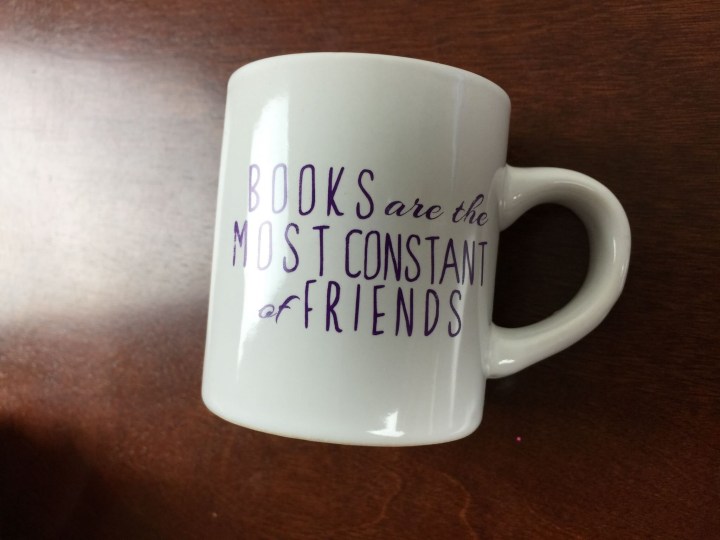 Books are the most constant of friends mini-mug ( $7.99) OMG this is so cute! What do you use a mini mug for? I don't know but I love it! Originally my husband had taken the photos for this box, which I saw, but didn't realize that this mug is half-sized. It's adorable and I love it.  It's perfect for an espresso or if you have a pal that also subscribes to this box, you can split a hot chocolate. I just think it's the cutest ever. Going on my desk at work. Oh actually it would make an excellent candy dish. Or bookmark collector!
Queen of Always Card + Crown Nail Confetti: This box has a lot of what I'll call useful book swag – either free downloads or signed book swag or little extras like these crowns for your manicure. All the swag has been perfectly theme and makes a great extra. It's something I've really enjoyed!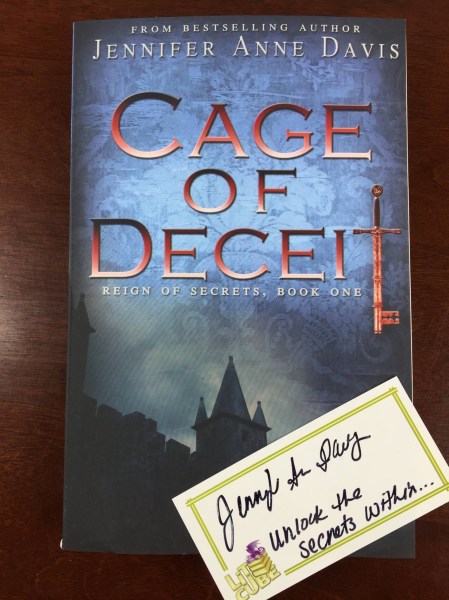 Cage of Deceit – Reign of Secrets, Book One, by Jennifer Anne Davis ($11.30) Lit-Cube does a great job of introducing readers to new series and writers collectives (see e.g., my September Lit-Cube Jr review for a similar example). If you are a very avid reader you probably want to read more than one book per month, and the items that have been sent in the boxes I've received help you discover more things to read (e.g., the next book in the series, other books from the same writers' group etc.).
Seventeen-year-old Allyssa appears to be the ideal princess of Emperion–she's beautiful, elegant, and refined. She spends her days locked in a suffocating cage, otherwise known as the royal court. But at night, Allyssa uses her secret persona–that of a vigilante–to hunt down criminals and help her people firsthand.

Unfortunately, her nightly escapades will have to wait because the citizens of Emperion may need saving from something much bigger than common criminals. War is encroaching on their country and in order to protect her people, Allyssa may have to sacrifice her heart. Forced to entertain an alliance through marriage with a handsome prince from a neighboring kingdom, she finds herself feeling even more stifled than before. To make matters worse, the prince has stuck his nosy squire, Jarvik, to watch her every move.

Jarvik is infuriating, bossy and unfortunately, the only person she can turn to when she unveils a heinous plot. Together, the unlikely pair will have to work together to stop an enemy that everyone thought was long gone, one with the power to destroy her family and the people of Emperion. Now the cage Allyssa so longed to break free from might just be the one thing she has to fight to keep intact. In order to save her kingdom, she will have to sacrifice her freedom, her heart, and maybe even her life.
Game of Thrones/Star Wars Mash-Up Tee ($16.99) This is a GREAT shirt! I love the bold graphic design and it's probably one of my most favorite recent shirts from a box. I think they did a great job!!
This was a fun box – and I have to say that I can't ever guess what is in this subscription – every month is totally different! Of course the October box is the Supernatural-inspired box, which I have blogged about a million times, but there's a spoiler for one of the items, which you can see by clicking here – I know some of you might want to be totally surprised!  (It's just a tiny item so don't stress out about looking or not!).
Visit Lit-Cube to subscribe or find out more!
The Subscription
:
Lit-Cube
The Description
: Lit-Cube is a monthly subscription box for readers. Lit-Cube strives to pair hand-picked books with high quality literary themed products to bring you a magical reading experience each and every month. Now also offering Junior subscriptions!
The Price
: $21.99 plus $7.99 shipping and handling.