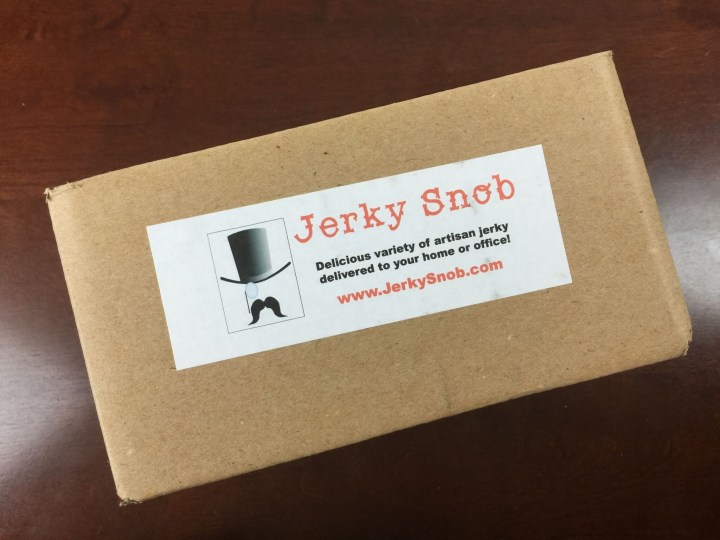 Jerky Snob is a monthly jerky subscription box focusing on finding the best and most delicious flavors of jerky. Every month get either a half or full pound, depending on your selections, of the tastiest artisan jerky. You can choose between medium and mild, or just mild (this one's not about the tongue-searing spice – it's about unique jerky flavors), and even choose only gluten-free flavors. Every jerky selected is always free of MSG, nitrates and nitrates, and high fructose corn syrup.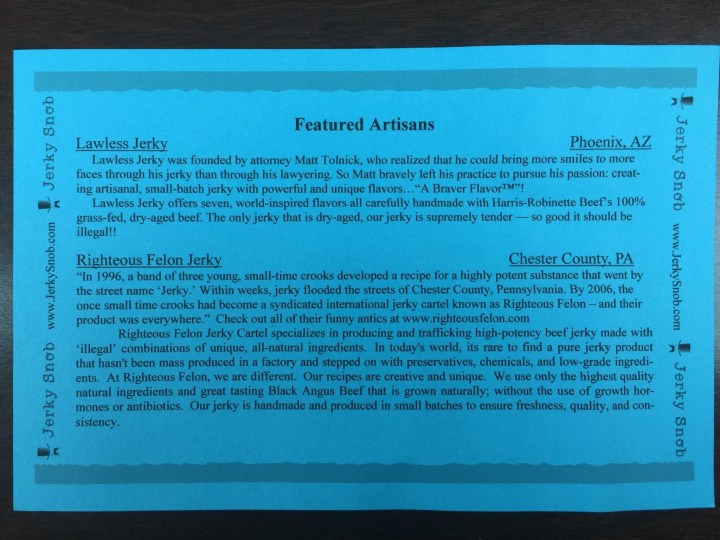 The info card gives a little background on the month's featured jerk purveyors.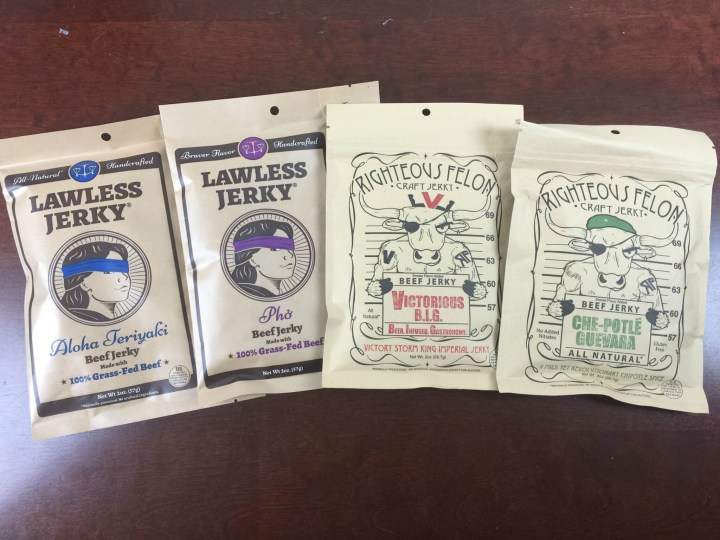 Our selection included two offerings each from Lawless Jerky, from Arizona, and Righteous Felon, from Pennsylvania.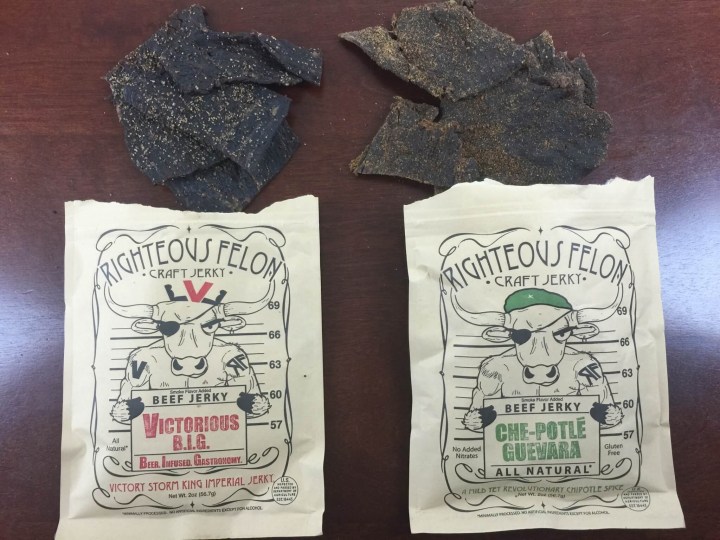 Righteous Felon Victorious B.I.G.:  The rich flavor of the Victory Storm King Imperial Stout is nicely preserved in the finished jerky, giving is a rich, malty base flavor.  Sweet and well-seasoned, the beef is firm enough to give a little chew and is served in small slabs instead of strips.
Righteous Felon Che-potle Guevara:  Assertively spicy, this recipe is slightly smoky.  The onion and garlic shine through the even heat.  Like the Victorious B.I.G., this selection came in huge slabs of beef and had decent chew.

Lawless Jerky Aloha Teriyaki:  I was surprised to see no pineapple in this product, given the name.  Instead, it has a big dose of ginger layered on top of tamarind and soy.  Sweet, with a little warmth from the ginger.  The grass-fed beef produces fairly dry jerky with lots of chew to it.
Lawless Jerky Pho:  This is the only brand of jerky I've seen offering this flavor.  They do a good job of imitating the classic Vietnamese dish, seasoning the jerky with cilantro, mint, basil, star anise, cinnamon, and clove.  The pieces are tiny with a really rugged chew to them.
I liked the jerkies quite a bit, but I do like my jerky slightly more tender.  Brandy loved these, as she prefers the really chewy jerky.  The flavors were fantastic, and dialing down the heat to a modest level really allows the complex marinades to shine.  The average price of each bag works out to $7.75, making the subscription a pretty decent deal — jerky of this quality usually runs at around $7  or more a bag (Lawless Pho was last noted at $6.99), and this subscription includes shipping, which would be a few bucks for each bag were they purchased alone.  Additionally, some craft jerkies have a limited regional distribution or no internet ordering, so direct-buy isn't even an option.  Given the hassle surrounding self-procurement, I think the value is quite good.
Visit Jerky Snob to subscribe or find out more!
The Subscription
:
Jerky Snob
The Description
:Every month you will receive a box of carefully selected premium jerky, with no MSG, nitrates or nitrites, or HFCS. Choose Mild or Mild + Medium – only the most flavorful artisan jerkies go in this box. Gluten-free option available too.
The Price
:Half-Pound Box $31 shipped, 1-pound box $60 shipped.