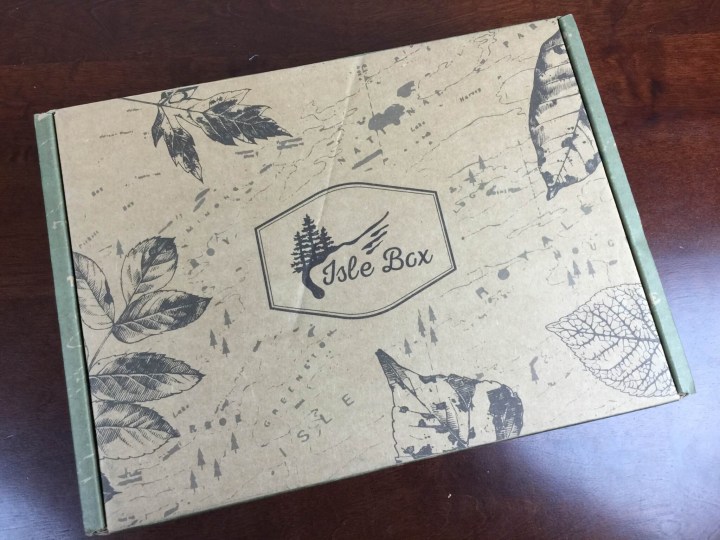 Isle Box is a subscription for outdoor enthusiasts, particularly those going into the wilderness for awhile — hikers, campers, and hunters.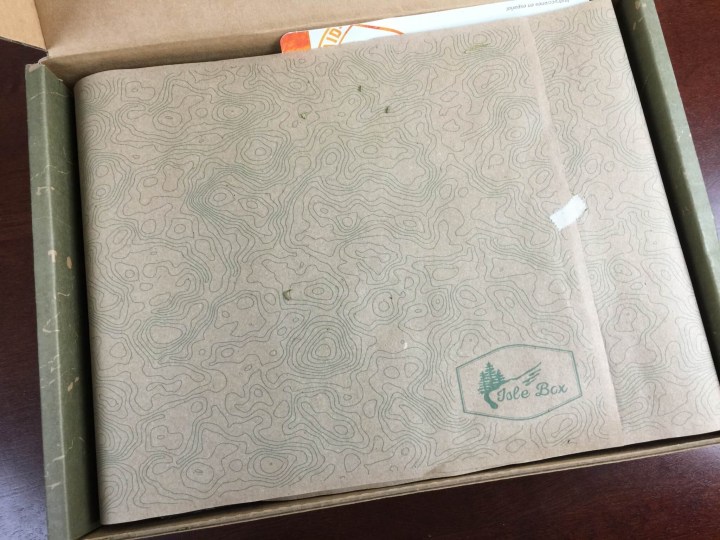 This is actually the first test.   If you need this box, you'll know what the design on the packaging is.  I like the use of the topographical map instead of a camouflage print.  I know it is a trivial decorative item, but I think it speaks to the nature (ahem) of the box — it is not strictly a hunters box or a survivalist box filled with weird food — it is of general utility to anyone who goes into the wilderness.
The info card lists the contents of the box.  It is of the "here's why you want this" cards, not a "here are the specifications of the items" card.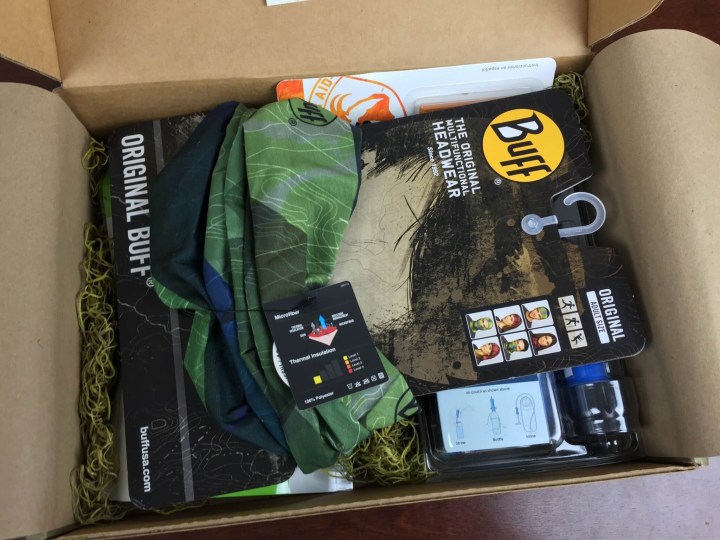 The box upon opening.
The contents once the buff is pulled from the box.  Note the natural spanish moss packing material.  It is actually the some of the least messy natural packing I've seen, so some substantial effort went into finding some clean moss.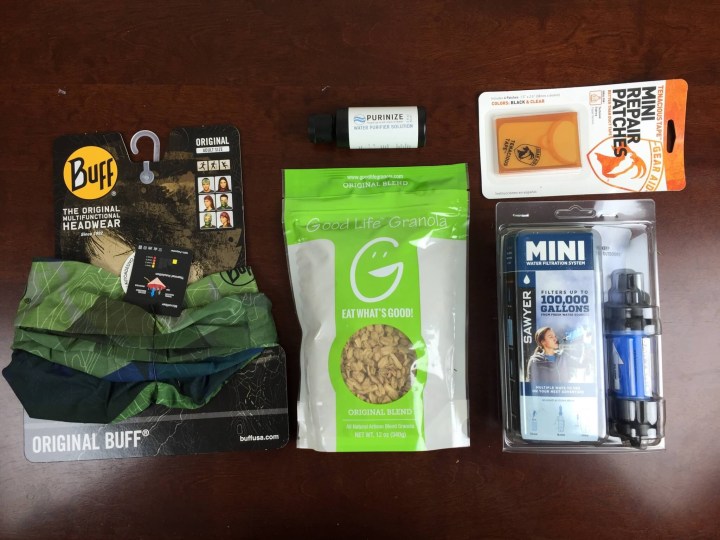 All the items in the box.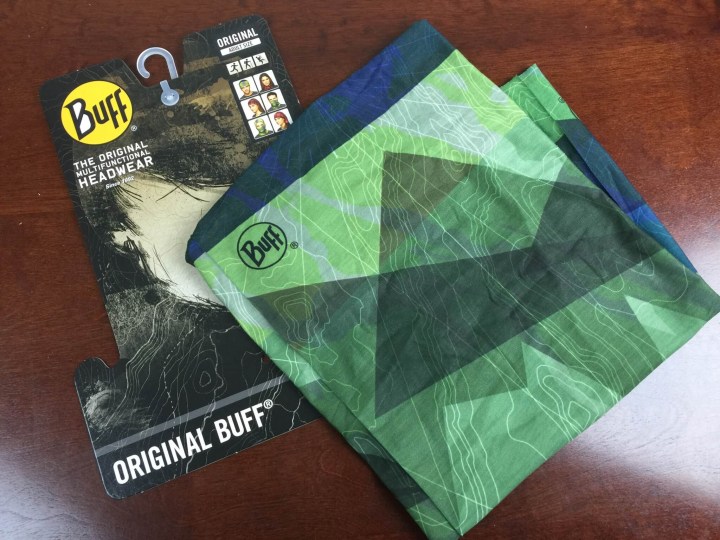 Original Buff Multifunctional Headwear ($20):  The construction of this item mystifies me — they somehow managed to construct a seamless tube of stretchy cloth.  This simple item can be wrapped, twisted, and stretched into a dozen or more types of headwear, providing sun, wind, and insect protection to your head, scalp, neck, face, etc.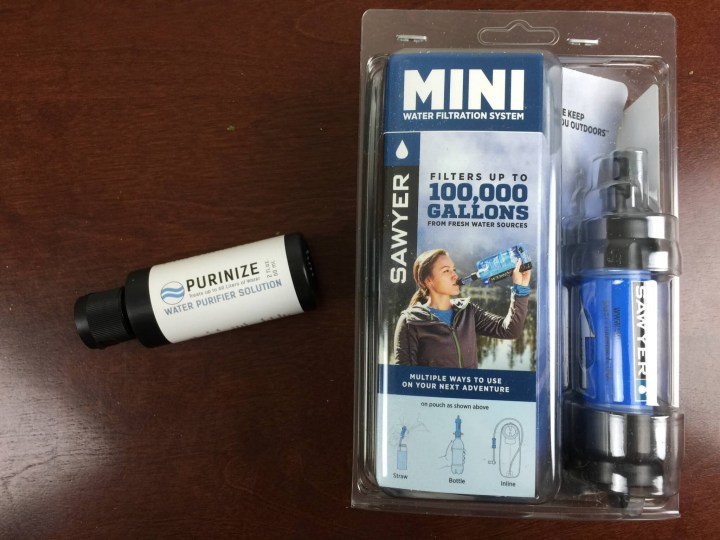 Purinize Water Purifier Solution ($15.95):  This solution is pretty amazing.  It uses a mineral salt complex to safely remove all manner of biological and chemical contaminants from fresh water, rendering it safe to drink in one hour.  It also leaves no nasty aftertaste and produces no dangerous byproducts.  The drinking water can be stored indefinitely once treated, and this little bottle can purify up to 15 gallons of water!.
Sawyer Mini Water Filtration System ($19.42):  This little wonder is quite versatile.  You can insert in the top of a plastic beverage container, use as a straw, or connect in-line to a water repository sipping tube (e.g. camel pack).  It filters up to 100,000 gallons of fresh water, making it a convenient alternative to a pump filter.  It is designed for drinking water, as it uses the pressure of your sipping to filter, so it isn't to be used for filling a cooking pot (unless you spit the water into it :-)).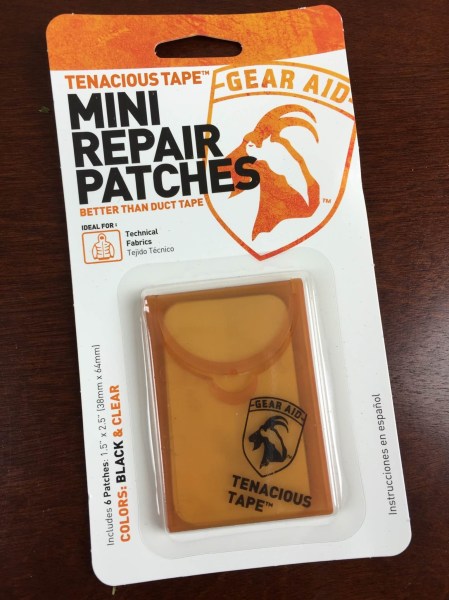 Tenacious Tape Mini Repair Patches ($6.82):  Equipment failure is not an option when you are out in the elements.  This kit has six patches for effecting super-durable repairs to technical fabrics.   These patches help the gear retain its function, despite tears, rips, snags, and other damage.  Great for parkas, tents, and similar technical fabric items.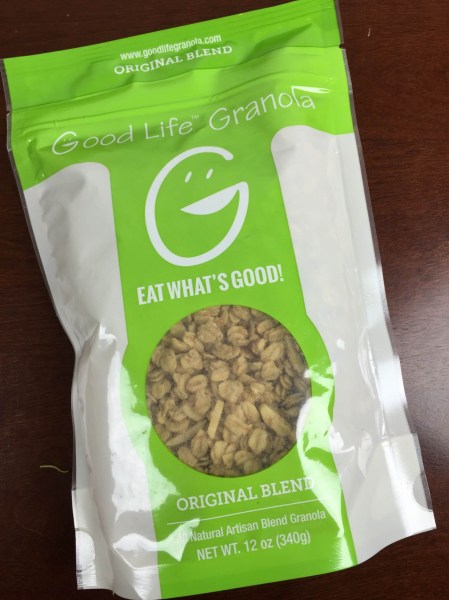 Original Good Life Granola ($6.50):  Thank goodness, a real granola!   I see a lot of granolas, but this one put a smile on my face (perhaps it was a subconscious reaction to the packaging).  It has no quinoa or flax.  This version has no fruit.  It has oats and brown sugar and maple syrup and lots of almond and pecan bits.  And its really tasty.  Sprinkled with some cinnamon, this is not designed for any particular diet plan or eating philosophy (but it is all-natural), its just good granola.  The bag is big, too.
I thought this box was really cool.  It's been awhile since I donned hiking gear for a real outing, and the state of purification tech astounded me.  The options used to be boil, fairly cumbersome pump, or iodine, none of which produced a quick and palatable drink.  The purification tech in the box was out of Star Trek for me, and I thought it was cool to provide it in a under $50 box.  Plus, the other items are really, genuinely useful for most venturers.  The curation appeared thoughtful and targeted a wide audience — no doe urine or fly-tying kits, just high-value gear.
Visit Isle Box to subscribe or find out more!
The Subscription
:
Isle Box
The Description
: Isle Box seeks to give you the greatest gear that you don't even know you're missing out on. Some of the greatest adventures that you can have are spawned from the unknown and that is exactly what we aim to bring you with Isle Box: an unknown box of gear that we know you're going to love. Get the Monthly Pass or the Seasonal Pass.
The Price
: $44.99 per month for the Monthly Pass, $124.99 per quarter for the Seasonal Pass.
The Coupon
:Save 10% on your first box! Use coupon code  
NATIONALPARKS
.