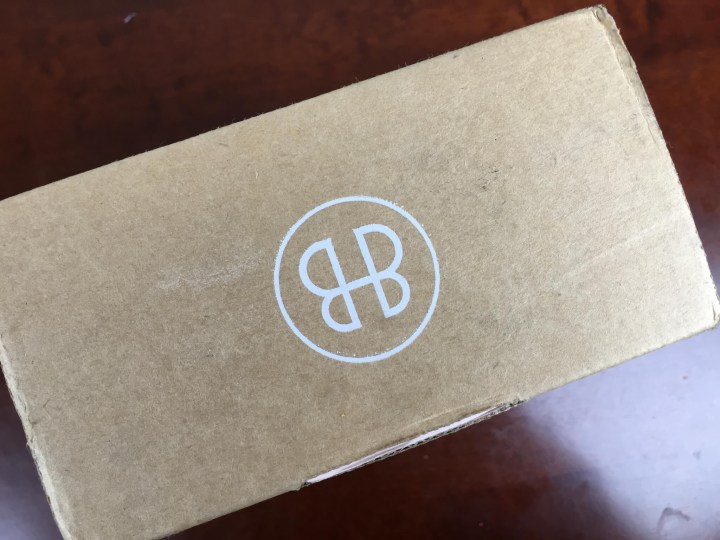 So excited that Honest Beauty is finally here and so is my free trial review!! Honest Beauty is a new subscription box from the Honest Company. Honest Beauty is a comprehensive line of skincare and makeup that has been formulated to match the standards of The Honest Company. Honest Beauty Bundles are set at $50 per month for 3 products of your choice – add on up to five items at a 25% savings! Plus you can take the quiz and get matched with skincare products and pick up a free trial (pay $5.95 shipping)!  The free trial will roll into a subscription 7 days after you receive the trial. Your Bundle will automatically ship every 4 weeks, unless you change the frequency of your subscription to 6 or 8 weeks. You can also select your Bundle ship date to get it exactly when you need it.
I know you want to see the packaging, so here you go! Note that I upgraded my shipping in order to review this faster because everyone in the world wants to know what it's about before sampling it. I'll get a video review up soon too. Also please realize that I haven't used these products for four weeks – this is after using them once and these are my initial thoughts (after years of reviewing subscription boxes and beauty products I'm pretty good at it though!). Look for an update in a few weeks!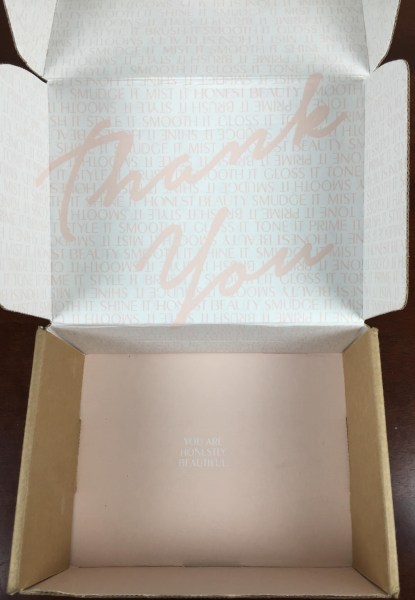 Their Honestly Free Guarantee:
We're guided by transparency and the strictest (self-imposed) standards to ensure our products perform safely and beautifully. We're thoughtful about the pure, raw ingredients we use and the hundreds of harsh chemicals we don't. Our products are made without any questionable ingredients, such as parabens, phthalates, formaldehyde carriers, PEGs, MCI/MI, steareth-n, synthetic fragrances, propylene glycol, butylene glycol, petrolatum, mineral oil, SLS, SLES, sulfates and chemical sunscreens.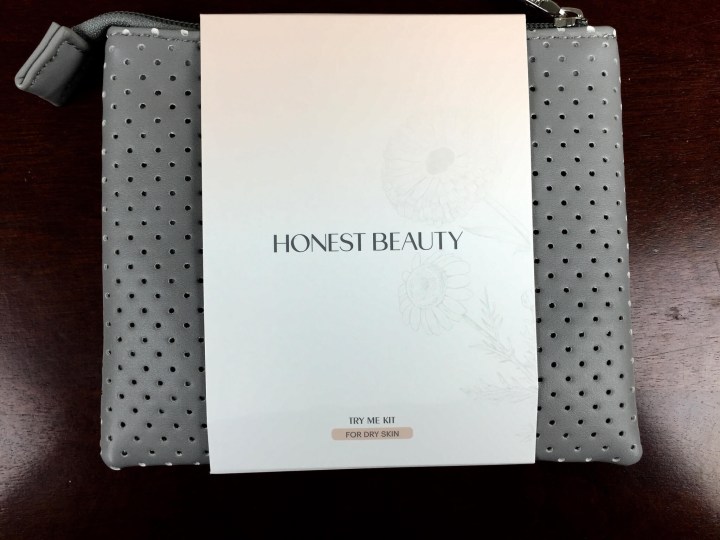 I have dry skin, so I ordered the free trial for that skin type. Also available are trial packs for balanced and oily skin. Both include the cute bag and the cleanser, as well as skin type specific products for hydrating and protecting. The balanced skin pack includes Even Brighter Everyday Moisturizer instead of the cream and untinted Beyond Protected Daily Beauty Fluid and the oily kit has Dependably Clear Oil Free Moisturizer and Beyond Protected Oil Free Daily Beauty Fluid. The lines are semi color-coded: grey for oily, white for balanced, and pink for dry. However some of the basic products are grey.
Tadaa!  I don't know why, but I totally cut the zipper pull off in my photos. It says Honest Beauty on the small side.  FYI – I normally don't say the price for the full size item, but unlike usual subscriptions I think you'll want to know how much the full-size costs to see if you're interested.
This is nicely lined on the inside!
Honest Beauty Refreshingly Clean Gel Cleanser ($18 full size, $3.60 for the sample)
Refreshingly Clean Gel Cleanser contains chamomile and calendula help to calm and soothe. Yucca root extract and saponaria provide a fresh and foamy experience to remove dirt and makeup without any harsh ingredients that can strip or over-dry skin. Now that's refreshing. 
You're supposed to rub this cleanser into a foam in your hands before applying. It is designed to remove makeup without stripping your skin.  Based on the average face size, I would say a dime-size amount is fine (I know that looks really big but my hand is small!).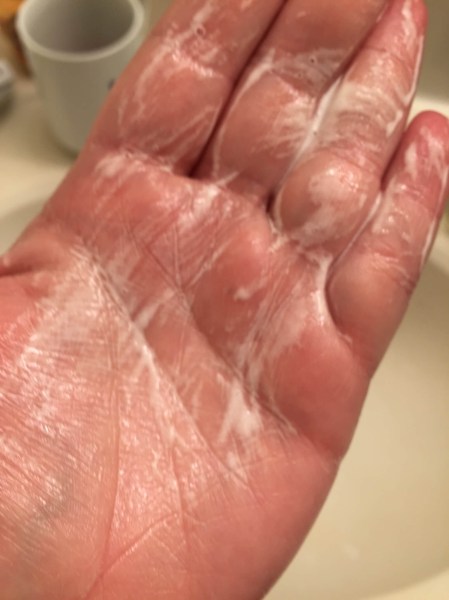 I thought this was actually quite tingly, and that those with sensitive skin would probably need to avoid this product.  This was not drying on my face, but I will tell you that while there are no "fragrances" in this product, it is highly scented. It contains oils of lavandin, lavender, fir needle, palma rosa, geranium, patchouli, and chamomile. In the full bundle, Honest Beauty also has a konjac sponge to go along with the gel, a unique powder cleanser, and makeup remover wipes.
Honest Beauty Younger Face Deep Protection Cream ($34 full size, $5.67 for the sample)
This deep hydration face cream contains chamomile and calendula to help calm and soothe. Radish seed oil  enhances skin moisture barrier and deeply hydrates. Baobab fruit, rich in vitamins A and E, replenishes nutrients and nourishes skin. Look honestly good. A Jessica Favorite! Provides a glowing, dewy finish.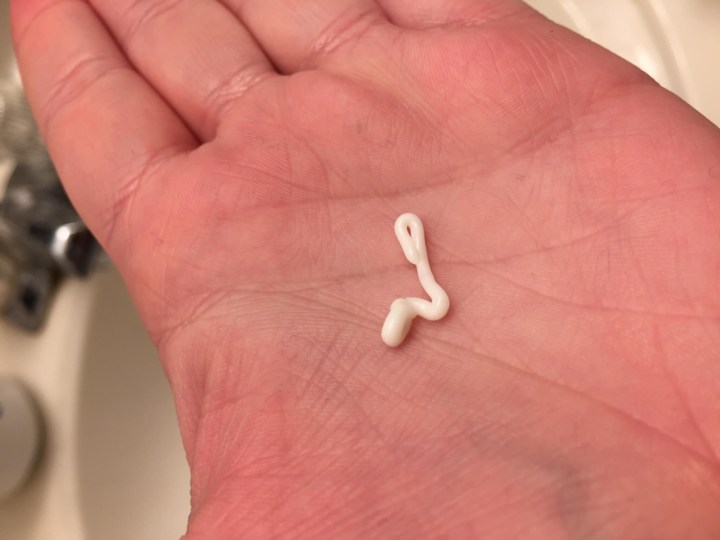 It's hard to tell here, but this cream is much thicker than I'd anticipated! I'm happy to see that the full-size has an airless pump like the sample, otherwise I think much of it would go to waste. While those with balanced skin could totally use this product too (and if your skin is drier in the fall and winter you may want to try the dry kit) this cream is meant for deep hydration or maybe even as a night cream.  This product is also highly scented and contains the same oils as the cleanser. I would not recommend this if you prefer a no-smell face cream. In the few hours I've had it on (this is a first look review and I'll update in a few weeks' time!) it has provided excellent hydration, hasn't been greasy, and I can feel it on my skin (this is a good thing if you have dry skin!).
Honest Beauty Beyond Protected Daily Beauty Fluid Sheer Tint SPF 30 ($28 full price, $6.22 for the sample). I am not sure why the free trial for dry has the sheer tint and the balanced doesn't (oily has the oil-free formula). This product can be worn alone or under makeup.  It's not a beauty balm or BB cream (the Everything Tinted Moisturizer will be your product if you're looking for that!).
The sheer tint beauty fluid contains chamomile, calendula and aloe help to calm and soothe. Hyaluronic Acid attracts moisture, locking in hydration. Non-nano zinc oxide, mineral broad spectrum sunscreen protects against damaging UVA and UVB rays to help prevent signs of premature skin aging. We've got you covered.
Sunscreen Discussion (we have to have it, right?):  I have only ever used the first Honest Company formula and can't comment on the new formula's efficacy. What I think was that both the old and new passed the SPF 30 ratings with the old formula much stronger but only marketed at 30 (i.e., the old one was basically SPF 50). And I hope they go back – I used it on my kids and it worked so well. This (the Beauty Fluid) has 19.7% non-nano zinc oxide – the old sunscreen had 20% and the new suncreen has 9.3% (or had – it's been removed from the market). The directions for this product (and the other SPF products in the Honest Beauty line) remind users to shake x3 and reapply liberally. Because it's fall and I live in the north and am inside most of the day I can't say that I can do a really fair test of how well it protects, but I'm happy with the zinc oxide content. I am personally excited to have a zinc oxide based lotion for my face because way too many use chemical sunscreens that sting my eyes. I am not 100% opposed to chemical sunscreens but they don't generally work for me for my face. 
Plop!
LEFT: Rubbed in. RIGHT: sort of just smeared on.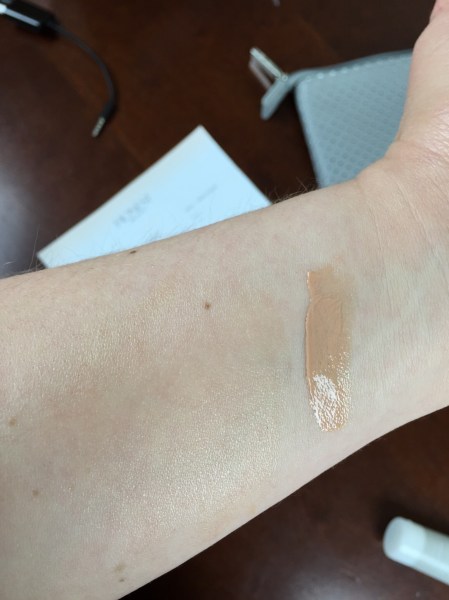 LEFT: Rubbed in. (the large shiny/glossy area) RIGHT: sort of just smeared on. That little plop went a really long way and you don't need much of this product at all. I can't say that I would use it as a makeup-free face product except that the tint is better than nothing when I don't wear actual makeup. I have light-medium skin so the actual tint worked well on mine (please let us know if you have a darker skin tone how this product worked for you!). I think this is a great product but I can't see using it if I use a foundation with SPF. But I don't always do that so this is handy.
 I'm also going to spoil you on what else I got and ask you to match me with a skintone on the Honest Beauty site. I matched myself with Sand, and the corresponding products seem too dark/orangey. I think I need a whole shade lighter (not wearing it here – no makeup on besides the lips, but I am wearing the demi-matte lip crayon in in Mulberry Kiss (rich burgundy). I love it! So I would personally say that I wished that they offered a mini tester kit (maybe free with the skincare trial) to match your skintone shades. They offer a guarantee so I think I'll need to return some things.
So this is my first look review of the Honest Beauty free trial! I obviously cannot say whether these products work well over the long term or protect well, but I am excited to try them out and see how they work in my daily routine. I will update in a few weeks and bump this post to the top and let you know what I decide to reorder. Oh and the value of the trial is $15.49 plus whatever value you'd like to give the bag – perhaps $20 total! Honest Company customers should check their inboxes for a $20 credit, although Alena mentioned it looks like it can't be used on a bundle!
Visit Honest Beauty to subscribe or find out more!
The Subscription
:
Honest Beauty
The Description
: Honest Beauty is a comprehensive line of skincare and makeup that has been formulated to match the standards of The Honest Company. Their Honestly Free Guarantee means the products perform safely and beautifully with no questionable ingredients! Line consists of face, lip, eye, and cheek products for makeup, as well as enhance, protect, cleanse, and hydrate products for skincare!
The Price
: $50 for 3 products – add on up to 5 additional ones at 25% off.
The Coupon
:
Get a free skincare trial when you subscribe
.