I sneaked a peek at some of the Honest Beauty Makeup in my Honest Beauty Trial Review, and now it's time to check out the full Honest Beauty Bundle! HHonest Beauty is a new subscription box from the Honest Company. Honest Beauty is a comprehensive line of skincare and makeup that has been formulated to match the standards of The Honest Company. Honest Beauty Bundles are set at $50 per month for 3 products of your choice – add on up to five items at a 25% savings! Plus you can take the quiz and get matched with skincare products and pick up a free trial (pay $5.95 shipping)!  The free trial will roll into a subscription 7 days after you receive the trial. Your Bundle will automatically ship every 4 weeks, unless you change the frequency of your subscription to 6 or 8 weeks. You can also select your Bundle ship date to get it exactly when you need it. Read my review of the Honest Beauty Skincare Free Trial Kit to find out more about the trial and the products in it.
For packaging geeks, the trial and the bundle come with recyclable air cushions. The bottom of the box says You Are Honestly Beautiful.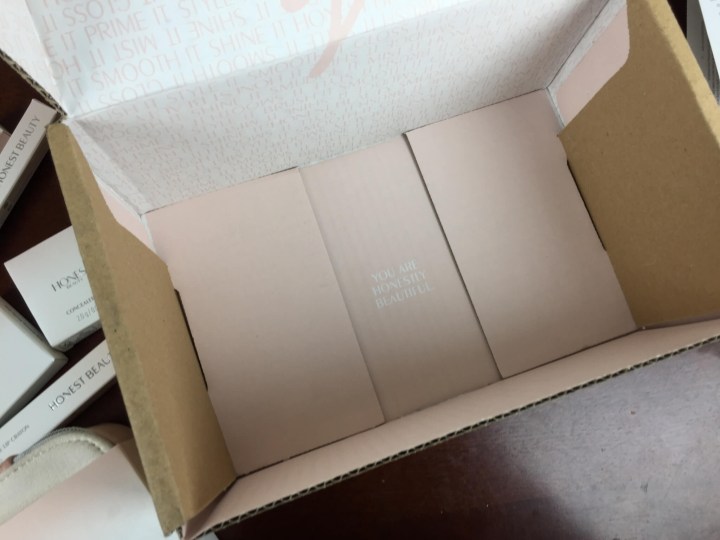 Their Honestly Free Guarantee:
We're guided by transparency and the strictest (self-imposed) standards to ensure our products perform safely and beautifully. We're thoughtful about the pure, raw ingredients we use and the hundreds of harsh chemicals we don't. Our products are made without any questionable ingredients, such as parabens, phthalates, formaldehyde carriers, PEGs, MCI/MI, steareth-n, synthetic fragrances, propylene glycol, butylene glycol, petrolatum, mineral oil, SLS, SLES, sulfates and chemical sunscreens.
My first Honest Beauty Bundle! I've done the math for you on how to save the most money on Honest Beauty – because bundle items work out to be $16.67 each, items $22.22 and above should go in your bundle part – any item with a retail value of less than that should go in your add-on section (you'll pay 75% of the retail price on those), if you want to maximize what you get for your money. I wouldn't worry too much about putting a $22 product in the Bundle part if you have lower value products for your add-on part, but your bundle will not sort itself for you to get the best deal possible.
You can push out your bundle ship date and switch from an every 4 week bundle to 6 or 8 weeks. I would recommend – if you want to try out a lot of the products – to do a big bundle less frequently, because you'll probably want to try some of the less expensive items. The only exception is the travel kit – it's an add & save item only! One final note – if you order a trial and a bundle at the same time, they don't combine into one bundle. You will have to cancel the second bundle generated by the trial, which is annoying.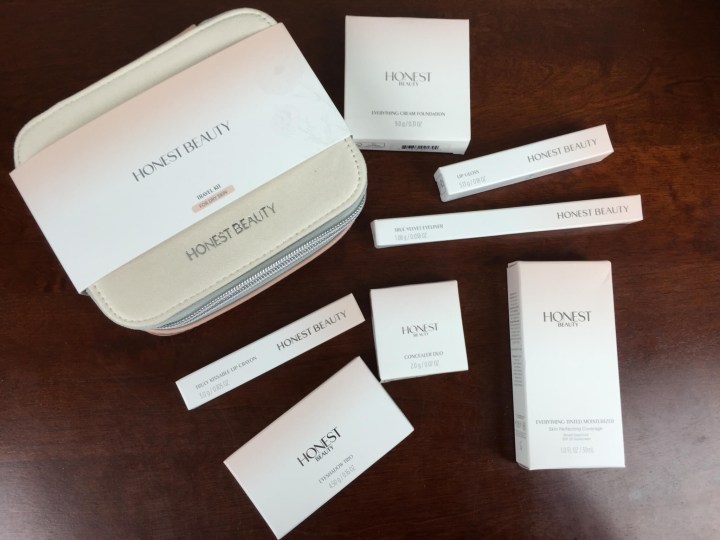 Here's everything that shipped in my Honest Beauty Bundle! My first thought was that it looked like Mary Kay.
Although the Honest Beauty packages are ombre, it's a similar color of pink and a similar font. I don't mean that they're copycats, it just reminded me of Mary Kay – a lot.
Honest Beauty Everything Cream Foundation in Sand ($30) This cream foundation comes in 8 shades – from ivory with pale pink undertones (Snow) to amber with reddish-brown undertones (Cocoa).
Infused with chamomile, calendula and vitamin E, this soft antioxidant-rich cream foundation conceals and conditions skin. Jojoba oil moisturizes and helps reduce the appearance of wrinkles. Mineral pigments blend smoothly to match skin tone for a radiant-looking complexion. Get a full coverage, velvety finish with no stickiness. Flawless, weightless, effortless…done! 

Formulated with adjustable coverage, Everything Cream Foundation releases color evenly during application making it easier to achieve flawless-looking skin.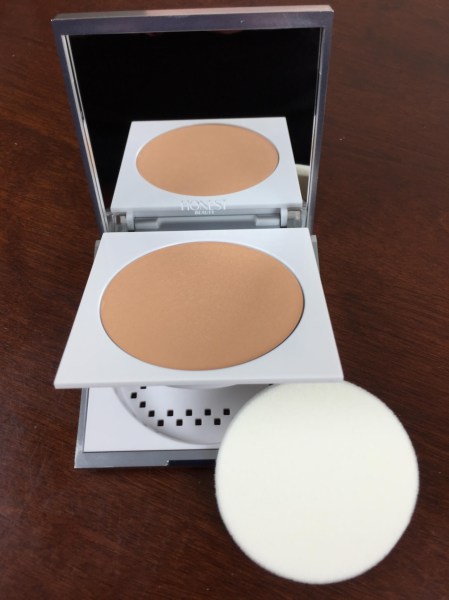 It comes with a sponge applicator in a vented container, and is quite a thick cream foundation (and FYI – I'll be doing a video this weekend so you can see the consistency better). If you've ever used the Clinique cream foundations, it's similar, although I think somewhat thicker.
I picked the wrong color for sure – this is a shade too dark for my skin and I've asked them to replace it with a better color.
To be fair, I looked at both the ladies shown for Linen and Sand and I thought that the woman shown for Linen was much too light for my skintone – I think her blonde hair threw me off! I waffled on whether to try it at all or have it replaced, but I felt that giving you my exact experience was best – and I couldn't know for sure until I tested it.
Although very thick, the makeup applied pretty well, although there are parts that seemed a little cakey to me – I didn't use a primer because I didn't have a chance to pick up the Honest Beauty Flawless Primer (definitely on my list of things to try). The finish on this foundation is somewhat powdery, although not dry.  I usually wear It! Cosmetics foundations in medium.  I don't know about the adjustable coverage. I guess I could have put more on, but that would be quite a lot of makeup. You can still see all my spots for sure. I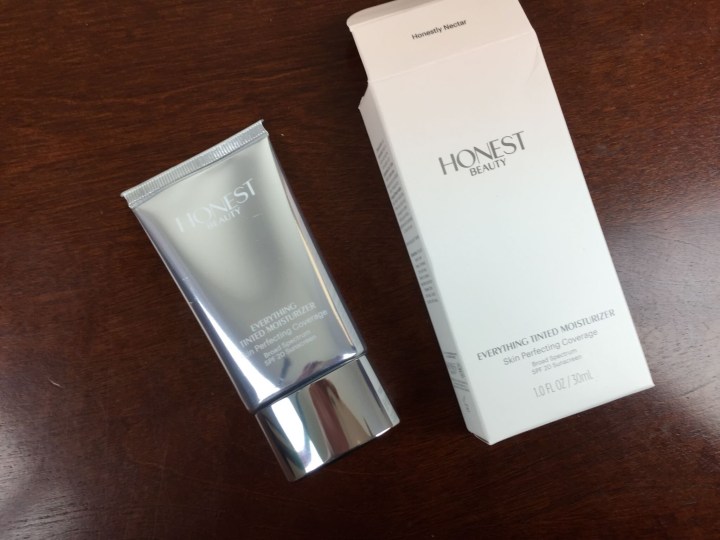 Honest Beauty Everything Tinted Moisturizer SPF 20 ($28) As I said in my Honest Beauty Trial review, the Daily Fluid is not your product if you're looking for a BB cream – this one is! There are 7 shades of this product.
Chamomile and calendula help to calm and soothe. Antioxidant-rich grapeseed oil, olive oil and aloe vera moisturize and condition skin. Infused with orange flower water, this tinted moisturizer offers true color and coverage for softer looking skin that's perfected and protected. A mineral-based broad spectrum sunscreen using non-nano zinc oxide. Similar to a BB or CC cream with foundation-like coverage but a lightweight finish. Go face the day!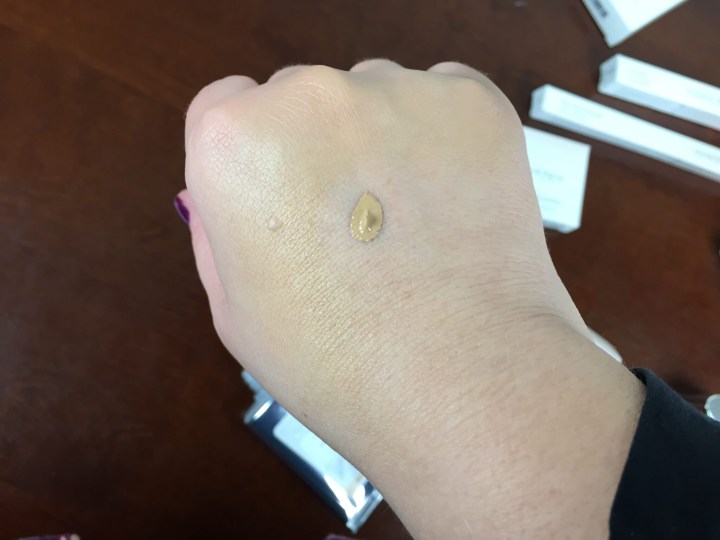 Unfortunately as you can see, this is so not the color for me! It's dark and orangey on my skin and I've asked Honest Beauty to replace this product for me. However, I have to say that I absolutely love the finish and the coverage on this one. It dries to a velvety smooth finish (no cakey finish) and feels great on. I highly recommend this product over the Cream Foundation, especially if you have drier skin like I do. This product contains 13.6% zinc oxide for an SPF 20 (check my Honest Beauty Skincare Trial Review for a discussion on the Honest SPFs!).
Based on my experience with the color, I feel strongly that Honest Beauty should include little pillow samples of at least the Everything Tinted Moisturizer so you can compare colors along with the Skincare Trial, or figure out some way to offer a makeup trial.
Honest Beauty Concealer Duo – Balanced Beige ($20)  Oooh boy, this is dark. I was a little afraid for it based on my experiences with the two products above, but it worked out ok. I will purchase this in the lighter shade as well – there are 5 different duos and this is the next to lightest – but I didn't ask them to replace this one.
Chamomile, calendula and jojoba oil infused concealer invisibly blends into skin. Combats uneven looking skin tone and under eye dark circles. Our concealer makeup offers a smooth finish to prevent caking or creasing. Combine the two shades for a perfect match every time. 
I used the lighter shade only under the eye on the LEFT. Unfortunately I used my front facing camera so the picture quality isn't perfect. Don't ask me what's up with that terrible circle on the eye on the right (but obviously I need heavy duty coverage!).  It covered ok – not my fave concealer (I prefer a thick liquid one). Really whether you choose these products depends both on their efficacy as well as your desire for the Honest Beauty formulations – which are all paraben free etc. (see the Honestly Free statement above!). I might have been happier with the results if I had the right shade of the Moisturizer – I think it would have provided coverage that I didn't get with the cream foundation.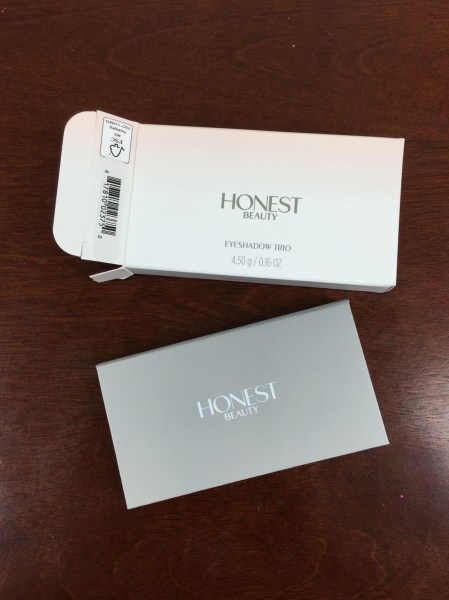 Honest Beauty Eyeshadow Trio – Smoky Grey ($25) No talc, so for those of you with issues, you will be delighted that there are so many shades to choose from!
Three, rich shades pop eyes instantly. Our eyeshadow trio offers expertly coordinated colors to glide on with step-by-step instructions for silky smooth, buildable coverage. Perfect smoky eyes are now as easy as 1-2-3.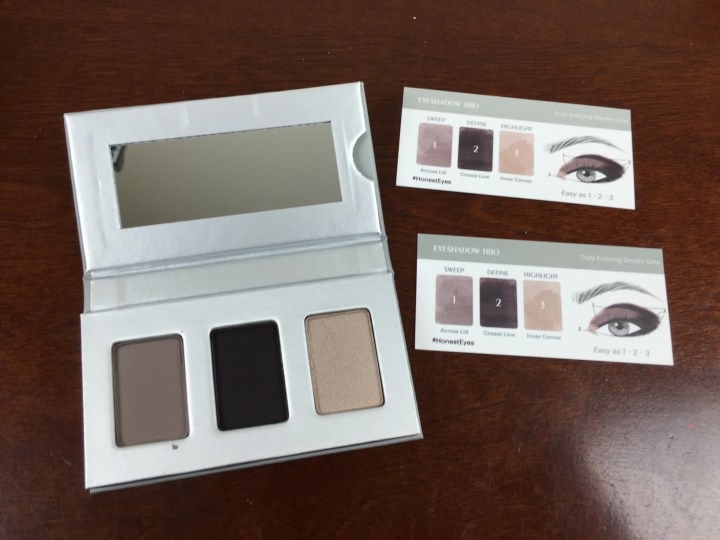 The Smoky Grey palette included shades in slate grey, soft black and taupe shimmer plus application tip cards, although both of mine were the same – I'm not sure if that is a mistake! I love shadow tip cards! So helpful!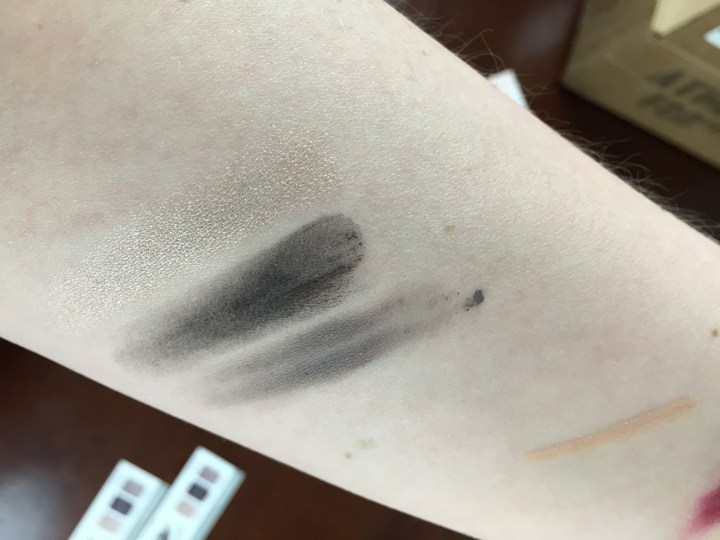 I thought these shadows were really fantastic. My favorite was the taupe shimmer with absolutely no fallout (really!), and I was surprised how deep and black the soft black was and the slate gray was just downright creamy! I admit – I'm a face and eye toucher and even without primer these shadows have stayed put. I'm super impressed with them. Pick your favorite color and make sure these are in your bundle!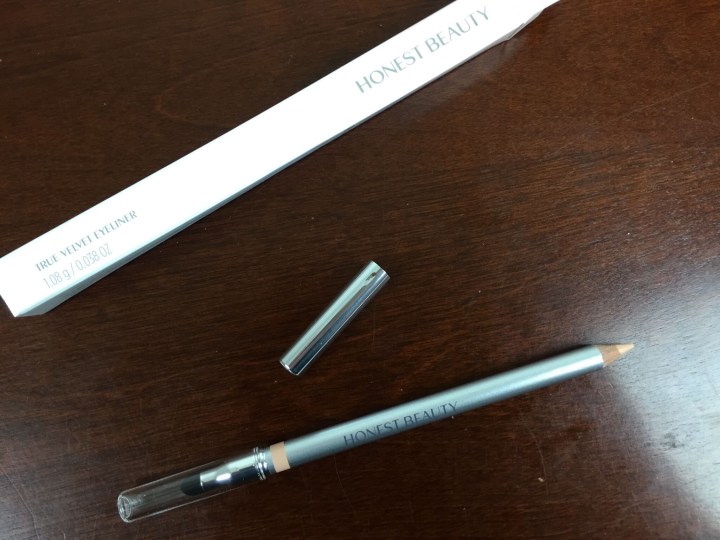 Honest Beauty True Velvet Eyeliner – Eye Opener ($16) You can see the swatch of this one in the photo with the shadow swatches. I selected this color because it was so unusual – it's like a Chella highlighter pencil but thin. The pencil itself is firm, but not stiff (I didn't need to warm it up – it went right on). I generally prefer a gel pencil that sets but if you like an actual line, I would recommend this pencil. The next shade I purchase will be Truly Gold, because it's metallic.
Plush eye pencil lines and defines. Vivid color in a creamy finish blends smoothly with built-in eyeliner smudger. Innovative plant based formula conditions and protects sensitive skin with naturally derived antioxidants including mango seed oil, vitamin E and macadamia oil. Scribble. Smudge. Smile.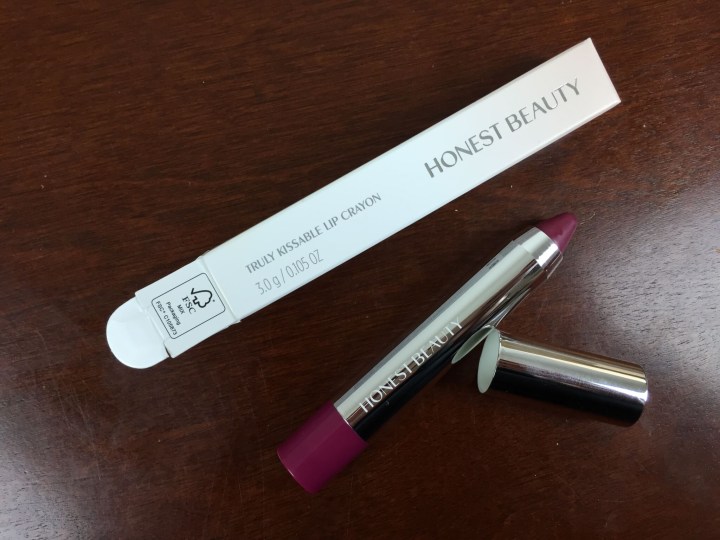 Honest Beauty Truly Kissable Lip Crayon – Demi-matte ($18)
Our lip crayon offers antioxidant-rich jojoba seed oil, murumuru butter and 
shea butter to help moisturize and cushion for a demi-matte finish. Satin texture glides on for quick, convenient color any way you want it.

The demi-matte finish offers the rich color of a lipstick in the convenience of a twist-up lip crayon. No sharpener required.
Both the Bundle and the Shop areas of the site have a great color picker feature that shows the shade on different skin tones (and I swear that I matched myself right with that woman! No makeup on in the photo below except lips).
Hello color! I love this lip crayon. I went back and forth on how to describe this – slick but not glossy or oily, and have finally settled on telling you that it feels like a lip balm but with stain like color that is amazing.  If you have feathering issues this might not be the product for you (see photo below). The crayon isn't going to stay on your lips forever, but it leaves a nice color. Love this product for being somewhere between a gloss and a lipstick and just perfect.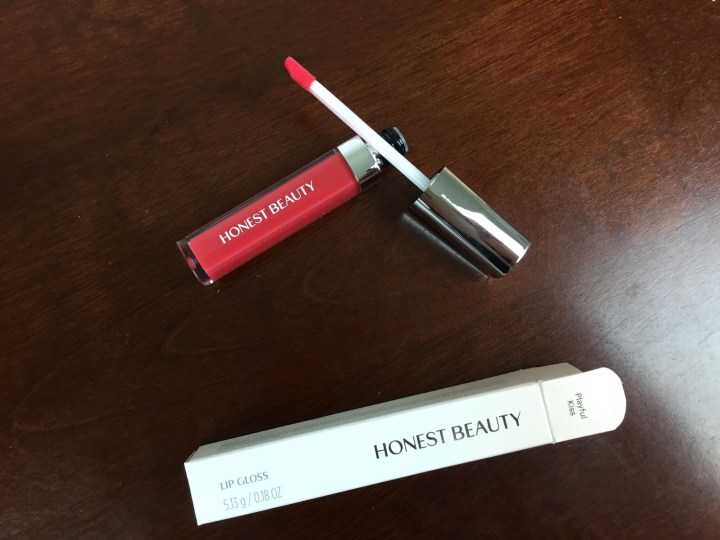 Honest Beauty Lip Gloss – Playful Kiss ($18) This is a fun color and it's not shimmery as it appears to be on the color picker.  Sorta sticky, there wasn't anything that wowed me about the gloss. Regular doe foot applicator – I think they could have stepped it up with an upgraded applicator for an $18 MSRP.  Again – if buying this brand is important to you that may help you decide on this product, but I feel that there are lots of natural lip glosses on the market and they needed to do something a little more wow with this formula.
Our sheer lip gloss is infused with pomegranate for increased hydration. Emollients hold moisture and deliver high shine finish. Luscious. Lustrous. Love it.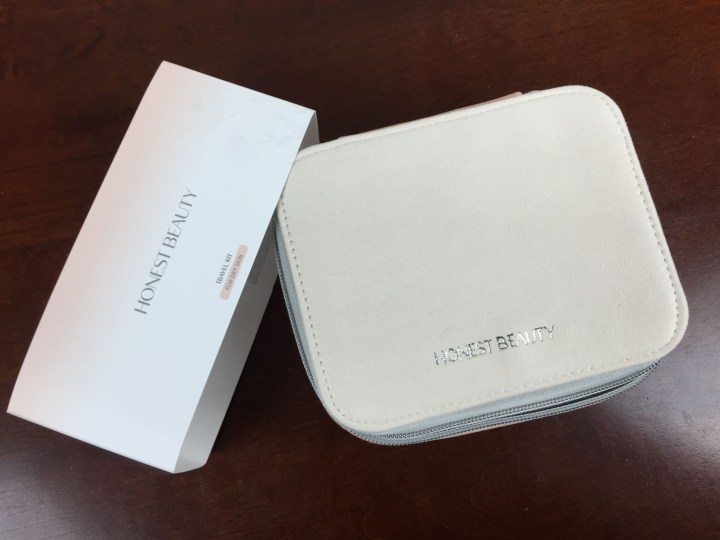 Honest Beauty Travel Kit (with Magic Balm and Elevated Hydration Replenishing Mist) ($45) In retrospect, I should have ordered this kit in Oily instead of Dry for my own skin type so I could test out the products. The travel kit is quite nice and would make a great gift. 3 of the products are the same as you will receive in your trial kit, but ordering this let me test an extra product in one bundle, so I grabbed it.
5 essential products, 1 convenient bag. The Honest Beauty Travel Kit includes a full-sized Magic Balm and deluxe travel size skin care products to help you cleanse, hydrate, protect and enhance according to your skin type. Beauty is everywhere.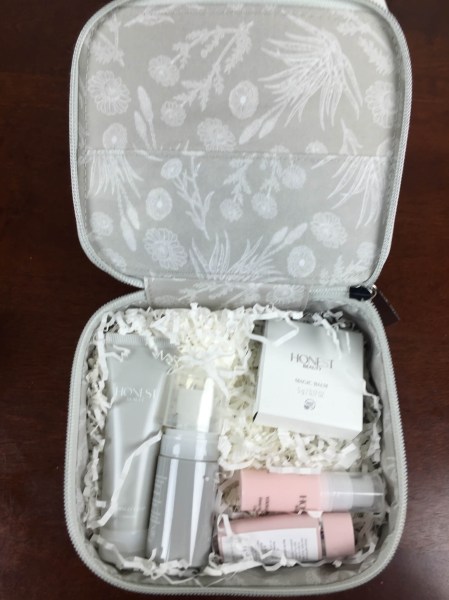 Elevated Hydration Mist ($16 for the full size) is in this bag. I love mists. I do not travel or do anything without one. I keep one in every bag I carry and in every desk I use. I'm a face mist addict. This is great and has the added plus of aloe vera and hyaluronic acid. It has the same oil scent (fragrance free but not smell free) as in the cleanser and the cream.
Chamomile and calendula help to calm and soothe. Aloe vera conditions skin while hyaluronic acid attracts moisture, locking in hydration. Hydrating face mist is ideal for use after cleansing and throughout the day. Spritz, savor, repeat.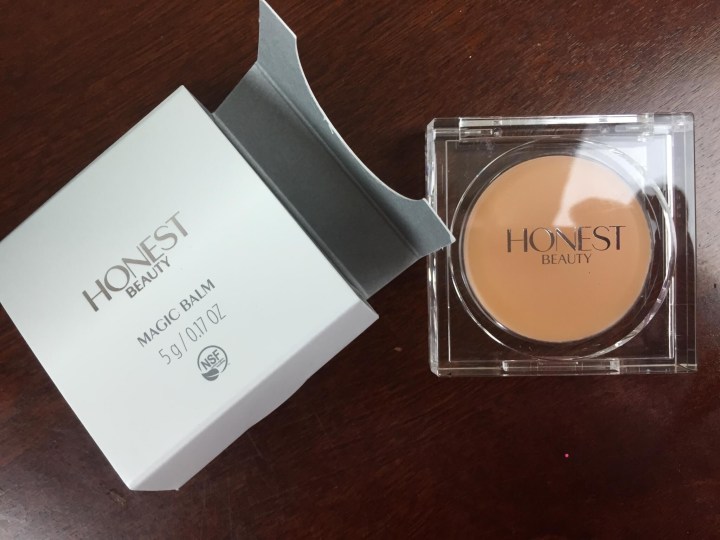 Honest Beauty Magic Balm ($18 by itself – was in the Travel Kit) This is very similar to my Dr. Jart+ Ceramidin Oil Balm (which comes in a 1.4 oz size for $35 and you can see my tub of it here). I think all of the ingredients with formula-ish names in that product are on the Paula's Choice good list. I would personally choose my Ceramidin products (they are fantastic and hydrating for the driest of skin and give me 24-hour moisture) over this product. This is a great product but I think there's a better one according to my preferences. However I will say this is more of a natural product with sunflower seed, olive, coconut, argan, jojoba, chamomile, beauty leaf, dog-rose, and soybean oils, plus beeswax and shea butter and calendula. Plus, much of this product is organic.
This all‐purpose beauty balm is an honestly magical blend of organic fruit and botanical oils to soften and soothe everything with just a touch – presto!
From my first look at these products I can tell you there are ones I absolutely adore – the BB-Cream-like Moisturizer, the Eyeshadow Trio, and the Lip Crayon top my list for awesome products! Some are also re-buys for me – like the Eyeliner and the Hydrating Mist. I'm not 100% sure about the bundle model for this beauty line – except that if you adopt one of the foundation products and one of the lotions, you'll probably need to purchase them with some frequency – but I doubt that is every 4 weeks!
This is what I've set up for my next Honest Beauty Bundle – I'm going to test out the lighter shades of concealer, one of the luminizing powders (hoping it's like Hourglass!), the Primer, the Creme Blush, a Sheer Lip Crayon, the Truly Lush Macara + Primer, and the Powder Cleanser (sounds great for travel!).
You can check out the shades for all the products and all the ingredients on the Honest Beauty site. I think it's ultimately up to each person to decide whether they like the ingredients in these products better than other natural products or more conventional products, and test out the products that they need a replacement for. The bundle is a good way to do it – even if you don't add on any products it's still a pretty good price at $16.67 per item and a significant savings on some of the pricier products in this line. Ultimately I do enjoy sampling beauty products from a variety of lines but I think there are some real keepers here.
Let me know your thoughts and if you think my next bundle looks good. I cannot possibly cover everything for every item in the review, but I'm happy to answer questions!
One more thing – Honest Beauty doesn't ship to Canada (yet). I do have an update – You can return colors and have them swapped out for new ones. They will send you a FedEx label for exchange. Again, I think the lack of a trial product for the face makeup shades is really problematic and this is especially wasteful. I would rather send a photo of all the product squeezed out or smashed!
The Subscription
:
Honest Beauty
The Description
: Honest Beauty is a comprehensive line of skincare and makeup that has been formulated to match the standards of The Honest Company. Their Honestly Free Guarantee means the products perform safely and beautifully with no questionable ingredients! Line consists of face, lip, eye, and cheek products for makeup, as well as enhance, protect, cleanse, and hydrate products for skincare!
The Price
: $50 for 3 products – add on up to 5 additional ones at 25% off.
The Coupon
:
Get a free skincare trial when you subscribe
.