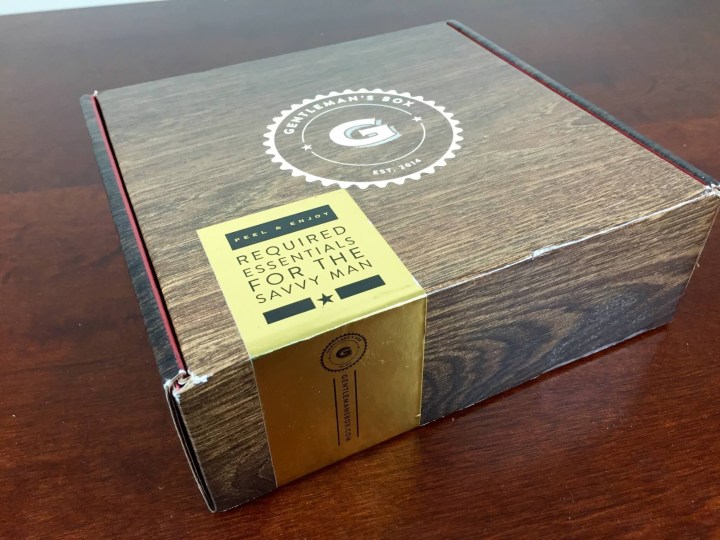 Gentleman's Box has a new size for the September Box! Gentleman's Box is a monthly men's subscription box – including the required essentials for the savvy man. While every box previously included a copy of GQ, it will now be delivered separately to subscribers. Boxes contain selected items ranging from style to grooming.  Each month honors a male archetype that may or may not bring an actual celebrity to mind.   

This month is dedicated to "Our Favorite Suit & Tie."  The booklet this month gave it away, though, by mentioning three specific awards the honoree has received, and the year he received them.  Here's a hint:  he brought sexy back.  Instead of the simple informational card in previous boxes the subscription now includes an entire booklet.
We've included a photo of each page. The booklet includes a new curator's letter, information on the inspiration, the contents, details on every item, information about No More, a charity that works against violence and sexual assault, bow-tie manual, and the Gentleman's Tip for the month.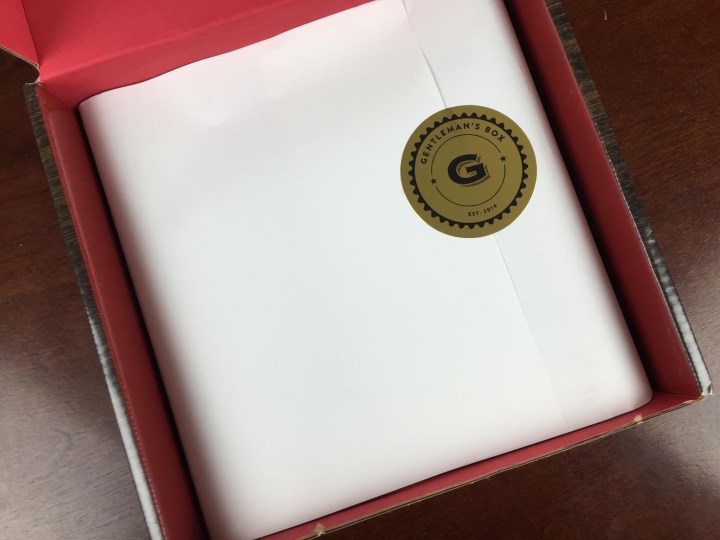 The new box makes for a neater presentation — and no more rolled GQs!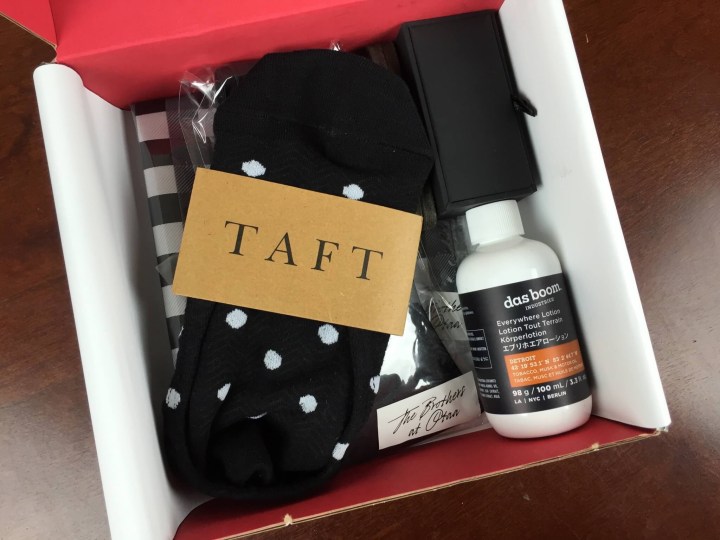 Everything fits comfortably in the new box.  It looks like they are taking advantage of the new dimensions to ship larger grooming product samples, too.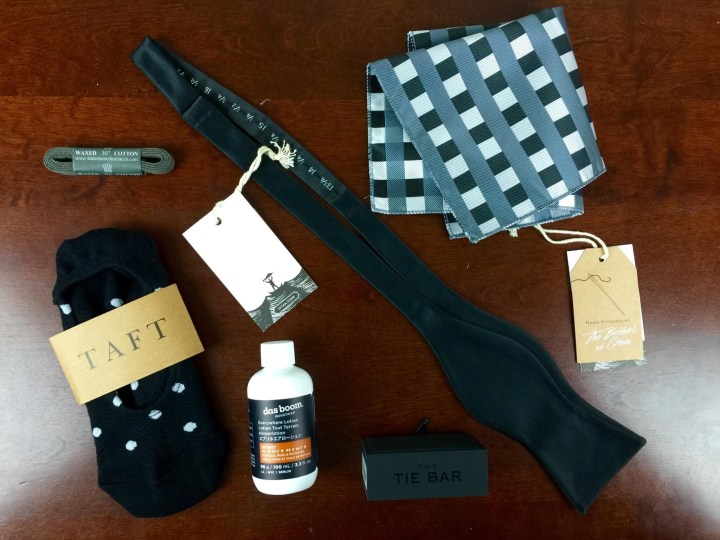 Here's the full spread.  A nice balance of wearables, accessories, consumables and entertainment. Gentlemen's box includes a copy of GQ ($6) that is now mailed separately to subscribers instead of in the box.
Taft No Show Socks ($11):  If they are no show, why do they have a pattern?  These are light and great for wearing in penny loafers and other shoes that you are supposed to go barefoot in.  Also good for avoiding the "going on safari" high-sock look when wearing shorts.  I'm a tall sock guy, but I hate not wearing socks in a professional setting, so I like these for those occasions.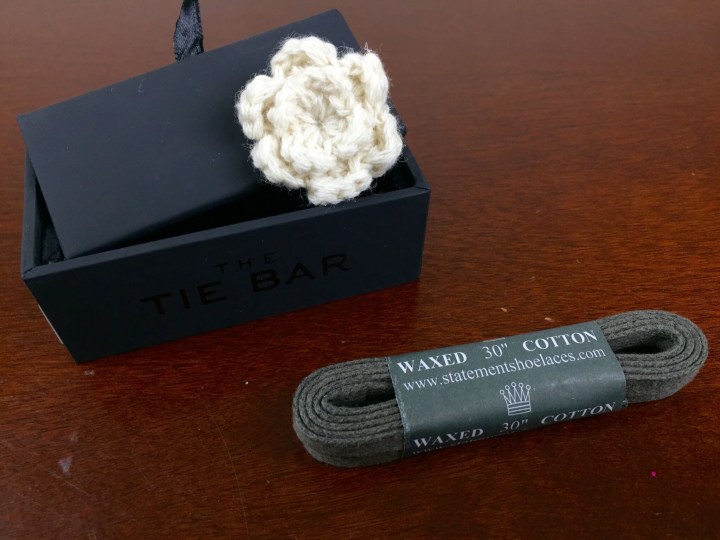 The Tie Bar Crochet Lapel Flower ($5): Tiny enough to add a nice accent without going overboard.  Great for adding a note of texture to a smooth suit or with a silk tie.
Statement Shoelaces – Flat Waxed 30″ Cotton ($6):  I chuckled that my statement laces, the ones that would add a splash of color to my staid dress shoes, were a vibrant and lively grey.  Seriously, though, I will get more use out of these, and I think they could be a great little touch in tying together my black Bostonians and a grey suit.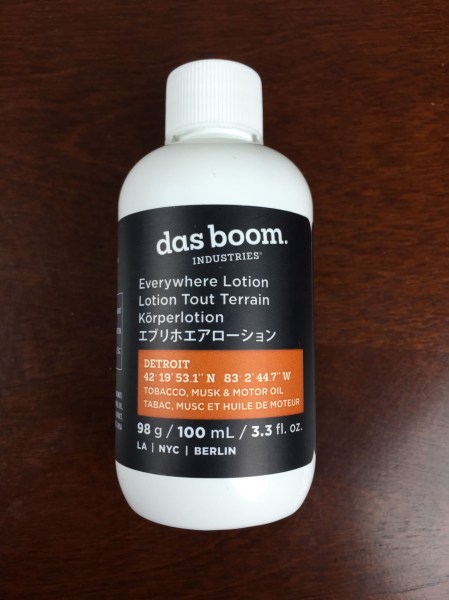 Da Boom Everywhere Lotion – Detroit ($10.17):  No one can accuse this of having a girly scent.  It is like grandpa in a bottle.  The motor oil scent is very distinct and clear — I used to always smell my hands frequently after doing an oil change, as the scent is uniquely pleasant.  The lotion is an all-purpose moisturizer-type lotion.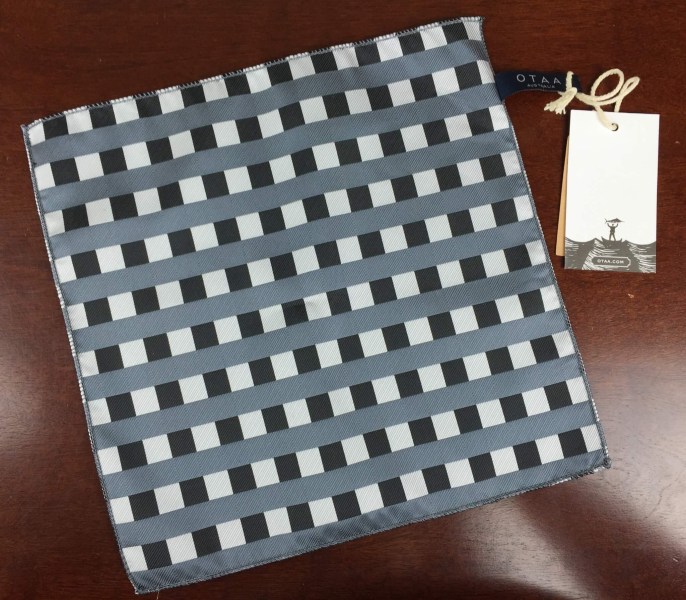 Otaa Checkered Pocket Square ($15):  I like the bold pattern, as I've gotten many pocket squares with tiny patterns that look too busy.  The color scheme is also very versatile.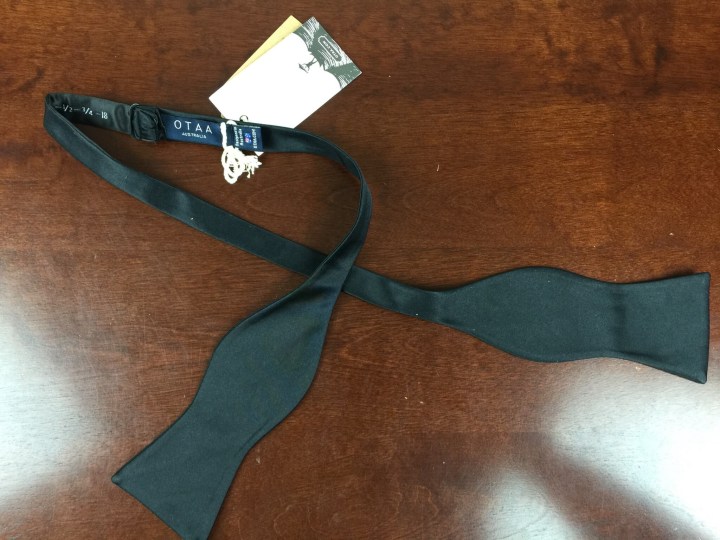 Otaa Black Bow Tie ($25):  This is highly adjustable and not too hard to tie.  The booklet has some of the clearest instructional diagrams I've seen.  I' m glad for the black, as formal occasions are about the only time you'll probably ditch the necktie for a bowtie, and black is always in.
With a bowtie, the size of the bow is dependent on the build of the tie, not the tying itself.  I think this one is a good size — I would call it medium-large (it is not one of those tiny ones that always come as a clip-on).  It looks like the right proportion for wearing with formal wear.
I like the balance that Gentleman's Box has — only one grooming product and lots of wearables.  The box make-over will serve them well.  The magazine took up too much room and was rolled up tightly.  Now, there is plenty of room for big product samples like the lotion in this box.  I wonder, what could be the next item to use this newfound space?  I think a bowler hat would be cool.  Improbable, but cool.
Visit Gentleman's Box to subscribe or find out more.
The Subscription
:
Gentleman's Box
The Description
: Gentleman's Box is a subscription box for men providing the essential elements suited for today's
gentlemen.Items
from grooming supplies to wardrobe accessories – each selected to complement your lifestyle and align with a monthly theme. Four to five hand-selected products for men, accompanied by the latest issue of GQ Magazine, are delivered right to your doorstep – with the content's value always exceeding your monthly cost.
The Price
: $25 per month