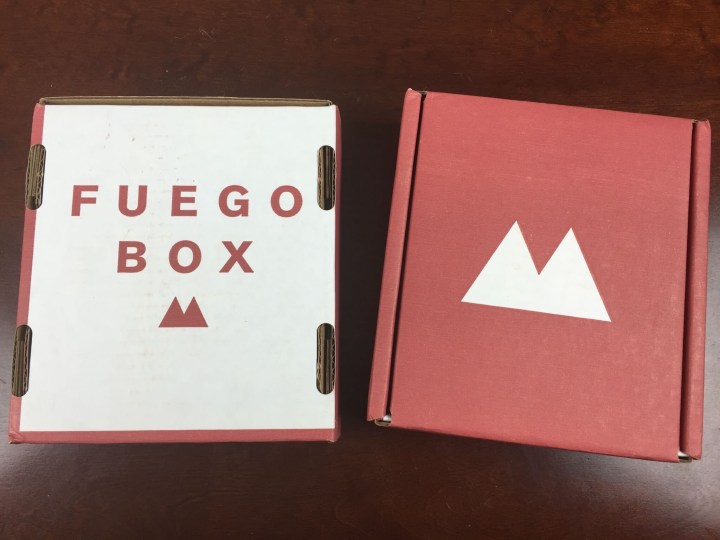 Fuego Box is a monthly hot sauce subscription box that brings the heat without being extreme, focusing instead on the best flavors (while still of course being hot – just without added heat extracts and the like).  They search out the best flavors to go with every type of food and discover new artisan hot sauce makers to bring to your door. Your first monthly box will be an introductory box like this one, with a tasting journal and two favorite hot sauces from Fuego Box. Subsequent boxes include 3 full-sized artisan-made hot sauces.
The sturdy box protected our precious bottles quite well.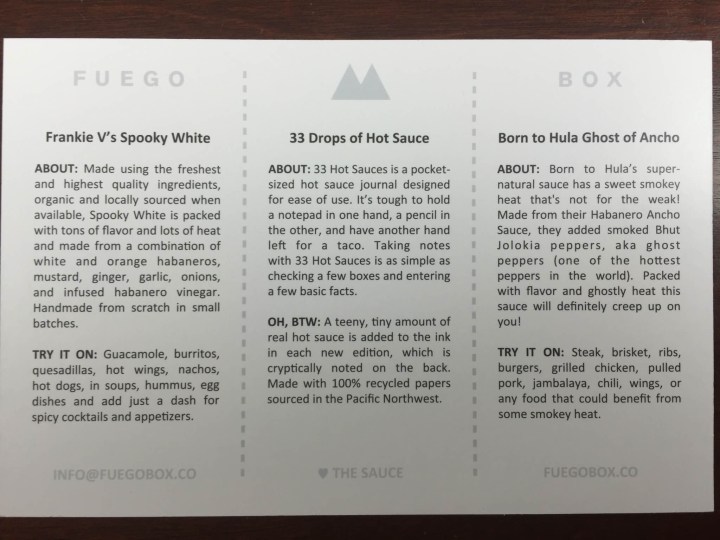 The information card gives the details on each product – the flavors, the peppers, and where it was crafted. The card also gives food pairings for each sauce.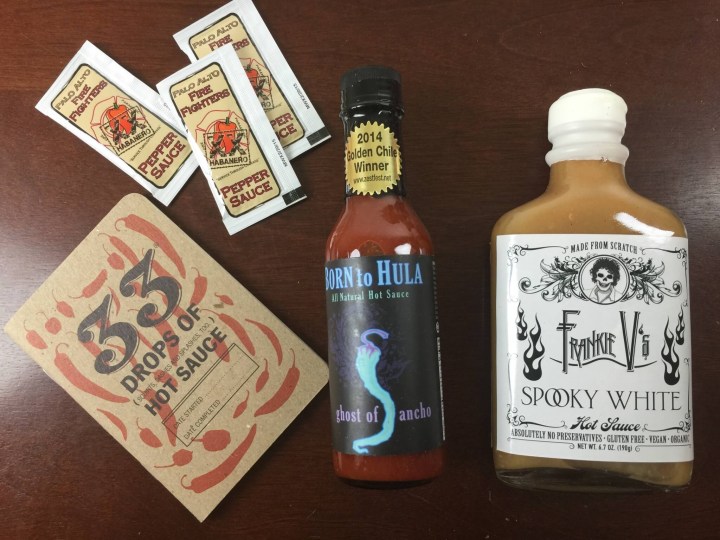 Everything in the box.  This is the intro kit, so we were promised a tasting journal two full-sized bottles.  The folks at Fuego were kind enough to send over some bonus sauce packets, too!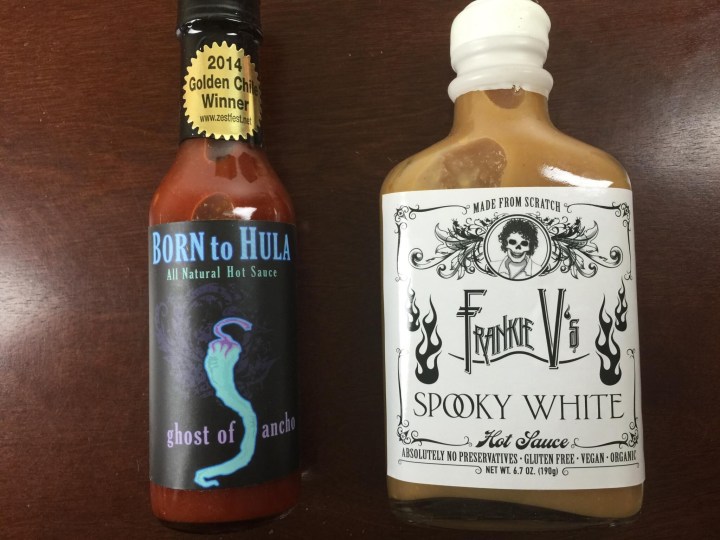 Born to Hula Ghost of Ancho Hot Sauce ($6.99):  This sauce packs a nice bit of heat, but the really fantastic flavor note is the smoky, roasty ancho.  Creeping ghost pepper does the rest.
Frankie V's Spooky White Hot Sauce ($6.99):  A truly unique sauce, with a moderate heat.  Tangy and sweet, this sauce has an almost tomatillo salsa verde appeal to it (though it has no tomatillo).  White habaneros lend heat to a bright, bursting sweet onion base livened up with a splash of lemon.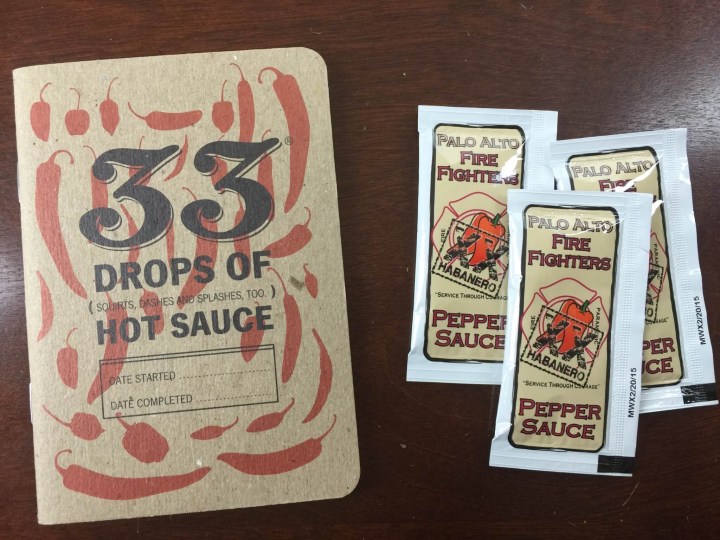 33 Drops of Hot Sauce Tasting Journal ($5):  Keep track of your sauces so you can articulate your passion to others and remember your favorites in detail later.  The ink contains a teeny tiny bit of hot sauce.
Palo Alto Fire Fighters Habanero Pepper Sauce:  This was a fun little sauce thrown in as a bonus.  It was really light in heat after sampling the BTH (I was able to suck it straight out of the packet without issue).  Though not noted in the ingredients, it had a deep chili powder-type flavor, actually reminding me a bit of the Fire sauce at Taco Bell, but with a brighter and hotter flavor.
The journal has room to capture all pertinent info on 33 sauces, including a graphical flavor wheel and heat meter to record the most common tasting characteristics hot sauce.
I liked the selections for this box.  The BTH had some great flavor and is a multiple award winning sauce, and the Frankie Vs was tasty and truly unique.  The quality of sauces is really good, and I appreciate the less than volcanic heat level to permit survival of taste buds and emergence of flavors.  The value was okay at $10 a bottle, including not having to pay individual shipping, but the price drops a bit with a longer subscription.  I do like the curation, and the possibility of receiving some hard-to-find sauces may make it worth it to you.  First box can be had for $10 with coupon code — it's a two-bottle pack, so the discount is appropriate.  Future boxes are three-bottle boxes and you can also pick this one up on a quarterly subscription.
Visit Fuego Box to subscribe or find out more! Use coupon code AMIGOS to save $10 on your first box!
The Subscription
:
Fuego Box
The Description
: Fuego Box is a hot sauce of the month club focused on craft and small-batch hot sauces. They search for perfect artisanal sauces you've probably never heard of. They avoid insane heat, gimmicky labeling, and extract-based sauces, focusing on dynamic flavor accompanied by the appropriate amount of heat. A hot sauce club for people who love food. Get 3 hot sauces per month or per quarter, or opt for just one hot sauce every month.
The Price
: $29.95 per month or per quarter with free shipping, or $12.95 per month + $5 shipping for one sauce per month.
The Coupon
: Use coupon code
AMIGOS
to save $10 on your first box!