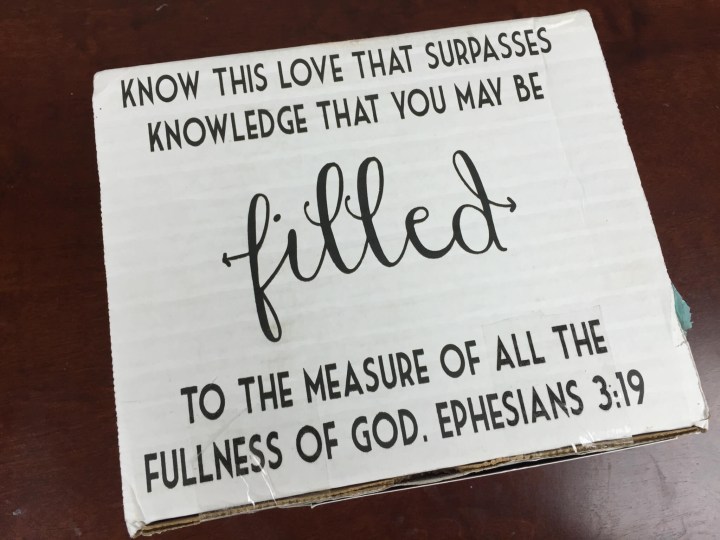 Filled Life is a monthly subscription box of great products from Christian businesses. Every month you'll receive a variety of inspiring items, plus suggestions of ways you can use them to minister to others and devotionals to help you grow in your relationship with Christ. 10% of the box price each month will go towards helping the highlighted ministry.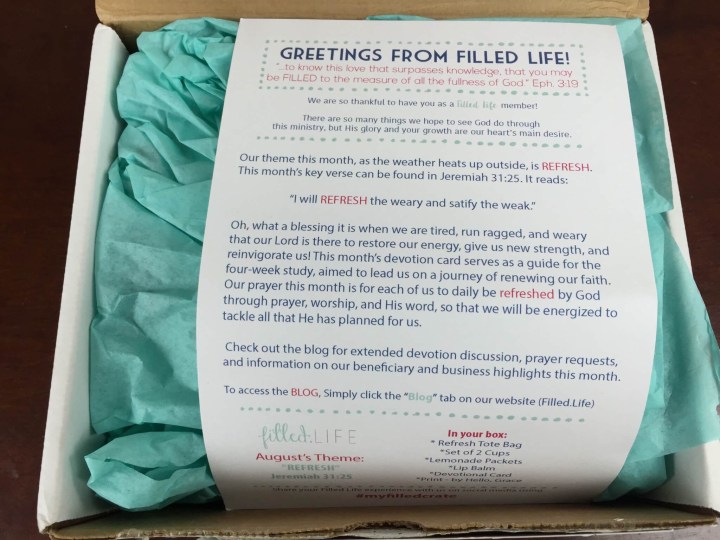 Cute packaging!
Everything is packed neatly inside.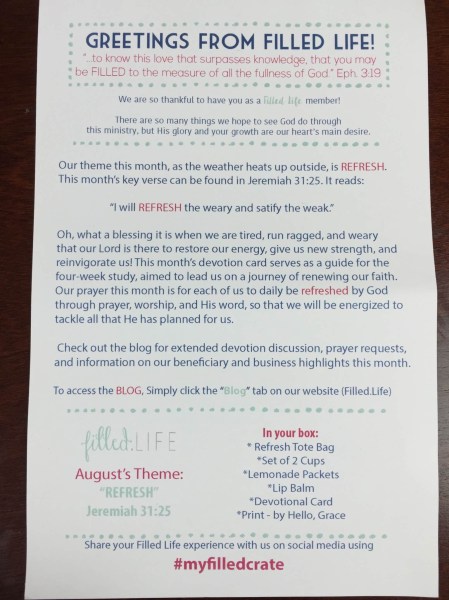 The theme for August was REFRESH. The information card gave the month's key verse, Jeremiah 31:25: I will REFRESH the weary and satisfy the weak.  The devotion card (see last photo) is extended with discussion and prayer requests on their blog.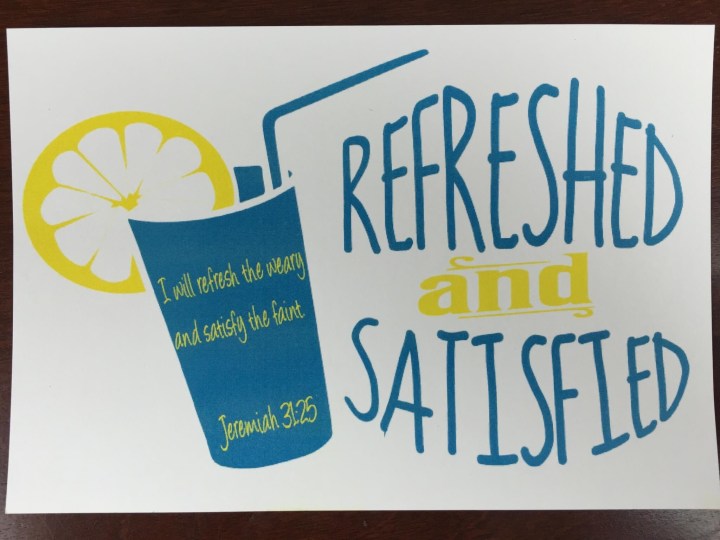 Hello Grace Refresh Print: This is a cute card that you can hang anywhere to remind you of the monthly verse. It's 5×7 so you can frame it, too!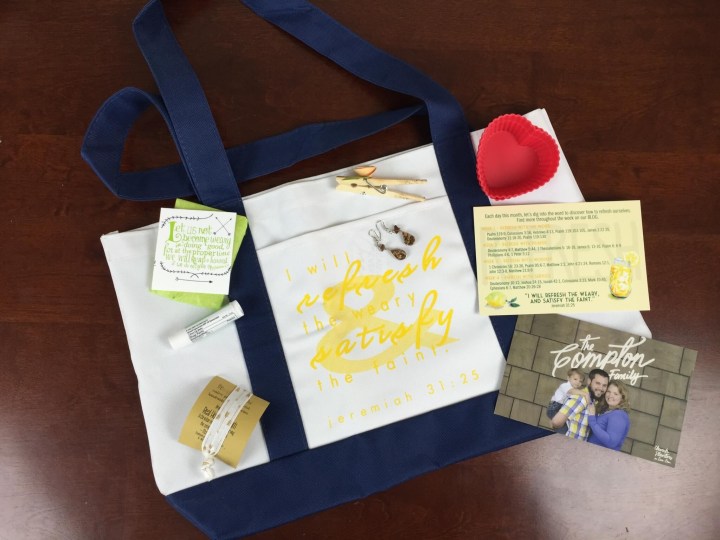 I love this month's theme of "Refresh."  It's light and airy just like the pictured lemonade on the print, lip balm,  and the verse card. On the back of the theme card are business and ministry highlights which is a nice touch.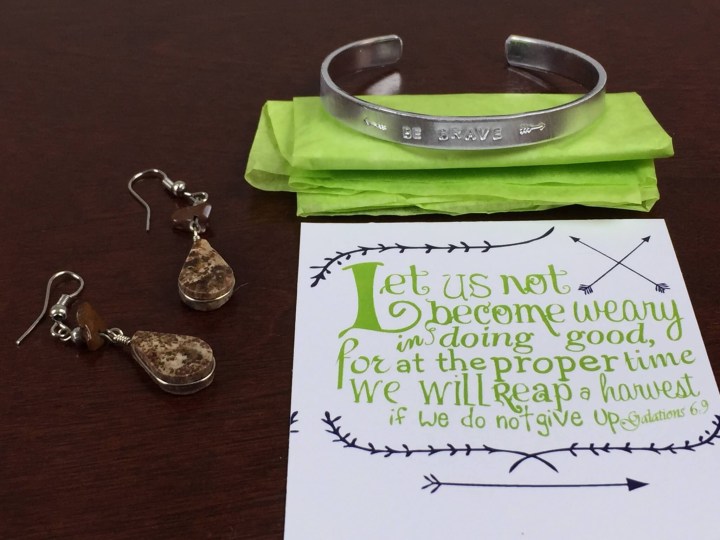 DH Designs "Be Brave" Bracelet: Hand stamped cuff bracelet with attractive arrows on each side. It also came with a card – on one side is a verse and the other has a code for 15% off if I shop on the website.
Earrings: The earrings are quite nice and I wish I knew more about them such as are they from a business or a ministry?  How do they go along with the Refreshed theme?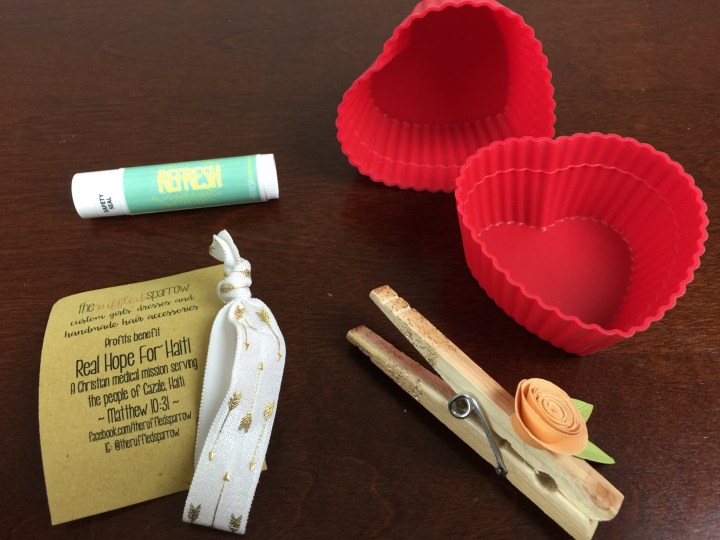 Refresh Lip Balm: Lip balm is refreshing! This one had a small verse on the bottom.
The Ruffled Sparrow Hair Tie: The profits benefit the "Real Hope For Haiti" ministry! This is a cute pattern and it matches the bracelet.
Pancakes & Glue Guns Handmade Flower Magnets: I really like the homemade flower magnet and 2 heart shaped cup cake liners.  I could use the magnet to hold a recipe for mug cake, and cook them in the two silicone muffin pans in the microwave!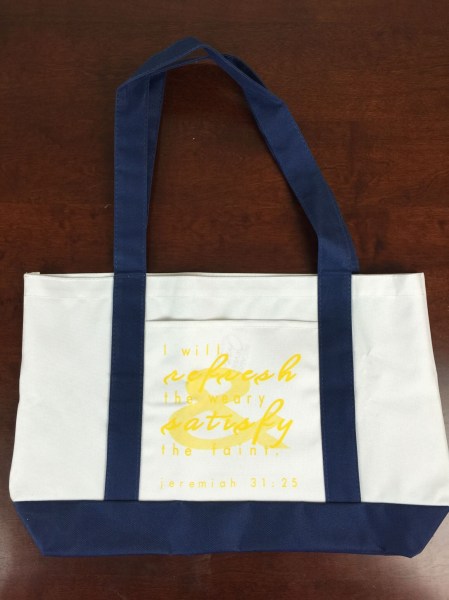 Refresh Tote Bag: The sturdy tote bag has a wonderful verse, Jeremiah 31:25, but due to the light color, yellow, I'm finding it a bit difficult to read. "I will refresh the wear & satisfy the faint."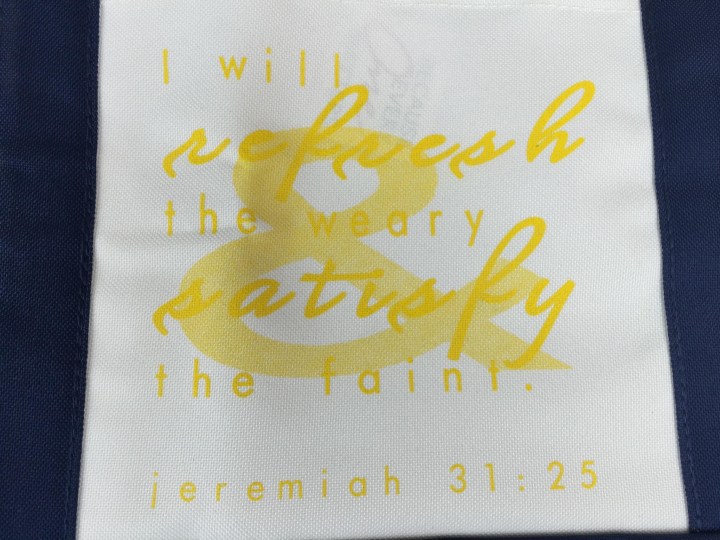 Perhaps they should have used a darker color shadow to make the letters stand out more.
The devotion or monthly study card reminds you of the monthly verse, as well as provides additional verses to guide you in your study. Be refreshed by God through prayer, worship, and His word, so that we will be energized to tackle all that He has planned for us.
This box has a lot to offer with the themes, business & ministry highlights in glorifying God and all the work being completed in His name. I enjoyed the gifts and they were all high quality. A few items didn't quite fit the theme – like the bracelet and hair tie – but they were lovely nonetheless.
Visit Filled Life to subscribe or find out more!
The Subscription
:
Filled Life
The Description
: Get a box of great products from various Christian businesses delivered to your door and inspiring items and devotionals to guide you on your walk with Christ. 10% of the base price ($19.50) each month will go towards helping a highlighted ministry.
The Price
: $19.50 plus $3 shipping