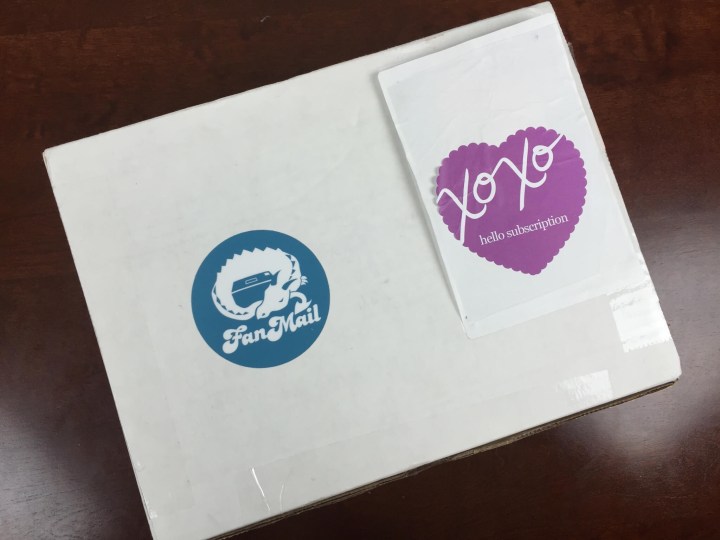 FanMail is a new monthly geek and gamer box for women, curated by women. Each month's mystery box will have a theme and contain a variety of memorabilia and collectibles, including handmade and fanmade! Items might include exclusive comics and t-shirts, jewelry, stationery, books, autographs, and photos.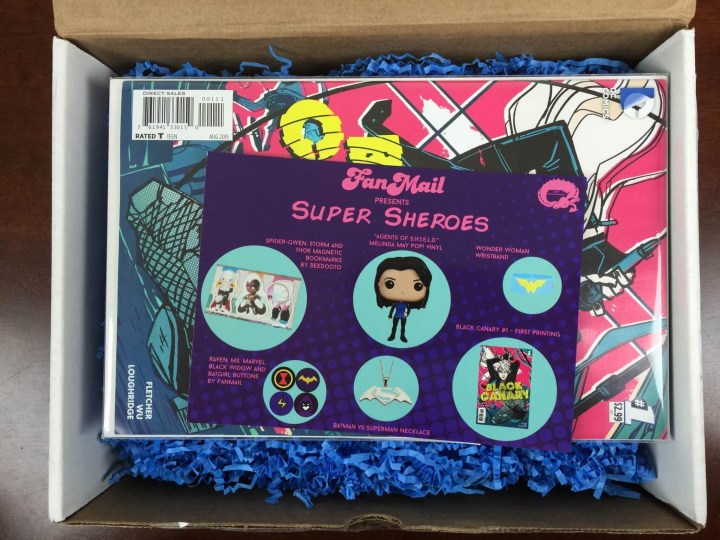 I liked this box as soon as I opened it!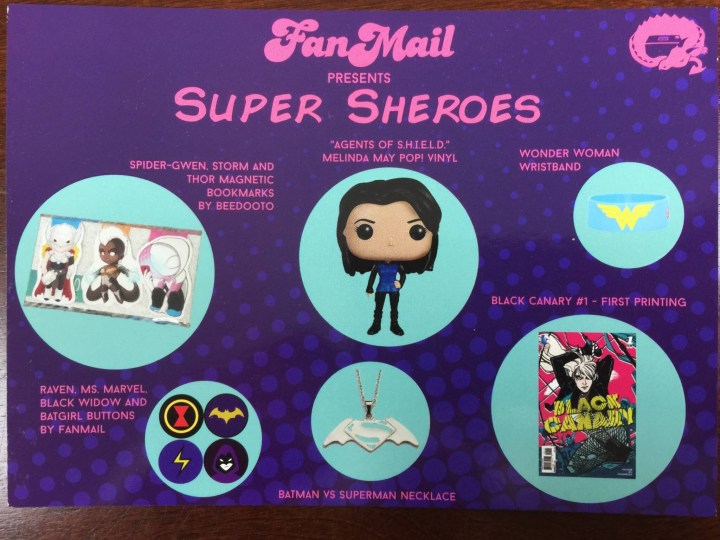 The theme for August is Super Sheroes!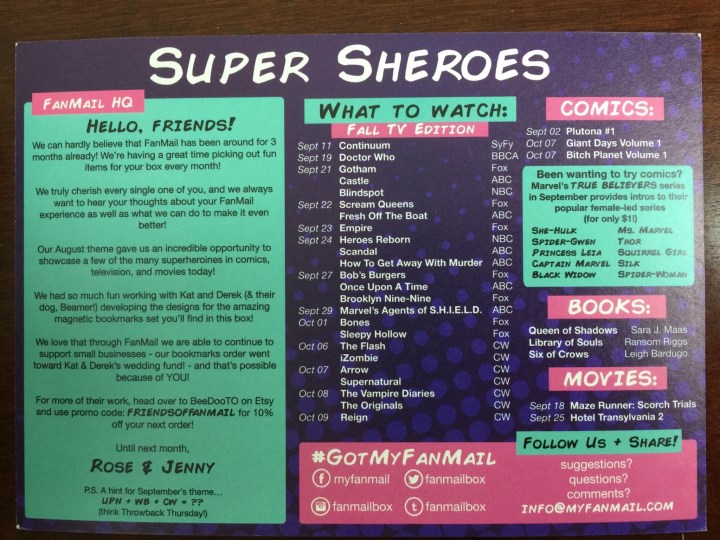 Each month, you'll get a handy pop culture newsletter that will tell you what movies are coming out, what's up for streaming and binging, and what conventions or events are out there that you may want to attend. I think this is a great feature!! Time to get the Tivo working again!
All the items in the August 2015 FanMail box.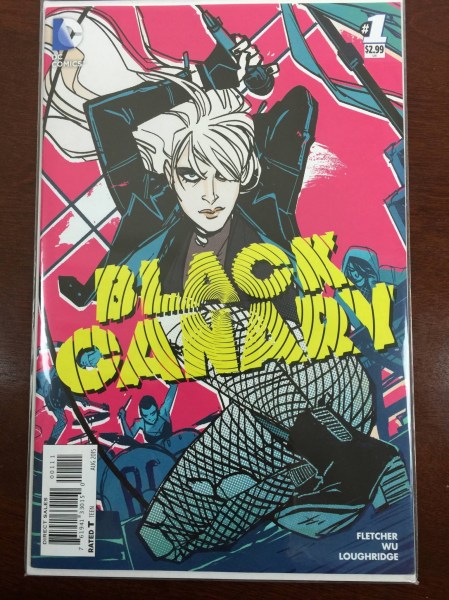 Black Canary #1 ($2.99) This is from the first print run and is appropriately bagged and boarded. This super heroine has definitely had a storied past and this is an excellent item to include and a great update to this character! I love the feel of the art to this comic.
Dinah Lance hits the road! After years as a soldier and vigilante, the LAST place Dinah saw herself is on stage…but she's quickly learning she'd die to protect the gang of misfits she's fallen into. And she just might have to – for some reason, the newly rechristened band Black Canary seems to be a magnet for trouble…and Dinah's not gonna believe it when she finds out the reason why! Martial arts, super-spies, and rock 'n' roll combine, from Brenden Fletcher (BATGIRL) and Annie Wu (Hawkeye)!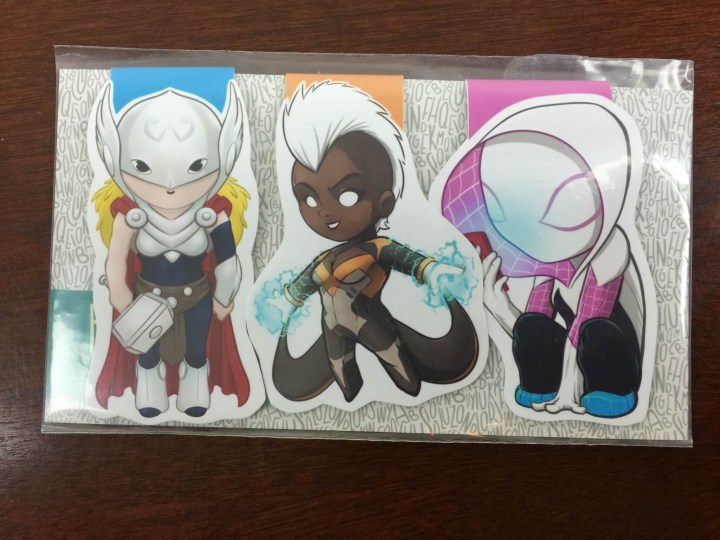 BeeDooTo Magnetic Bookmarks: Spider-Gwen, Storm, and Thor ($10) Fun takes on some classic and fresh characters, though I have to admit that Storm always freaks me out when she goes white-eyes.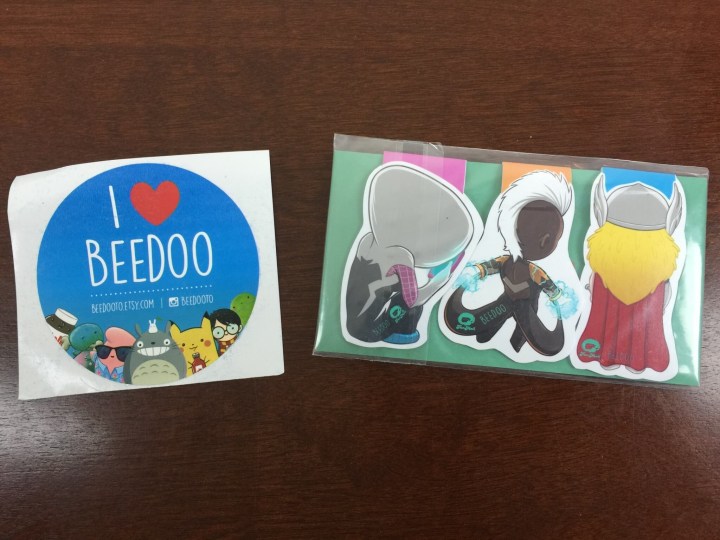 These are folding bookmarks and it closes around a page in your book.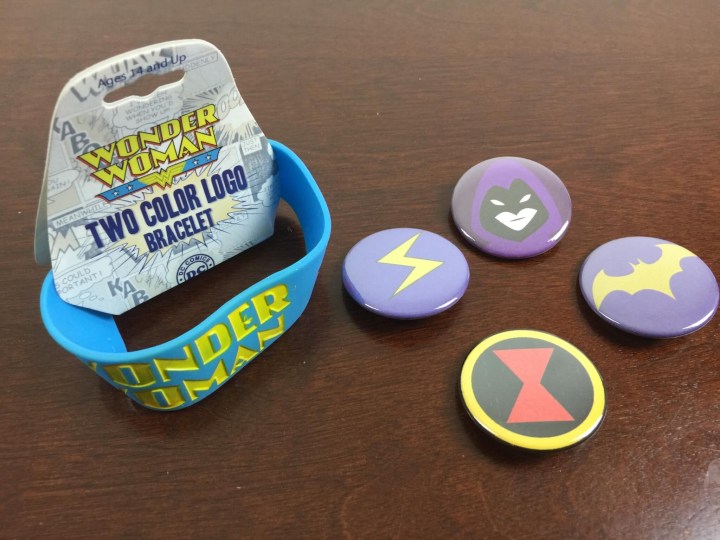 Wonder Woman Two Color Logo Bracelet: This has her belt logo on the opposite side and is totally awesome. I'll show it in the unboxing video because I totally forgot to take a photo.
Sheroes Buttons: Raven, Batgirl, Black Widow, and Ms. Marvel. These aren't licensed but TBH, they probably don't make them anyways. We'll call them an homage. If you are a box junkie like me, what do you do with all of your pins?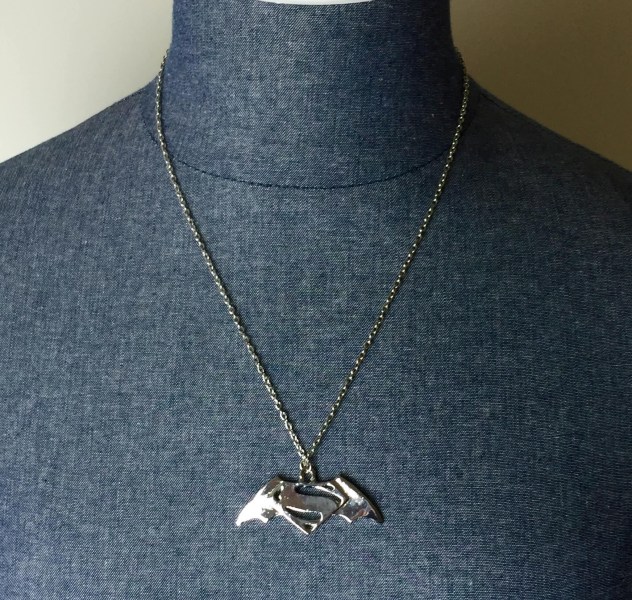 Batman vs Superman Necklace: This is a great mashup necklace and it will totally make people look twice! Maybe it should have been Batwoman vs. Superwoman?
Funko POP Vinyl Figure – Marvel: Agents of S.H.I.E.L.D Melinda May ($8.95) Cute and fun – and now I can't wait for this to come back on. My husband couldn't get her to stand up (she does have much smaller feet than the average POP), but I didn't have any problems. Must have needed a super shero!
This was an excellent box with a great theme. I couldn't value all of the items but I thought there were plenty of well-curated items. I even resubscribed for September (which is now sold out!). I am also really looking forward to what FanMail does near the holiday season.
Visit FanMail to subscribe or find out more!
The Subscription
:
FanMail
The Description
: FanMail is a mystery box designed for lady geeks (by lady geeks!), which means that each box is filled with amazing products from the fandoms you love!
The Price
: $21.99 + $6 shipping
The Coupon
: Get a pop culture t-shirt in your first box when you sign up for a 6-month or 1-year subscription