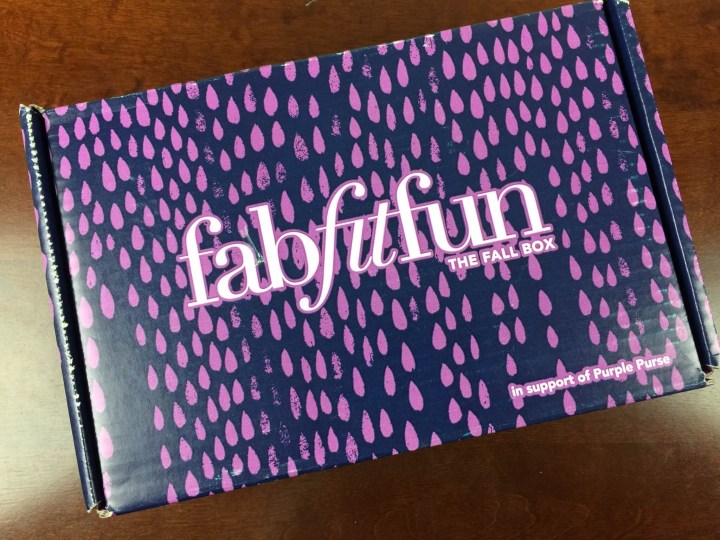 FFF is one of my favorite boxes, but the Fall box was just crazy with awesome items and a ridiculous value. It was just so great! FabFitFun VIP Box is a quarterly women's subscription box that promises fabulous beauty, fashion, and fitness items every quarter.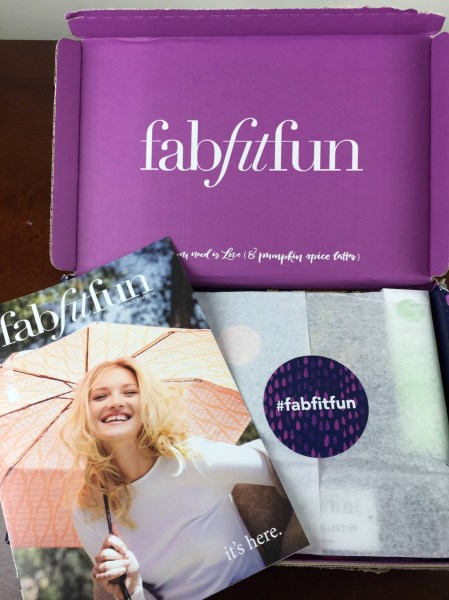 At the bottom of the box lid it says: All you need is Love ( & pumpkin spice lattes).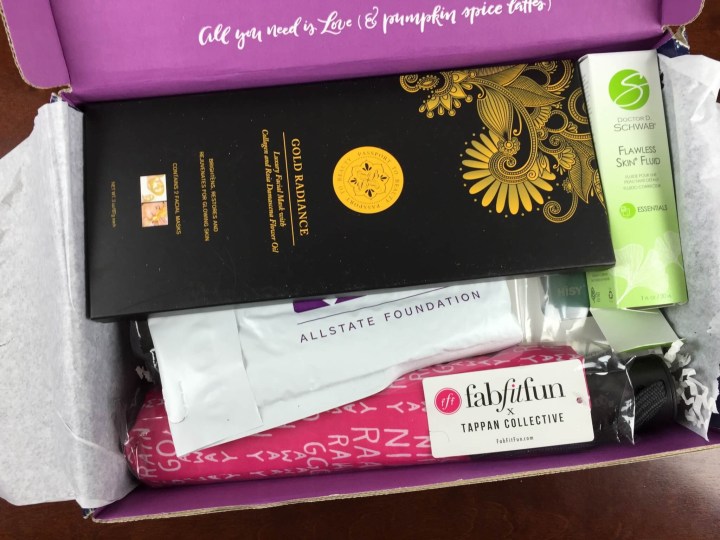 So much good!
The information card is no more – it's now a booklet. There's more information on each brand and lots of photos!
Everything in the FabFitFun VIP Box for Fall 2015!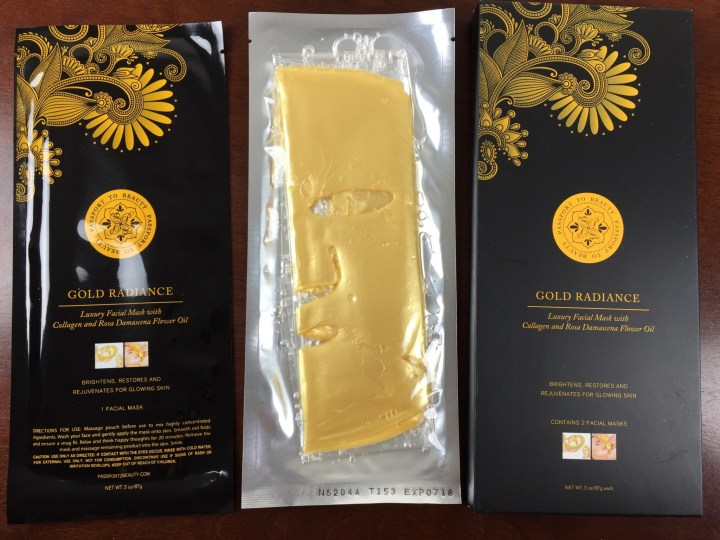 Gold Radiance Luxury Facial Mask ($65) I was so surprised to find they'd doubled up and sent a box with two masks! This mask is made of colloidal gold, collagen, and damascene rose.  The description says it melts into your skin – and I don't think I've ever had a collagen mask ever really melt in. Maybe my face isn't hot enough??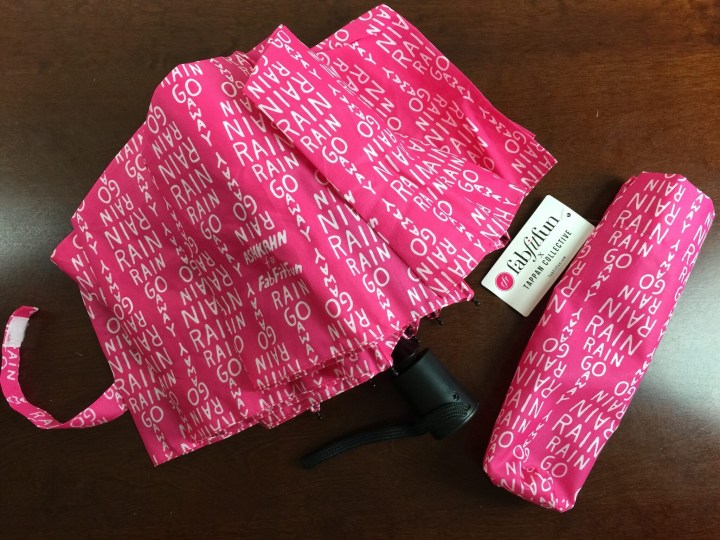 FabFitFun x Tappan Collective Umbrella ($32) An exclusive item made in collaboration with Tappan Collective artist Ashkahn Shahparnia.  Oh, it's really too bad I didn't get my box earlier – I would have loved to use this today (rain rain rain!). This box took a disappointingly long time to get to me, especially as I'm a VIP member (annual).  But no matter, I love umbrellas in subscriptions because they are always useful – and replacements are generally needed more frequently than they show up!
Manna Kadar Lip Locked in Lucky ($24) This is a primer, stain, and sealer in one, and fits the bill of beauty simplified!
Shiny, pretty, and a really nice color for me!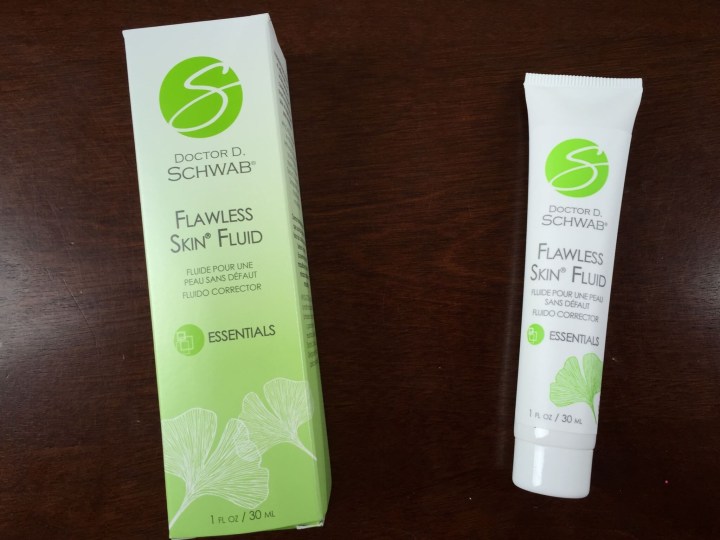 Doctor D Schwab Flawless Skin Fluid ($39) This is hydrating with natural ingredients that make your skin tone appear more even! Although it doesn't specify an SPF on the bottle, it also has micronized zinc oxide. It can be used with or without makeup. A very neat find!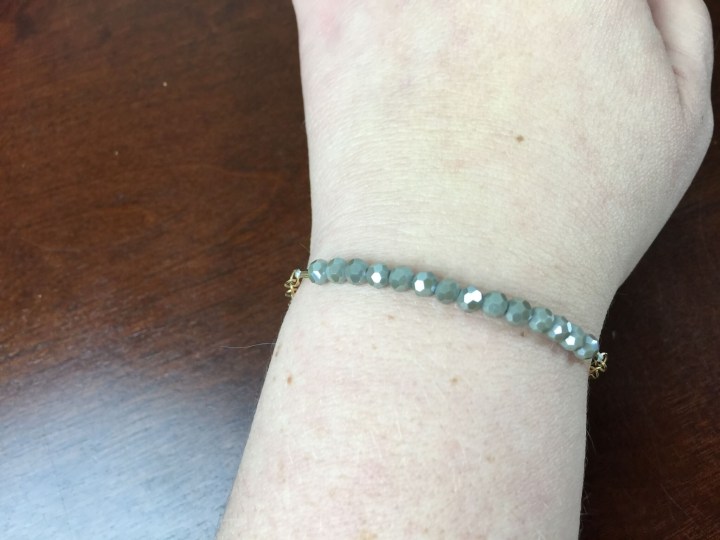 Tribe Alive Glass Crystal Bead Bracelet ($49) I thought I selected the Mexican Blue (annual subscribers could pick the color) but I guess I picked the grey? I love the delicate style and the pop of crystals. It's sparkly and fun – and a fair trade item! What a great brand to promote.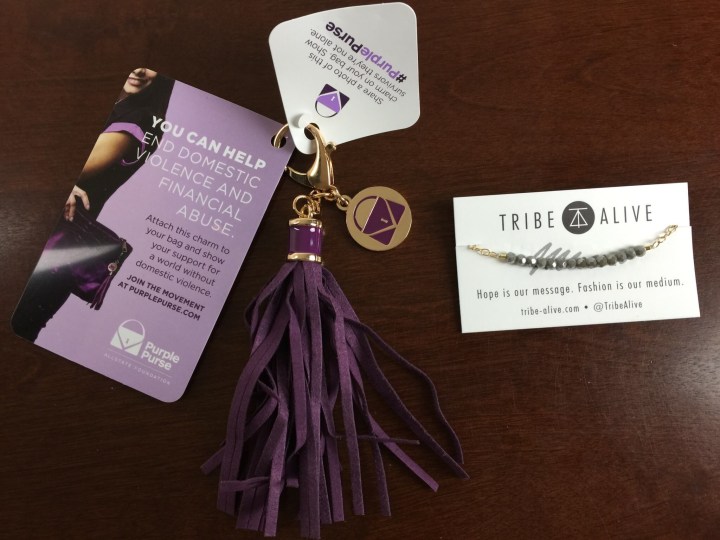 Purple Purse Foundation Tassel Charm ($10) I love purple and I love this cause!  FYI – You can buy the whole (exclusive to Saks $350) Purple Purse here.
Allstate Foundation Purple Purse is a public awareness and fundraising campaign aimed at creating long-term safety and security for domestic violence survivors through financial empowerment. While most people think only of physical abuse when they consider domestic violence, financial abuse happens in 98% of all cases of domestic violence – it is an invisible weapon that keeps victims trapped. Abusers use isolating tactics such as preventing the victim from working or accessing a bank account, credit card or transportation. By bringing financial abuse out of the shadows, this movement is making the invisible visible and giving victims the support they need.

Proudly clip a Purple Purse charm to your bag and help domestic violence survivors break free from abuse. All proceeds from charm sales will support more than 160 Purple Purse Challenge nonprofits and the domestic violence survivors they serve. See a complete list of the organizations here

Share a photo of the charm on your bag with #PurplePurse.
I am adding my charm on ASAP!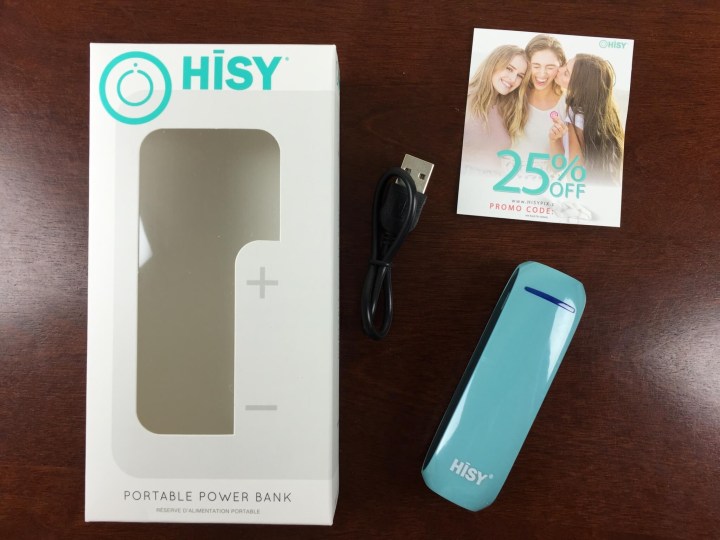 HISY Battery Pack ($24.99) I'm always needing an extra boost on my battery and to be honest, I went really big with my other chargers, so I'm keeping this one in my purse!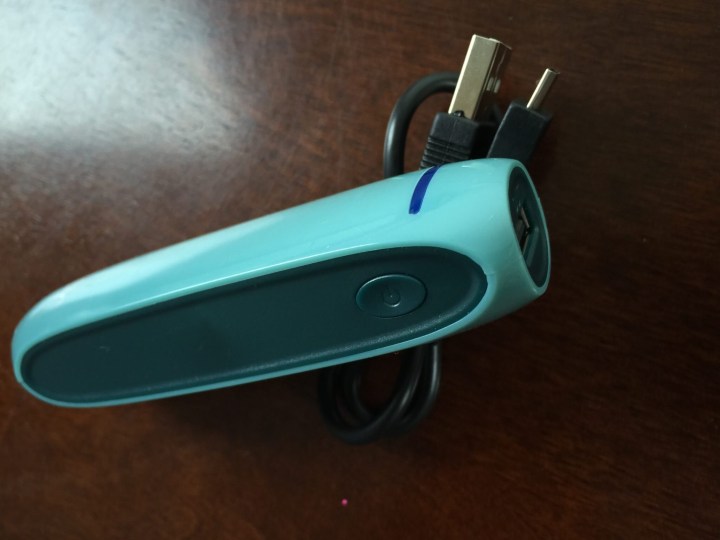 I was really happy about it, plus I love the color.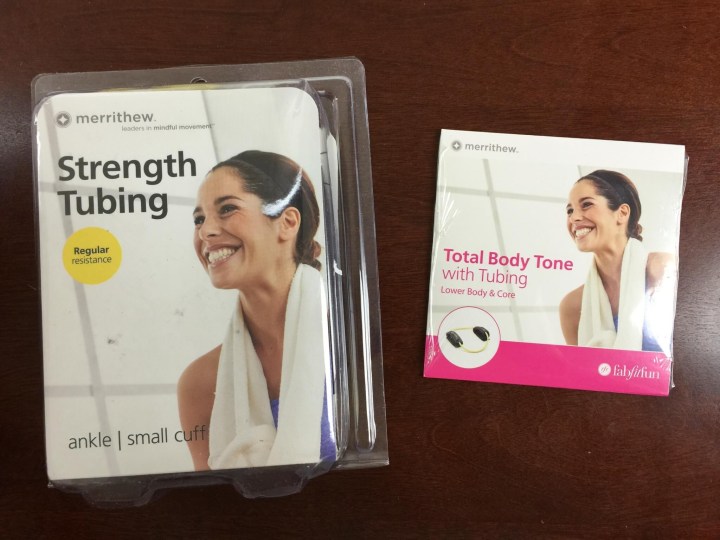 Merrithew Strength Tubing Ankle & Total Body Tone + DVD ($15.99 for tubing + $16.95 for DVD) I love this because after you learn the moves you could totally sneak in some exercise at your desk or cube? That might be a pipe dream – this workout is pretty tough! Yeah for the "Fit" in FabFitFun!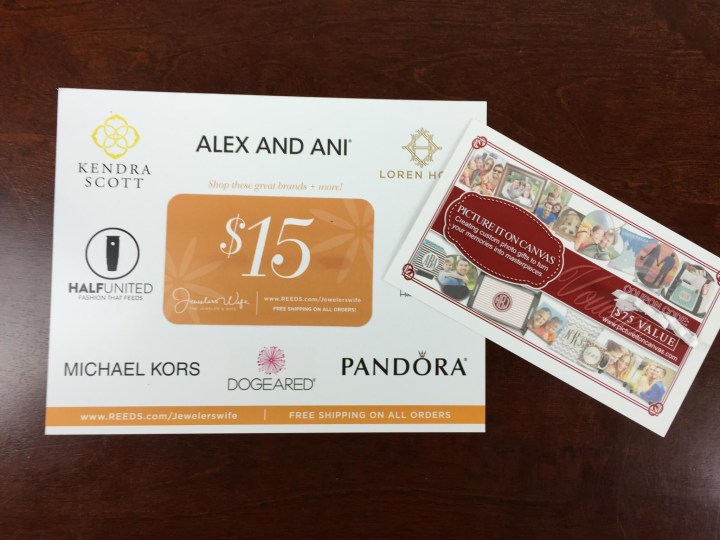 Picture it On Canvas $75 Gift Card – This comes with Free Shipping!
Jeweler's Wife $15 Gift Card – And so does this!  Although this promotes the Jeweler's Wife, it works on anything at Reeds.com.
I'm impressed with the way they handled these two gift cards and I'm excited to use them!
Crest 3D White Brilliance 2-Step System Sample (Sponsored item) I've actually heard amazing things about this, and it's the second sample I've managed to collect, so I'm trying it out over the next couple of days! WAH My husband said he wants it though.
This was really a breakthrough box. It had absolutely a ridiculous value – over 7 times the box cost (without coupon) and everything was usable, not weird, and was just plain perfect. This is a great box to buy extras of to harvest for holiday gifts IMO! I personally have the annual subscription because I prefer to select my items – but trying it out once for $40 is also a really great deal. I'm so impressed with this subscription right now (even if my box was really late!).
Visit FabFitFun VIP Box to subscribe or find out more! Use coupon code FUTURE10 to save $10 on your first box!
The Subscription
:
FabFitFun VIP Box
The Description
: FabFitFun VIP subscription box is a quarterly lifestyle subscription box from FabFitFun. The VIP box features a mix of beauty, fashion, fitness, wellness and home products that help you feel good from the inside out. The box includes full-size products and premium items.
The Coupon: Use coupon code FUTURE10 to save $10 on your first box!